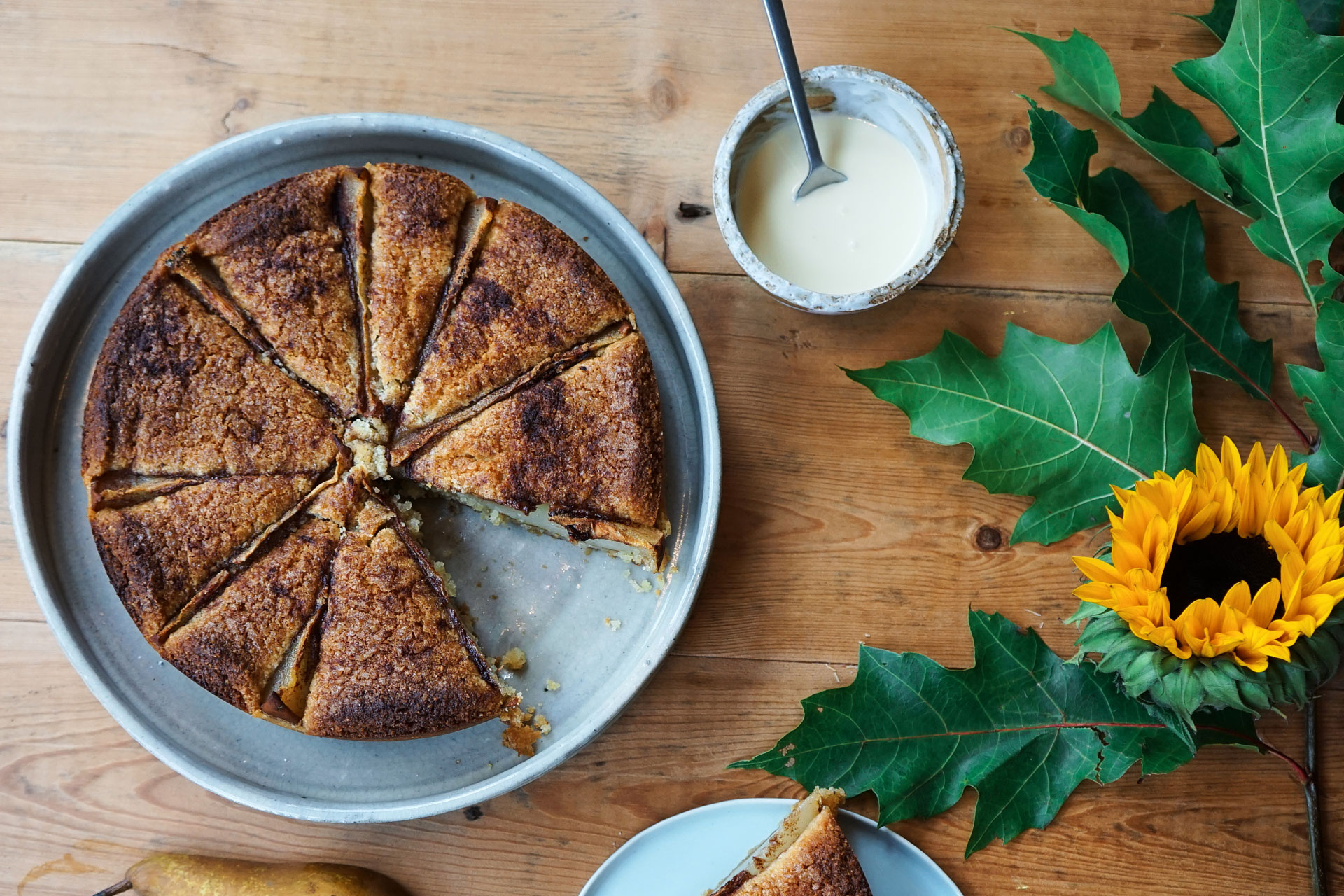 Fruit of the Week: Pears
---
A pear frangipane recipe to try this weekend
Each week plant-based cook Bettina Campolucci Bordi, founder of Bettina's Kitchen, gives us the lowdown on a particular seasonal vegetable or ingredient, offering cooking tips and a recipe. This week it's pears.
Personally, I prefer a pear to an apple. When at the height of their season they are sweet and delicious. They are fantastic baking partners and do surprisingly well in a marinade when you're after a bit of sweetness but not too much.
Pears are generally sweeter and of a softer texture than apples, and are distinguished by the presence of hard cells in the flesh – the so-called grit, or stone cells. In general, pear fruits are elongated, being narrow at the stem end and broader at the opposite end. I love gently peeling them with the stem still on and poaching them in different poaching liquids. Think vanilla, spices such as clove, saffron or even beetroot and wine for colour.
Apply slight pressure to the neck of the pear with your thumb, and if it yields to the pressure, it is ripe. Choose firm pears with the stem intact. If the belly of the pear is soft, it is likely overripe, but those pears are still good in soups and smoothies. Your eating timeline determines how you pick pears. Don't buy pears that are soft anywhere else, as that indicates that they are overripe and the flesh will be mushy. If you want to eat the pears in a few days, the top should still be hard.
The best pears to eat raw are Anjou, a firm, mild-flavoured pear that is perfectly juicy; Asian, full-on crunchy and similar in texture and shape to apples; and Bartlett (or Williams) – the perfect choice when you want a really juicy pear.
Pears are a great source of fibre. They're a good snack before or after exercise. The sugar component naturally found in fruits will be a great refuel so you can refill your glycogen stores post-workout. But let's get to the cooking part. Below is one of my absolute favourite recipes to date that involves a big chunk of pear with every mouthful of cake. Make it and thank me later.
Recipe: Pear Frangipane
This cake is soft, sweet and absolutely gorgeous.
Ingredients
150 grams of vegan butter (room temperature)
150 grams of caster sugar
130 grams of almond flour/ground almonds
140 grams of self-raising flour
1 tbsp cornstarch
100 ml of plant milk
1 tsp of vanilla powder
2 pears sliced (cut horizontally into 4/6 pieces)
1 tbs of brown sugar
1 tsp of cinnamon
Method
Preheat the oven to 180 degrees Celsius.
Start off by creaming the butter and caster sugar in a bowl until it's all nice and soft and fluffy. Then add all the other ingredients gradually and mix well until you have a creamy consistency.
Pre butter a 20 cm cake tin and ladle in your cake mixture and flatten with the back of your spatula. Slice your pears horizontally into 4/6 pieces (depending on how big your pears are and arrange with the tiniest bit in the middle and the thicker bit of the pear touching the edge of the cake tin.
Gently push the pear pieces down so that they are surrounded by pillowy cake batter. Sprinkle it with brown sugar and cinnamon on top. Place in the middle of the oven and cook for 30 to 40 minutes. I usually switch the oven off after 30 minutes and let the cake cook on after heat. Once cooked let the cake cool down. Serve with plant cream or custard and enjoy!
MORE INGREDIENT OF THE WEEK: