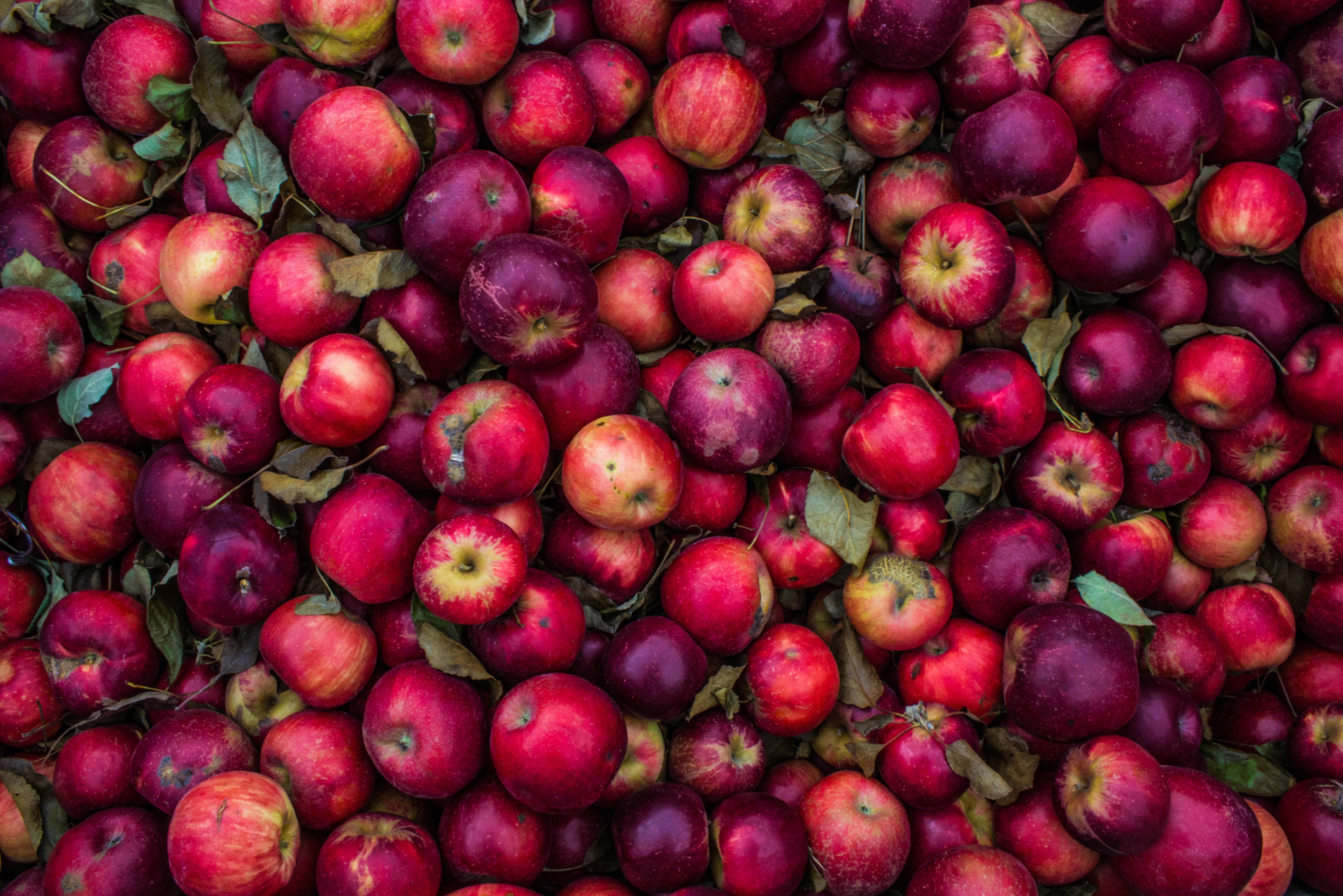 Ingredient of the Week: Apples
---
Bettina Campolucci Bordi shares her favourite apple pie recipe, perfect for winter
Each week plant-based cook Bettina Campolucci Bordi, founder of Bettina's Kitchen, gives us the lowdown on a particular seasonal fruit, vegetable or ingredient, offering cooking tips and a recipe. This week it's apples.
Ingredient of the Week: Apples
One of my favourite pies is the humble apple pie, made with seasonal winter apples. When it comes to seasonal fruit produce during the winter months, there's not much to offer. However what is on offer is produce like apples and pears – and soon the citrus season will arrive. Apples are reliable because they are available all year round, though British apples are at their best from September through to November. Grown in temperate regions, apples are one of the most widely cultivated tree fruits worldwide.
Different Varieties of Apples
There are over 6,000 varieties in existence, many of which are grown in Britain but, despite that, only around 12 varieties are commonly sold in UK supermarkets, of which many are imported. Colours range from yellow to red and green, but all varieties fall into one of two categories: eating apples and cooking apples – the latter of which are also sometimes called dessert apples. The best in my opinion is Bramley, though Blenheim Orange, Grenadier, Reverend and Ida Red are also available. The texture can be very crisp and juicy or more yielding, according to which variety you choose. With so many varieties to choose from you will be able to pair an apple to a dish easily.
There are so many dishes that can be made with apples. Think apple cider vinegar, juice, puree, jam and much more. They are fantastic as a crisp addition to coleslaw, tart in salads, sweet in pies or baked goods. The options are endless.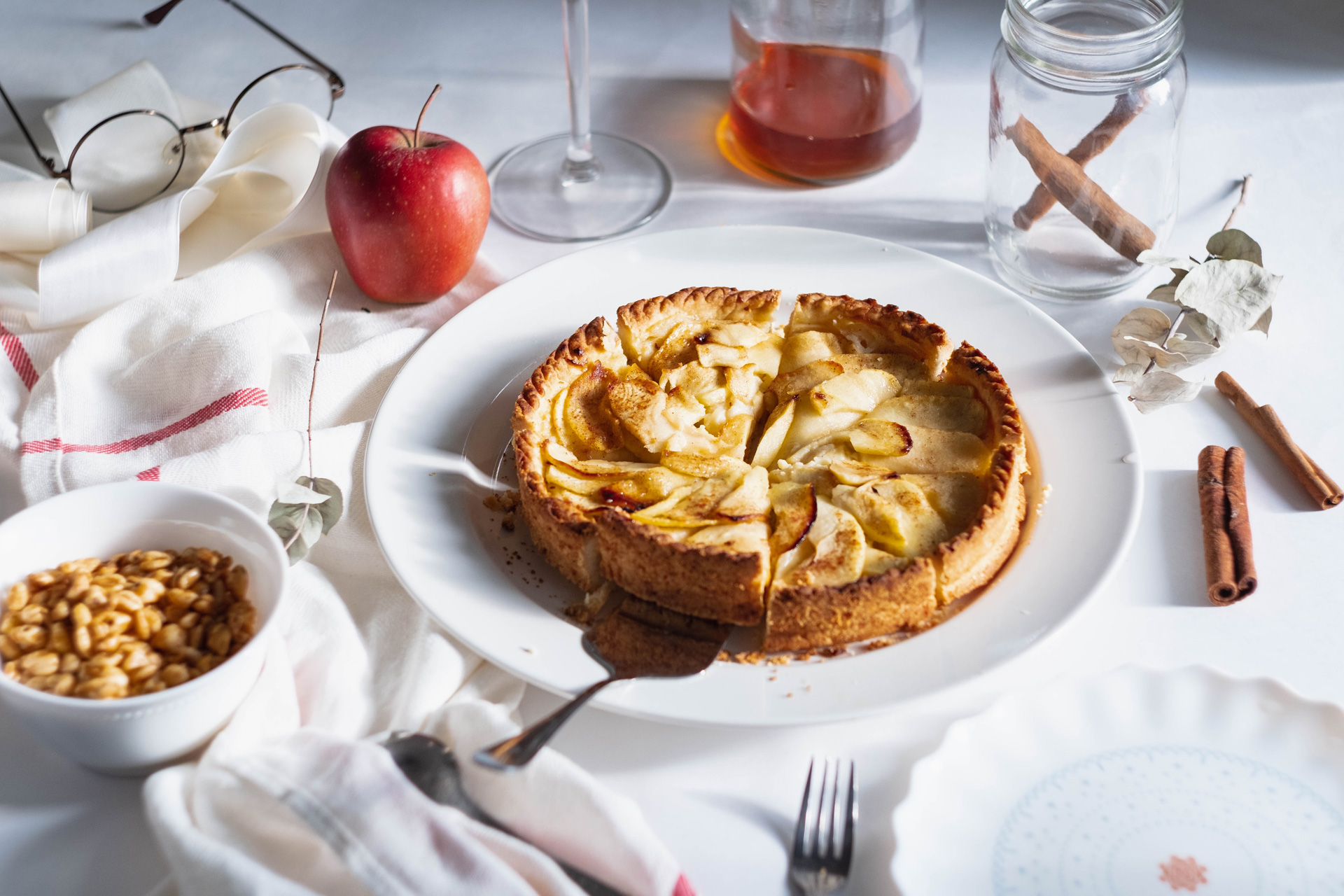 It's worth mentioning: don't be fooled by the shiny skin (many apples are waxed to make them look good), and don't discard an apple with dry brown patches. It's just the result of overexposure to sunlight and won't affect the quality. Brilliant for an apple pie! This is a great simple recipe that utilises apples in such a great way. Not too sweet, and delicious eaten with ice cream, cream or custard. A perfect make ahead dessert that will satisfy even the fussiest of eaters.  
Recipe: Humble Apple Pie
Makes 6-8 servings
For the pastry:
250g flour

110g of cold or room temp Veurre hemp butter or any other plant butter.

10g brown sugar

70ml water

Pinch of salt

Pinch of cinnamon
For the filling:
2 apples, peeled and cored, chopped into half moons

1 tbsp melted plant butter

1 tbsp brown sugar

1 tsp cinnamon 
Method:
Preheat the oven to 180ºC.

To make the pastry, add flour and plant  butter into a large mixing bowl and mix together using your hands. Then stir in the sugar, salt and cinnamon. 

Make a well in the middle of the bowl and pour in the water, and continue to mix this with your hands until combined.

Empty onto a flat surface and knead for a few minutes. Place back into the bowl and rest in the fridge for 30 mins.

After 30 mins, place ⅔ of the pastry on a flat surface and with a rolling pin, roll out into a circle slightly larger than your pie dish. Transfer the pastry to your pie dish (you can wrap it around the rolling pin to lift and transfer it), and flatten across the base of the pie dish, pushing into the corners and up the side of the dish with your thumb.  

Prick the pastry base several times with a fork, then bake in the oven for 10 mins. Place the remaining ⅓ pastry back in the fridge.

Meanwhile, make the filling by adding the apples, melted butter, cinnamon and sugar to a large bowl and mix to combine. 

Take the pastry base out of the oven and add the apple filling to the pie base and spread evenly.  Remove the remaining part of the pastry from the fridge and roll out to the size of your pie dish.  Place on top of the apple filling and pinch the edges together to form a seal. Make some fork holes in the top layer of pastry and place back into the oven to cook for a further 30 minutes.

Serve up with some delicious plant custard or ice-cream!