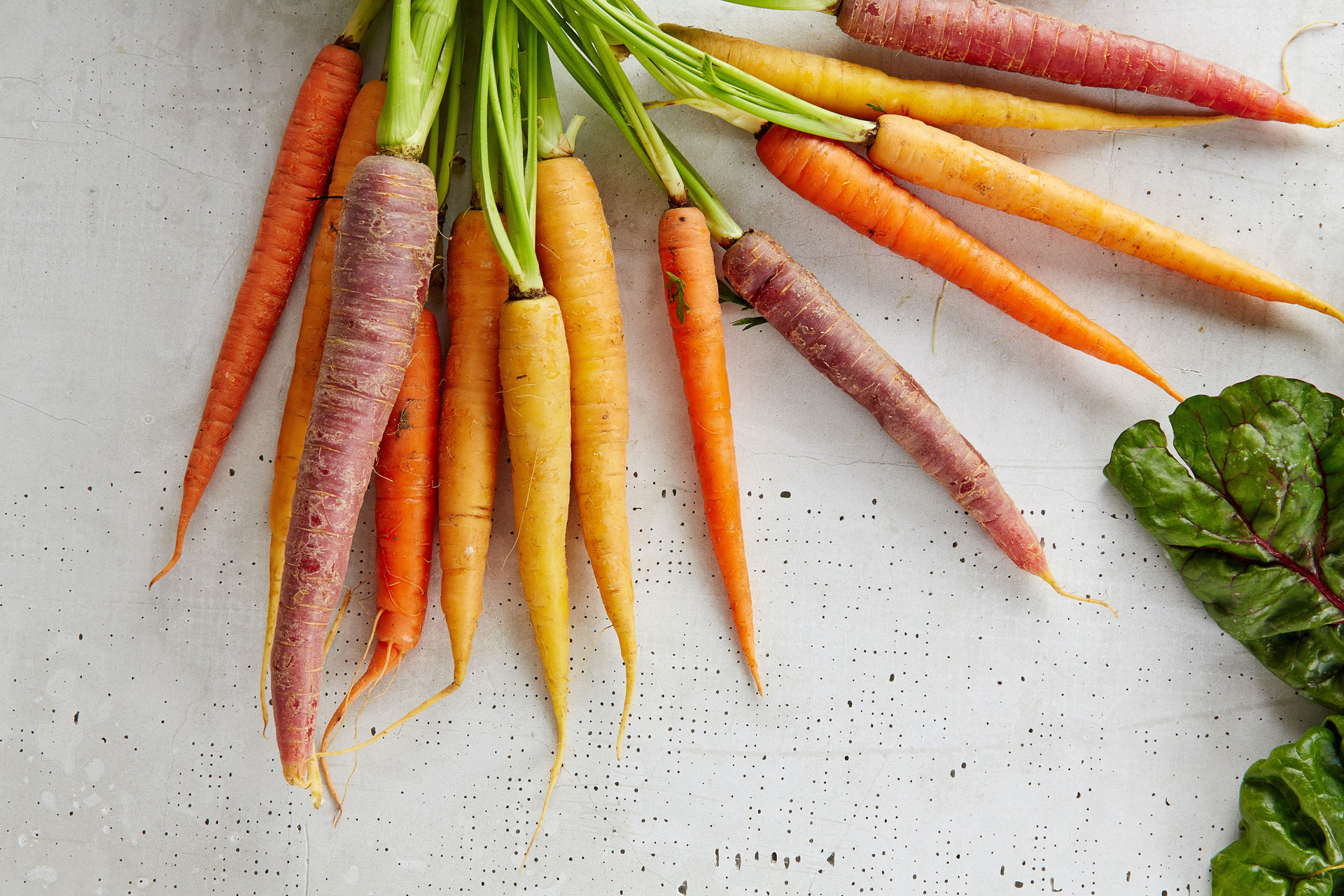 Vegetable of the Week: Carrots
---
How to best enjoy the summer harvest of carrots
Each week plant-based cook Bettina Campolucci Bordi, founder of Bettina's Kitchen, gives us the lowdown on a particular seasonal vegetable or ingredient, offering cooking tips and a recipe. This week it's carrots.
Have you ever heard the phrase, 'there's a carrot for all seasons'? Probably not – but it's true. Carrots are one of the most versatile vegetables and work in both sweet and savoury dishes, served raw or cooked, and can be pre-prepared, pre-batched and frozen for future dishes. There are over 40 different types of carrot, coming in five colours – orange, red, yellow, purple and white – and they can be harvested almost all year round.
Carrots are their optimum, though, when harvested at the start of June. This brings the sweetest of the bunch, carrying sugar notes that swirl on the tongue with a pine finish that brings just a touch of woodiness to the palate. They are delightfully crisp when raw with an aroma of parsley that transcends into a noticeable harshness as the harvest prolongs.
But it's not just the time spent in the ground that has an impact on the overall flavour. The technique chosen and the partnered pairing is just as important. To keep a carrot's crunch, pair it with ingredients that match its description – cabbage for example – in a simple salad or a slaw. Roast to change the composition: their once hard exterior goes soft but crisped and charred on the edges, the insides sweetened and turned almost butter-like.
This ability to mimic and take on such a global number of flavours makes carrots the perfect pairing for a variety of their root acquaintances and umbelliferous relatives such as cumin, coriander, parsley, parsnip and everything in between.
Carrots take little in the way of preparation. When organic, a simple scrub is all you need with a small removal of their tops if eaten raw. Always keep a high-quality olive oil nearby to coat them in a thick gloss, finished with flecks of sea salt. Marinate in strong Moroccan flavours, roast in honey and ginger, blend into a soup with orange and apple or simply dip into a pesto made from its own tops. Keep carrots moist and cold. Wrap in a damp cloth and store at the back of the fridge where it's the coldest and always wash before using.
This is such an easy and great recipe and a great one for BBQ's instead of roasting them in the oven.
Recipe: Roasted Roots and Peanut Sauce
This dish is so good. I always enjoy a good peanut sauce and this is a super-lovely version I learnt in Bali, which can be used for so many different dishes.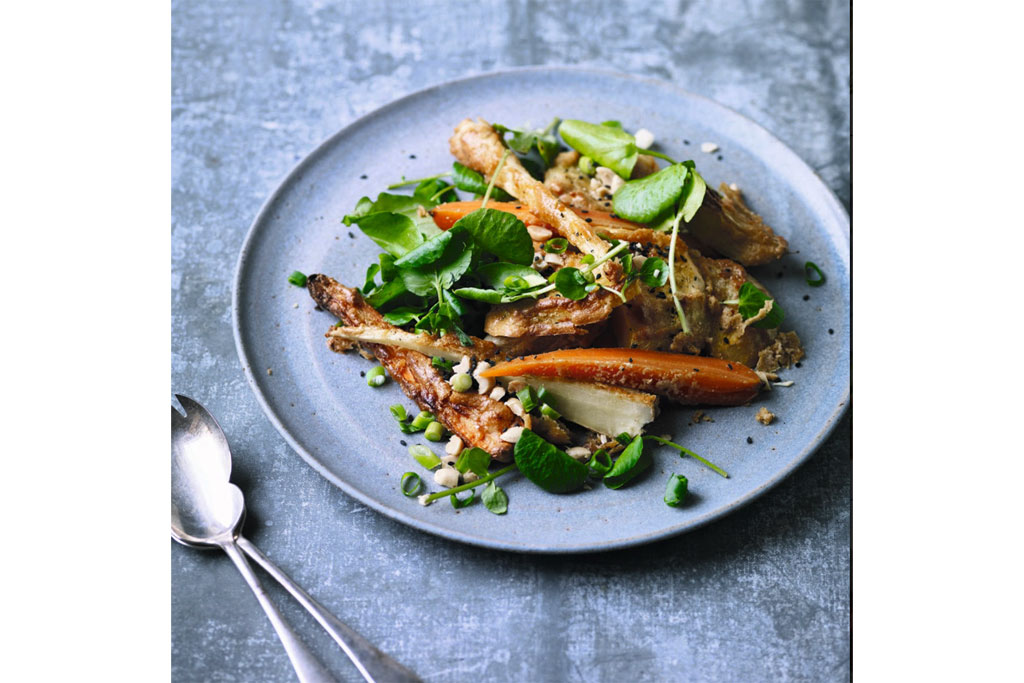 Makes 2 portions
Ingredients
1 carrot
1⁄2 celeriac (celery root), peeled
1 large potato, peeled
1 yellow onion, quartered
1 parsnip, peeled
For the peanut sauce:
125g unsalted roasted peanuts
1 tablespoon tamari
2.5cm (1 inch) piece of ginger root, chopped
1⁄4 chilli, chopped
120ml water
For the topping:
Olive oil
Spring onions
100g watercress
Boosters:
Hemp hearts
Peanuts
Sesame seeds
Method
Finish preparing all the veggies by slicing them lengthways.
Put all the peanut sauce ingredients in a blender and blitz until you have a smooth consistency. Marinate all the veggies in the sauce for about five minutes while you preheat the oven to 180°C (350°F/Gas 4) and line a baking pan with baking parchment.
Spoon the vegetables and sauce into the prepared pan, stir well and put in the oven for 20–30 minutes until the veggies are golden brown and cooked through. Drizzle with a glug of olive, oil, top with fresh watercress and a sprinkling of hemp hearts and eat straight away.
MORE INGREDIENT OF THE WEEK: