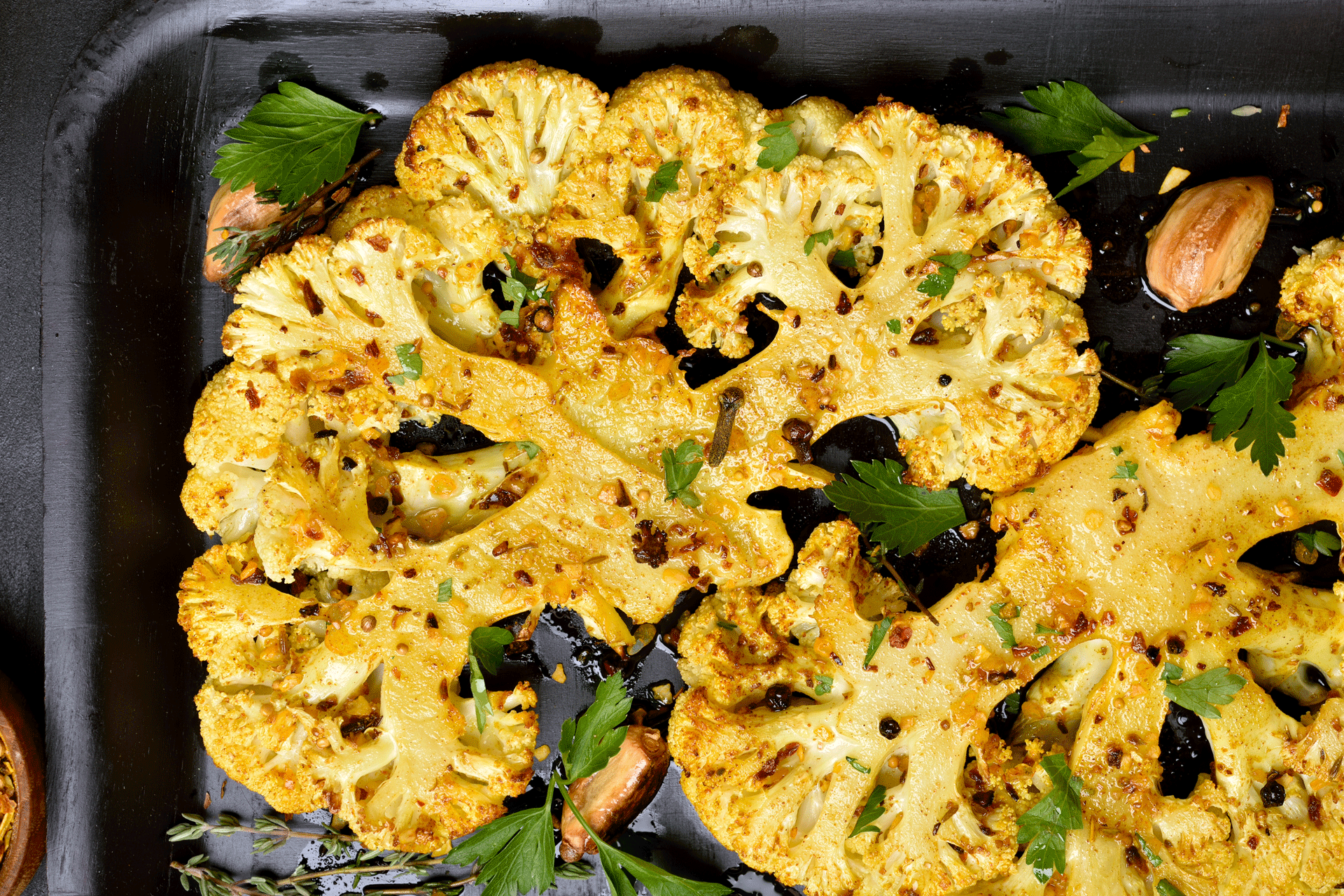 Vegetable of the Week: Cauliflower
---
How to spice up the humble cauliflower
Each week plant-based cook Bettina Campolucci Bordi, founder of Bettina's Kitchen, gives us the lowdown on a particular seasonal fruit or vegetable, offering cooking tips and a recipe. This week it's cauliflower.
The snowy white brassica gently cradled by its stark green stalks has come into its own in the last decade or so. We are constantly greeted by the words: 'Cauliflower is the new [insert tending ingredient here]' – but the truth is, cauliflower has always stood on its own. It may not scream excitement in colour, but its versatility, stability and nutritious benefits (100% of your vitamin C in one serving and packed with vitamin K, magnesium, potassium, calcium and iron) sure make up for what it lacks in the vibrancy department.
Whizzed into rice or couscous-based substitutes; used as pizza bases, mashes or purees; or meticulously hidden within the folds of the dessert menu – the cauliflower has it all. Especially as the entire head, leaves and all, are completely edible.
The stems and leaves are great when roasted with a thick gloss of olive oil, flaked red chili peppers and large crystals of salt before charring to perfection. The outer corners curl under the heat and add crunch to a wide variety of dishes. This is a great way to add a nutty rich flavour to your head too, when roasted in the same manner. If time is of an essence or to enjoy in the peak of the summer, heat, grate or peel into salads or coleslaws. Add the stalks to soups and stocks to enrich and add depth as well as reduce food waste. The florets, meanwhile, are the perfect vehicle for transporting thick sauces that seep through and cling to every crevice. Try them in a simple tempura batter before dipping into a garlic-laden aioli.
Cauliflower was made to take on strong bold flavours: cumin, chilli, saffron and truffle all joining the aforementioned bulbous aromatic. Musky, sweet, nutty, ripe: just a few of the key characteristics our humble cauliflower can bring when used in spicy Indian curries, roasted in Mexican flavours or blended in the style of the French. But also, an air of softness. When boiled or steamed then pureed, you can tend to all tastes and preferences.
Don't be afraid to get creative. Play to the vegetable's sweeter side by adding ingredients to enhance this. Chocolate, caramel and chopped nuts all pair well with cauliflower too.
To keep your veg at its optimum, loosely cover in a darkened cloth and store in the crisper drawer, then try not to cut until you are ready to use.
Recipe: Tempura Fried Caulettes with Gojujang Dipping Sauce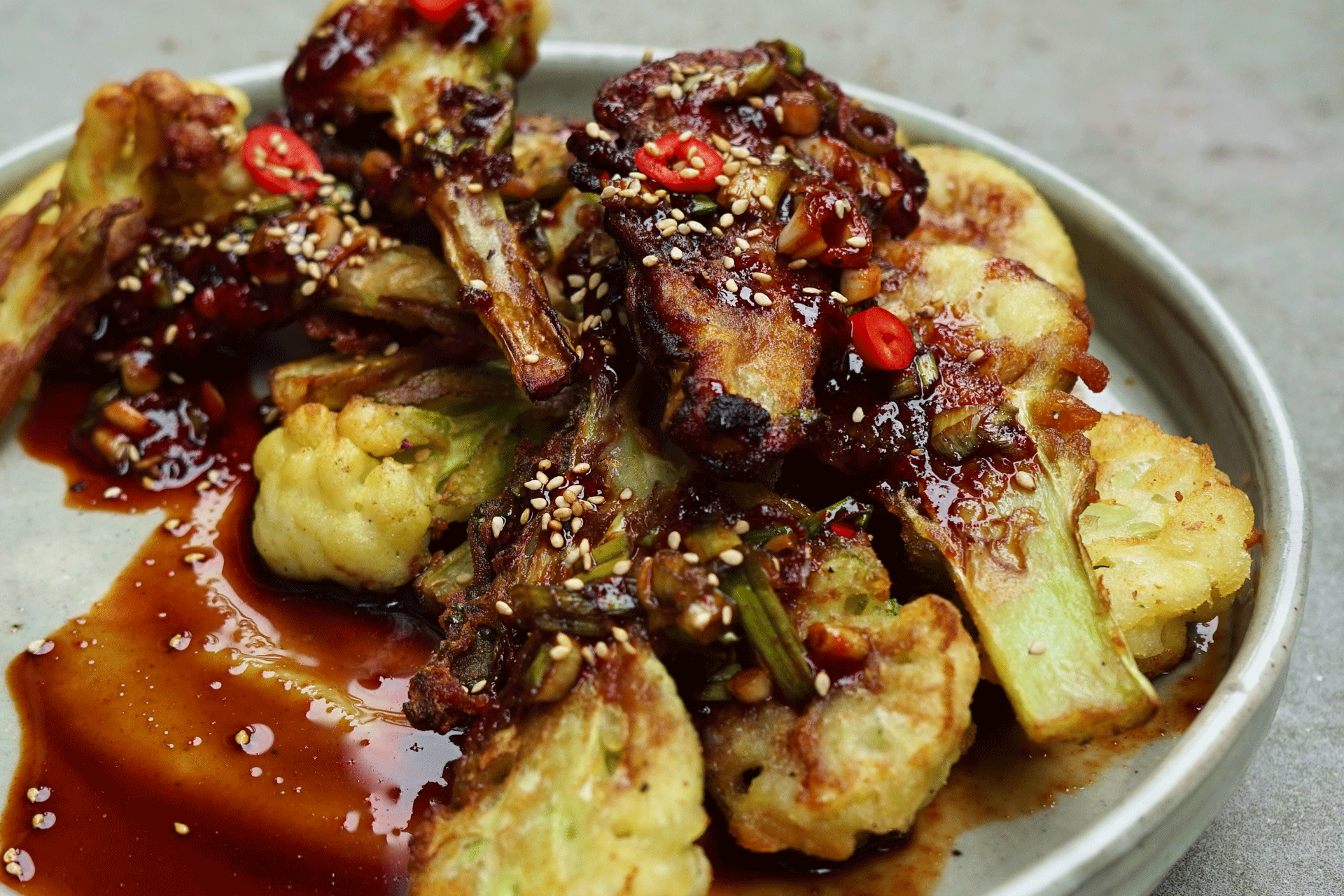 Makes 2-3 servings
Ingredients:
500g caulettes
Oil for frying (I used rapeseed oil as it is local to UK)
For the tempura batter:
360ml of sparkling water
1 tsp baking powder
Pinch of bicarbonate of soda
2 tbsp cornflour / cornstarch
250 grams of rice flour
1 tsp of apple cider vinegar
Pinch of salt and pepper
For the dressing:
1 tsp gochujang
20g maple syrup
25g tamari
1 spring onion, finely sliced
For the topping:
½ red chilli, finely sliced
Handful of sesame seeds
Method:
Slice the caulettes in half down the middle of the stem. Blanche them in a pan of boiling water for 2-3 minutes, remove and set aside.
Meanwhile, make the dressing by adding all the dressing ingredients together in a small bowl.
For the tempura batter, add all ingredients into a large bowl and whisk together.
Add approx 3cm of oil to a frying pan and heat the oil to 170-180°C, or until it sizzles when you drop some batter into it.
Dip the blanched caulettes in the batter to cover completely, then gently place into the hot oil and cook for 2- 3 minutes until crisp, turning occasionally.
To keep the oil at a consistent heat, only add small batches of caulettes at a time.
Remove from the oil and place onto a plate lined with paper towels to drain excess oil.
Then place the caulettes onto a serving plate and drizzle the dressing over the top.
Top with chillis and sesame seeds and enjoy straight away!
MORE INGREDIENT OF THE WEEK: