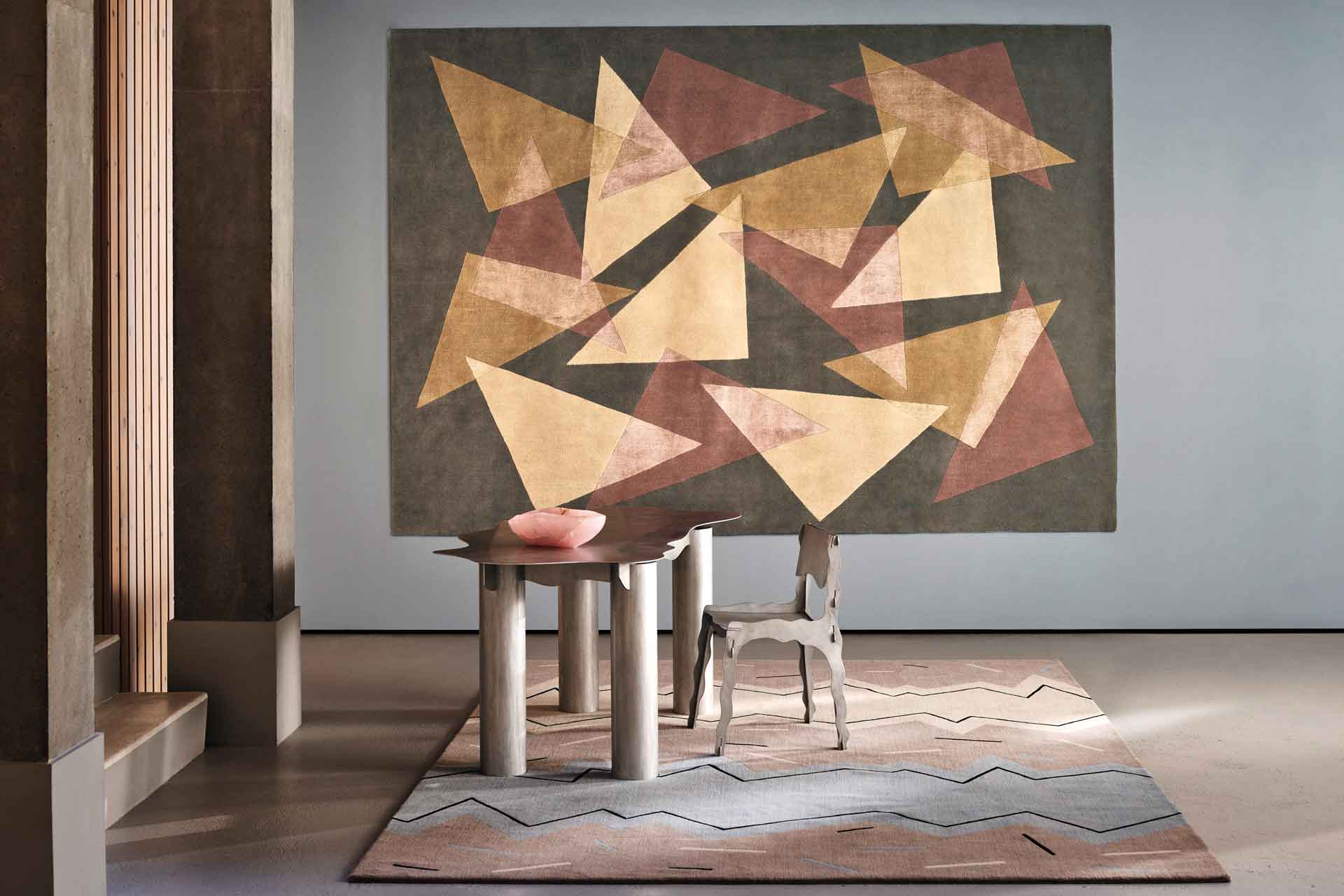 Discover Deirdre Dyson's New Collection Of Graphics-Inspired Handmade Rugs
---
Deirdre Dyson is a Great British Brand 2023
Deirdre Dyson is an entry in our Great British Brands 2023 book. 
Deirdre Dyson: Great British Brand 2023
'Last year's 'All at Sea' theme has been wildly admired and people who've bought rugs have rarely changed a single colour. Indeed, I've been told that the carpets have sometimes inspired an emotional response. The 2023 carpet collection, 'Angles' is in complete contrast to my last watery blue sea-inspired collection. This collection's graphic without any curves. It's a very eye-catching departure for me and I've enjoyed working within the design limitation of straight lines. Though the strict theme was challenging, I made quick progress with my pad, pencil, ruler and set square.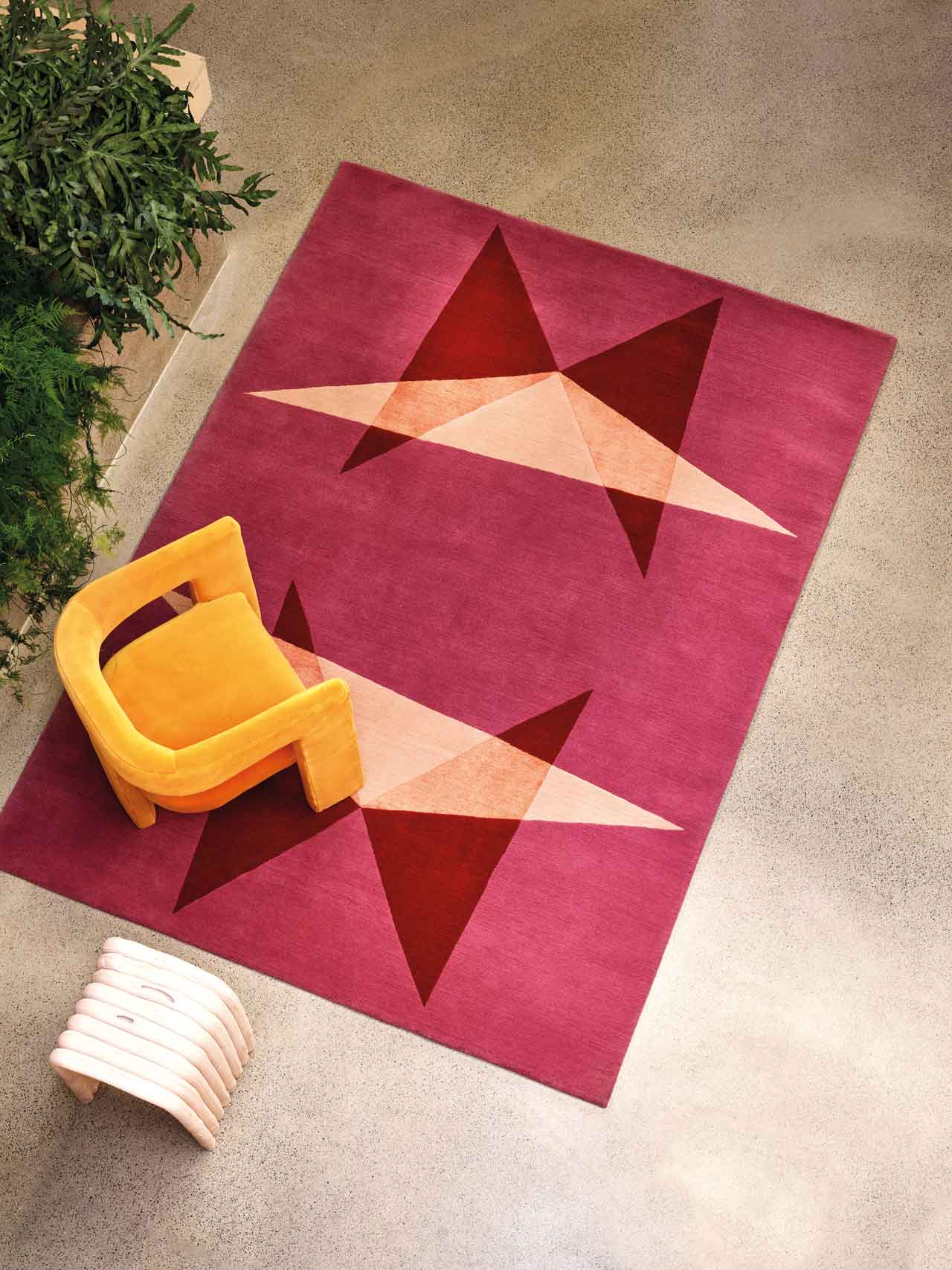 'Last year was not a marvellous year, but an interesting one, maybe because my subject was more figurative than abstract. I've been travelling to the Paris gallery a few days a month, where selling is still tough. Breaking into a new market is always a challenge and carpets are not an everyday purchase for anyone! However, the Parisians love the work and the French are more attuned to art in general, partly because of their history of Impressionistic painting and because Paris is full of little shops having exhibitions of art and craft. I'm always defined as an artist. I decided to do some paintings of the 'Angles' collection, which developed into a collection of artworks including previous designs. An interested art dealer has suggested I exhibit them at a Mayfair gallery in March 2023, which is exciting. Recently we've had a lot of interest from the United States and because of their bigger houses they need larger carpets, so that's been a great bonus.  
'Meanwhile, our wonderful hand- weavers in Nepal have continued  producing steadily, which is amazing considering so much of their country was devastated by the 2015 earthquake. I love what I do and it's so exciting when each carpet arrives from Nepal. It's a joy for the team and me to see the finished product realised in wool and silk.' Deirdre Dyson, founder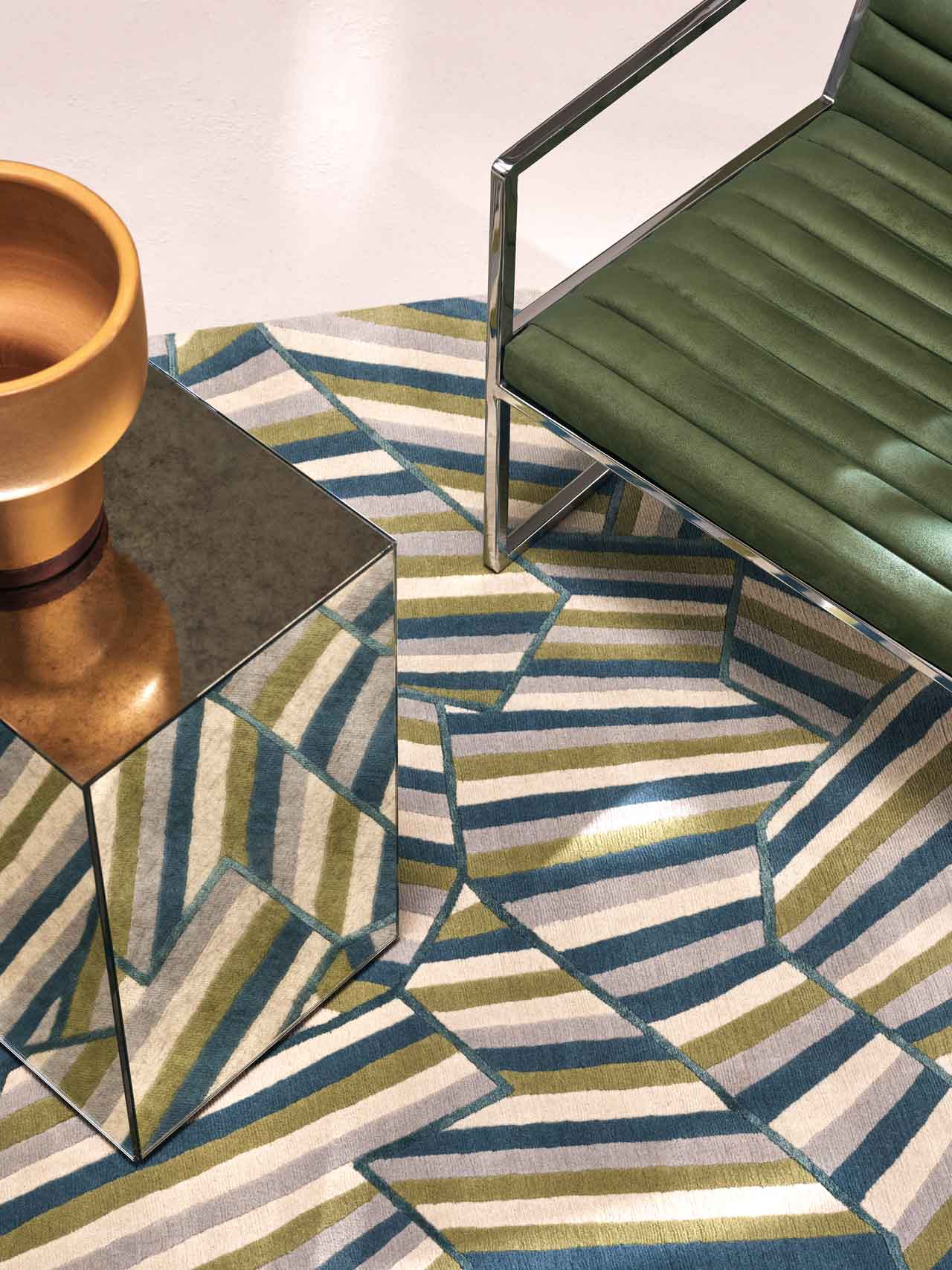 Brand Timeline
1997
Unable to find modern carpets she likes, Deirdre Dyson designs one at the suggestion of carpet dealer Richard Ringrose, leading to her first collection for sale.
2000
Deirdre takes over the company and establishes Deirdre Dyson as an independent brand. Her artwork is developed into beautifully hand-crafted carpets.
2015
Deirdre Dyson publishes her book Walking on Art and reopens her London gallery, redesigned by architect Timothy Hatton.
2020
Deirdre Dyson opens her Paris gallery in Rue des Saints-Pères, created by celebrated interior designer Remi Tessier to best showcase the luxurious rugs.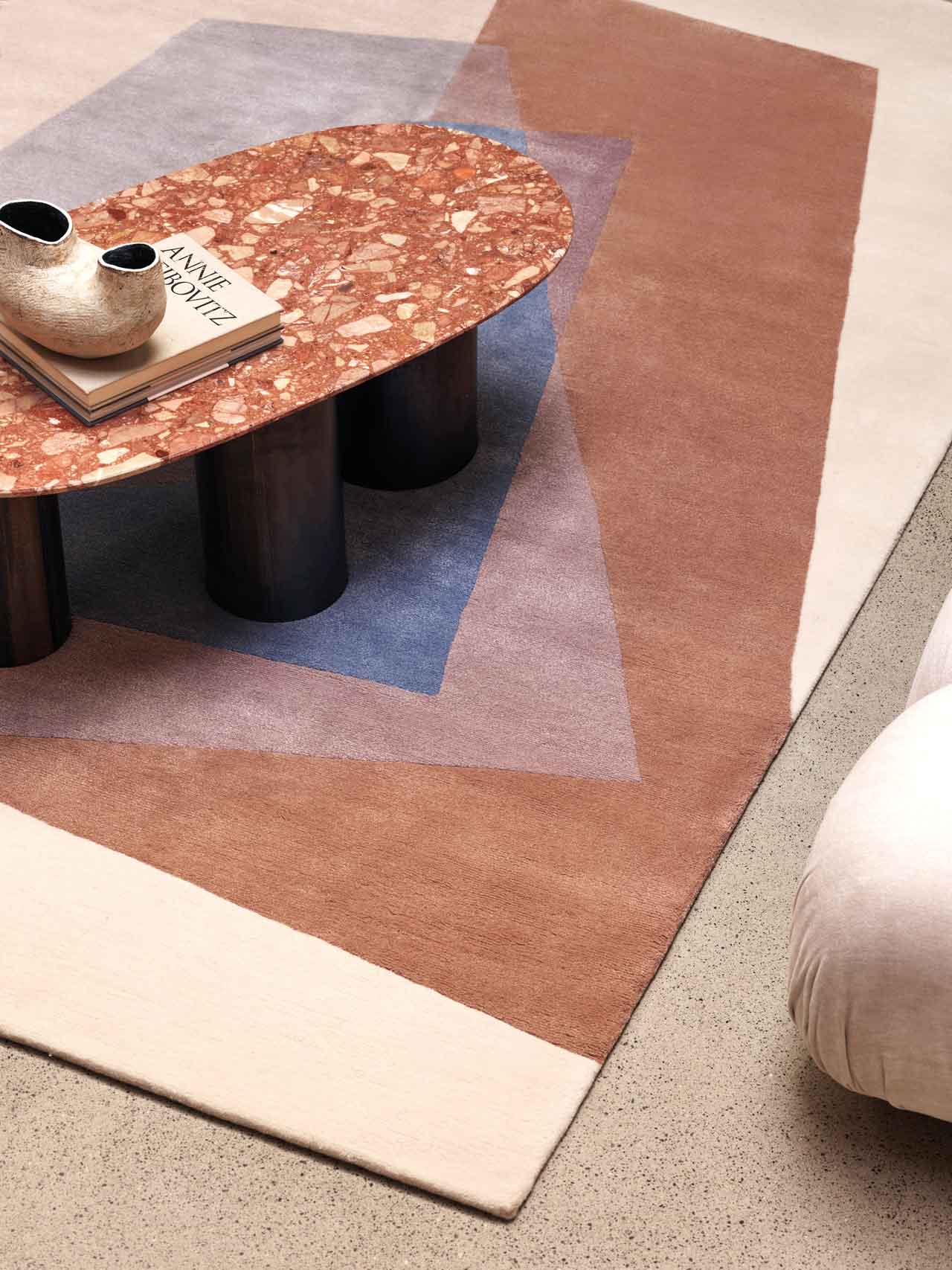 DID YOU KNOW? 
Deirdre Dyson trained in fine art and graphics, has had solo exhibitions in New York and London, and is still painting. 

Deirdre is a trained singer and early in her career she created illustrations for a regular column in Vogue.

In a hand-knotted Deirdre Dyson carpet there are a hundred handmade individual knots in the area the size of a postage stamp.

Graded carpets are a particular challenge. Deirdre's most recent design includes 24 colours and measures a staggering 12m in length! 

Every selected colour used in Deirdre's hand-knotted carpets is perfectly matched by its Nepalese dye master. 
DEIRDRE DYSON CARPETS LTD.
554 King's Road, London, SW6 2DZ
+44 (0)20 7384 4464