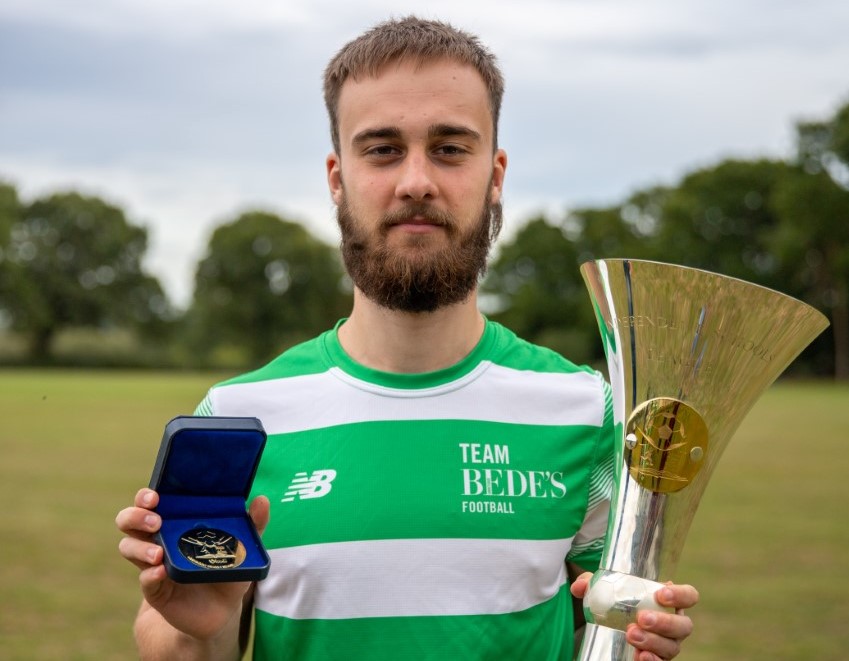 Bede's Sixth Former Secures Football Scholarship to Trinity University, USA
Many congratulations to Upper Sixth pupil and Bede's 1st team Football captain, Jake Baker who has secured a Scholarship to Trinity University, San Antonio, Texas.
Many congratulations to Upper Sixth pupil and Bede's 1st team Football captain, Jake Baker who has secured a Scholarship to Trinity University, San Antonio, Texas.
Jake follows in the footsteps of Bede's alumni, including Tom Collins, Rex Lane and Sam Bickersteth who have all continued their footballing journey in the US. 
Jake said of the news, "I'm really proud and excited. I've been dreaming of this for about four years now and I've had to work really hard for it. You have to put together loads of videos of your matches and keep in constant contact with the coaches. I was able to include our unbeaten run in the Hudl League as well as my matches representing the National ISFA team. At one point I was emailing regular updates and videos to over 20 universities that had shown an interest in me. It was my responsibility to keep in contact with all the coaches; a lot of the time you don't hear anything back, so you just have to stay focused and determined with it."
Explaining how everything came together he said, "I first spoke to the coach at Trinity in February 2020 via Ethos recruiting, who have been fantastic throughout this whole journey, from there I had a good feeling that he was interested. It helped that he is English and could meet me in person later in the year. Although there were other offers, I felt like he was committed to me – it felt like the right move."
Jake went on to explain that he has not always been in the 1st team at Bede's and has had to fight his way into the side. "In my Lower Fifth year I was told I would be playing in the 2nd XI, but I asked Mr Caryer what I would need to do to make it into the 1st team. He explained the things I would need to improve upon and over that summer I worked so hard on my game and made huge improvements. During a pre-season tour in Valencia, I got one shot playing for the 1sts and I took it."
Jake also explained that hard work and perseverance has been a feature of his time at Bede's, saying, "I've had to work hard at my football. There were times when I'd be coming into train at 5am before school and stay behind after our training sessions – this is something I've done throughout my three years in the 1XI. I've always had great support from the school and Mr Caryer has really believed in me. The whole coaching team have been there for me too; as well as Mr Caryer coming in early for my training sessions and coaching me during break times, Mr Dunn was great and Mr Harding gave me firsthand advice. Mr Morriss has helped so much with my strength and conditioning work while Mr Byrne has always helped me access all the facilities when I needed to."
Jake has also had to focus on his academic results as well. "I knew the universities wouldn't consider me if I let my academics drop. Because of the COVID restrictions I was unable to sit my American SATs tests but Mr Dozgic supported me throughout the application process meeting me every week to help me keep on track. My tutors, Mr Rimmington and then Mr Tuson were a great support; Mr Tuson helping with my reference, alongside Mr Oliver who helped with the essay I had to write as part of the application process. Mr Juniper also helped hugely. When I joined Bede's I wasn't exactly a top academic – in fact during my First Year, my effort grades were pretty much at the bottom of the year group. My dad had a chat with me and helped me see that this had to change and I'm so glad I got my act together as otherwise; I wouldn't be in this position now."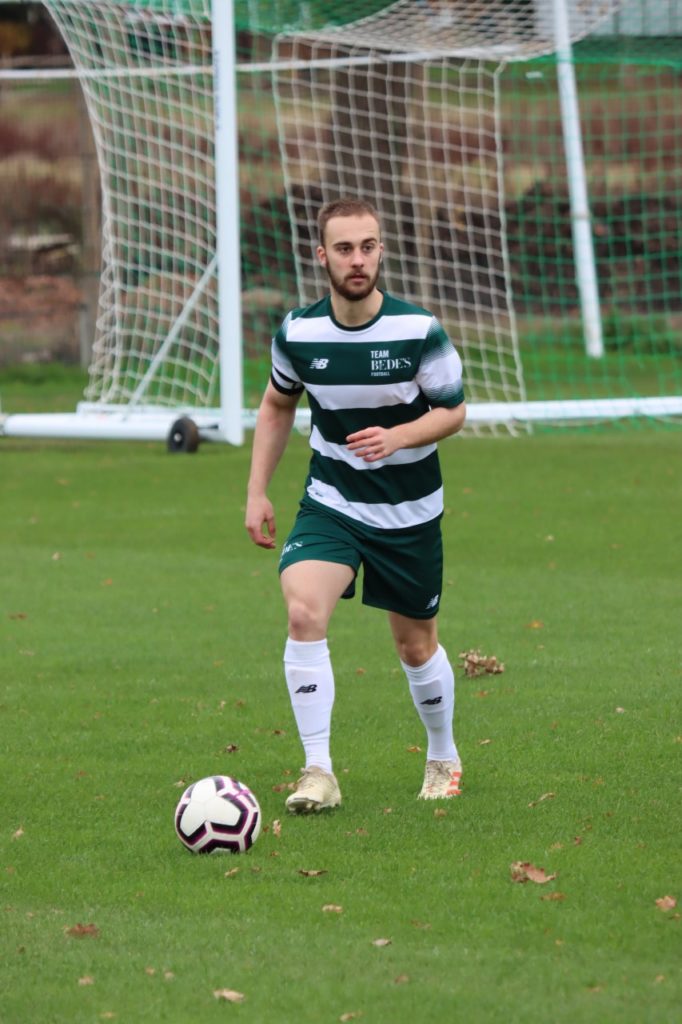 Commenting on the news Bede's Director of Football, David Caryer said, "Jake is someone who has embraced the TeamBede's values and has particularly shown discipline, an outstanding level of self-motivation and independent attitude to his training and academics. Jake has utilized his time so well here, gaining every advantage possible, speaking to the coaches and other players – always trying to find ways he can improve his game. Jake is the hardest working pupil I have come across and it's no surprise to see the success he has had – it is fully deserved. Many other pupils could learn a lot from Jake and I feel the Kobe Bryant quote sums up Jake's attitude best: "Great things come from hard work and perseverance. No excuses".
Jake finished by saying, "I have been on a real journey at Bede's – with both my football and academic studies – and I reckon that the guys at Trinity really liked that. My journey so far has made me realize what you can do if you put all your focus and perseverance into a goal and dream. To come from a potentially 2XI player, with a low academic record, to be the 1XI captain having played the last 3 years and achieved what I have achieved is all down to hard work. When I look back on my time at Bede's, although winning the Hudl League last year was a real highlight, I think my best moment was actually my debut for the 1st XI. I worked so hard for it and that made it really special. To leave Bede's as the 1st team captain means so much and I can't wait to see what the future holds."