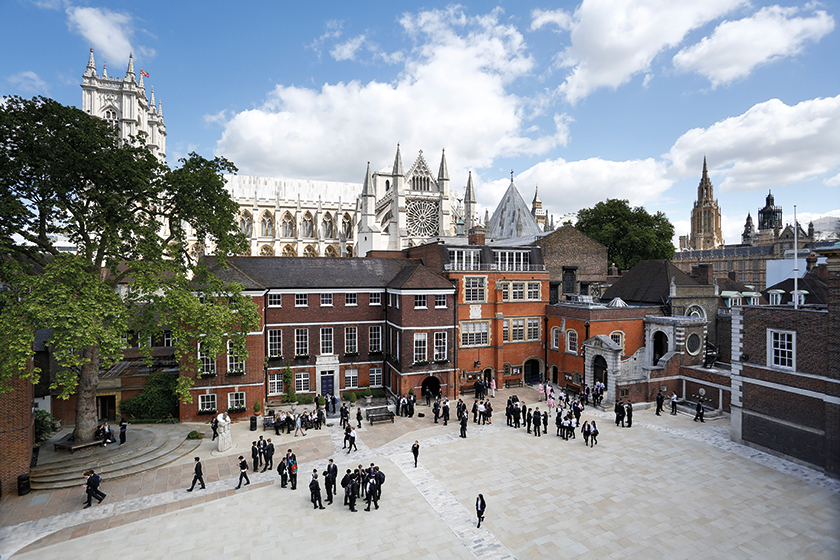 City Schools: The Urban Advantage in Education
Melanie Cable-Alexander takes a short walk to discover the virtues of going to school in a city
Heads and educationalists argue why city schools have more advantages than their rural counterparts.
Traditionally, the UK independent schools sector has long been associated with a boarding school culture, many of which are rural or at least in small towns. A large majority were originally for boys only; Winchester, Eton and Harrow are perhaps the best known but King's School Canterbury was founded in 597, Tonbridge in 1533 and Sherborne School in 1550. The global reputation of these and others is much admired.
However, an increasing number of modern parents who, in the past, might have sent their children away to school, now want to be closer to their offspring, so city schools, several of which also offer a part boarding option, come into their own arena.
City day schools
John Claughton, the dynamic chief master of the city day school King Edward's School Birmingham (KES), has experienced both day and boarding metropolitan schools. He is vociferous in his enthusiasm for city day schools, citing the advantages of 'cultural diversity', 'forming friendships with local people', 'racial equality' and a 'meritocratic community'.
'Education is one of most precious gifts a parent can provide,' he says, 'but as a father of children myself, I can't think why anyone would send their children away.'
Anna Hill from the Girls' Day School Trust (GDST), a leading network of independent girls' day schools, is equally passionate. She says that, 'City day schools are at the heart of their communities and play an important role within them. They are both inclusive and diverse, enabling students to mix with peers from a range of backgrounds at all ages and stages.'
'Students at day schools learn to manage their own time and balance the demands of school, homework, friends and family from an early age. They also see their parents, siblings and friends in the evenings and at weekends, while concentrating on their studies during school hours. It really is the best of both worlds.'
City boarding schools
Commuting is minimal, as many pupils walk to school and being at a day school enables pupils to pursue their own interests, such as gymnastics and the arts, off the school campus. And as many of these schools do also offer boarding, they can adapt to it in their own time and at their own convenience. Plus there's plenty to tempt them.
My own son chose to board in the sixth form at Prior Park College so that he could pursue his interest in drama and film at Bath's exceptional Theatre Royal. He adores the freedom to roam a culturally sophisticated city and the independence of being able to travel to and from home when he needs to on public transport rather than relying on me as a taxi service.
Pupils can pursue their education on their doorstep, concurs Joanna Kearney. 'Our extended day with supervised prep is intended to separate school and home a little more so that children can complete most of their work at school'. She believes 'day pupils benefit from being in a boarding environment with facilities such as the library, sports centre and IT departments remaining open later to accommodate boarders.'
Another leading school in Bath, the all-girls Royal High School, also offers boarding. 'The beauty of Bath is its Goldilocks nature – not too small and not too big, which gives our girls a safe, secure environment,' comments Anna Robertson. The proportion of pupils boarding is roughly 25 per cent. 'In addition we have great links with local businesses.' There is no doubt in her mind that being in a city gives a child – and a teacher – many more opportunities to develop than in a deeply rural area.
London day schools
London remains the epicentre of all city day schools with the likes of St Paul's, Westminster, Harrow, City of London (for boys and girls), St Paul's Girls' School, King's College, Wimbledon, and the Dulwich-based schools, from Dulwich College through to Alleyn's and James Allen's Girls' School. North London Collegiate is one of the best schools in the country.
The eldest child of the Reina family, who recently moved to Notting Hill from Milan, is at Francis Holland School, Regent's Park, another top performing London day school for girls. One of her twin siblings is at Queen's Gate and the other is at Fulham Prep and about to move onto the recently opened Wetherby Senior School in Marylebone.
Living in a capital city has given them a level of sophistication that even Milan couldn't supply. It also enabled their mother and her husband to have top city jobs without interfering with 'family life or having to post them away' – an important factor in day education.
From the children's point of view, they can meet up with friends easily and have fabulous cultural and entertainment opportunities on their doorsteps.
Sarah Leonard from Westminster agrees. 'The rich social fabric of London undoubtedly broadens the horizons of our pupils.' The school has Westminster Abbey as its chapel, the Houses of Parliament nearby, major galleries on tap and is hugely supportive of its boarding and day ethos. She points out that its location creates an 'unrivalled programme of outside speakers. With its extended day and week, it allows time for education in depth.'
Schools in Bath
Other big cities, too many to list, have some phenomenal institutions as well, which have become leading draws, especially as more and more metro-exiles choose to abandon the heaving expense of owning a London home and educating their children there too. While boarding fees can exceed £10,000 a term, day fees of around £4,500 feels more manageable especially when parents are paying in triplicate or more. With the average being £4,398, it is no wonder that day pupils represent some 86 per cent of Independent Schools Council pupils. The ISC member schools represent the overwhelming majority of the private sector and act as a kitemark of excellence.
Kate Gentle, marketing director of King Edward's School, Bath, acknowledges the financial allure of city day schools. 'Fees certainly have a bearing,' she says, but that isn't the only draw: 'City day schools attract a different kind of clientele.'
KES, Bath, which was founded in 1552, is only one of several excellent Bath independent schools to be both co-educational and a day school. It is an understated academic beacon for a variety of sophisticated, intellectually vigorous pupils and parents from diverse backgrounds. These parents are actively choosing to keep the children at day schools, and often paying a premium on house prices to do so.
School catchment areas
'The premium on property prices close to good schools can be as much as 140 per cent,' claimed a recent Savills report citing schools like KES, Bath as one of the most valuable property draws. The Rudolph Steiner School in Kings Langley, Hertfordshire, adds a percentage of 79 per cent to house prices; Oundle in Peterborough adds 32 per cent; Marlborough College, Wiltshire, 62 per cent; Royal Grammar School, Newcastle, 83 per cent; and the International School of Aberdeen commands a whopping 110 per cent. The breathtakingly pretty Park Town in Oxford, a stone's throw from the Dragon prep school, which is as popular with London escapees now as it was with university dons of old, goes as far as to command London level house prices.
Many city schools benefit from improved rail and road communications too, enabling parents to do the commuting and their children to enjoy a half-way house in a more rural metropolis.
Parental participation
In Cambridge, at the city's oldest co-educational day school, The Perse School, head Ed Elliott illustrates another positive of being in a day school – parental participation and influence. 'The fact that the majority of our pupils live nearby means that the parent community is close, accessible and often directly involved in the life of the school. That relationship provides invaluable feedback, is a rich source of ideas and fresh thinking and is very important to the success of the school.'
Several heads might grit their teeth at the thought of parental interference. However, being able to tap into a world beyond an institution can have significant consequences for a school in terms of the people they can draw in to help support their educational community. Parents support local charitable activities and provide a pool of informative speakers. In the past year, Prior Park had its arts centre opened by former Arts Council head, Sir Christopher Grayling.
The opening of the new theatre at St Edward's School, Oxford, was attended by such a glittering guest list that would make a meeting of the trade union Equity or Who's Who look pale in comparison.
Westminster cites Kate Adie OBE and Mike Munn, director of education at Apple, as just two of its speakers. At Harrow, the US Ambassador to the UK, Matthew Burzan, was one draw for the pupils and the Carducci Quartet gave a string masterclass. 'Our close proximity to London means we can attract some eminent speakers,' elaborates communications manager, Jenny Simmons.
Northern city schools
Most of the best known city schools are focused in the south but the north should not be ignored.
The Manchester Grammar School, founded in 1515, was one of only five UK independent schools to be given complete clearance by the Charity Commission's public benefit test. Another Manchester-based school, Withington Girls' School, scores a high on the league tables and was listed in the Sunday Times' top independent senior schools of the year.
Fettes College, Tony Blair's alma mater, is ranked as one of the 'strongest in Edinburgh' and 'proud of its Scottish roots' without 'being parochial or short-sighted', says Gemma Gray, director of marketing. It's also extremely keen on its association with the university and being part of 'one of the world's most important cultural centres,' as many leading city schools are.
Fettes is predominantly a boarding school but day pupils are embraced, which is an attraction for the parents. 'We strongly believe in the benefits of boarding and the positive impact it has on the lives of our students – whether boarding or day.' It also sees the advantages of city facilities: a number of pupils train with local clubs or the likes of local ballet schools.
The verdict
City day schools are consistently popular, though very often less well known by sheer fact of their infinitely smaller catchment area. But with the facilities that surround them and the support of their loyal families, they have a quiet confidence in their own skin. They don't need to publicise themselves in an 'Hear Ye' town (or should I say city) crier fashion. They are simply content to be themselves.