Cranleigh Prep Stages Fifth Scholars Shoot
Pupils achieved 47 scholarships and awards to their senior schools this year
As Cranleigh Prep celebrates another round of scholarships and awards, School House finds out a little more about the prep's annual scholars shoot.
Having gained 47 scholarships in 2017, 49 in 2016 and 33 in 2015, pupils at Cranleigh Prep have  tallied a total of 129 scholarships and awards over the last three years to a wide variety of senior schools. These include Cranleigh School, Brighton College, Charterhouse, Millfield, Prior's Field, Reigate Grammar School and Wellington College.
Headmaster Michael Wilson, says: 'I am particularly pleased to see such a range of scholarships and awards for academic, all rounder, art, drama, music and sport. The breadth of these awards reflects our ethos of all round involvement and they are a fitting example of the many areas of success achieved by the children here.
However, we are equally delighted with the many talented children who may not have won awards because they have thrown themselves in to all areas of school life and also exceeded our expectations. They have travelled the same journey, learnt the same lessons and ridden the same bumps. I am sure that their time will come.'
Watch the video to find out more about Cranleigh Prep…
Scholarships photoshoot
Cranleigh Prep has been staging the scholars photo for five years. 'It is definitely a challenge, trying to line up all the scholars in the right place, with their various different props,' says the school's marketing manager Emma Reid. That's why Cranleigh Prep organises the props several days in advance.
However some props are easier to manage than others. 'The most challenging photoshoot was two years ago when we had a horse in the photoshoot,' Emma continues. 'While she behaved incredibly well all things considered, it was difficult to keep the horse still and she kept spitting all over the academic scholar sitting at the desk immediately beneath her head. Typically, this pupil was particularly scared of horses, so we had to reshoot a few times.'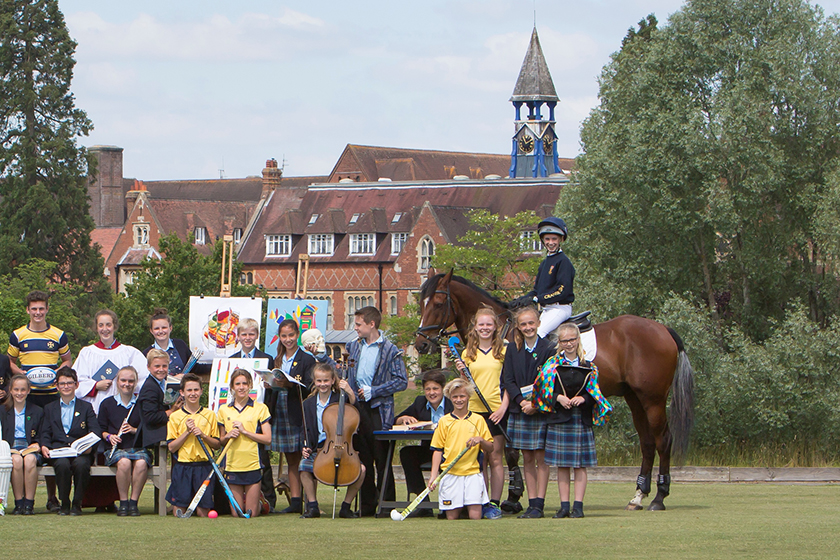 The head of scholars helps to oversee the group, along with the head of art for an artistic eye, Emma and the school photographer, Lillian Spibey. The secret to a great photo? 'We often have to wait for a cloud to pass over so that nobody is squinting into the sun,' says Emma.