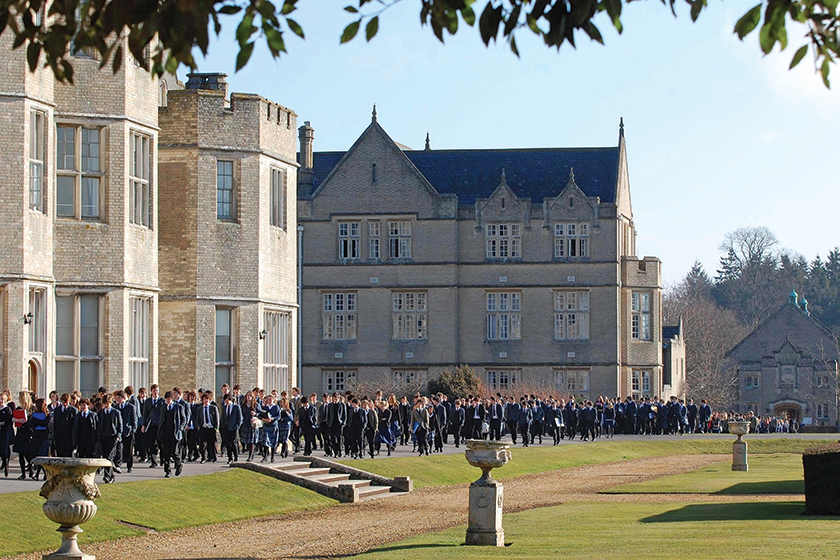 What is a Lifelong Education?
The headmaster of Canford School explains
Ben Vessey, headmaster of Canford, argues that independent schools should instill a lifelong love of learning.
The philosopher Plato, writing almost three millennia ago in circa 400 BC, took an invigorating and holistic view of education. His model for what we today describe as 'lifelong education', refers to a society whereby education is not simply embodied within specific institutions. Neither is it solely encapsulated by educational systems. Lifelong education is something that flows continually through all we think, say and do.
As a historian, I believe an examination of the past offers valuable lessons for our future. I also believe that Plato's words hold true in today's society. Young people face a vastly more sophisticated and complicated world than previous generations. I am certain that our current and future pupils will need to be career chameleons. They are likely to have three, four or more varied career paths in very different sectors dotted around the globe. There are increased opportunities to consider higher education abroad at some point. Students may re-engage with relevant formal educational development throughout their lives. Sixth-formers are also more likely to consider entering the workplace straight from school. Many may even work for themselves at some stage.
Future of education
In order to make this transition with confidence, we need to offer a lifelong education that will lay foundations for the future. Young people need to believe passionately that it is 'cool to learn', in whatever form that learning takes. In many independent schools, intellectual stimulation and the development of a curious mind lie at the educational heart. They recognise that external exams are tickets to the immediate future while a love of learning lasts a lifetime. A variety of off-piste intellectual experiences are offered in pursuit of this. At Canford, for example, there are a plethora of societies that fire the imagination, while developing confidence. These include Heretics, a sixth-form discussion group focusing on controversial issues, and The Yellow Hour, where pupils at any level of the school gather with teachers in the library for coffee, cake and an hour of creative interaction.
At the same time, it is important to learn the coherence across all aspects of a lifelong educational experience. An experience not defined by classroom walls, the exam hall, the school gates, university campus or the internet. Pupils need to be able to collate and articulate their own learning and relate it to the opportunities and challenges of life ahead. This will give them the ability to grasp the nettle throughout their personal and working lives.
Going the extra mile
The extra dimensions pupils are offered through co-curricular activities in our schools develop their character, leadership skills and confidence. We hope this will enable them to make the right choices as their aspirations and ambitions for the future unfold. Challenges such as cross-country skiing expeditions, sleeping overnight in icy Norwegian conditions, working in orphanages in India, exploring new skills in our Shell carousel activities programme and giving less privileged children, living in inner cities, a holiday to remember are just some of the experiences offered at Canford. These give pupils the chance to explore their own nature. They also learn from success and failure and develop this learning in the right way. These are invaluable lifelong lessons, which will stand pupils in great stead to face future challenges.
Negotiating those tricky teenage years is not easy and our schools are well known for the high quality of their pastoral care. Schools need to give pupils the freedom to learn about themselves and to develop their personality within a safe and secure environment. Our school prides itself on ensuring that there is a diverse range of people for pupils to talk to. This includes house staff, matrons, the chaplain, tutors and classroom teachers, to name just a few. Canford recently established a peer mentoring programme too, whereby older pupils offer advice to the younger years who want a teenage perspective, rather than an adult view. It has successfully added another dimension to our pastoral care.
Learning from alumni
Pupils in independent schools are generally fortunate to have a network of former pupils and parents across the world. Alumni make a real difference in providing insights, opening doors and challenging preconceptions. Recently, we took several sixth-form pupils to a Canford Parent Entrepreneurs evening in London. It was quite an experience for them and two pupils, who are already running an online business, secured funding for a future venture. Such focused networking events, alongside our annual careers symposium and online careers mentoring programme, all provide opportunities for pupils who have to be tough, flexible and quick on their feet as they look towards the world of work beyond Canford.
With the dramatic increase in accessibility via the technological revolution, the model of a learning society is perhaps placing our current educational structure under the most pressure. It has also prompted deep soul searching as to what an education should look like in the future. I believe it is our duty as educational leaders to endeavour to ensure that the young people we educate in our schools are given the insight to make their way in the world with confidence, giving them the best possible chance to make their dreams a reality.