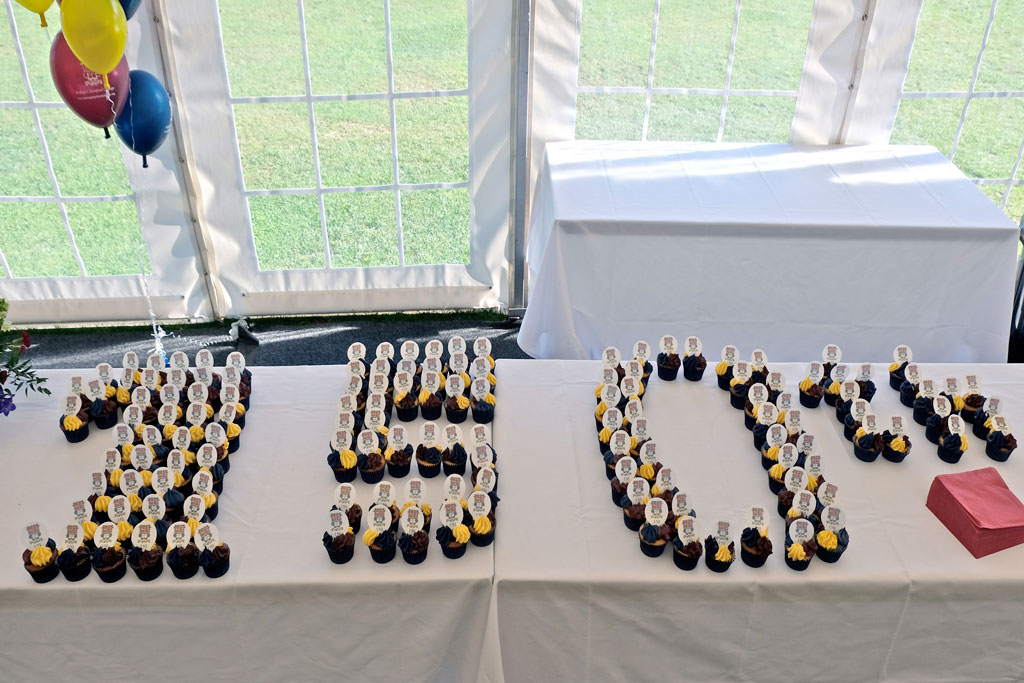 Prestigious School Anniversaries: 2018 Round Up
The best birthday bashes of the year
Bassett House School is 70
Bassett House School, North Kensington, celebrated its 70th birthday in September at the newly-opened Soho House outpost in the old Television Centre building, where the founder's husband worked. Heads of London senior schools joined the head (Philippa Cawthorne), governors, parents and staff of Bassett House to mark the occasion.
The school was established by Sylvia Rentoul in 1947 and now forms part of House Schools Group, alongside Orchard House in Chiswick and Prospect House in Putney.
The headmistress's speech focused on how a growth mindset is embedded in the school ethos. Parents joined staff in chorusing Bassett's unofficial catchphrase:
'It's not you can't do it, you can't do it YET!'
This 'can do' attitude stems from the founder who was prompted to start Bassett House School in the 1940s when she discovered that her 5-year-old son wasn't being taught to read at his local school.
Bishop's Stortford College is 150
On Sunday 23rd September, Bishop's Stortford College, Hertfordshire, celebrated a monumental 150 years old. A special Founder's Day service for pupils, staff, parents, governors and alumni (known as Old Stortfordians) was held in the College's Memorial Hall which over 300 people attended. This was followed by a tasty birthday tea in the adjacent marquee.
Celebrations of this auspicious occasion continued the following day; at morning break, pupils from across the campus gathered to dance along to The Village People's YMCA as they launched their Whole College fundraising activities in aid of ONE YMCA, Bishop's Stortford, a branch of the youth welfare movement that began in London in 1844. Almost 1000 pupils and staff joined the dance which was held in glorious sunshine on Middle Green.
Pupils also brought in specially baked 'birthday cakes' for a competition in the Prep School and Trotman House girls in the Senior School held a cake sale at lunchtime also in aid of ONE YMCA, Bishop's Stortford.
Celebrations will continue throughout the academic year. This term pupils will look forward to the burial of a time capsule, a visit from the Lord Lieutenant of Hertfordshire in October and in November, a specially commissioned play will be performed by Senior School dramatists. Trees will also be planted around the College campus.
A limited edition, History of Bishop's Stortford College is also in production and will be available to purchase at the College's 10th Festival of Literature in February 2019. Further details are available on their website.
Luckley House School is 100
Spring has come early to Luckley House School in Wokingham! When pupils and staff returned from their half term break, they found the front of the school flooded with 100 stunning, specially commissioned metal bluebells to mark the school's Centenary birthday week.
Jane Tudor, Head, said: "Bluebells are a strong memory for all of the school community, whether their memories are from the 20thor 21stcentury. Every spring, Luckley's woodland bursts into a sea of bluebells, symbolising hope, life and growth, and that is why we have adopted the flower as the symbol of our Centenary."
The bluebells will be in situ throughout the academic year. At the end of that time, families and friends of the school will have the opportunity to own one of the 1m high stems that have been produced by Paul Cox, master craftsman, sculptor and graduate of the Royal Academy Schools, London.
This week signifies the start of the Centenary celebrations with a Service of Thanksgiving being held at the school on Wednesday 31 October and attended by the whole school community, past and present.
The following day, the Head Student and youngest pupil will mark the school's official birthday by laying flowers on the grave of one of the school's founders, Miss Bertha Drake, at All Saints Church. The group will be joined by Gwendoline Needham, Miss Drake's great niece, who has made the journey all the way from her home in New Zealand, to attend the Centenary Service.
The original Luckley School was opened in 1918 by Miss Bertha Drake and Miss Ivy Barratt, firstly in Southland Road, Wokingham and then moved to its present-day Luckley Road site in November that year. The School became Luckley-Oakfield in 1959 when it amalgamated with Oakfield, Arnside in the Lake District, with 55 girls moving south to join 35 Luckleyans in 1959.
With a Centenary year cohort of over 270 pupils, a lot has happened since then, most notably a name change to Luckley House School in 2013 and the first boys to put on the School uniform in 2015.
Highfield Preparatory School is 100
Thanks to the parents, teachers, governors and of course the PTA, a very successful fundraising Centenary Ball in the Summer Term has led to the purchase of a fabulous branded minibus. The minibus will be used to take the girls to and from sporting events, competitions and school trips across Maidenhead, Berkshire and beyond.
To celebrate the occasion, Headteacher Joanna Leach, the Centenary Ball committee, staff and pupils all gathered together with a ribbon cutting and pink champagne ceremony on Friday 9 November to officially launch the long awaited branded minibus.
Mrs Joanna Leach, Headteacher, commented:
'I am so proud that Highfield Preparatory School now has its very own Highfield minibus. The minibus is a great legacy of our centenary year in which we have celebrated 100 years of high quality education. I would like to thank all the parents who organised events and donated their time and energy in raising the monies needed. The girls and staff are so excited to be able to travel in the new minibus and it will certainly attract a lot of attention!'
Portland Place School is 21
Portland Place School, Westminster, has marked its momentous 21st Birthday with staff, families and friends of the school, by hosting a commemorative drinks reception.
In recognition of its major anniversary, the Marylebone-based school hosted the event in the school hall, with guests indulging in delicious canapés whilst celebrating the school's significant achievements throughout the years.
Entertainment was provided during the evening by talented staff members with a variety of musical performances.
The leading independent school began to mark its coming of age at the start of the academic year with a series of significant investments including a fresh updated look and feel for the school's the logo, website and prospectus.
Headmaster David Bradbury commented: 'The reception was an excellent evening which gave us the perfect opportunity to come together as a school community, and celebrate our successes, marking the school's 21st birthday.'
'We are exceptionally pleased to recognise this notable milestone as a leading independent school. We will continue our dedication and commitment to ensuring that all pupils thrive, encouraging them to engage academically in a creative and lively atmosphere.'
The school was founded with a particular purpose in mind: to be an alternative to the intense, large, examinations focused independent day schools of which there are many in London. It's ethos is to be small, nurturing and relaxed, encouraging and enabling their pupils to achieve their very best academically, with space to develop and express their creativity and athleticism.
READ MORE: Extraordinary School Fundraising Efforts | Autumn Term | Back To School News: Top Picks