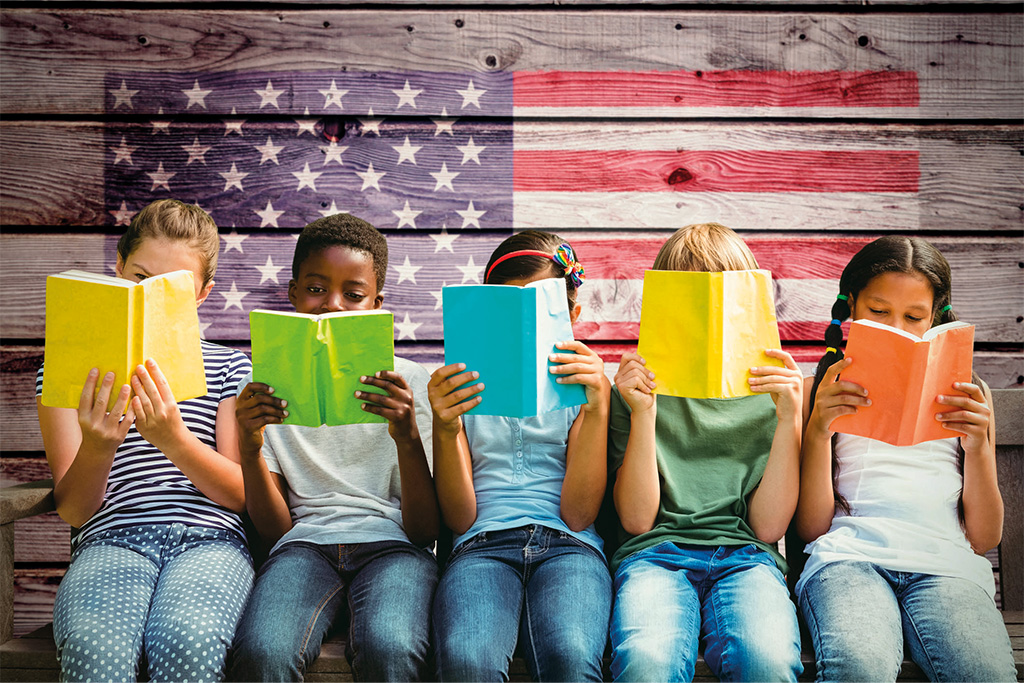 For an international education with strong British roots, UK-based, US-led schools are dandy, says Emma Reed.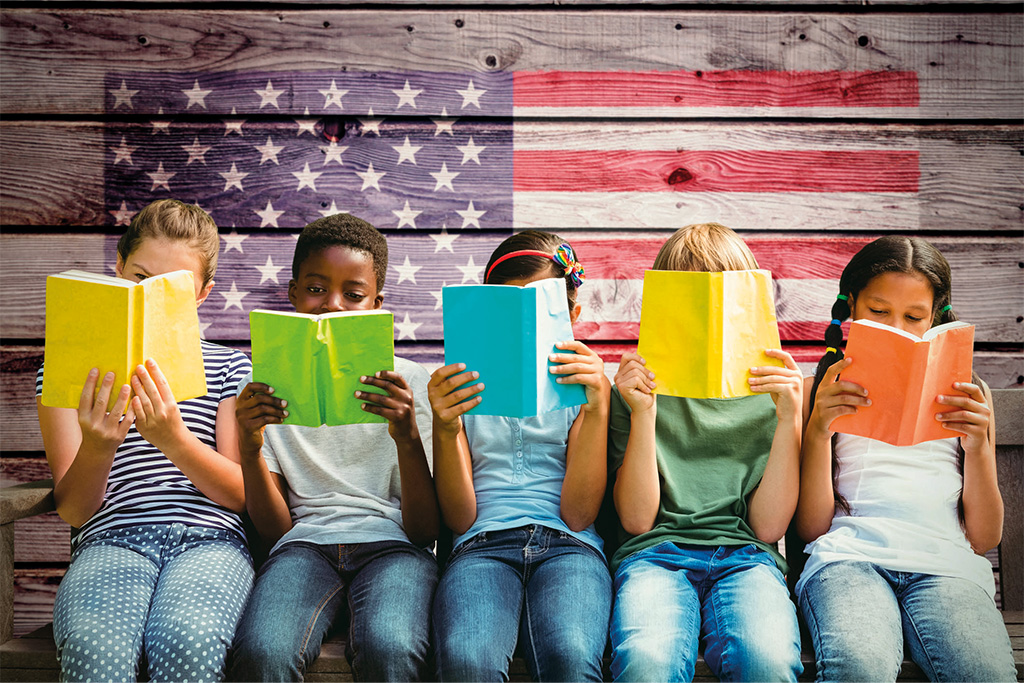 When we think of independent education in this country, it can be hard to get away from the stereotypes of the quintessentially British school encapsulated in books and film. Indeed, some international families who choose to educate their children here seek precisely that. Often though, these families are transitory, moving locations along with jobs. This can make it harder for children to settle in, leave, and possibly return to a school where the rest of the student body is fairly static.
But there is another way: to join an American school in the UK, or an International School that also offers an American program.
If you're looking for a truly hybrid school that offers both the UK independent school experience along with the option to study an American program, then Kingham Hill School, Oxfordshire is uniquely placed to offer that. 'We're a traditional British boarding school with an American program,' says Nanci Austin, Director of External Relations. Kingham is accredited to offer a US High School diploma by the Middle States Association of Colleges and Schools Commissions on Elementary and Secondary Schools (MSA-CESS) and is recognised by the US Department of Education.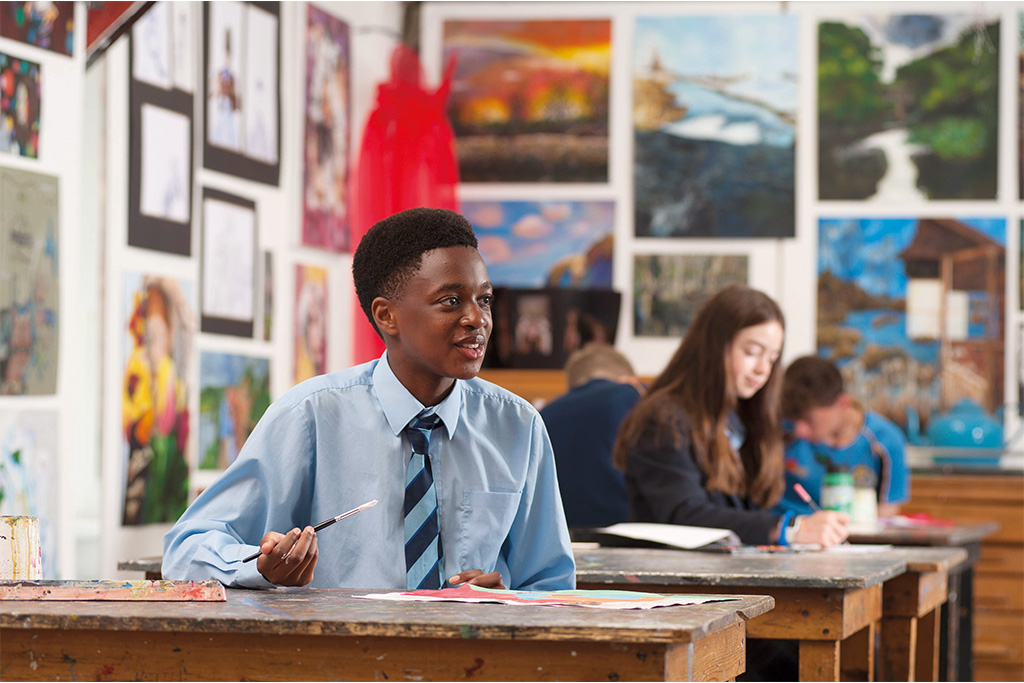 It's possible to come to the UK and not glean all the benefits of a cross-cultural experience, notes Jonathan Furst, Director of the American Studies Program at Kingham, explaining, 'Because the American Program is embedded in an English independent school, pupils can benefit from the strengths of an English education while earning a fully-accredited American diploma.' Out of 350 pupils, this year, 42 are on the American Program. Children often come from military and embassy families, but there are now a lot of families owing to corporate relocations. Kingham works hard to ease integration, celebrating events like Thanksgiving, and the option to board also helps.
Austin has direct experience of the benefits of the blended learning on offer at Kingham. Her son has sat GCSE exams and has also obtained his American High School diploma. The school is an approved centre for SAT exams, the admissions tests for US universities. Under the American system, students have what is known as a 'transcript,' a record of academic performance following through their school lives.
Before an American student joins them, they can look at the transcript and assess what courses they need to take to get them through their diploma. Those on the American program can opt to attend the GCSE courses, but don't have to take the exams. Instead, they will be graded for that academic journey. It's this focus on the individual student and their needs that is a huge draw. Pupils get the preparation and support they need to go on to both US and UK universities.
For the American program curriculum, lower sixth involves the study of American literature, US Government, US history, precalculus and economics. Each year, a science and language class are offered, tailored to the needs of that particular cohort. In upper sixth, pupils study English literature and calculus along with a variety of electives, some drawn from the US curriculum and others being A-level classes. An American high school graduation ceremony marks the end of the program.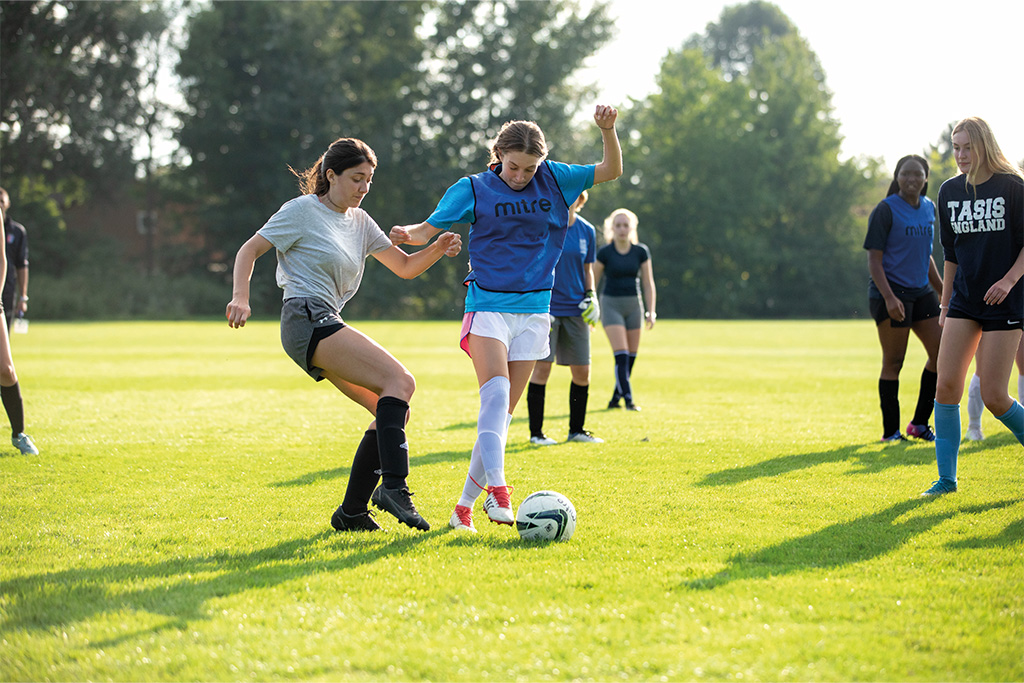 TASIS (The American School in England) in Surrey offers both the American diploma and the International Baccalaureate (IB). Within the American diploma is the option to take what is known as Advanced Placement (AP). These exams are created by the US College Board. It offers a college-level curriculum and taking these exams can earn pupils college credits and placement for high scores. British Universities see them as comparable to an A-level. The AP is done in one year.
'It's incredibly intense,' says Nellie Bailey, Senior Associate Director of Admissions. However, it can give pupils who are heading to US universities an edge. Courses there are generally four years as opposed to three here. 'Often our students end up not having to do that first year because they've met the credits already. You get a little bit ahead of your peer group.'
At TASIS, out of 650 pupils there are more than 60 nationalities within the community. About 40 per cent hold an American passport but many have never lived in the US. The school has an appeal to international families, including British ones, who have lived abroad and may not feel that they fit into the British system.
'They've had a much broader academic experience and want to stay with a broader curriculum, particularly in those later years, as opposed to getting too narrow and focused,' says Bailey. She emphasises the significance of the broader nature of the American system, where subjects are not dropped as readily as they are in the British system. 'If you want to be a medical researcher, you still need to read and analyse books and to write essays. You have to have those other skills as well.'
Usually about 40 per cent of pupils from TASIS go to US universities, 40 per cent to UK universities and 20 per cent internationally. That journey starts as early as 14 years old when their university counselling program starts. 'We're getting to know who they are, where their interests and passions lie. We do a lot of work prepping them for what's to come,' says Bailey. 'They're learning basic interviewing skills and other soft skills. We keep our classes very small, about 12 to 15 in each class all the way through. It means we can create bespoke programs.'
This tailored nature also appeals to those intent on pursuing athletic careers who need the flexibility to train at a high level, but who also want to study a breadth of subjects that makes them academically marketable. TASIS are used to a transient community, and studying for an American diploma or the IB provides an element of continuity when travelling around.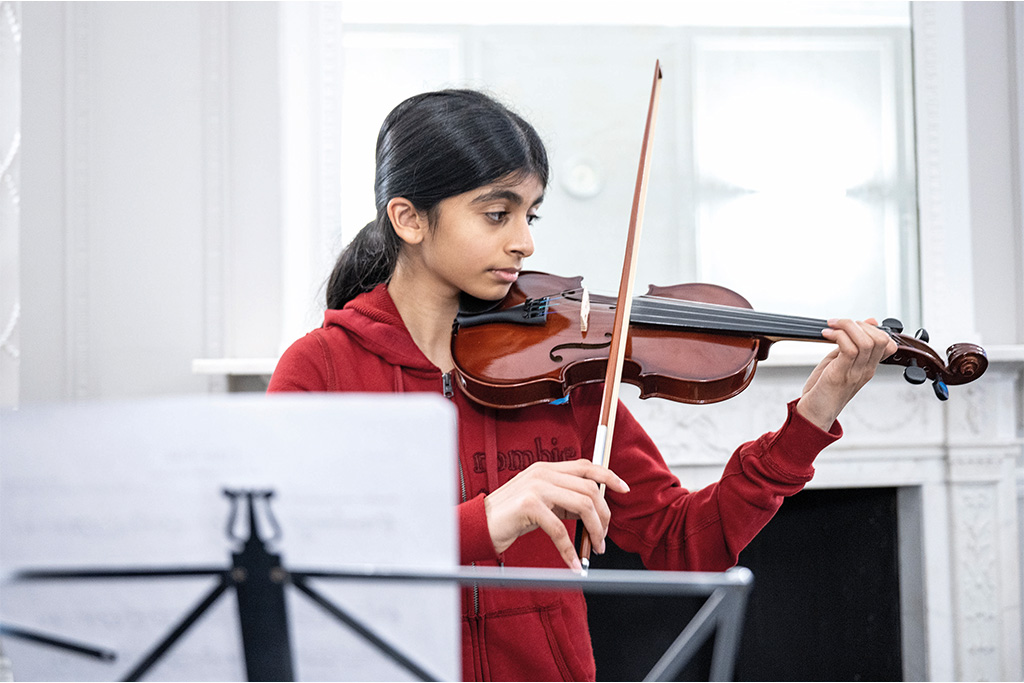 This is something echoed by Southbank International School who offer the IB, appealing to American families owing to its similarity to their diploma system. Feedback from university admissions teams and employers is that IB students make good employees as they are used to a curriculum that encourages critical thinking. Life at Southbank equips those wishing to go to US universities (about 20 per cent) with the broader demands of the US system where universities want to see evidence of a well-rounded person, not purely grades.
To this end, they do Community Action Service (CAS). Neil Herrington, Head of International Student Recruitment for Cognita Schools in Europe states: 'We place a high level of importance on charity and community service, all of which are beneficial to US college applications.' They also offer one scholarship per year: The Milton Toubkin Diploma Scholarship. Maria Litras, Marketing and Communications Manager notes that many local families come to Southbank because they are increasingly disillusioned with the constant testing and associated pressure in the British system. 'One of the most common things they'll say is how much they've seen that their child loves learning again.'
ACS International Schools, with sites in Cobham, Egham and Hillingdon, all co-educational, offer the IB, US High School Diploma and the AP. Egham is the only school in the UK to offer all four IB programmes. You'll not find GCSEs or A-levels here. The list of universities that pupils go on to attend is impressive, covering the UK, US and the rest of the world. Bursaries are offered, and ACS currently has 40 students from local families who have a bursary from one of its three UK schools.
If you're looking for a purely American style program, then ASL (The American School in London) offers that. Students graduate with a High School Diploma and can take the AP exams. Despite its American heritage (founded in 1951 by American journalist and former teacher Stephen L. Eckhard with 13 students taught in his Knightsbridge flat), ASL is strongly international, representing 66 nationalities with 57 languages spoken.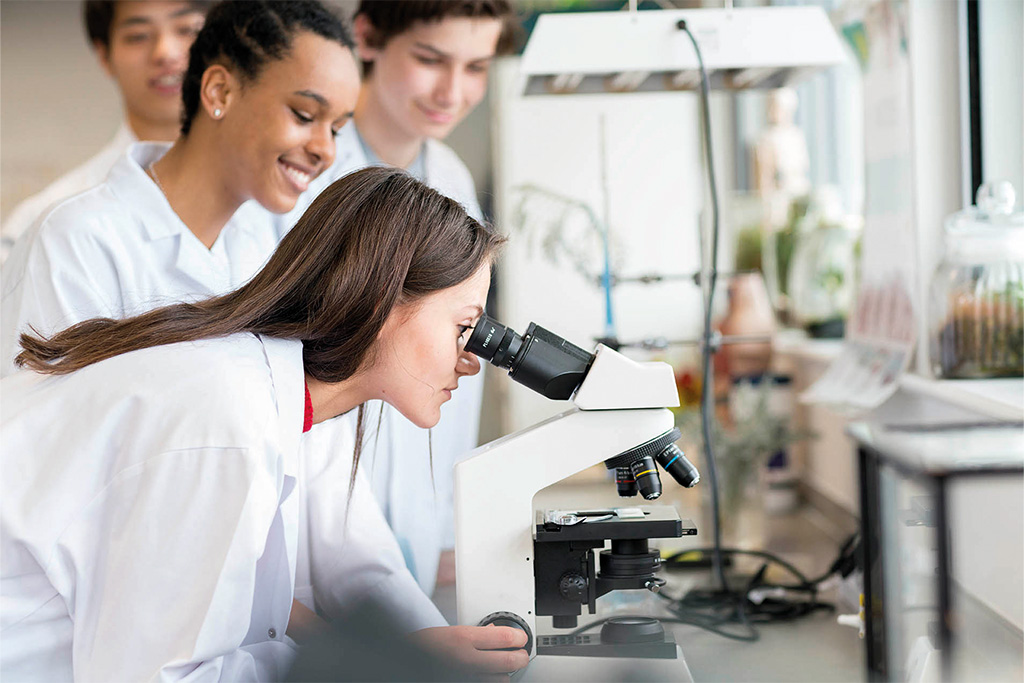 The majority of students attend universities in the US, but this is shifting: the class of 2022 has applied to universities in eight different countries. ASL does have UK pupils who have opted to follow the American system. Often, they have already attended American or international schools and, upon their return, find ASL is a good fit for them. Each year, 13 per cent of ASL's students receive some level of financial assistance. 'An ASL education encapsulates the best of American education in a UK setting. London is an extension of our classrooms. With its international student body, innovation and individuality are celebrated, just as outstanding academic success is applauded,' says a spokesperson.
Attending one of these schools not only enables students to go on to UK universities, but naturally they have an edge if they are considering applying to a US university in terms of knowledge of the system, approach and preparation. It's a question of weighing up whether you want a full-on UK experience, which places like Kingham offer.
However, the international nature of these schools gives pupils a global outlook. They are used to making friends from different countries leading to a global network years down the line. They are resilient, often used to changing schools or bidding farewell to friends who might only be with them for a couple of years before moving on. The breadth of the curriculum, encouraging independent thinking, and the emphasis on becoming well-rounded individuals with interests outside of a grade band, gives them a passport to a successful and fulfilled life equipped for our global age.
See the online linstings for all schools menitoned here: TASIS, Southbank International School, ACS Cobham, ACS Egham, ACS Hillingdon.