The UK has hundreds and hundreds of small to large villages, all with their own quirks and unique features. These village houses encapsulate classic village life in the most beautiful way possible, and we're lusting after each and every one of them… 
1. Baileys, West End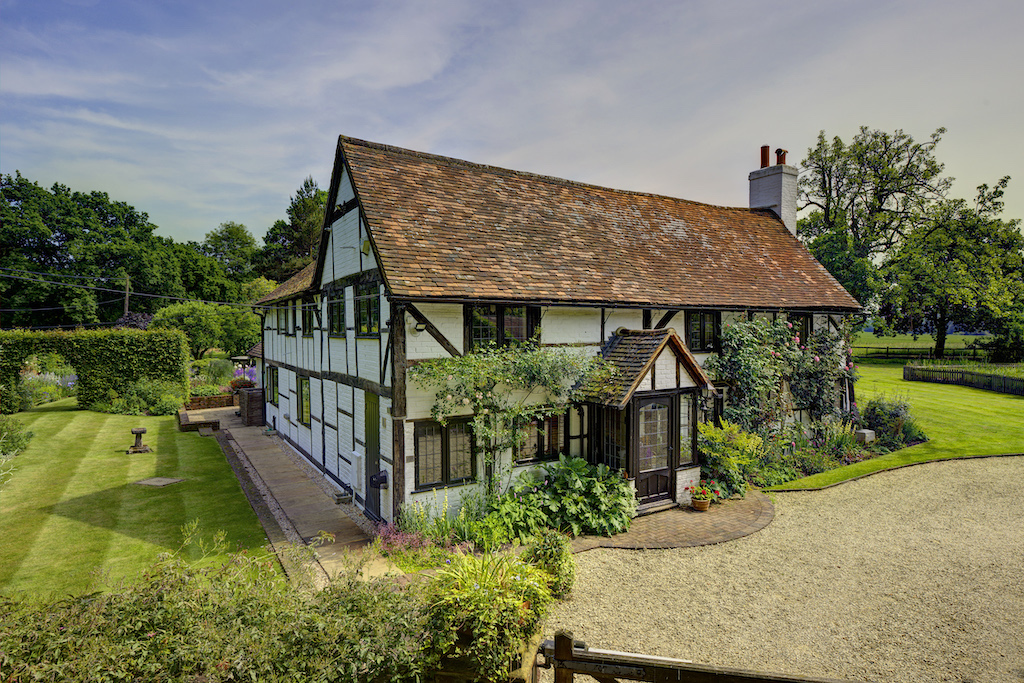 Quaint in atmosphere only, Baileys elevates country living to utmost luxury. Comprised of a principle house, separate guest house and staff annexe sprawling across 2.4 acres of glorious gardens and grounds, the country house is expectedly one of the most admired in this sought after hamlet of West End – a village as quintessentially English as Baileys itself. Although West End boasts its own facilities, its proximity to Maidenhead, Henley-on-Thames and Twynford means you'll be wanting for nothing. The property's garden pond of water lilies and bulrushes is a highlight, as is its mosaic tiled heated swimming pool. Available through Hamptons for £2.975m
2. Glyde Cottages, Bruton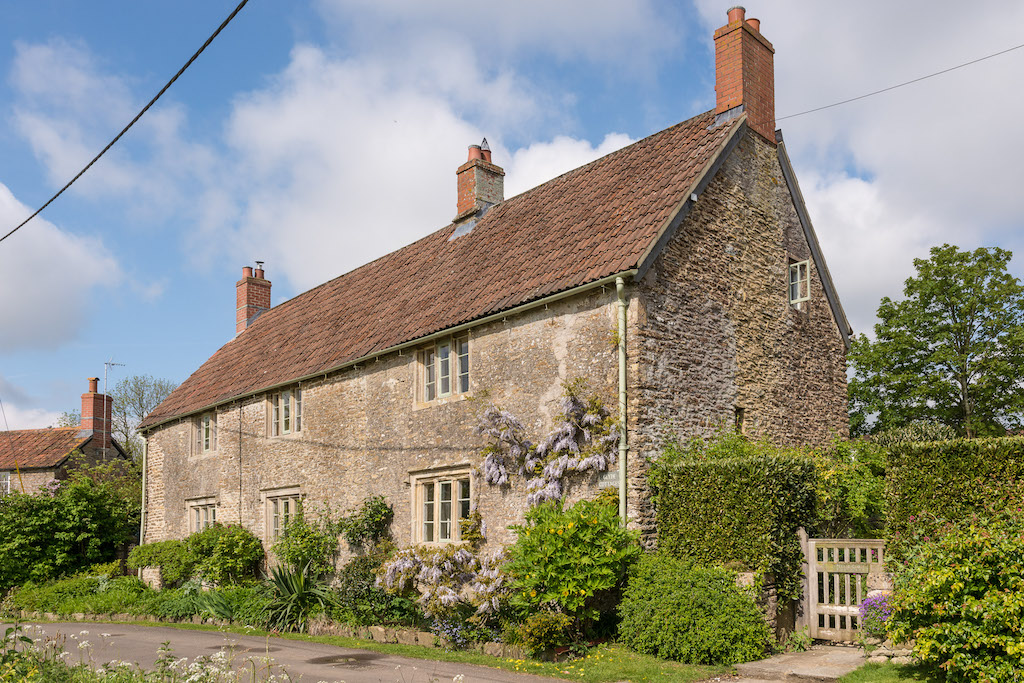 Delightfully traditional, Glyde Cottages is ideal for those looking for simple countryside pleasures. Every nook and cranny in this Grade II listed village home bursts with character and period charm, from the hardwood floors to the window seats and wooden beamed ceilings. Two generously sized reception rooms are perfect for entertaining, while the spacious kitchen with a large Aga and impressive stone fire place is an idyllic space for family evenings in. Glyde Cottage's home of Bruton is beloved for its pubs, restaurants and emerging art scene; the nearby market town of Frome is also a huge bonus for weekends spent thrifting at independent shops and browsing farmers' markets. Available through Lodestone Property for £850,000
3. Berwick House, Berwick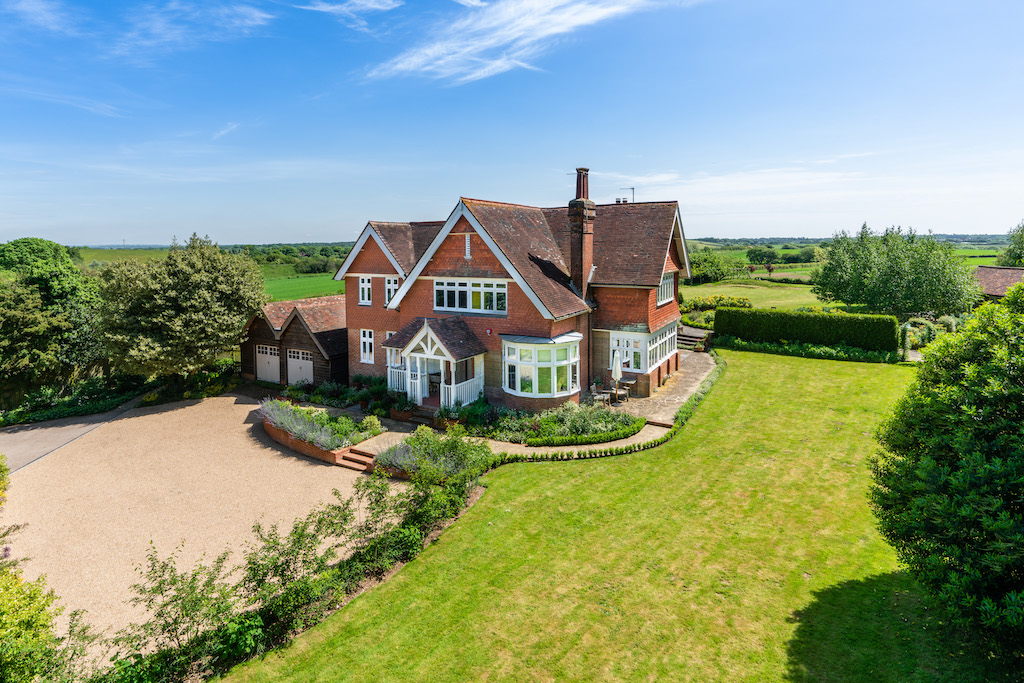 This five bedroom property in Berwick is a sensitive and stunning refurbishment of a late Victorian "Arts & Crafts" style house. Period charm and modern flair blend seamlessly in this light and airy space where vast windows let natural light flood the living room. Rumoured to have been the spot where Eric Ravilous painted his famous portrait of the Long Man of Wilmington, you'll similarly find yourself inspired by the village of Berwick – luckily there is a working space adjacent to the house ideal for delving into a personal project. Available from Winkworth for £1.7m
4. 
The Old Porch House, Cressage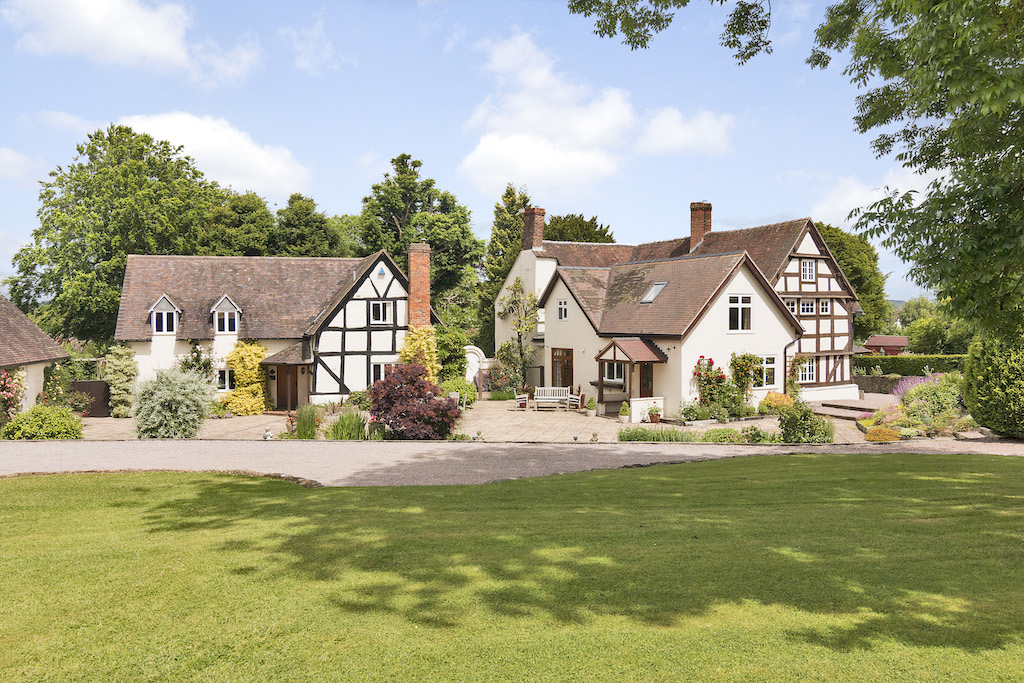 An exquisitely English country house, expect all the usual suspects; stone floors, oak beams, and 2.16 acres of surrounding lush greenery. The partly timber framed property dates back to the 16th century but in its lifetime has been beautifully restored and extended to produce a unique home that calls back to various eras. A home practically made for entertaining, in the winter family and friends can relax by the inglenook fireplace, and come summer French doors open onto a terrace perfect for an afternoon of Pimms. Available from Savills for £1.15m
What's On in the Country? Check our our Culture Diary here!
5. Alfold Road, Dunsfold
A small estate as opposed to a cottage, Alfold Road is country living at its most lavish and luxe. Tudor charisma manifests as inglenooks, polished beams and carved staircases, but its 19th century refurbishment has seen this attractive property take on a stylish modern air. Between the country house, two secondary cottages, magnificent gardens and croquet lawn you won't feel the need to venture beyond the grounds, but if you do, the darling village of Dunsfold awaits. Did we mention there's also equestrian facilities and a spiral wine cellar? Available from The Grantley Group from £5m
6. Offham Manor, West Maling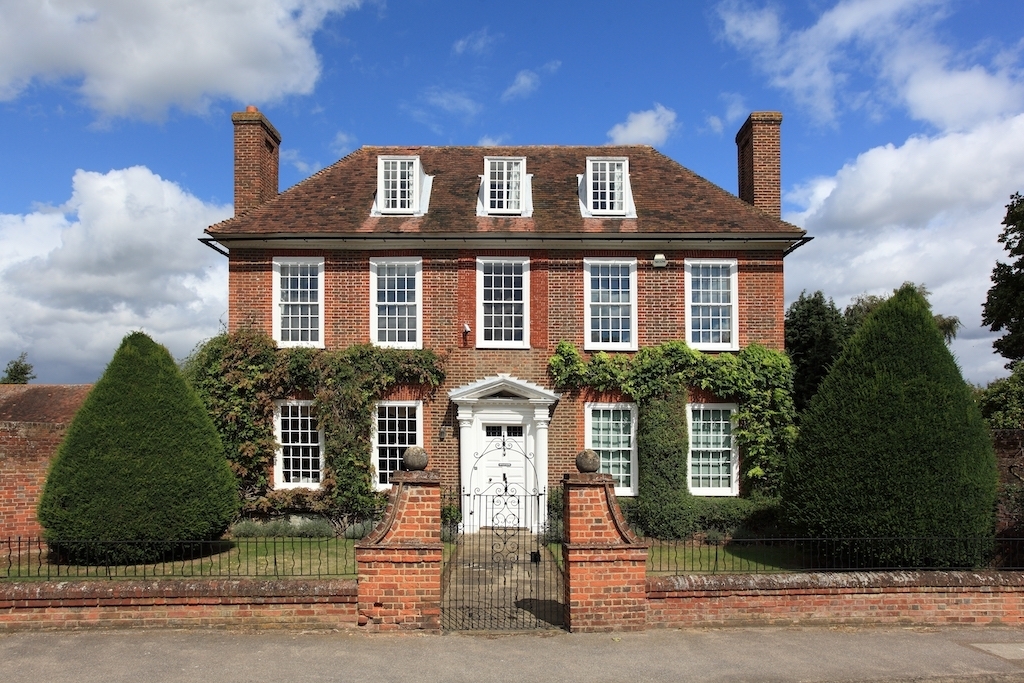 Occupying prime real estate close to the village green stands Offham Manor, a striking Grade II house dating back to the 14th century. The stunning symmetrical Queen Anne facade opens into an equally alluring interior of spacious and elegant accommodation and a generous helping of original Jacobean features. Begin mornings with a stroll through the property's meticulously tended to gardens, weaving between flower beds and manicured shrubs with a coffee in hand. Available from Knight Frank for £1.85m
7. Jason House, Long Melford

A TARDIS of (very chic) sorts, Jason House's pale yellow exterior is deceivingly modest, with a tour around the place quickly revealing its vast grounds and 7 impressive bedrooms. Likely dating back to the 15th century, the historic home is now a space of exceptional style; it is grand but unpretentious; elegant but not boring; the perfect base for exploring the allures of Long Melford village.  Available from Carter Jonas for £950,000
8. West Pennard House, West Pennard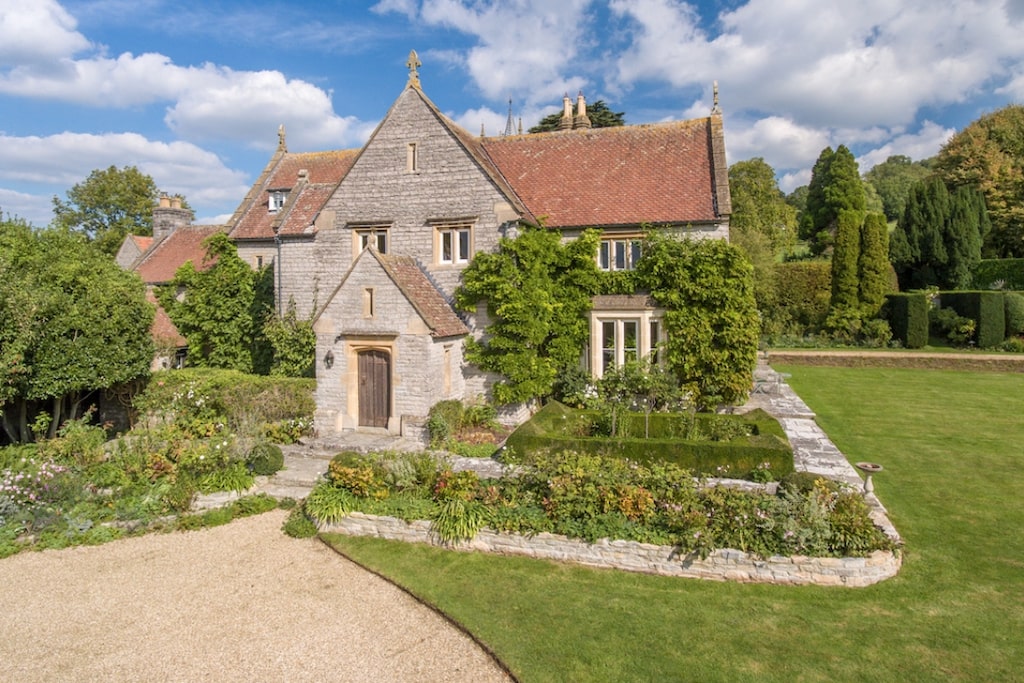 It's not often that a grand manor feels homey but West Pennard House achieves this delicate balance. Bold swathes of colour update an otherwise muted palette making this property highly covetable (the swimming pool, tennis court and fabulous treehouse don't hurt either.) In the quaint village of West Pennard you'll find shops, pharmacies and sporting facilities all without a single chain company in sight. Available from Lodestone Property for £1.795m
The Most Charming Properties on the Market Near Sherborne, Dorset
9. Barton House, Hampshire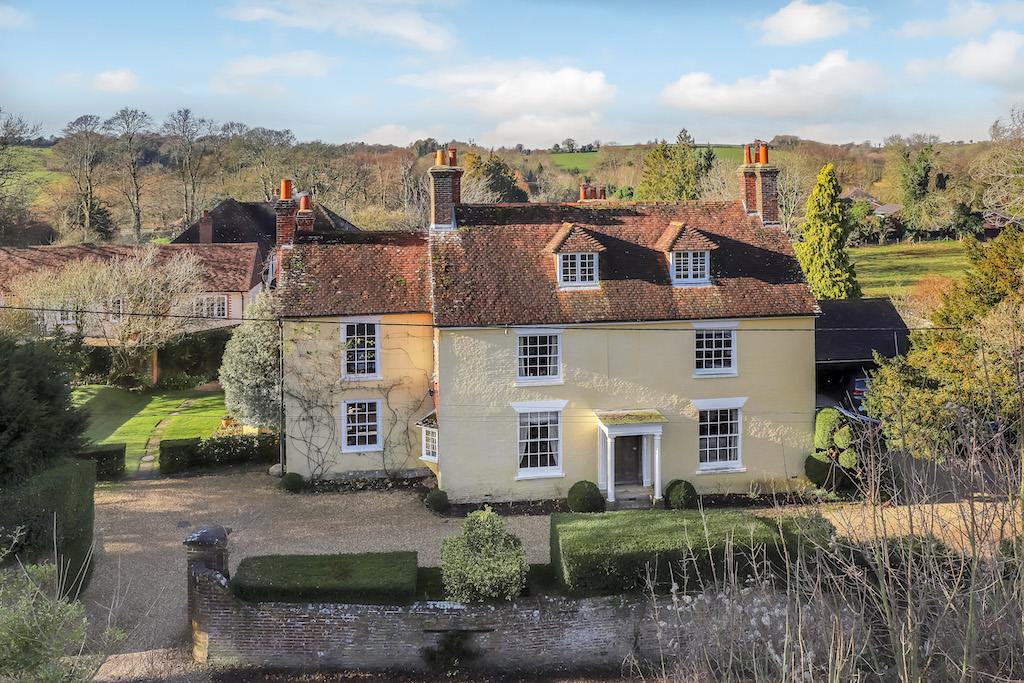 This Grade II listed village house, originally built in the 18th century offers all the countryside spoils you could ever want. Nature rules here, and besides the sweeping views of the surrounding South Downs National Park, the property's gardens are a particular allure for nature-lovers. Generous windows allow natural light to flood the home even in the winter months. Our favourite room in the house has got to be the spacious spot containing little else but a free-standing bathtub and window looking out onto the dreamy grounds – not a bad view for your afternoon soak. Available from Knight Frank for £1.75m
10. Dockrayrigg House, Oulton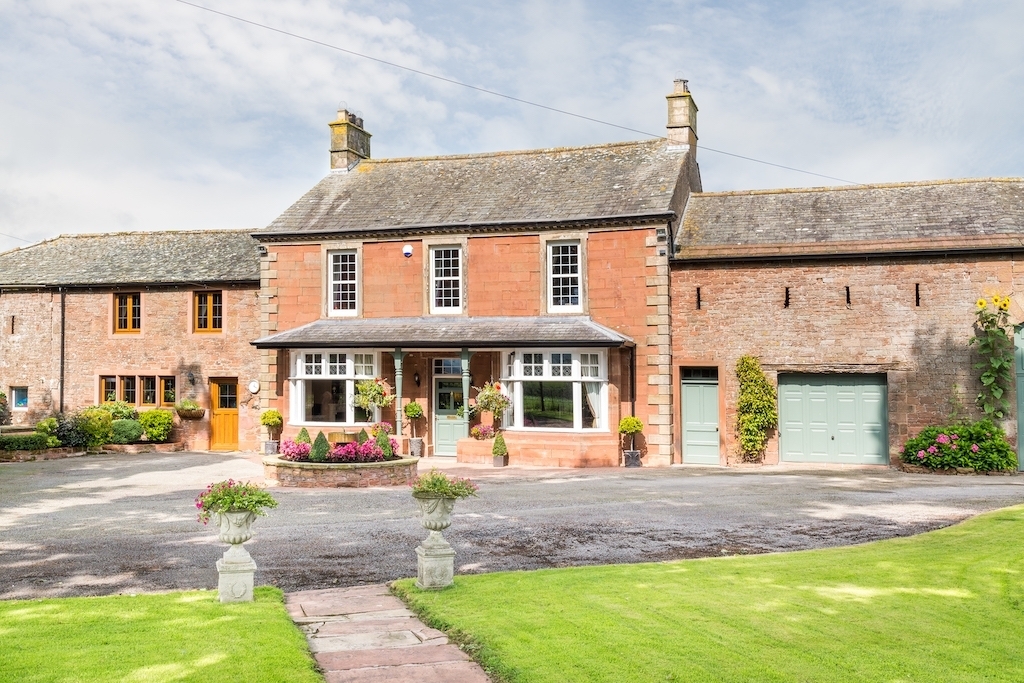 It can be difficult to find a property that exudes country grandeur without at least 8 bedrooms, but Dockrayrigg House is just that. The 4 bedroom residence dates back to the 17th century, boasting period features throughout (the cast iron bread oven is an especially quaint touch), but that's not to say it's lacking in luxury amenities. Having undergone a sympathetic renovation, the magnificent country house also possesses a new kitchen and bathroom suite with all the frills down to the very last detail. Available from Fine & Country for £640,000
---