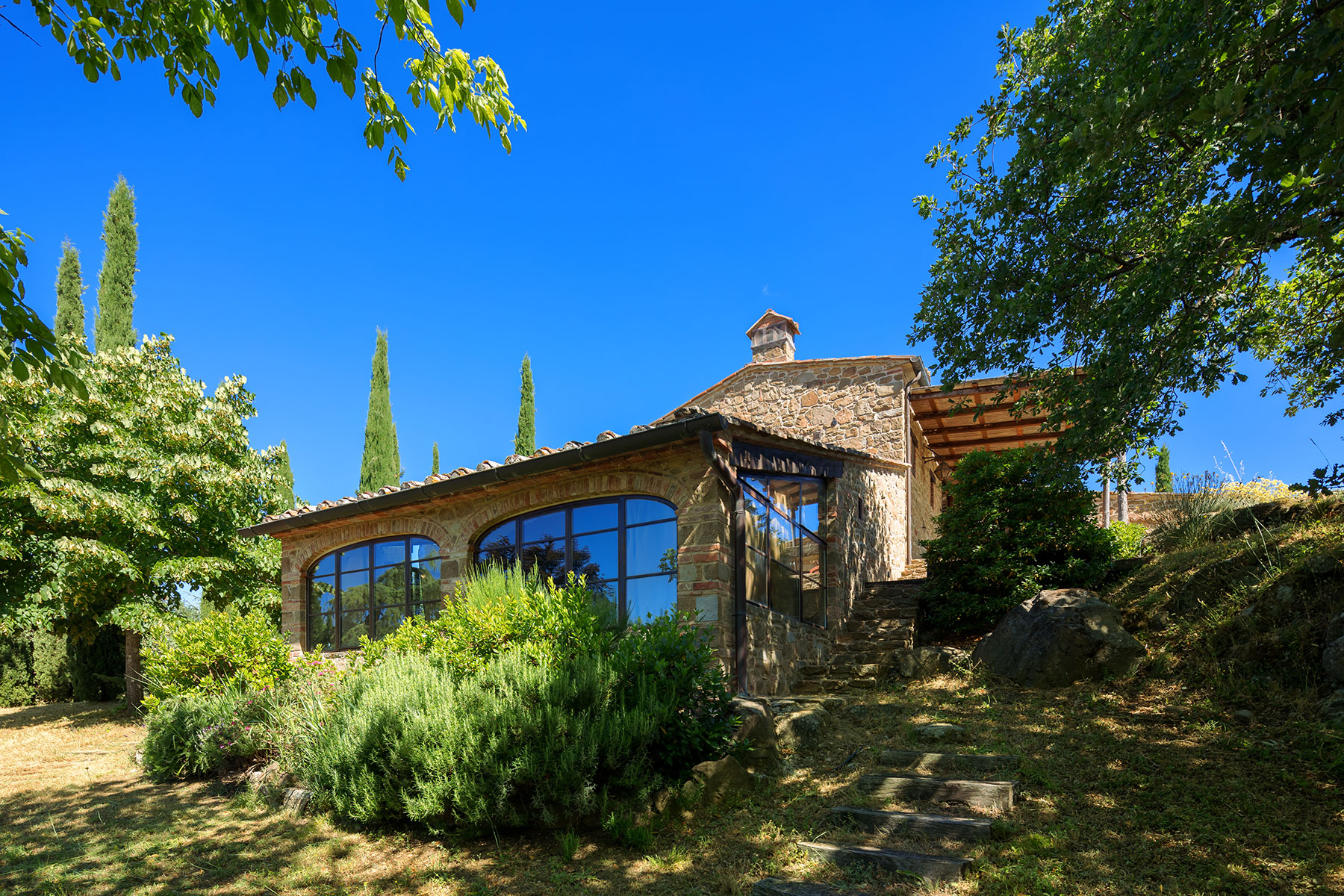 Properties with Woodland on the Market Right Now
---
Enchanting glades and tree-lined walks - all in your own private neck of the woods...
If you're feeling glum that summer's over, cheer up – autumn is just around the corner. So get ready to strap on your walking boots, don some knitwear and head out into the leaves for a seasonal stomp. Don't want to stray too far from your cosy hearth? In these properties you won't have to. From picture perfect copses to ancient woodland, they've got everything you need for the ultimate woodland walk…
Quornden, Ide Hill, Sevenoaks, Kent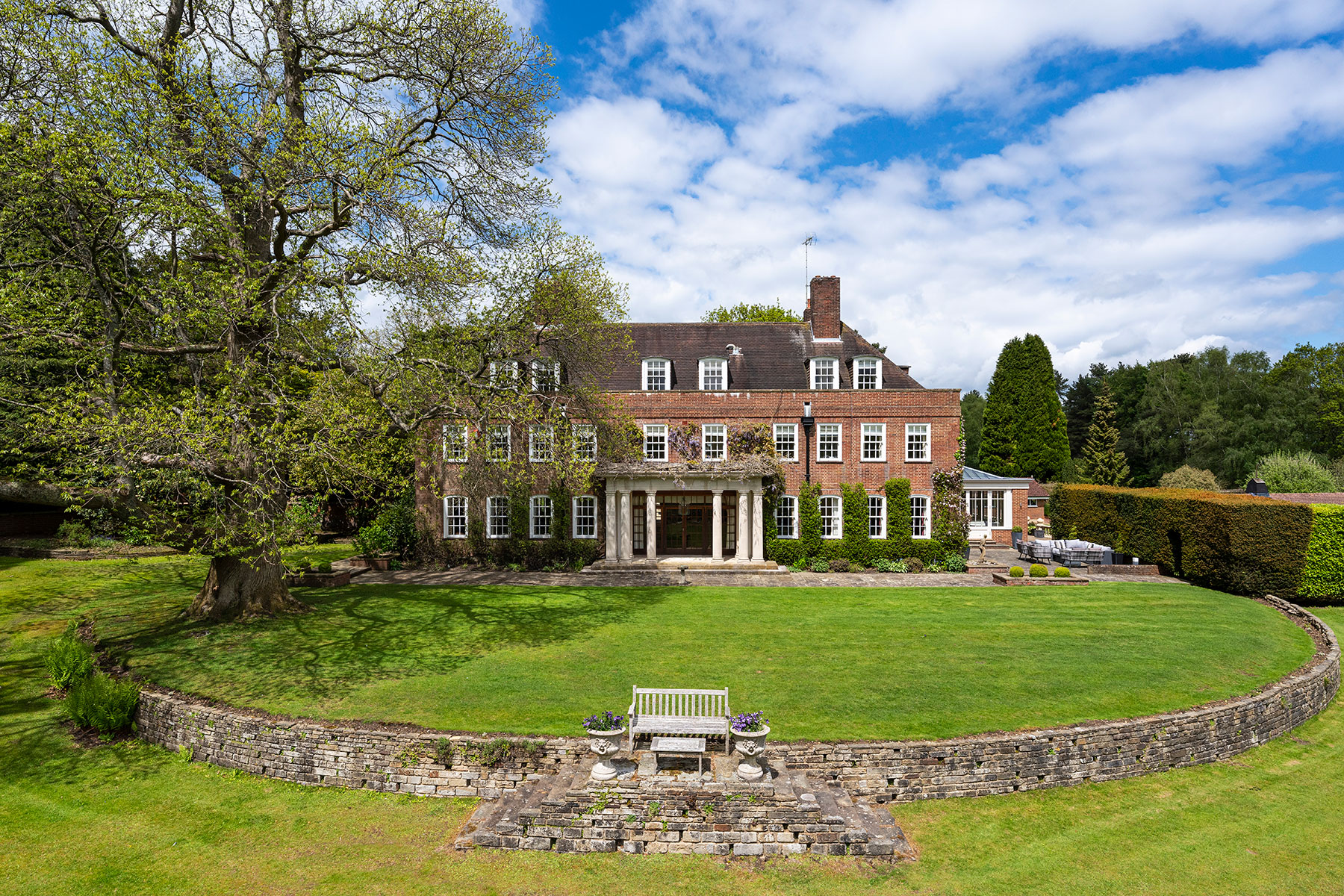 This stately country home promises some of the most beautiful walking routes in the South West. Tucked away in an Area of Outstanding Natural Beauty, the house is surrounded by over 33 acres of lawns, paddocks, woodland and pasture which run down the length of a valley, and are perfect for wandering through on a bright autumn day. If you're more of a sporting type there's a golf practice area, tennis courts and swimming pool to enjoy. Alternatively, if you just fancy staying indoors then there's plush sitting rooms, nine generous bedrooms and a light-filled family kitchen to while away the day in while you gaze out over the grounds. Available through Knight Frank for £5,350,000
Bolingey, Perranporth, Cornwall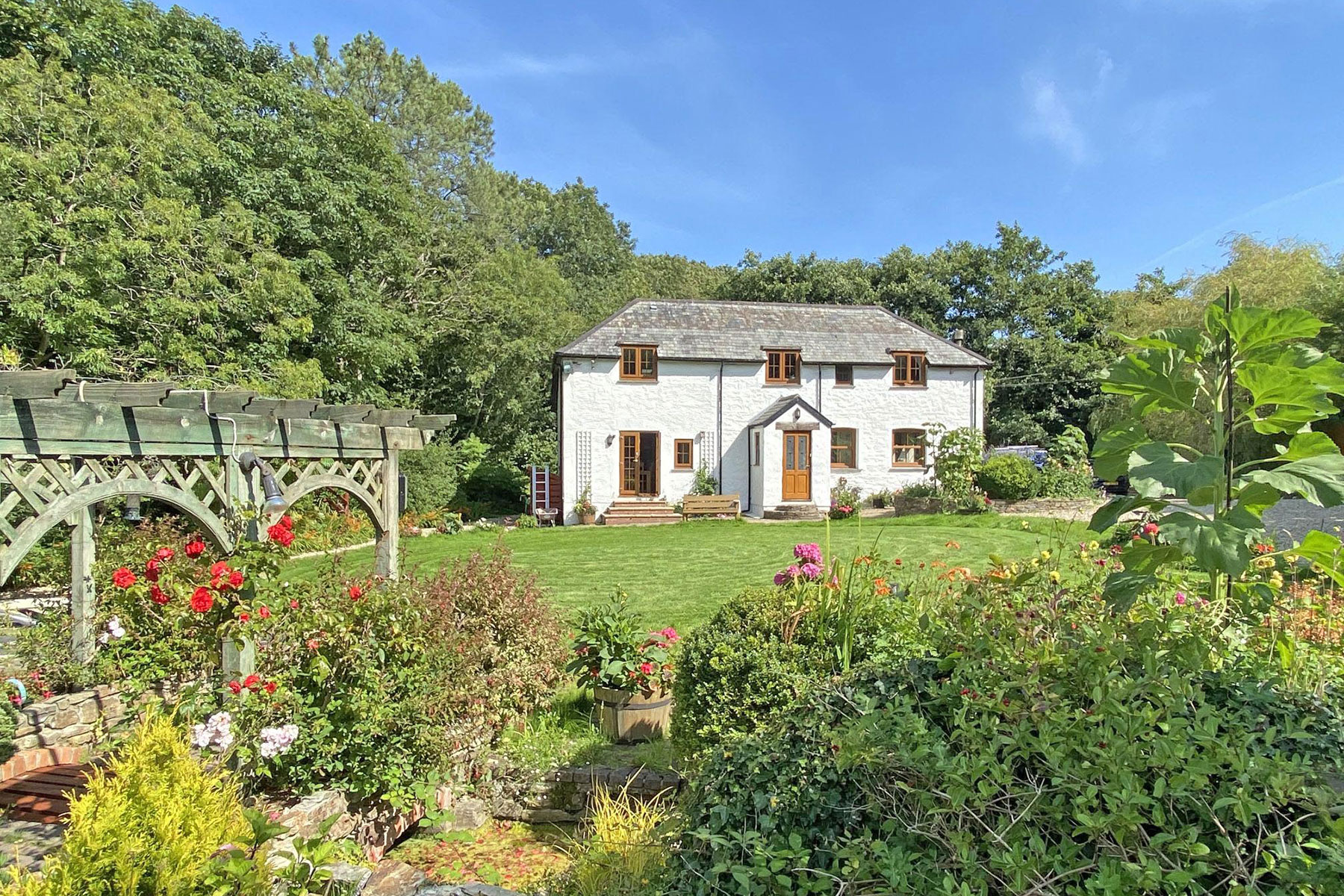 Enchanting glades; bubbling springs; a serene lake plumbed by curious koi… Located on the outskirts of a coastal village, this Cornish property has an almost magical feel about it. The charming period house has been modernised inside to offer fresh, comfortable living. Meanwhile outside there are two acres of sylvan gardens and grounds; think wildflower meadows, ancient woodland,  a running stream and, if you look hard enough, a treehouse hidden among the leaves. Available through Lillicrap Chilcott for £1,200,000
Ben Duirinnis House, Argyll and Bute, Scotland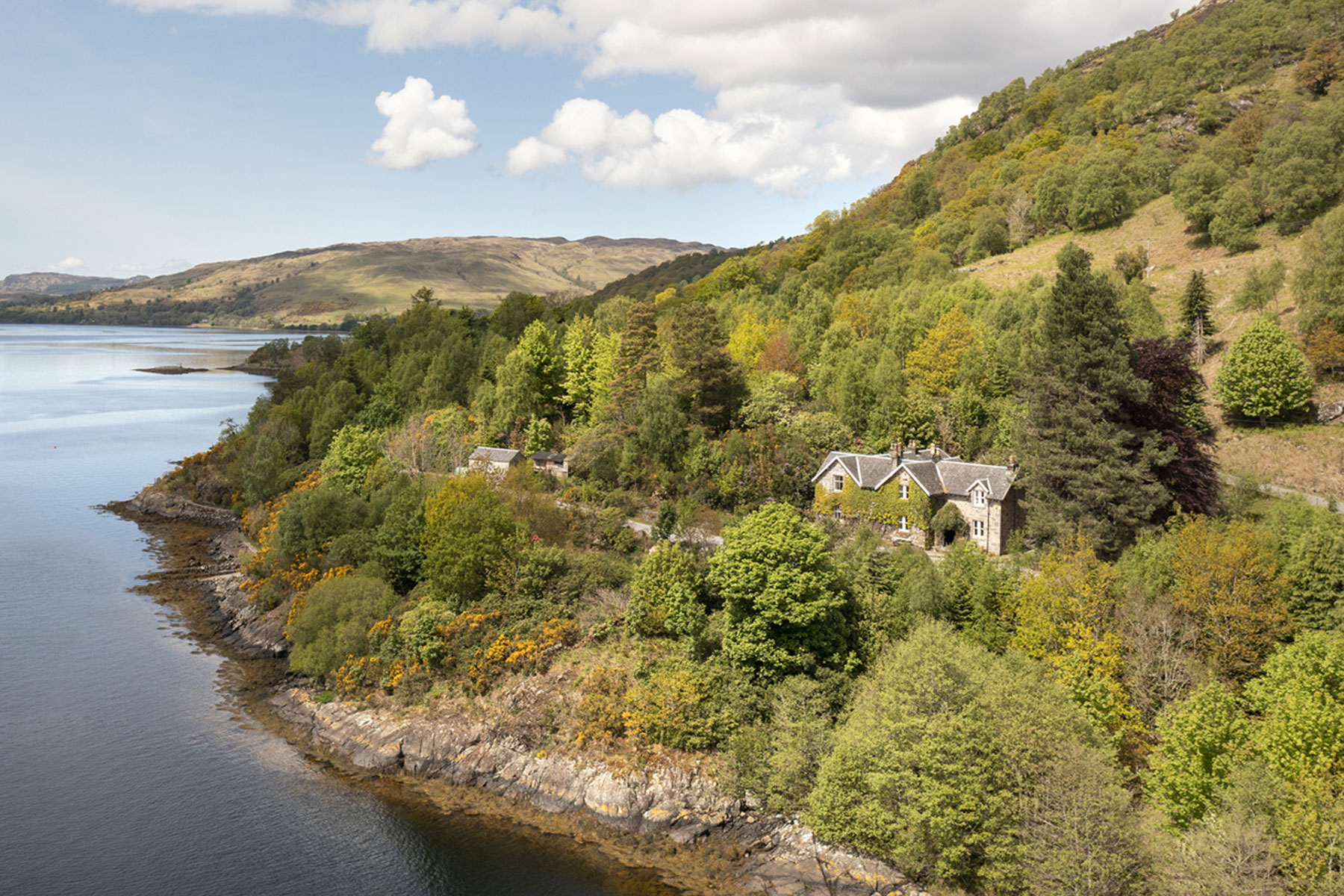 Fancy something a little more wild? Head to the highlands, where this five-bedroom period house squats on the shores of Loch Etive. There are three acres of windblown woods surrounding the property and waiting to be explored. Paths run through the trees and down to the lake shore, where a private slipway provides easy mooring and direct access to the water. Meanwhile, indoors is cosy and quaint, with a wood panelled kitchen and an abundance of fireplaces to curl up in front of after a day in the wild. Available through Knight Frank for £675,000
Pinewood Lodge, Didworthy, South Brent, Devon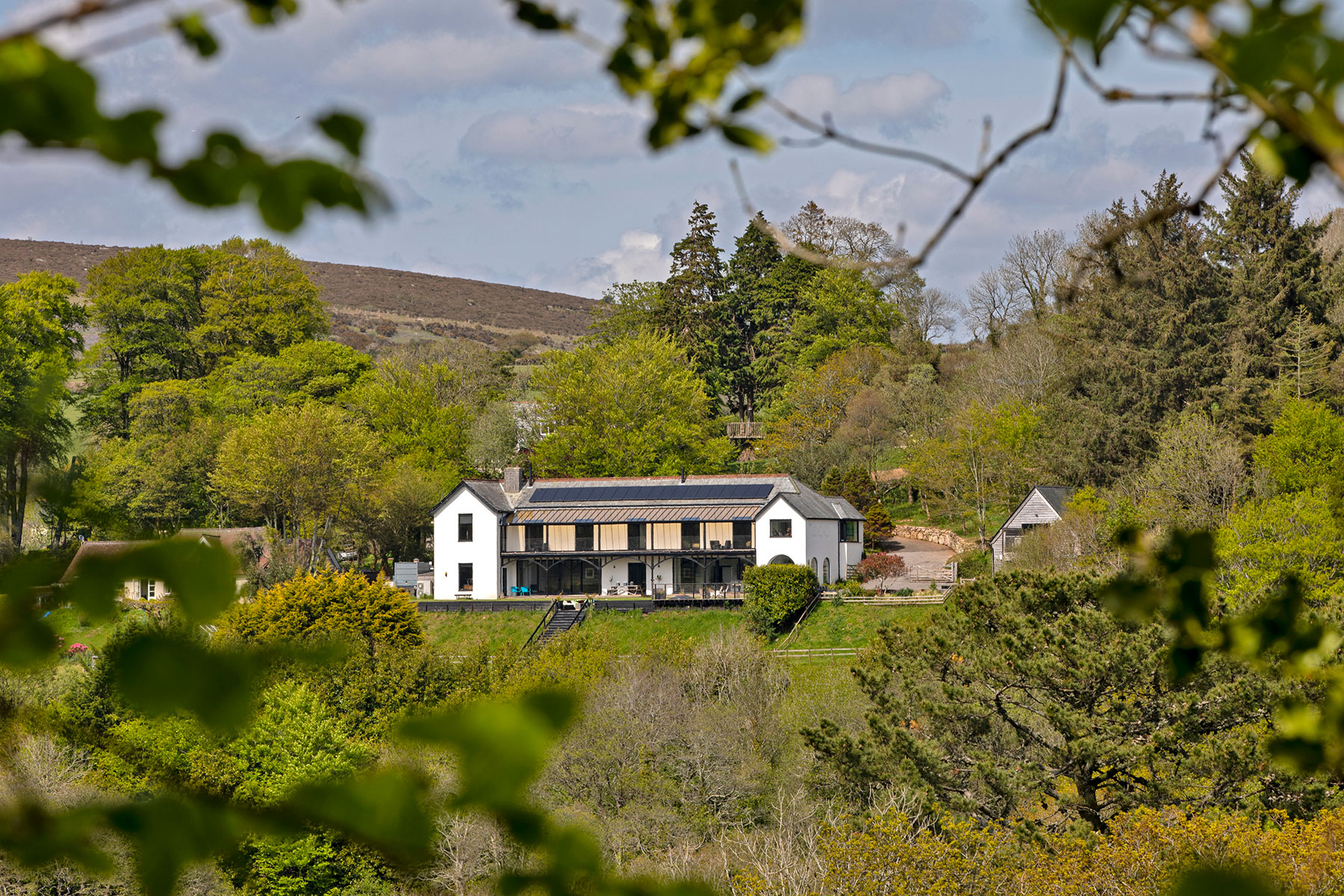 Dartmoor is one of the UK's most iconic natural landscapes, and this glorious contemporary home is the perfect base from which to explore it. Set in three acres of beautiful grounds and woodland, the house has ten bedrooms, open living spaces and floor to ceilings windows framing the view. Go hiking through the trees and the moors, then return home for a luxurious evening in. With a terrace, a fire pit, a pizza oven and a sunken hot tub, this house has everything you need to dine al fresco in style and entertain guests. Available through Knight Frank for £1,995,000
Monte San Savino, Arezzo, Italy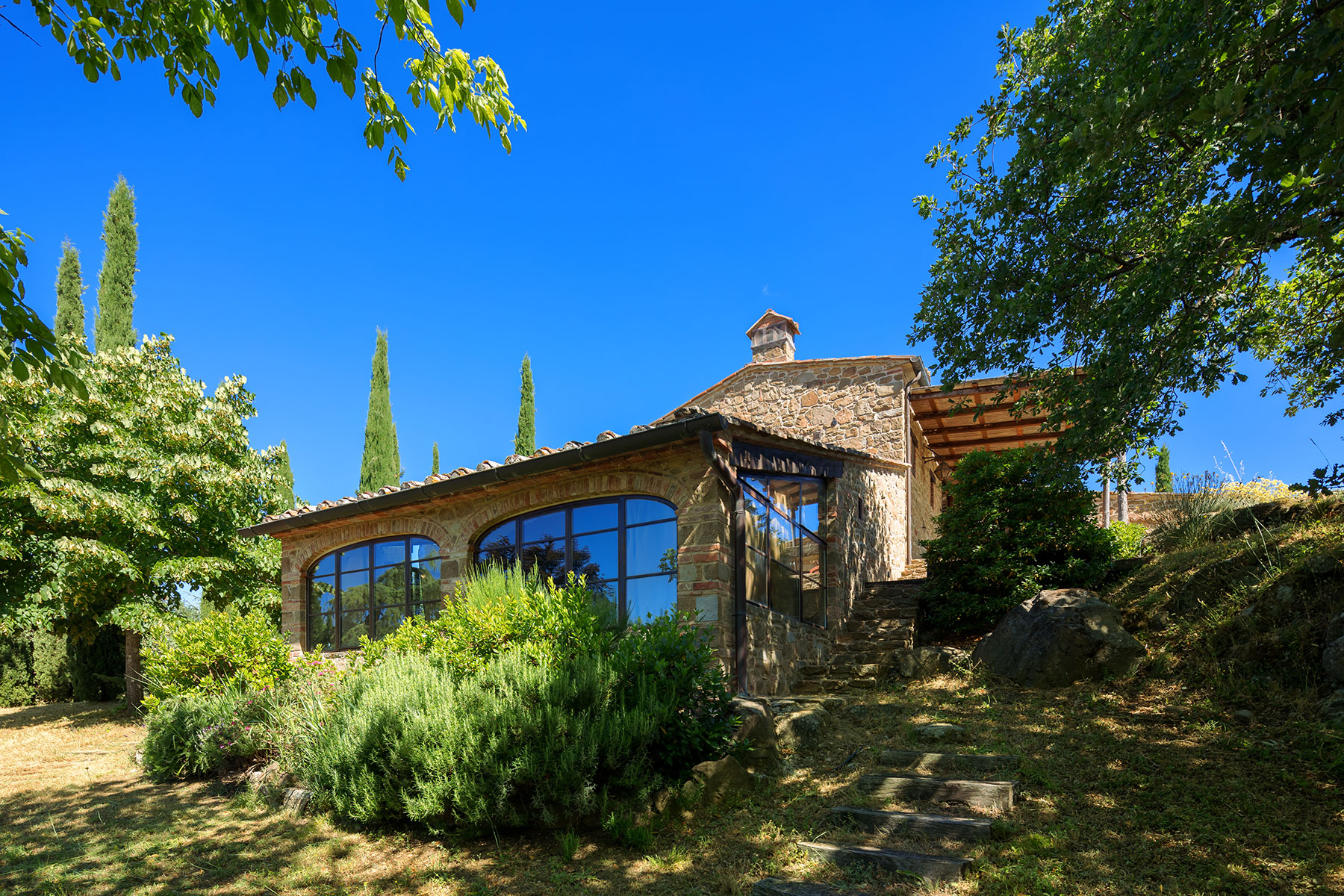 If you prefer olive groves to oak trees, then this could be the home for you. Located in the rolling hills between Siena and Arezzo, this country estate epitomises the rustic Italian idyll. Everything from the terracotta and wood interiors to the cyprus tree line driveway oozes Mediterranean charm. There are five bedrooms indoors and countless terraces outdoors, each perfect for al fresco entertaining. Meanwhile the surrounding olive groves and woodland are perfect for hiking or even truffle hunting. Available through Sotherby's International for €770,000
Bellscat Farm, Fowey River, Cornwall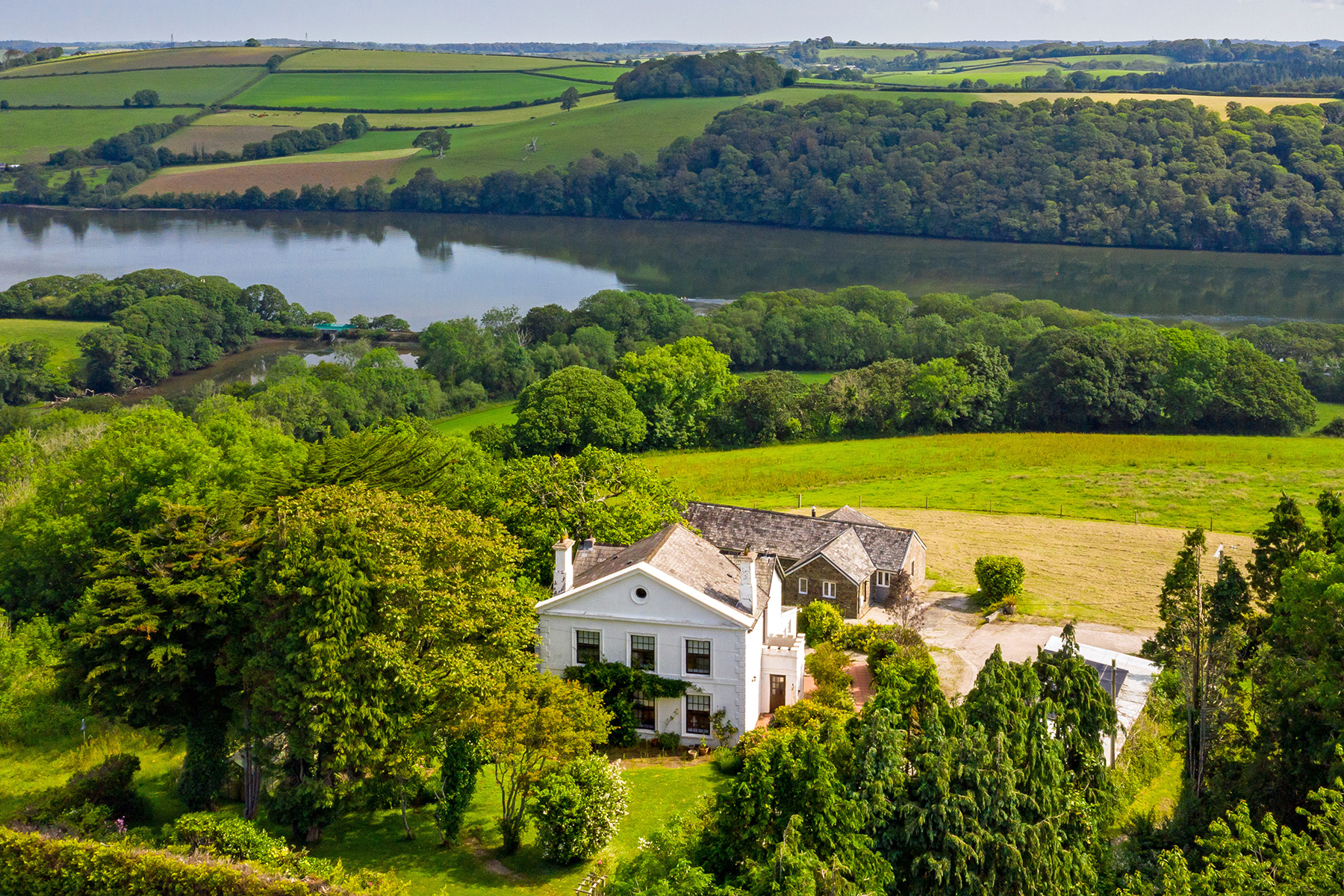 With 37 acres of undulating grounds and woodlands, you'll never have to walk the same route twice on this Cornish estate. Set on the waterfront overlooking the Fowey River, there are magnificent panoramic vistas to discover and dense forest to explore. Gaze out over the landscape from the Grade II Listed farmhouse or the separate detached two bedroom barn. Both could do with a freshen up indoors, but with grounds like these it's more than worth the effort. Available through Lillicrap Chilcott for £2,250,000
Cairnty Estate, Orton Fochabers Moray, Scotland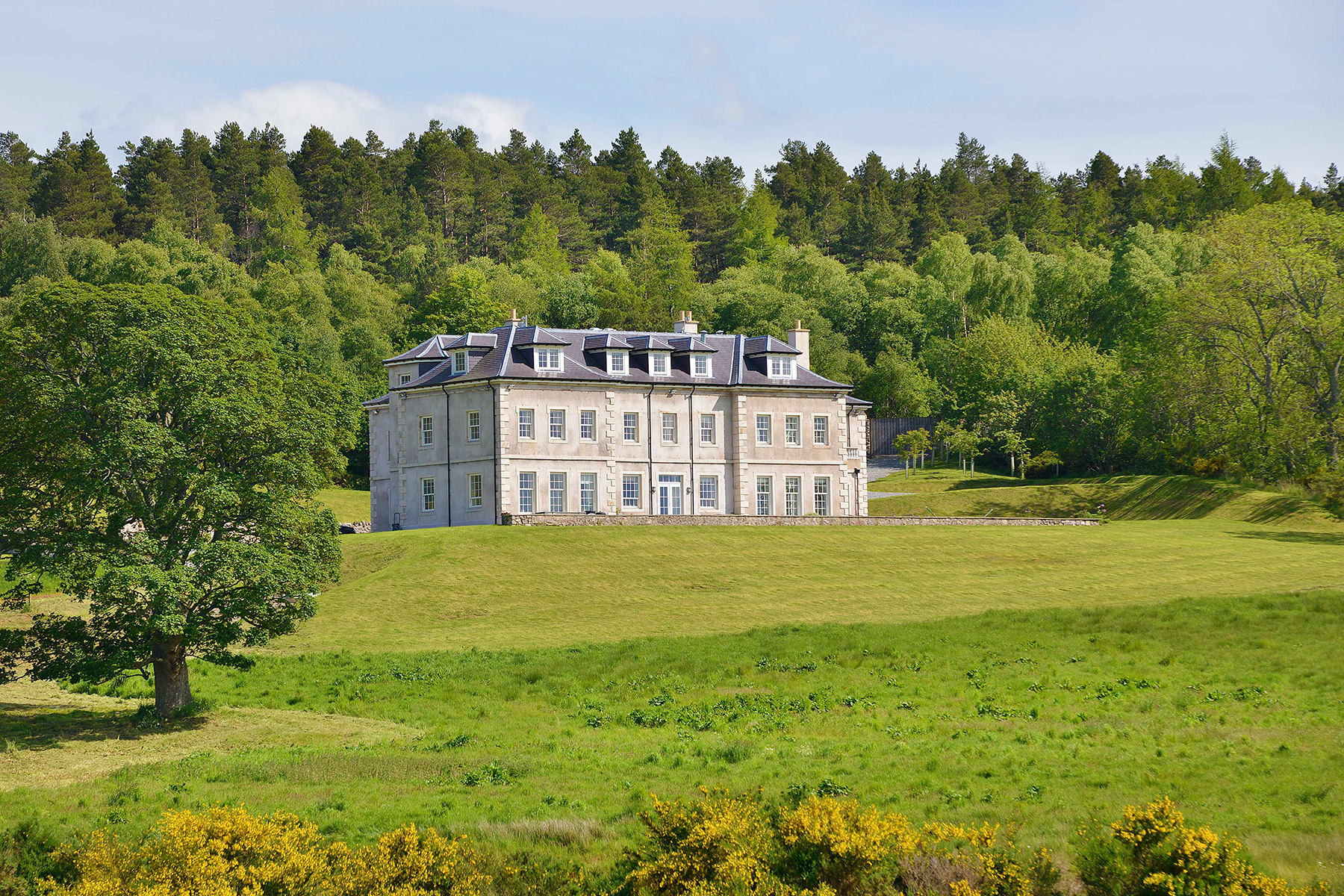 Thought 37 acres was a lot? This Baronial estate has – wait for it – 563 acres of land. Included in that is mature woodland, landscaped gardens, paddocks and the east bank of the River Spey, which tumbles dramatically through the landscape. The main house – an eight-bedroom Georgian build renovated to a comfortable modern standard – has stunning views across the grounds. But if you suspect you'll need more than one outpost to explore all 563 acres, then you're in luck as there's several outbuildings and cottages dotted conveniently around the estate. There's even a kennel and stable set up, so you can range through the woods on horseback with the help of some trusty hounds.
Chianti Valdarno, Italy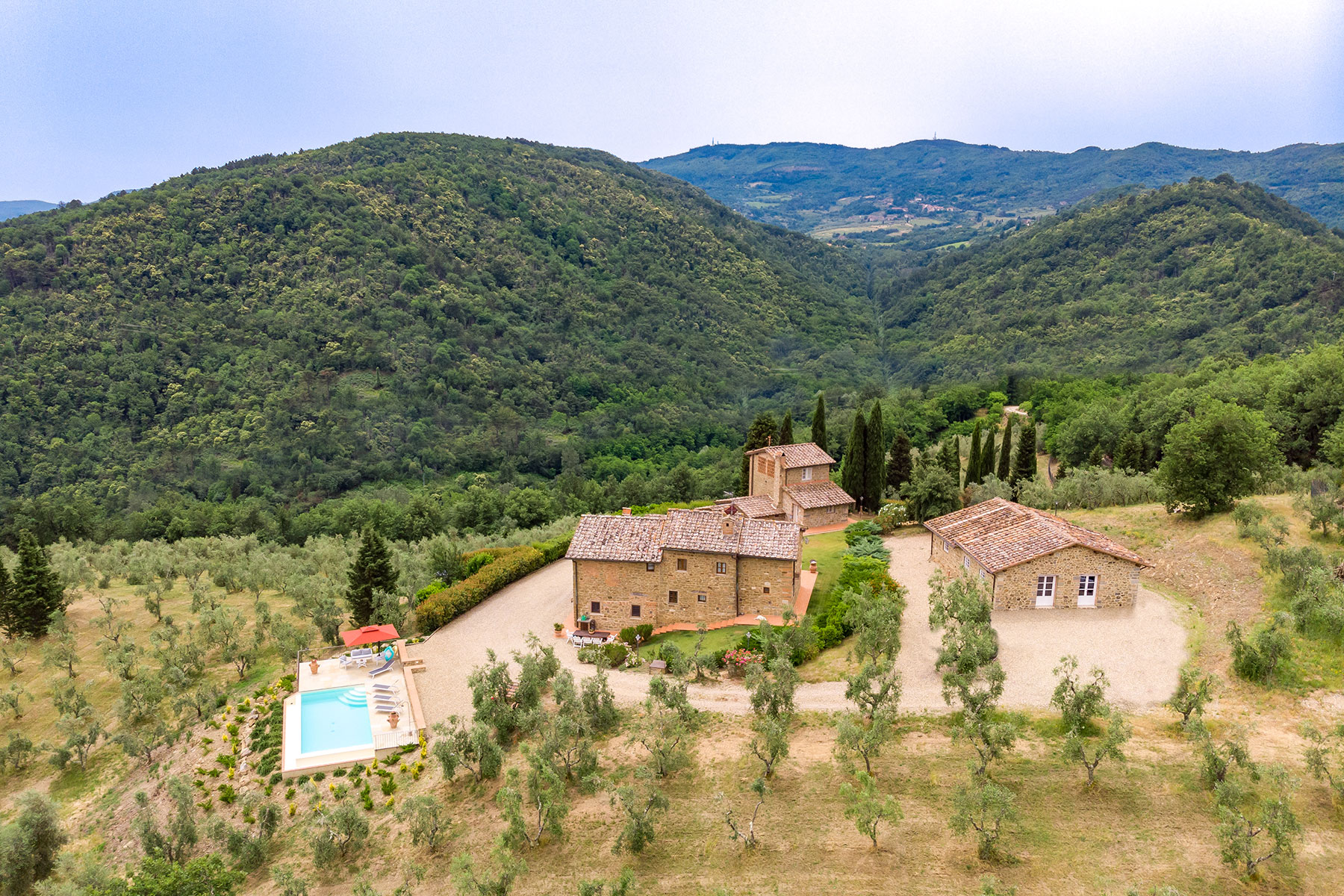 Another example of blissful Italian woodland, this time nestled in the Florentine hills. Hidden within 56 acres of olive groves and woodland, this hilltop home guarantees peace and quiet. Hike through the trees with only the sound of cicadas to disturb your thoughts, or lounge about the infinity pool while you gaze down on the Arno valley. Alternatively, head into Florence (a mere 30 minute drive away) for a bit of hustle and bustle before retreating again to your rural escape. Available through Sotherby's International for €2,490,000 
Monk Sherborne, Hampshire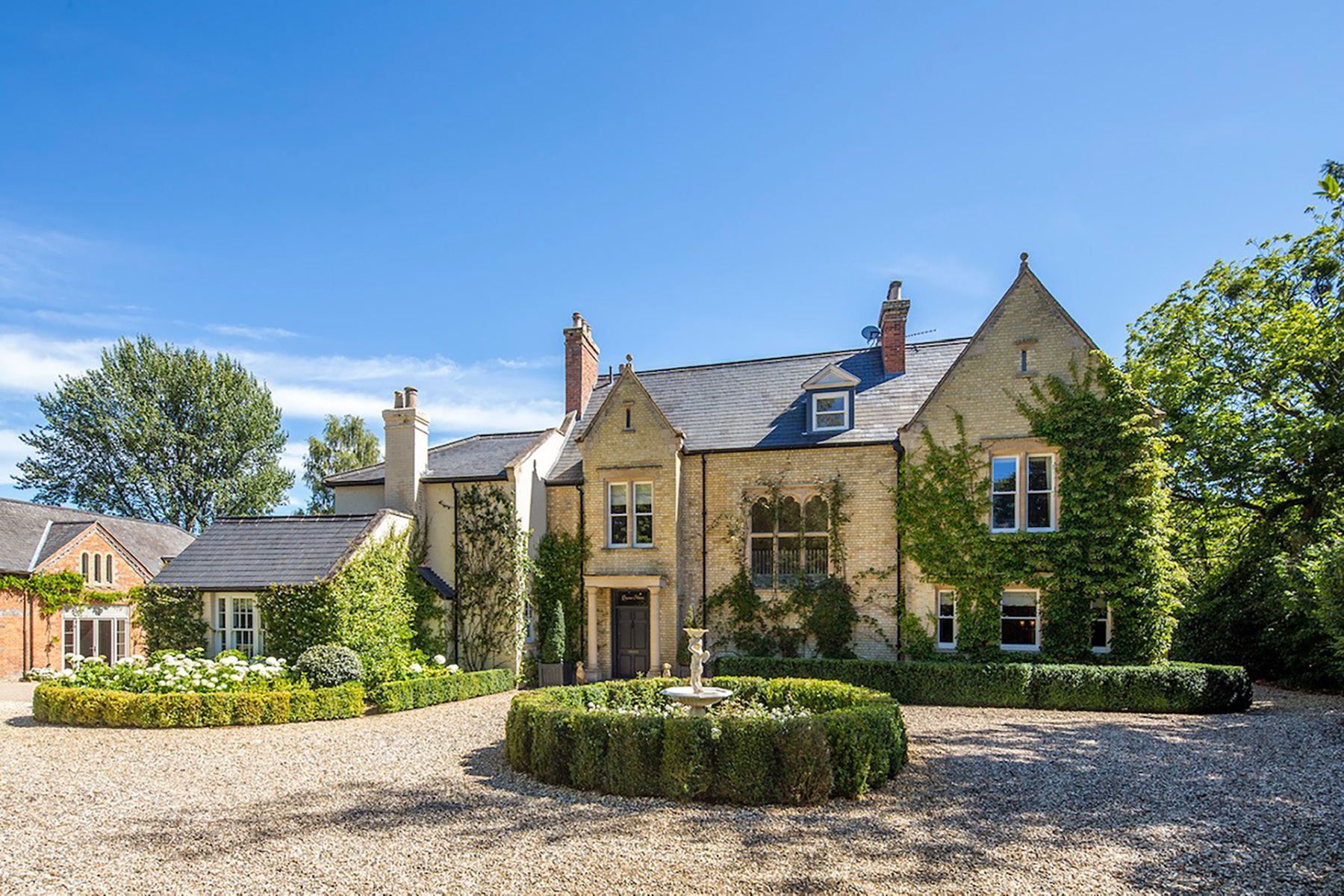 Last but not least is a property that lets you explore the woods in an entirely new way. Located just outside the charming village of Monk Sherborne, this beautiful Victorian home has all the charm of a period property and all the comfort of a luxury hotel. Think wooden beams, fireplaces, high ceilings – and then, in the adjoining leisure complex, an indoor pool and spa suite. As for the woods, they're positively magical; over thirteen acres of trees which give way to a hidden lake, and which the brave among you can experience from a treetop zipwire. Flying between tree trunks may not be a traditional autumn walk – but it is guaranteed to keep your feet dry. Available through Savills for £8,500,000
MORE PROPERTIES: 
The Best Properties With Paddocks  /  The Best Thatched Cottages