Spanish success story, Coco Dávez is one to watch. Having collaborated with global brands, including Chanel, Dior, Vogue, Prada, Pepe Jeans, Samsung, New Balance and Bombay Sapphire, it's no wonder that she was named as one of Forbes' 30 under 30 most influential international artists.
The upcoming exhibition at Maddox Gallery in May will exclusively showcase Faceless, Coco Dávez's collection of 70 colour-popping, Fauvist-inspired portraits. Recognisable by their unique hairstyles, accessories or clothing, each one features a different cultural icon devoid of all actual facial features. Questioning what culture actually is, we found out more.
You've worked with some massive brands. Do you see your work as organically or consciously commercial?
The work I've been commissioned for by commercial brands has been organic in that I have approached each one with the freedom to apply my creative expression, making each project my own. Art has developed many symbiotic relationships with influential brands and it's been a pleasure to see my artwork recognised across mediums and various industries.
So where did the idea for Faceless come from?
The idea for the collection actually came about by accident. I was painting a portrait of Patti Smith and I was unhappy with how her face looked so I painted over it in red. That was when I had an epiphany. I painted a portrait of Picasso and deliberately left him without facial features, which set the precedent for the entire collection.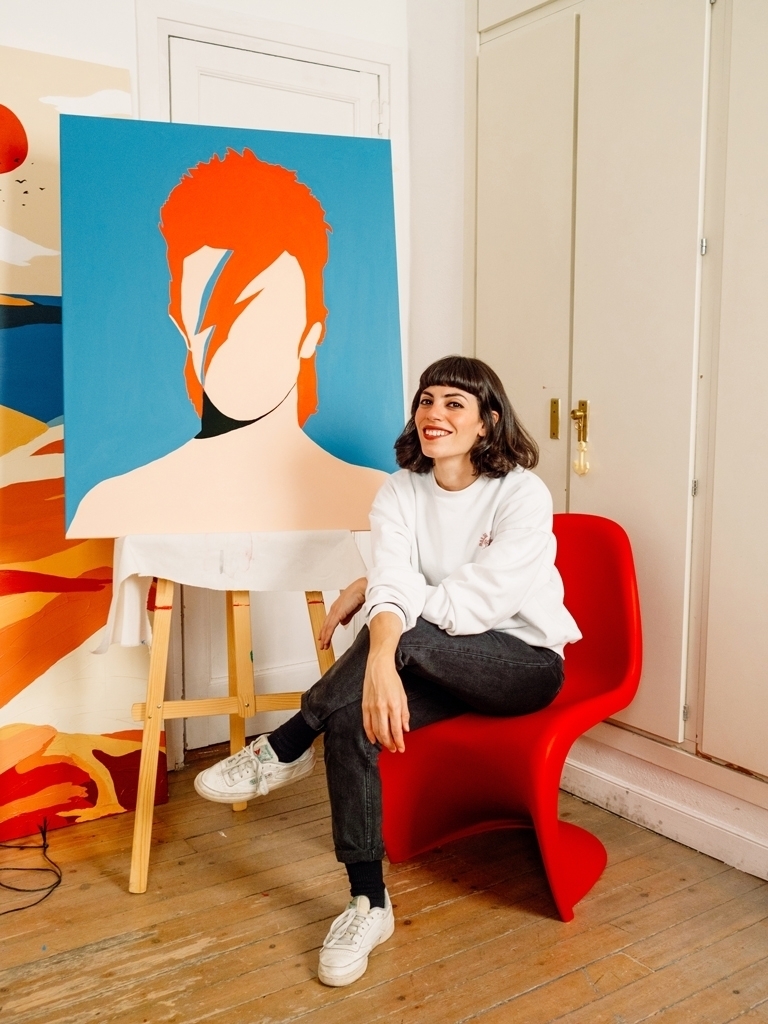 How did you go about choosing which icons you would include?
My chosen subjects for Faceless pay tribute to my idols, many of which have inspired me to pursue an artistic career. My idols vary from artists, musicians and designers to TV and film characters to cartoons; the list is a diverse mix. The series includes Amy Winehouse, Jean-Michel Basquiat, David Bowie, Grace Jones, Picasso, Andy Warhol, Iris Apfel, Coco Chanel, Sonny & Cher, David Hockney and Frida Kahlo amongst many more. The selection process comes about very naturally as I like to paint who I feel most inspired by on the day.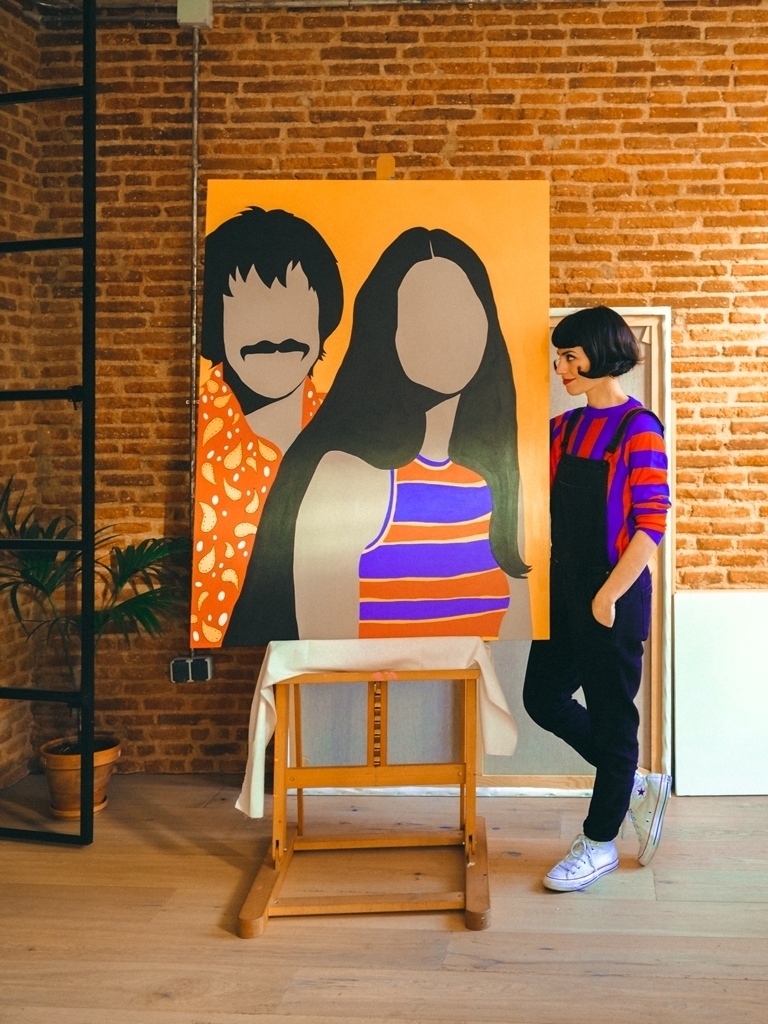 For me, Faceless portrays the global idolisation of celebrities – and the fact that they exist in a realm that transcends context and particularities. Yet, their lack of features is disconcerting. Is there a veiled warning lurking underneath the bright colours?
The paintings are totally open to interpretation. People see different things or take away different meanings – that's what I love about art. The paintings aren't warnings as such, but I hope that they encourage people to think about popular culture and the icons who have played an integral part in shaping it. The subjects of Faceless are my most loved icons. For me, the collection is simply a celebration.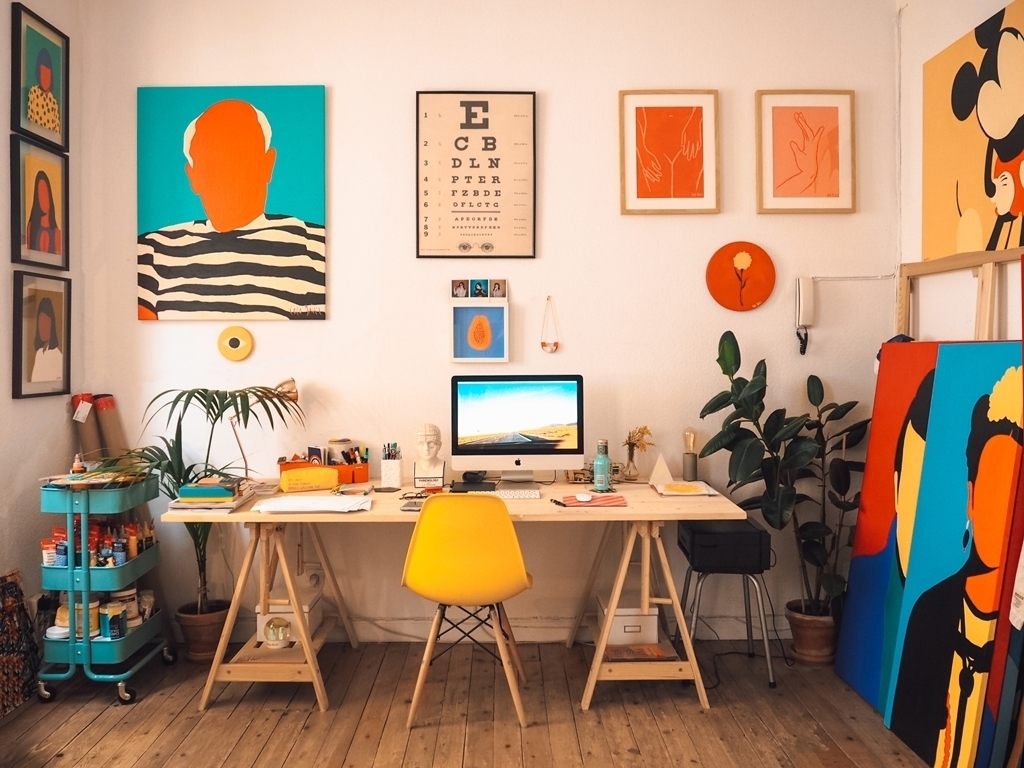 I guess I'm just feeling gloomy today! On a lighter note, the addition of fictitious faces like TinTin and Micky Mouse are a playful twist. What was your intention in adding childhood figures such as these into the mix?
I truly believe the stars of my childhood have had as much of an impact on me as many other inspirational figures to date. They resonated with me then as much as they do now. I also think that choosing these figures challenges viewers to think about what constitutes an icon in our society today.
Faceless will be on display at Maddox Gallery Westbourne Grove from 10th to 31st May 2019.
---