If you thought BBC One's McMafia was a dramatic work of fiction, read how one man is trying to combat Russian corruption and avenge the death of his friend. Bill Browder's story leads from the Kremlin to the heart of the White House itself. Isobel Thompson reports…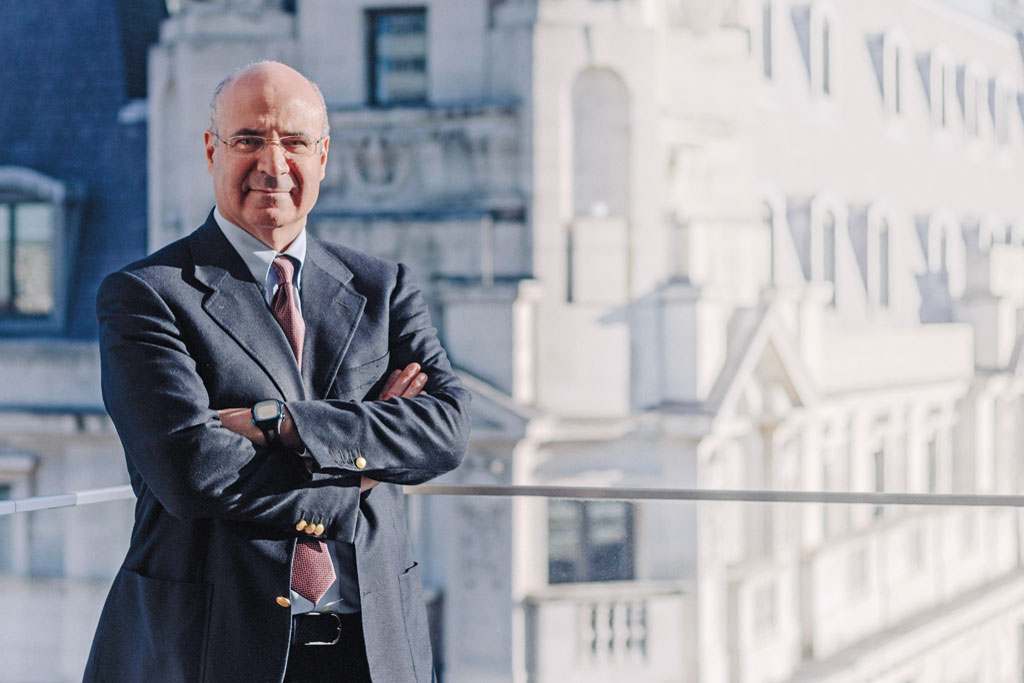 When I arrive to meet Bill Browder, ex-banker turned enemy of Vladimir Putin, he's being photographed on the balcony of his office, framed by the glass-fronted vista of the surrounding square. Photoshoot over, we start with the serious stuff: McMafia. How realistic was the BBC drama, which saw a chiselled James Norton play the scion of a rich Russian family, quietly funnelling dirty money through a building that looks like it could be in the backdrop of Browder's picture? Not very, apparently. What the show fails to capture, Browder says, is how officially entrenched Russian corruption is. 'The reality is that the entire Russian government is the mafia.'
Putin's Number One Enemy
If McMafia made gripping Sunday night TV, the story of Browder's relationship with Russia has more of a cinematic quality – it's no surprise that his book, Red Notice: How I Became Putin's Number 1 Enemy, is being turned into a film, adapted by William Nicholson who, it's rumoured, beat George Clooney (Amal Clooney is Browder's lawyer) to score the job.
'The reality is that the entire Russian government is the mafia.'
For over a decade, Browder ran Hermitage Capital, the most successful investment fund in Moscow. Then one of his lawyers, Sergei Magnitsky, discovered that a group of officials had expropriated his fund, and used it to make a fraudulent tax claim worth $230m.
Hermitage informed the authorities, but instead of going after the culprits, they put 36-year-old Magnitsky behind bars, and told him he'd be released if he implicated Browder in the fraud. He refused. After a year of sustained abuse – all of which he documented, including the prison's refusal to treat his severe gallstones and pancreatitis – a group of guards beat Magnitsky with their rubber truncheons and he died an hour later.
Since then, Browder has relentlessly lobbied governments to sanction corrupt Russians laundering their money in the West. His pursuit of justice is motivated primarily by implacable guilt, and partly by the fear that his own life is at risk. Surrounding himself with a blaze of publicity is a wily survival strategy.
Comrade Earl Browder
As is often the case with compelling plotlines, Browder's path from guileful capitalist to human rights crusader can be traced back to childhood. His grandfather, Earl, ran for presidency twice. Secretary of the American Communist Party, he appeared on the cover of a 1938 edition of Time magazine over the headline: 'Comrade Earl Browder'. His father was an intellectual prodigy who had a Princeton PhD at 20. His brother, Thomas, was similarly precocious, and enrolled in university aged 15. 'We all have our psychology,' says Browder. 'For me, the psychology was that I felt so bad at not being a genius that I had to think about some other area.'
Black sheep don't normally rebel by going into banking, but Browder decided the best way to rankle his cerebral family was to put on a suit and start making money. After business school, he got a job in London, and then the Berlin Wall fell. With Eastern Europe open for business, he went straight to Moscow.
"It was like the Wild West during the Gold Rush. There's an expression: in the land of the blind, the one-eyed man is king. I was the one-eyed man in Moscow," says Browder, in what could be the opening voice-over for his movie.
Still, making millions is never without complication, and Browder was working in a landscape saturated with crime, extortion and fraud. So, he started weeding out the perpetrators and reporting their brazen lawlessness to the authorities and the press. This idiosyncratic brand of activist capitalism wasn't entirely morally motivated. Instead, it was part of Browder's investment strategy. If he could stop management stealing money from their own companies, share prices would rise, and so would his fortune. 'As a result, the performance of my fund was dramatically high and very successful.'
The Pen is Mightier: Interview with Cartoon Satirist Gerald Scarfe
Absolute Power Corrupts Absolutely
When Boris Yeltsin handed power to Putin in 1999, declaring, 'Russia must enter the next millennium with new politicians, with new personalities and with new smart, strong and energetic people', Browder was enthused. He saw Putin as a steely reformer who was determined to purge the kleptocracy.
"He wasn't drunk. He was slim. He was clear-headed… But there's this expression: absolute power corrupts absolutely." (Another one for the scriptwriters.)
In 2005, when it was clear that Putin had proven the expression and monopolised Russia's oligarchs, Browder became the focus of his wrath. Declared a threat to national security, he was kicked out of the country and had to run Hermitage Capital from London. Two years later, his Moscow offices were raided by the authorities who left with computers, files and, oddly, all the company's stamps and seals. When Magnitsky uncovered the tax fraud, and realized three of Hermitage's holding companies had been used to scam the treasury of multiple millions, their need for corporate paraphernalia made more sense.
After Magnitsky died, Browder knew he couldn't get justice in Russia. At the same time, he couldn't find any international legal mechanism to hold the perpetrators to account. He appealed to the Obama administration who, trying to thaw fractious relations with the Kremlin, were sympathetic, but not keen to get involved.
Then Browder discovered a constitutional point of leverage: he could go through the legislative rather than the executive branch. He took his story to Senators Ben Cardin and John McCain, and in 2012 Congress passed the Sergei Magnitsky Rule of Law Accountability Act, which barred 18 Russians allegedly involved in the scam from entering America and using its banking system. More names were added as the stolen money was traced (some of which was linked to Putin's friend Sergei Roldugin, the cellist that the Panama Papers later linked to a money trail of billions). Estonia, Canada, Lithuania and the UK have since passed their own versions of the bill, and before leaving office, Obama signed the Global Magnitsky Human Rights Accountability Act, expanding the law to human rights abusers worldwide.
"It's widely acknowledged to be the single most powerful human rights tool that is out there," says Browder.
The Sentence
According to Browder, a great deal of Putin's personal fortune (which he estimates at $200bn) exists in the West, bound in a complex web of shell companies, oligarchs and shady deals. Naturally, then, Putin was exceptionally displeased at the passing of the Magnitsky Act, and retaliated by banning the American adoption of Russian children. He went for Browder personally too.
"I was sentenced to 18 years in prison. I've been sued for libel. I've been sued for bankruptcy. I have people surveilling my offices. I've had death threats and kidnapping threats."
These threats aren't empty. Alexander Litvinenko's poisoning proved Russia has no qualms about murdering its enemies in the UK and some of the people associated with Browder have suffered mysterious accidents – some fatal. Nikolai Gorokhov, a Russian lawyer who represented the Magnitsky family, was thrown from his apartment building near Moscow, but survived. In 2012, shortly before he was due to give evidence in a money-laundering trial, whistleblower Alexander Perepilichny died while out jogging in Surrey.
Beyond the drama of death threats and being tried in absentia, Browder says the Kremlin has launched a more insidious line of attack against him, propagating a theory that he went to Russia, became entangled in the corruption he ostensibly sought to expose, committed the uncovered tax fraud, and embarked upon a high-profile campaign to obscure his tracks.
Interview: Game of Thrones' Carice Van Houten
The Twist
There are two central characters to this subplot. The first is director Andrei Nekrasov, who, having released anti-Putin films, then made The Magnitsky Act – Behind the Scenes, a documentary that portrayed Browder as a criminal and Magntisky as a conspirator. Nekrasov planned to premiere the movie at European parliament, but the parliament's lawyers halted the screening after legal letters were sent from Browder and Magnitsky's family claiming the movie was false and defamatory. Similarly, their lawyers wrote to the head of Washington's Newseum to try to stop a screening there. The notion of a financier silencing an independent filmmaker with a reputation for attacking Putin sounds murky, but Browder denies that Nekrasov has ever worked objectively.
"For a number of years he worked for Boris Berezovsky, and he made-anti Putin movies because he'd been paid. When Berezovsky died, he went to work for Putin."
Browder's scepticism seems credible when you consider who was behind the Washington screening of Nekrasov's film: the lawyer Natalia Veselnitskaya, who ran a Russian NGO registered in Delaware, which claims to work on reopening the American adoption of Russian children – in other words, repealing the Magnitsky Act.
Veselnitskaya is central to the latest twist in Browder's story. In July 2017, as he was about to board a plane, he got a call from New York Times reporter Jo Becker, asking if he knew her. By the time he landed, their story had broken: Donald Trump Jr and others had met with Veselnitskaya during the election campaign after being promised dirt on Hillary Clinton. According to a statement, allegedly cobbled together by Trump and his advisors aboard Air Force One, the meeting focused on the American adoption of Russian children and so, once again, the Magnitsky Act.
Scandal After Scandal
Browder, who has since testified before the Senate Judiciary Committee, was suddenly linked to one of the biggest scandals clouding Trump's presidency. Does he think the Russians were trying to influence Trump's team beyond the Magnitsky Act? He doesn't know, though he's certain they would have been circling from all sides, trying to get to Clinton too.
Echoing CIA director Mike Pompeo, who recently warned that Russia will try and target America's impending midterms, Browder is also certain that the Kremlin will continue to inject itself into global politics.
"Putin's objectives are very clear. He wants to carry on with his own criminality in Russia and the surrounding states, and he doesn't want anyone to get in the way and penalise him"
'The European Union; Brexit; Catalonia… [he wants to] create enough domestic strife in any different situation and different country so nobody pays any attention to what he's doing.'
It's rumoured that special counsel Robert Mueller wants to discuss the Trump administration's response to the Veselnitskaya meeting in a one-on-one meeting with the President. If so, Browder could suddenly have more than a sideline role. Who knows? But what is for certain is that, as he settles down to write his second book, and pressure the French government to pass a version of the Magnitsky Act, the Browder-Russia plotline is still very much unfolding.
Artist Interview: Jonny Briggs
---