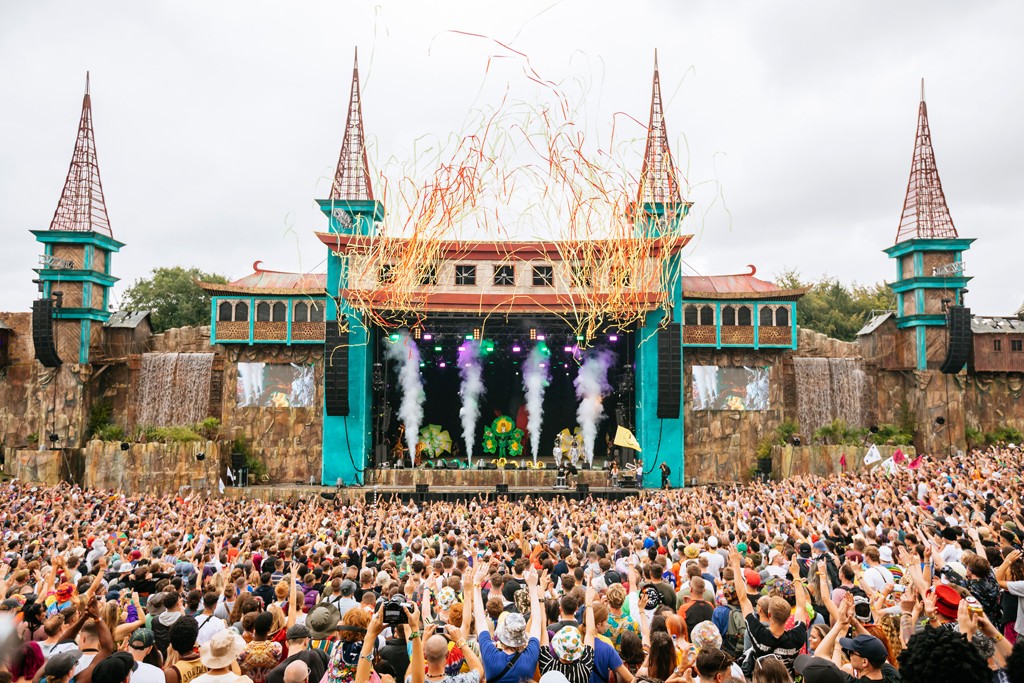 Notoriously wild and brilliantly planned, Boomtown is a key date in any festival goers calendar but did Chapter 11 blow crowds away with something other than warning-issued winds? Annabel Nugent reviews…
Boomtown Fair 2019 Review
Suspend your disbelief and withhold your judgements, Boomtown is wacky, wild and proud of it. Although incredible music is on offer, the renowned festival offers an immersive experience where head-thumping tunes are just one of the many elements on offer. Every year sees a new chapter added to the Boomtown saga, as the storyline continues to come alive through new sets, stages, theatrical spectacles, characters, venues, animation and more. Following 2018's story, this year Chapter 11 tells the tale of a newly-founded city in peril, with a timely focus on sustainability, environment and activism with an eye to the future. Comprised of 12 distinctly designed districts, impressively large and interactive set design, plus the 66,000 inhabitants that descend upon the South Downs National Park it's not hard to believe you're in a city of its own.
With endless possibilities, narrative arcs and opportunities, don't try to do it all – because you simply can't. Boomtown invites you to create your own story, dance among the crowds at one of the 25 incredibly designed stages, stumble upon a bizarre cabaret show tucked away in a dark alley, join a sit-down sing-along in a bohemian no-shoes-policy haven, chill out in a sauna at Whistlers Green; the Boomtown world is truly your oyster, and an experience fully customisable to your interests – although we do suggest a penchant for glitter, ability to endure hilly walks, and love of theatrics be a prerequisite. 
The weekend's dreaded weather predictions of severe winds and heavy rains sadly proved (for once) accurate. But despite a few main stages being temporarily shut on various nights, a serious case of wind-blown hair and shaky tents, the show went on regardless, with no concessions made on outrageous outfits, dedicated performances – musical and theatrical – and general party atmosphere persevering throughout the rain showers and wind.
The Green Mission
Alongside headliners like Groove Armada, The Streets, Chase & Status, Ms. Lauryn Hill, Salt-N-Pepa, and Prophets of Rage, Chapter 11 also shined a spotlight on sustainability with their Green Mission interwoven into the festival's storyline. Among other initiatives, bars weren't serving the usual water bottles (although cans of water were on offer); compostable serveware was used across all food traders (including that pesky lining in coffee cups); straws were banned; toilets on site were fully compostable with sawdust used instead of water flushes; and impressively you were never far from a recycle bin – something London would do well to pick up on.
Boomtown Springs
For the second year running, Boomtown was offering more upscale lodgings for those who like their festivals with a side of luxe and prosecco. If you're taking the train and shuttle bus, however, beware Boomtown Springs is about a 30-minute walk from the main entrance (and one made infinitely more difficult with a wardrobe of costume-changes and buckets of glitter in tow), but the little oasis is more than worth it. 
Burrowed only a five-minute walk down a woodland path from the festival grounds, you're far enough away to escape the noise when you need to – and on your fourth day of trudging through the mud in wellies, a tent-nap is sorely needed. Alongside undoubtedly some of the nicest festival toilets/showers you'll ever use (workable flush, running taps and daily refilled soap included), you'll find a dedicated team of white-tennis-gear clad staff on hand to help carry your bags, build your tent and lead aerobics classes in the morning when you're in need of an energy boost. With plenty of glamping options available, it's your own little private festival suburbia. Plus, did we mention the pool?
An event to end all events, we can confirm that Boomtown is still the UK's craziest festival – and with Chapter 11 offering more music, experiences, theatre and dazzling set design than ever before, it's safe to say it's looking at a long continued reign. 
See more pictures of Boomtown Fair 2019 in our gallery, below.
Stay tuned for information about next year's event.
---