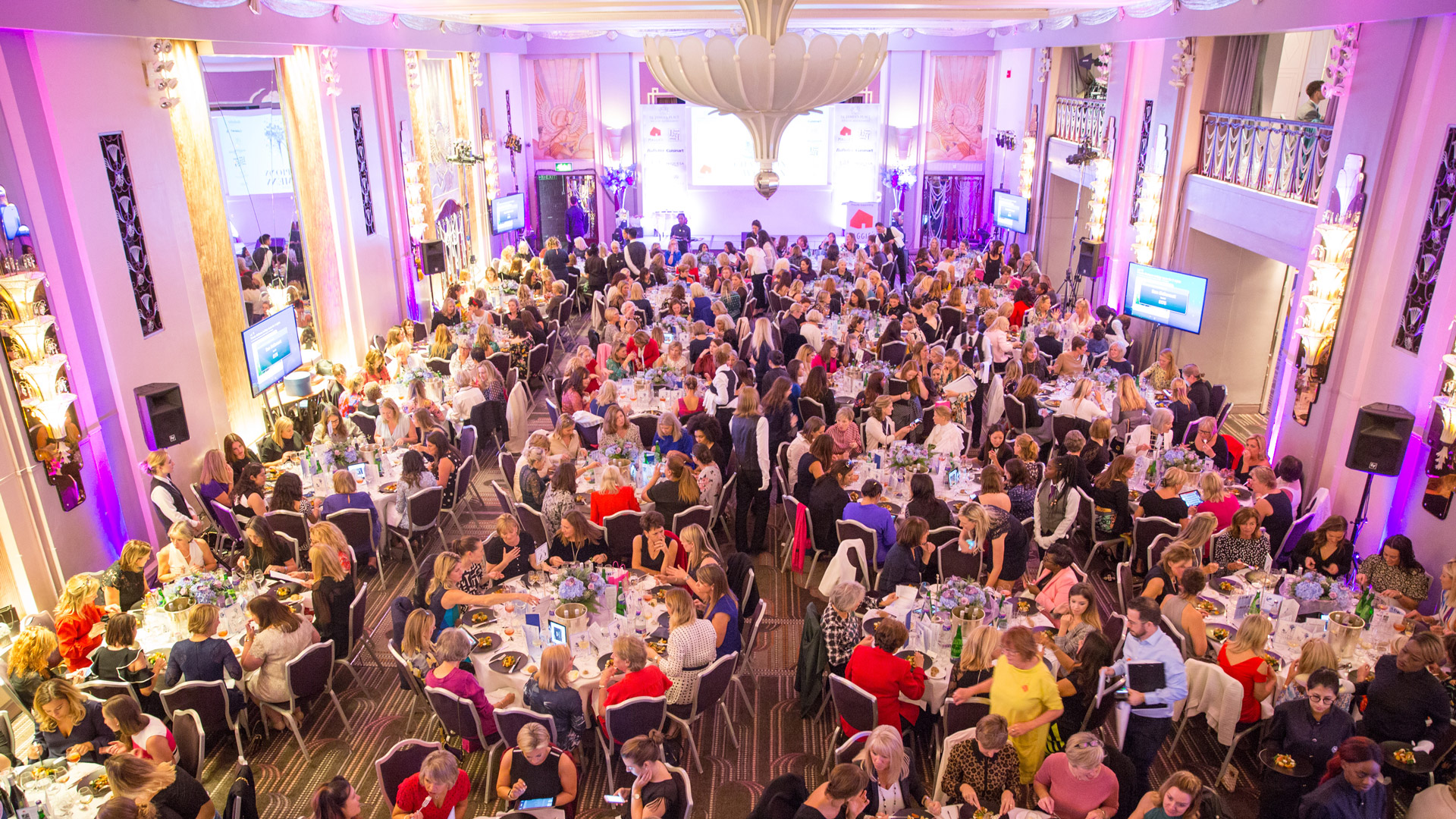 Champion Of Women Awards 2021: Everything You Need To Know
---
The annual event celebrating women will return this Autumn
In a year during which several social commenters feared that many of the excellent advances made for and by women may have been set back by the realities of the pandemic, there has still – as is often the way in times of adversity – been much to celebrate.
Yes, many women found themselves in the simultaneous positions of homeworker, head home-schooler and everything in between but, as taxing as any of this has been, it's shown, once again, that women really do have an ability to keep their heads above water. It's also been a time during which female friendship, support and camaraderie has been shown, more than ever before, to be vital to other women.
It's even more of a shame, therefore, that we have not been able to recognise these connections more joyously and openly – but there will be even more to celebrate when we, eventually, can.
One such event will be the Champion of Women Awards which, although having had its 2020 incarnation cancelled by the pandemic, is due to return in October 2021.
The event, which is hosted by luxury lifestyle media agency Dovetail and its founder and CEO Jayne Alexander, has been held annually since 2017 and seeks to bring together women from sectors ranging from arts, medicine and law, to travel, tech, design, finance and banking.
When she founded the Awards, Jayne was not only marking a successful 20 years in her own business, but also giving tangible expression to her belief that women should – and need to – support one another professionally, as well as personally. Attended by 400 highly esteemed guests, Jayne believes that the event will take on even greater significance this year.
"We have all been tested, both personally and professionally, far beyond our own expectations as business founders and owners," she says. "Yes, some sectors have been able to flourish in such harsh conditions, but for many, just staying afloat has been the measure of success.
"In recognition of that, we are more eager than ever to recognise the resilience and determination of the women who have sustained their small to medium businesses during this past year – not to mention those who have launched start-ups, retained staff in the face of adversity and, additionally, helped their friends and associates to overcome challenges."
Many factors have been thrown into sharp relief this year: the incredible work of the NHS, the kindness of neighbours and strangers, the visceral value of a hug – and the women who consistently celebrate, inspire and motivate other women. Below are just some of the women who not only exemplify this, but who also are esteemed business owners and senior managers who have successfully maintained their businesses and supported their teams through these adverse times.
Jayne Alexander
As founder of the Champion of Women Awards, Jayne Alexander has long been an advocate for women in business – not least because she successfully launched the Dovetail Agency in 1997. This followed ten years in the hospitality industry, both with IHG and Virgin Management – working directly with Richard Branson, managing several launches and mergers. With an innate understanding of what is required to develop and grow a business, Alexander is highly esteemed as an advisor in the luxury lifestyle sector, as well being widely regarded as the epitome of professionalism and female empowerment. dovetail-agency.co.uk
Tracy Finn
In her role as Head of Harrods Corporate Service, Tracy Finn is an expert in the luxury B2B gifting services sector. Her extensive list of contacts, keen eye for presentation and exceptional brand knowledge have seen her work on projects for clients ranging from SMEs and FTSE 100 companies to international royalty, and from luxury events, to fitting out private yachts, jets and international homes. She has an impeccable knowledge of gifting etiquettes across cultures and religions and, during her 17 years at Harrods, has been key to developing the luxury retailer's gifting innovations. harrodscorporateservice.com
Louise 'Boo' Gibney
Following a stellar career as an investment and private banker, Louise Gibney established Boo Ibiza in 2015, combining her intimate knowledge of the White Isle with her fluency in several languages, discretion and ability to nurture personal relationships with clients. The luxury lifestyle, property and villa agency has an unsurpassable portfolio of properties to rent or buy which, combined with Gibney's extensive list of private local contacts and innate ability to anticipate needs, assures her clients an Ibizan experience like no other. From securing VIP tables at exclusive restaurants or arranging Michelin-starred chefs for private dining, to arranging yacht charter or the most coveted positions in the marina, Gibney brings grown up glamour to the Ibizan lifestyle. booibiza.com
Marguerite Krikhaar
Marguerite Krikhaar brings almost 20 years of experience in the real estate sector to her role as Owners' Representative at the newly launched Wyndham Grand Algarve Residences. As Founder of international project development company Skylla Group, she is a strategic marketing and sales expert who has worked across global markets ranging from the United States and the Caribbean, to Europe and Asia. Her experience includes launching the Project Marketing business on behalf of Christie's International Real Estate and leading Business Development at YOO, as well as creating partnerships with high-profile clients, including Vera Wang and Sophie Conran. wyndhamgrandalgarveresidences.com
Katy Simpson
Katy Simpson, founder and director of luxury bath and body brand Noble Isle, is not only a consummate businesswoman, but also one who actively champions the people that make, not only her brand, but Britain, great. Combining long years of experience in the bath & body industry with a passion for producing unique scents that conjure up a sense of place, Simpson uses only locally sourced ingredients for the sensory – and quintessentially British – experience that each product in the Noble Isle range contains: Britain in a Bottle. nobleisle.com
The Champion of Women Awards 2021 will take place on 1 October. For more information, visit championofwomenawards.org