Wondering whether the winter ATP Championship Tennis at the Royal Albert Hall is worth checking out? Kitty Buchanan-Gregory reports for Country & Town House…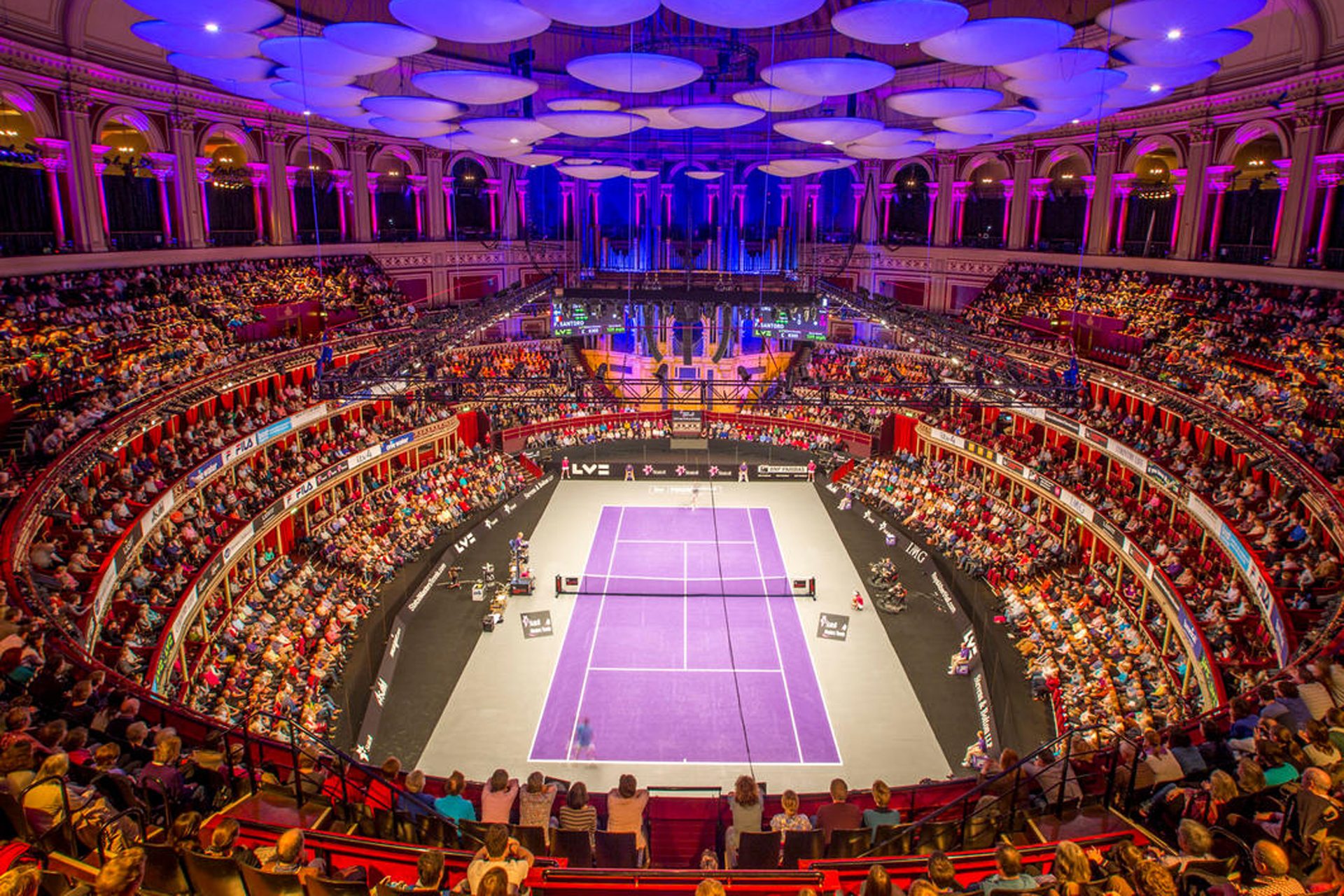 Watching tennis in mid-Winter might seem mad, but last night the well renowned ATP Championship brought some summer sunshine and laughter into a dark frosty night.
We were treated to a VIP private box at The Royal Albert Hall to watch some classic names in tennis battle it out on a purpose-built court. The world-famous music venue brilliantly lends itself to tennis being the perfect size for a court, each seat having a superb view and of course brilliant acoustics to hear every shot ping and whizz past.
Our neighbouring box housed Tim Henman and friends who all seemed to be having a jolly time, with an odd champagne 'pop' heard between games much to the amusement of everyone on and off court. As we passed him in the interval we nodded hello and eyed up the canapes and empty bottles… If Tim doesn't invite you to join him in his box, my top tip is to book the Cloudy Bay bar for a meal, the only bar in the UK by the famous winemaker is a hidden gem and adds a touch of luxury to interval drinks.
First up was the singles match between the great Australian Pat Rafter and Belgium Xavier Malisse. Rafter, a pony-tailed crush for many a household fan, is now 44 but still has a loyal fan base with a few 'we love you Pat's ringing from the stands. Malisse, 36, was probably less well known on the circuit but still was a nipper on the court and whipped a few cracker aces to secure a 6-3, 6-3 victory. With no Hawkeye in place the audience were very much involved in deciding points  – under our seat we were given a  green ' IN' card and red 'OUT' card which we had to hold up whenever a player challenged. We got into the swing of things and held up flash cards with a firm 'that was definitely in'  look on our faces, feeling very pleased when the umpire agreed.
The second match was doubles featuring the wonderful Mansour Bahrami whose life story is quite extraordinary – born in Iran in 1956 to a hill tribesman he taught himself to play tennis with a frying pan, was discovered as a prodigy but in the late 1970s the Islamic Revolution viewed tennis as a western capitalist and elitist sport and closed down all the courts. After the Shah was deposed he won a match where the prize was a plane ticket which changed his life; Bahrami fled to France with his life savings, gambled in a casino to try and double his money – and  lost. From sleeping rough on the streets of Paris to The Albert Hall, this tennis legend and "greatest Wimbledon Champion who never was", is so worth seeing for his amazingly positive outlook on life and on court antics which will have you laughing out loud.
The feeling that comes across every classic tennis match is how genuinely fond of each other all the tennis lot are. The feeling of camaraderie and friendship is very much in evidence, with several jokes exchanged across the net as much as drop shots and volleys. If you are in need of a night out to banish the winter blues and see some great tennis legends in action, this is the place to go.
INFO
Wednesday 30 November – Sunday 4 December 2016
Hospitality Packages available.
Joining former World No.1 and two-time US Open Champion Pat Rafter in 2016's starstudded field will be former World No.1 and seven-time Grand Slam Champion John McEnroe, former World No.1 Juan Carlos Ferrero, British fan favourite Tim Henman and the ever-popular Mansour Bahrami. Former British Number 1 Greg Rusedski, former doubles Grand Slam Champion Xavier Malisse, former World No.4 Guy Forget, former Grand Slam finalist Mikael Pernfors and Fabrice Santoro will complete the line-up.
More about the ATP Champions Tour: http://www.atpchampionstour.com/
To Book Tickets for The Royal Albert Hall: http://www.royalalberthall.com/tickets/events/2016/champions-tennis/
---