Citroen e-C4X — The Green Lane
Comfort and originality
The Citroen e-C4X is part of a trend to move away from ubiquitous SUVs. Motoring editor Jeremy Taylor and sustainable fashion expert Jessica Saunders drive a French fancy.
The Green Lane: Citroen e-C4X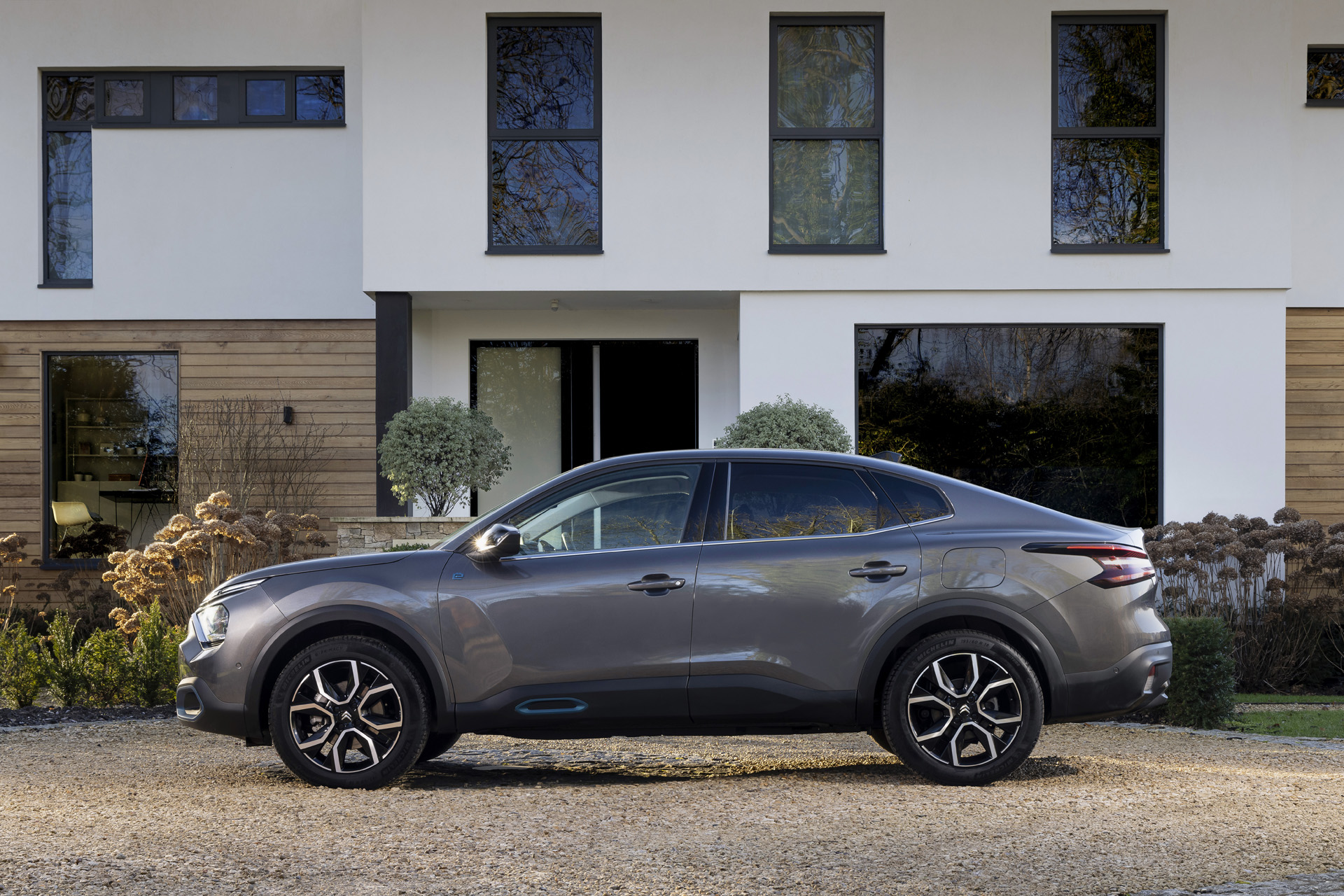 JS – I thought every car-maker was intent on forcing us to drive SUVs these days?
JT – It feels like that sometimes, doesn't it? But there is also a new trend: to create family cars that are lower, sleeker and prettier too.
You mean like a saloon? Are you saying that the SUV is on the way out?
Not exactly, but car design is like fashion – there are trends that come and go. Remember when the people-carrier replaced the estate car, or when soft-top convertibles suddenly had folding hard roofs instead?
Aesthetically, there's only so much a designer can do with the SUV shape. Arguably, it's difficult to reel off a string of attractive SUVs, unless you pay a fortune for the Aston Martin DBX or the Lamborghini Urus.
Yes – back in the real world, SUVs are otherwise not exactly design classics. So, welcome the all-electric e-C4X then, a family car that dares to be different. Let's be clear, it's not going to win any beauty contests, but well done Citroen for daring to be different.
Isn't the e-C4X just a larger version of the e-C4 hatchback – Citroen's high-rise all-electric model launched last year?
It is but Citroen says the X is a 'fastback' – a slightly elongated version that the rest of us would probably call a 'saloon'. Remember them?
I do indeed. Except the X still rides high and shares a good deal with the e-C4. To my eye, only the rear end is different. It's a comfortable drive, though.
The e-C4X has been set up for comfort, with extra squidgy seats and suspension that will soak up the worst of Britain's 480,000 potholes.
Is that how many there are?
According to a new report. Anyway, I digress. The car is offered in three trim levels – including the wonderfully named Shine Plus – while the 50kWh battery offers a modest range of 222 miles, or around 185 in real-world conditions.
So, it's a rival for the Nissan Leaf?
And the MG 5 SW. Except both those cars are rather more exciting to drive. The Citroen takes 9.5 seconds to reach 62mph, and the floaty ride isn't exactly exciting for enthusiastic drivers on a sweeping corner.
It sounds like an SUV with an identity crisis. It's neither a saloon, a hatchback or an SUV.
Good point – but at least it's different. Typical of Citroen to build a car that's a touch quirky and unconventional.
And the cabin is a nice place to sit, especially on longer journeys. Prices start at £32,000 for the entry-level model, but the aforementioned Shine Plus, with more safety equipment, is an extra £3,000. Should people buy one?
If you value comfort and originality over driving characteristics and EV range. Otherwise, maybe shop around.
Inside The Citroen e-C4X
Discover more about the Citroen e-C4X citroen.co.uk 
Jessica Saunders is Director of Programmes at London College of Fashion, studying for a PhD in sustainable e-textile design.