Donna Air meets the model with the sweet tooth, Daisy Lowe.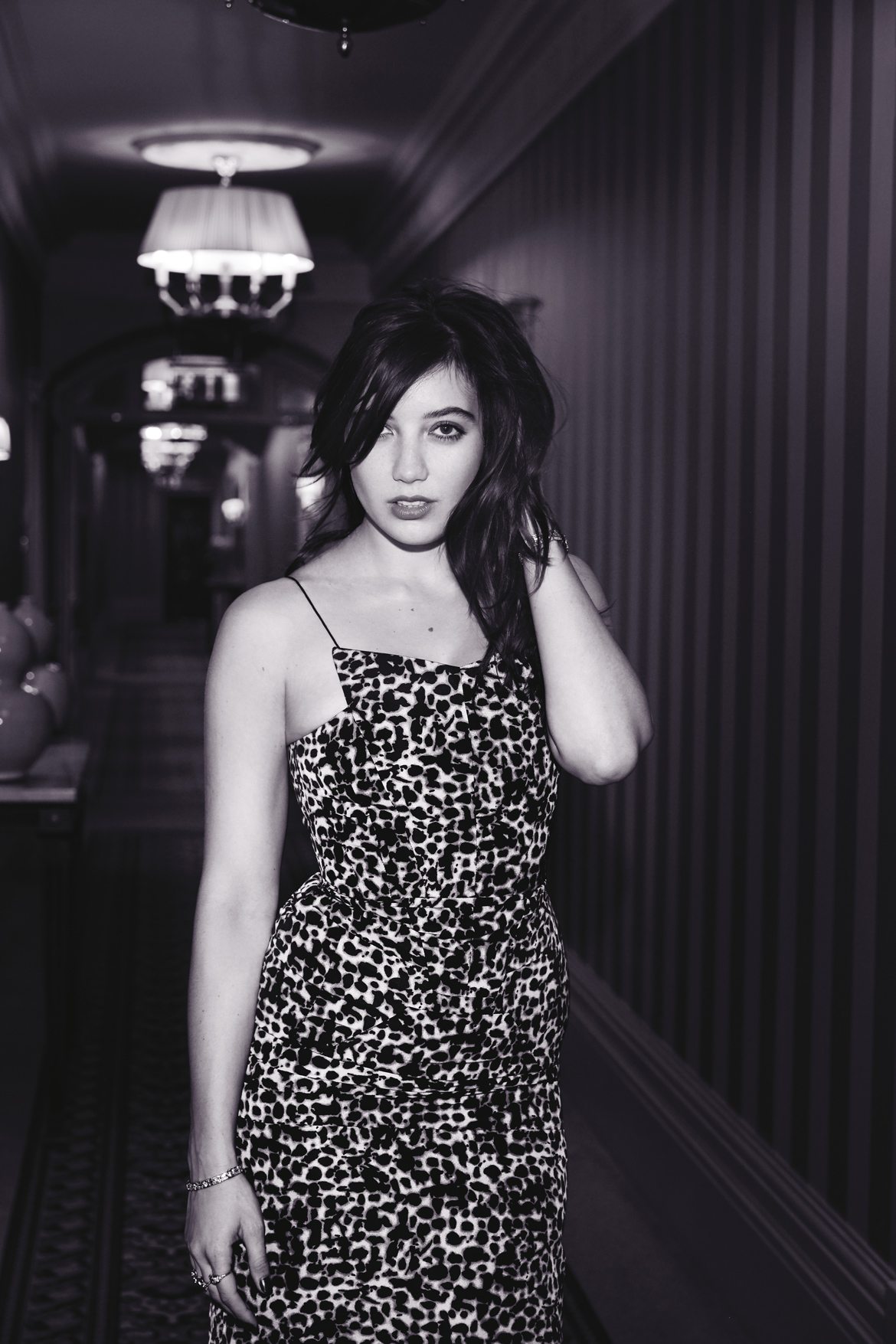 Donna: You've had a pretty busy year…
Daisy: Yes, I published my cookbook, which was an amazing experience. It is titled Sweetness and Light, because I have the worst sweet tooth ever.
Donna: I'm a bit of a sugar freak too.
Daisy: But being a model, and acting sometimes, too, I'm required to be thin, so my family always takes the mickey out of me, saying, 'Come on, you know you have to be skinny for a job!'
Donna: Do you cook and bake a lot at home?
Daisy: I do. I find it cathartic, it's my way of getting back into my body. There's a slight pressure, because you want everyone to enjoy it, but it's great to cook with love and soul and give it to the people that you care about.
Donna: Favourite sweet treat?
Daisy: All of it. Everything. Cake. Chocolate…
Donna: What's your favourite recipe in your book? I'm so bad at making cakes but I might try one…
Daisy: A really easy one is the apricot and ginger cake and the great thing is that you don't require butter. There's an avocado and chocolate torte that I love too. I use banana so that it doesn't have that avocado after taste – that kind of freaks me out – so the banana counteracts it when you use this kind of ingredient in sweet puddings.
Donna: Do you think this is the start of a new career?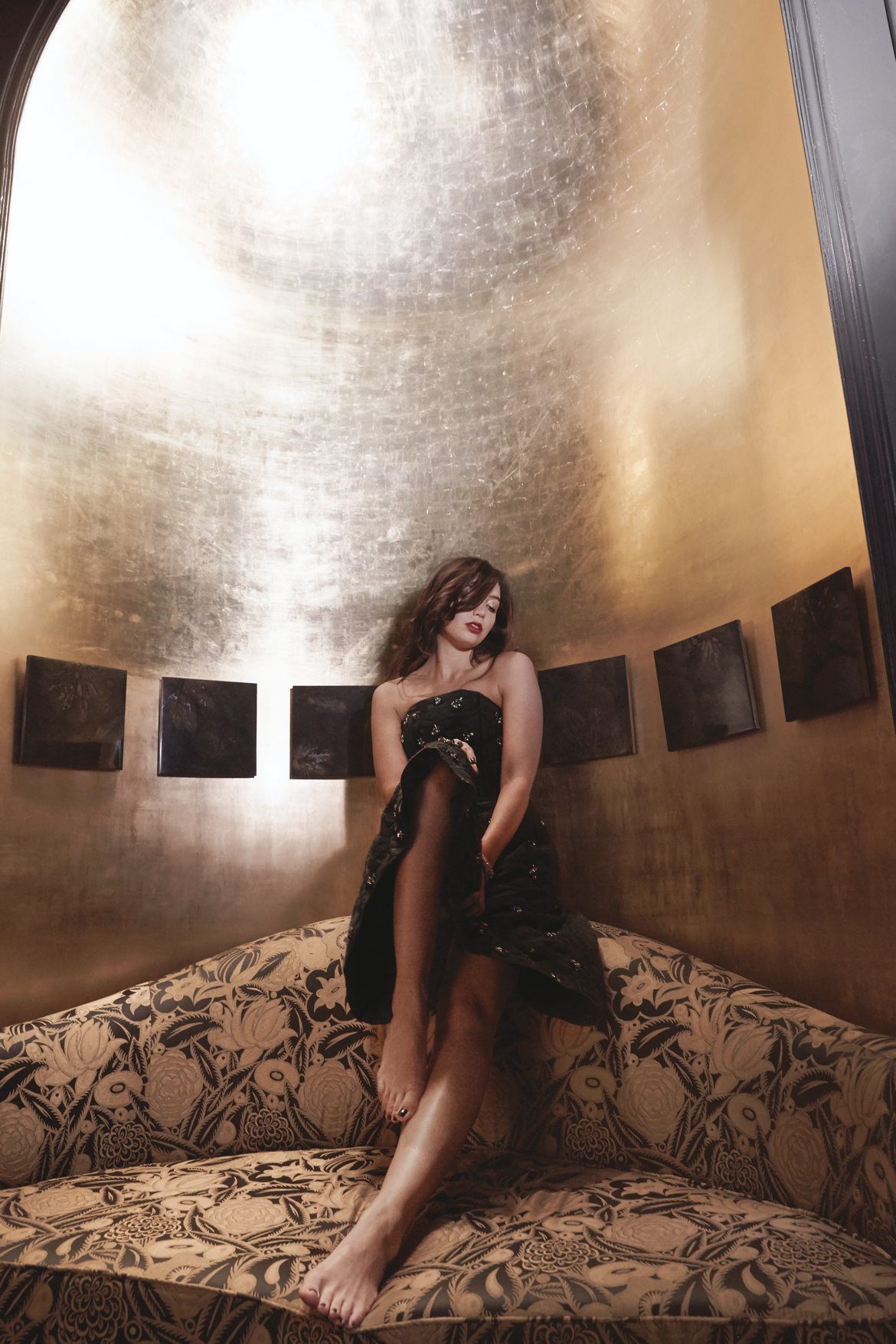 Daisy: It was never about being a chef. For me, it was ultimately about my personal struggles with food, so I started collating recipes for myself, which led to my friends and family putting in orders. It was my mum that encouraged me to start collating my recipes so I could share them.
Donna: What are your food struggles?
Daisy: I have my battles with food, as everyone does. I accepted quite early on that I was not a traditional model, I've always been curvy. I've always loved sweet things and I get those crazy cravings, but the problem with that is once you have something sweet it keeps whetting your appetite for something else.
Donna: Do you feel more or less pressure as you get older?
Daisy: It's just as much pressure, although I have learnt to handle it better. I think it's about being good 80 per cent of the time and naughty 20 per cent! We all need a treat from time to time.
Donna: What advice do you have for young girls in the industry about how to look after themselves and be healthier?
Daisy: The most important thing that I've learnt, and that I try to share with anyone who wants to listen, is to self-love. It's probably the most difficult thing to do, especially in a society where self-deprecation is so prominent.   
Donna: To love yourself?
Daisy: Yes, you have to. Nurturing yourself is hard but by doing
so you become aware of boundaries and what works for you. We need to look after ourselves with the same kindness that we show our friends and family.
Donna: You have learnt that relatively young, which is amazing.
Daisy: I've got a very good godmother who has been extremely encouraging with this philosophy. I wish I'd learnt it earlier.
Donna: It's hard for a young girl to get that, because women generally want to please others more.
Daisy: I think for most girls, yes, we were brought up to fit into a mould that just doesn't apply anymore. We live in a different world now, so to be told that we are too fat or too thin, too intelligent or too successful, I feel is redundant. You can't pretend to be something you're not – it's exhausting. We can please other people by being thoughtful and considerate, without changing our natural fibre.
Donna: What about acting?
Daisy: I've just finished a film called Tulip Fever [based on the book by Deborah Moggach], which will be out next year, which also features Holliday Grainger, Cressida Bonas and Cara Delevingne [among the all-star cast]. Cara and I play two wenches! Justin Chadwick [Mandela: Long Walk to Freedom and The Other Boleyn Girl] directed – it was an amazing project to be a part of.
Donna: A book, a film, busy lady! What else have you been up too?
Daisy: I have been shooting a lot of editorials, including Country & Town House! I have also been Djing a lot, which is a part of my job that I really like. It's great to be able to listen to the kind of music that I want to… selfishly maybe, but I haven't had any complaints so far, so everyone must appreciate what I play!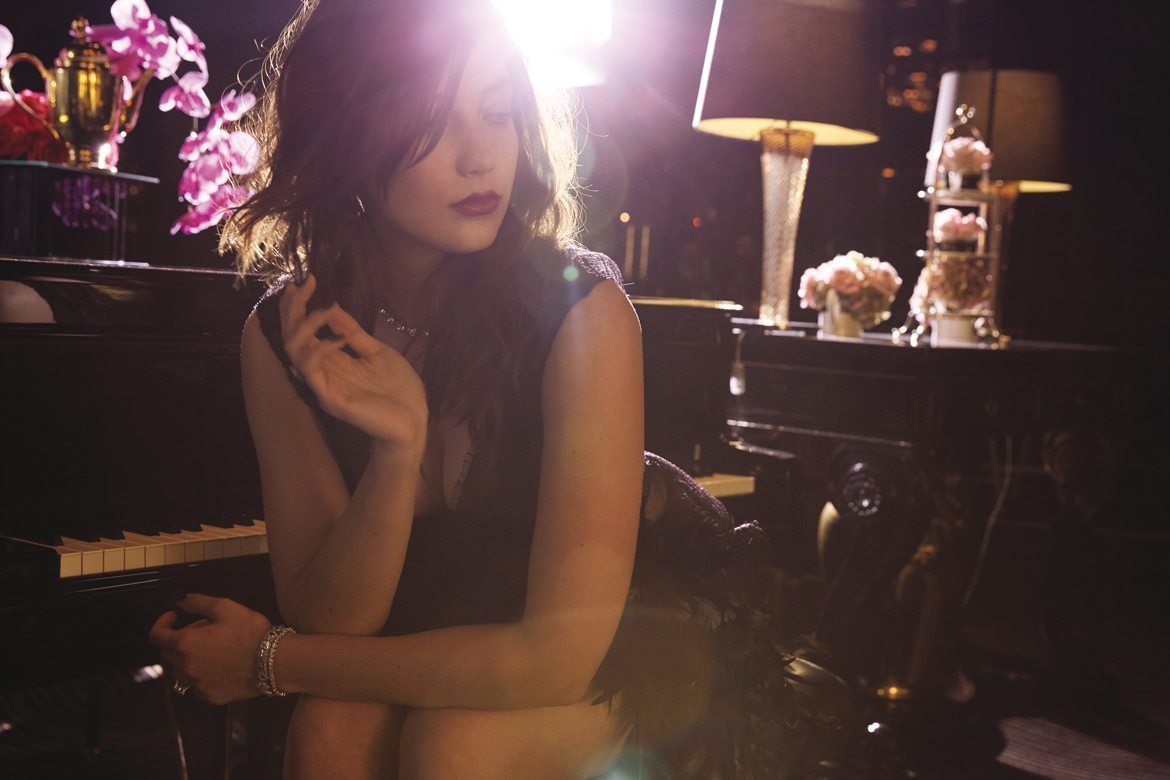 Donna: It's good to be adaptable and have all these different things going on, isn't it?
Daisy: Exactly. You get a feeling of excitement every day because it's something new and different.
Donna: So who is Daisy Lowe at home?
Daisy: I can be pretty shy, but I'm quite maternal. I think that's probably me in my most natural state, wanting to look after everyone else.
Donna: Who's in your close circle?
Daisy: Donna [my manager], lovely Portia Freeman, who's the only model I've ever met that I've become close friends with. We can sit and eat a packet of Oreos if we're feeling naughty, and not feel guilty about it. There is Martha Freud, who is just gorgeous, I'm the godmother of her little girl, and Jonah Pontzer, a very talented artist. We do normal things; cook together, go to the gym and for walks with my little Monty.
Donna: What's on your bucket list?
Daisy: I would love to trek through the Amazon at some point, also the trek to Machu Picchu looks magical. One of the reasons modelling was so enticing for me was that I wanted to see the world, and I have been lucky enough to visit some beautiful countries and cities. However, I always love coming home to London.
Donna: Where are your favourite places?
Daisy: Brazil, I love the food and the spirit of the people. Everyone is just so beautiful, open, bright and full of joy – they love to dance! I also had the most amazing road trip down the West Coast of America, which is always food for the soul.
Donna: Were you driving?
Daisy: No, I actually couldn't drive at that point, but it inspired me to pass my driving test, which I did a couple of months later. We went from LA to Palm Springs to Vegas to Death Valley to Yosemite to Big Sur, from Montara to San Francisco.
Donna: Who are your favourite fashion designers?
Daisy: Oh God, so many. I love Christopher Kane, Erdem and Ashley Williams. I love a bit of Prada and Miu Miu because that's just always fun; Marc Jacobs is exciting; Jean Paul Gaultier for his powerful feminine aesthetic and Saint Laurent is always a yes!
Donna: What's the most you have spent on an item of clothing?
Daisy: I don't know if I'd like to say!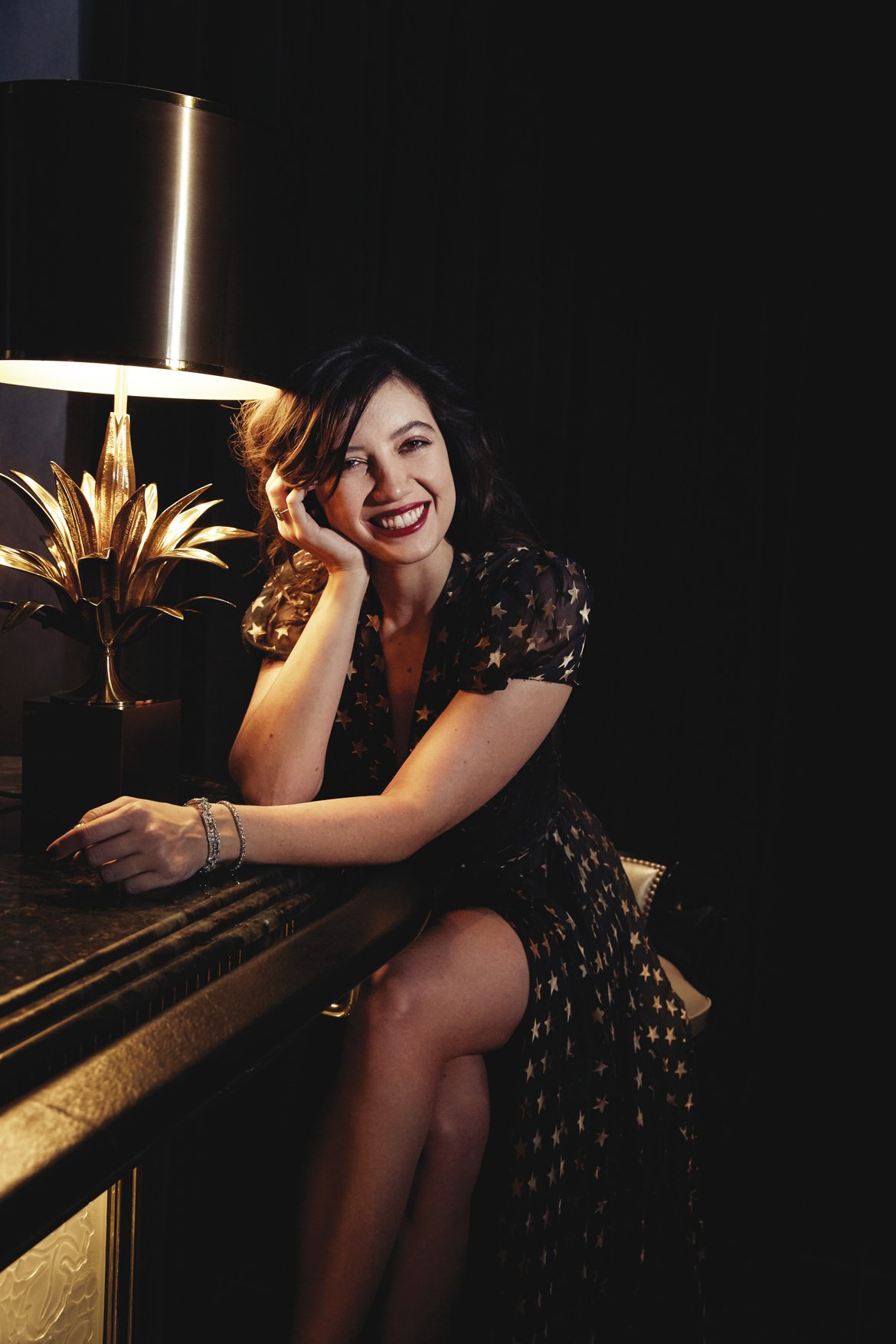 Donna: Is it obscene?
Daisy: Well, there was one Saint Laurent dress that I wore to the GQ Awards last year, which I paid for with money earned from a shoot and I used some vouchers given to me, along with my discount, but still…
Donna: You needed a mortgage!
Daisy: Well, with something like that… it was expensive, but it's one of those pieces that you keep forever and one day hand down to your children if they're lucky enough!
Donna: Do you have love in your life?
Daisy: No. I've been fully single for a year now and it's been great. It's my first time being single in nine years.
Donna: Do you enjoy dating?
Daisy: I don't really have time at the moment, I have been out on a couple of dates, but I haven't really felt that spark. 
Donna: Where do you think is the best place for a girl to date?
Daisy: I don't know. Donna [my manager] and I always talk about northern boys!
Donna: Excellent. Do you want me to take you to my hometown? I'm sure I know a lot of boys from Newcastle who would cut off their right arm to date you. That's it now, I'm going to be getting a lot of tweets going 'Ay Ay, Donna, can you introduce us to that Daisy Lowe, like.'
Daisy: Amazing! The boys up north have a different sense of humour and mentality. I like the fact that a lot of them are more family orientated and like being the protector and provider. 
Donna: And giving you taxi money on the way home?
Daisy: Well, no, look, I'm fiercely independent and don't need that, it's more about wanting a strong male. I don't want to be the alpha female in a relationship. Fifty/fifty works better for me.
Donna: Do you feel fulfilled? 
Daisy: Yeah. I think that's why there isn't a man in my life at the moment. Work comes first and I also need time for my family and friends. If there was someone in my life at the moment, it
could upset the balance.
Donna: What's your pick-me-up if you're having a bad day?
Daisy: Watching a really good film, cooking something really delicious, finishing off with something sweet and light. I also
love going out and dancing my ass off, that's always a really
good release for me.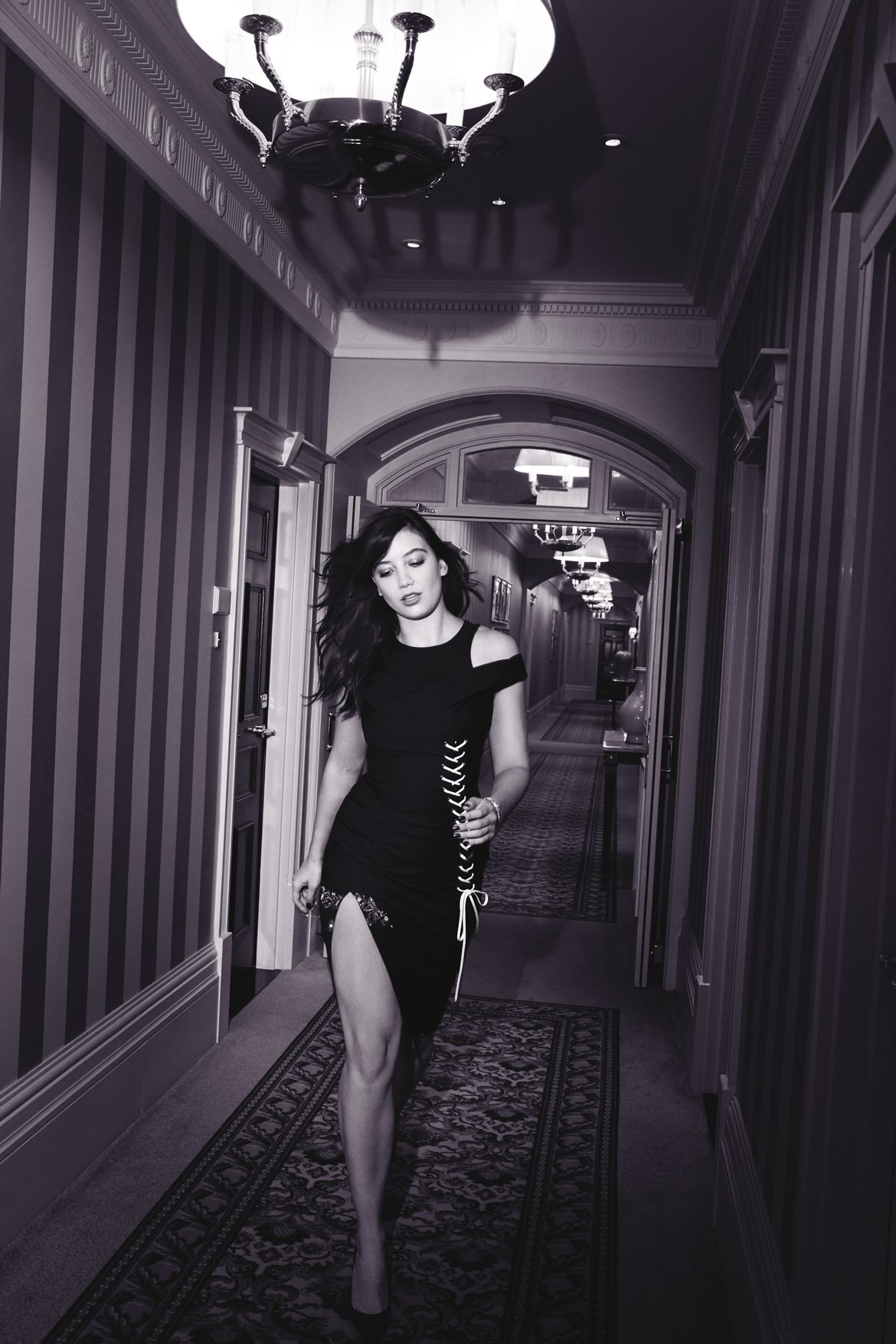 Donna: What's a big no-no for you. Would you do Playboy?
Daisy: Yes! Cheeky! I have already done the cover of French and American Playboy. That was on my bucket list too.
Donna: Where does your lust for life come from?
Daisy: I think I was very lucky to be surrounded by a lot of love as a child. We always had fun as a family and my grandmother has always told me that she will go to the ends of the earth for me.
Donna: What was your upbringing like?
Daisy: It was quite bohemian, I guess. We were always surrounded by creatives – artists, photographers, musicians…
Donna: Where did you grow up?
Daisy: Camden.
Donna: So you grew up when Primrose Hill was really swinging?
Daisy: Yeah, apparently so. I was totally unaware though, I was the kid trying to tuck my twin sets into my trousers!
Donna: It's Christmas soon, what are your plans?
Daisy: I'll be back in Somerset with the family.
Donna: And your immediate family are your three siblings…
Daisy: My three siblings, mum and step-dad.
Donna: How old were you when your mum met Danny Goffey?
Daisy: Six, so they have been together for almost 20 years. I call him 'Danny-Dad'.
Donna: How long did it take to get used to your stepdad?
Daisy: It was about two years.
Donna: So, you're a modern family…
Daisy: Yeah, I guess so, I adore Danny-Dad, he is so wonderful, makes me laugh so much and he's always supportive – I do love him.
Donna: Are you the best cook in the family?
Daisy: No, Danny is an amazing cook. He was on Celebrity Masterchef and did really well.
Donna: You should do that!
Daisy: No!
Donna: I think it's very attractive when a man can cook and I find it odd when people don't take any pleasure in food.
Daisy: Well, it's just one of life's greats. I mean we have food, music, dancing, sleep, work…
Donna: What's your favourite restaurant?
Daisy: I love the Polpo, Polpetto, Mishkins chain. I adore Mexican food, so I'm quite happy to be down at Chipotle – that's my dirty cheat. I'm a big fan of Hakkasan too, but everyone always says that.
Donna: And what makes you laugh hysterically?
Daisy: So many things. There's this amazing YouTube video called 'it's too damn hot' and that makes me cry with laughter. And my friend Jonah makes me laugh like no one else.
Donna: So, how do you cope with being so sensitive and reading negative things about you in the press?
Daisy: I don't read them.
Donna: Really? Do people not stupidly send articles to you?
Daisy: Sometimes and if I do read it, and it upsets me, it will take me a day to shake it off.
Donna: It must have been very difficult reading stuff when you were even younger. You were at school when you were in the public eye… 
Daisy: Yes, it was very strange to have teachers knowing more about my life than my friends did.
Donna: If you weren't doing what you were doing, what would you be doing?
Daisy: I would have gone to university, to study a degree in some sort of analysis. Having said that I would be really interested in studying acupuncture, therapy or something along those lines, because I like listening to people and helping them.
Donna: Finally, what are you hoping for under your Christmas tree?
Daisy: Lots of smelly candles, Brora cashmere and some amazing Rodial products.
CREDITS
Fashion direction by Lucy Bond

Photography by Alisa Connan
Hair by Fer at Josh Wood
Make up by Sarah Reygate at MY-Management using Chanel Christmas 2014 and Chanel Body Excellence
Stylist's assistant: Connie Chamberlayne
Photograher's assistant: Alec McLeish
Location: The Savoy Hotel

First published in 2014
---