Rock and roll's most famous muse Pattie Boyd has finally found her own identity, says Charlotte Metcalf.
Pattie Boyd frequently graced the covers of magazines from Honey to Vogue when she was a model, wife and muse of George Harrison and later Eric Clapton. So I'm taken aback when she confesses that she doesn't like taking her photograph taken. 'Looking back, I always seemed to look OK but at the time I never liked how I looked and wanted to look different – like Jean Shrimpton or Celia Hammond,' she says. Yet it was Pattie's face that inspired George Harrison to propose the day they met as teenagers. It was her face that drove Eric Clapton wild with desire and inspired him to write Layla and, later, Wonderful Tonight, which became the title of Pattie's 2007 memoir, written with Penny Junor.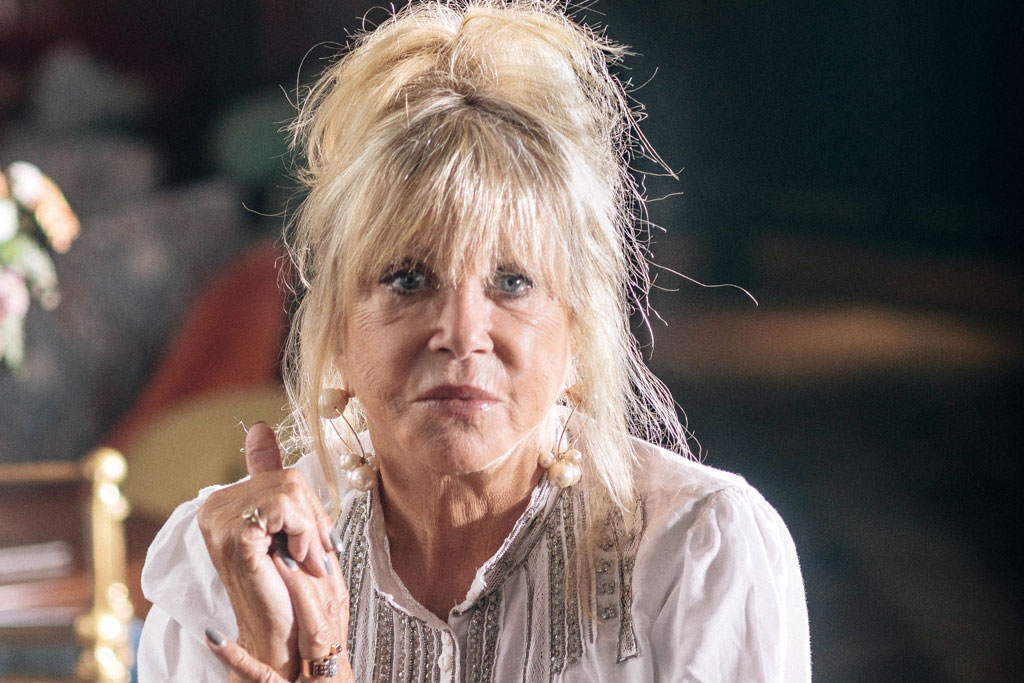 An Irresistible Woman
At 73, Pattie's cornflower blue eyes remain startling and her legs are as enviously long and slim as ever. At one point we talk about hair. 'People keep telling me I should cut it – should I?' she asks. Having long hair myself I demur. 'Sod it,' she says, I like having long hair,' and she lets out a great gusty gargle of a laugh that indicates an underlying spirit of merriment and joy, despite the ups and downs of the roller coaster that has constituted her life.
Anyone with any interest in the sixties or seventies knows quite a lot about Pattie already. She met George as a model when she was cast to play a schoolgirl in A Hard Day's Night. He was instantly smitten. Later she married Eric Clapton. Her memoir about those times is an irresisible page-turner, not so much for its juicy glimpses into the world of rock 'n' roll but more for Pattie's endearing modesty and emotional honesty. Behind the glittering life that most women would have ripped a limb off for, is a young woman with simple, universal needs: she wants a husband to love and be loved by; she wants to see her friends and family; she enjoys gardening and uses cooking as a way of nurturing the people she loves. She's most honest of all about wanting. a baby, a yearning that was never satisfied. When I knew I was going to be interviewing Pattie I asked one of her friends why she thought Pattie was so irresistible to men. 'She's just so kind,' she answered.
The Most Charming Properties Near Dorset
Lessons Learnt
Certainly she was kind about moving her schedule around to accommodate this interview and even writing her memoir sprang from an altruistic motive. 'I wanted to help girls and young women and I had the knowledge to do that,' she says. 'I was unrealistically optimistic about relationships and now I know how crucial it is never to lose your girlfriends – at least the ones that pass the test of not wanting to jump on your husband! Also I learnt early on from Ravi Shanker the importance of forgiveness. He taught me that very few people really want to hurt others.' Reading in her memoir about how cruelly and carelessly George and Eric behaved towards her, both through addiction and repeated infidelity, I am constantly struck by how unjudgemental she is. She's always looking to excuse them and it's this generosity that makes her utterly without bitterness or resentment today.
Losing And Discovering An Identity
I am trying to understand how someone so famous can be so modest and she tells me a story about the first time her photographs went on a show in San Francisco: 'I arrived at the exhibition with a couple of girlfriends and we were told to go upstairs and have a drink and some minder came with us. Eventually we were called down and I saw the minder mumble into his walkie-talkie up his sleeve, "Pattie Boyd is coming down now."Suddenly for the first time ever it was all about me. It was like entering a whole new world.'
Being Mrs Harrison and Mrs Clapton had never given Pattie a sense of identity. She describes losing her sense of purpose in both marriages: 'George was the man of the house and could do anything he wanted. Servants were there to obey every whim. But one of them started cooking for him instead of me and George preferred his food, I felt hurt, usurped and ganged up on. Women must never let that happen – I floundered.'
100 Years of Suffrage: What It Means to be a Woman in 2018
At Peace With Herself
Today Pattie's happily married to Rod Weston, a property developer, and lives between Kensington and West Sussex. She still loves gardening and cooking and is building a studio in line with her developing career as a photographer. Recently Taylor Swift interviewed Pattie for Harpers about the creative process between the muse and the songwriter. Typically Pattie only has praise for her. 'She was adorable, smart, intelligent,' she says. 'I told her that the most important thing to remember is that life never remains the same. I thought my life was so fab and would always be like that. Then one day the limos are nowhere to be seen and you can't go shopping willy-nilly any more. You have to be adaptable.' Pattie admits she feels she's finally grown up and discovered her identity. 'Time and being battered around by life has made me feel strong,' she says. As she says at the end of her memoir, 'If someone stops me and says, "Aren't you Pattie Boyd?" I give them a big smile and say, "Yes! I'm Pattie Boyd!"' Despite her fame as rock and roll's most iconic muse, she never asked for more.
In Brief
Killer heels or country brogues?
I love shoes but killer heels always get stuck in the grass, don't they?
Dog or cat?
We have an Irish terrier.
Michelin star or country pub?
In London I love a Michelin starred restaurant but in Sussex I love the Half Moon at Kirdford, owned by Jodie Kidd – the food is fabulous.
Penthouse or country cottage?
Country cottage.
Designer dress or country casuals?
I'd have to say designer dress.
Glass of wine or green tea?
Glass of wine.
10 Best-Selling Champagne Brands in the World 
---