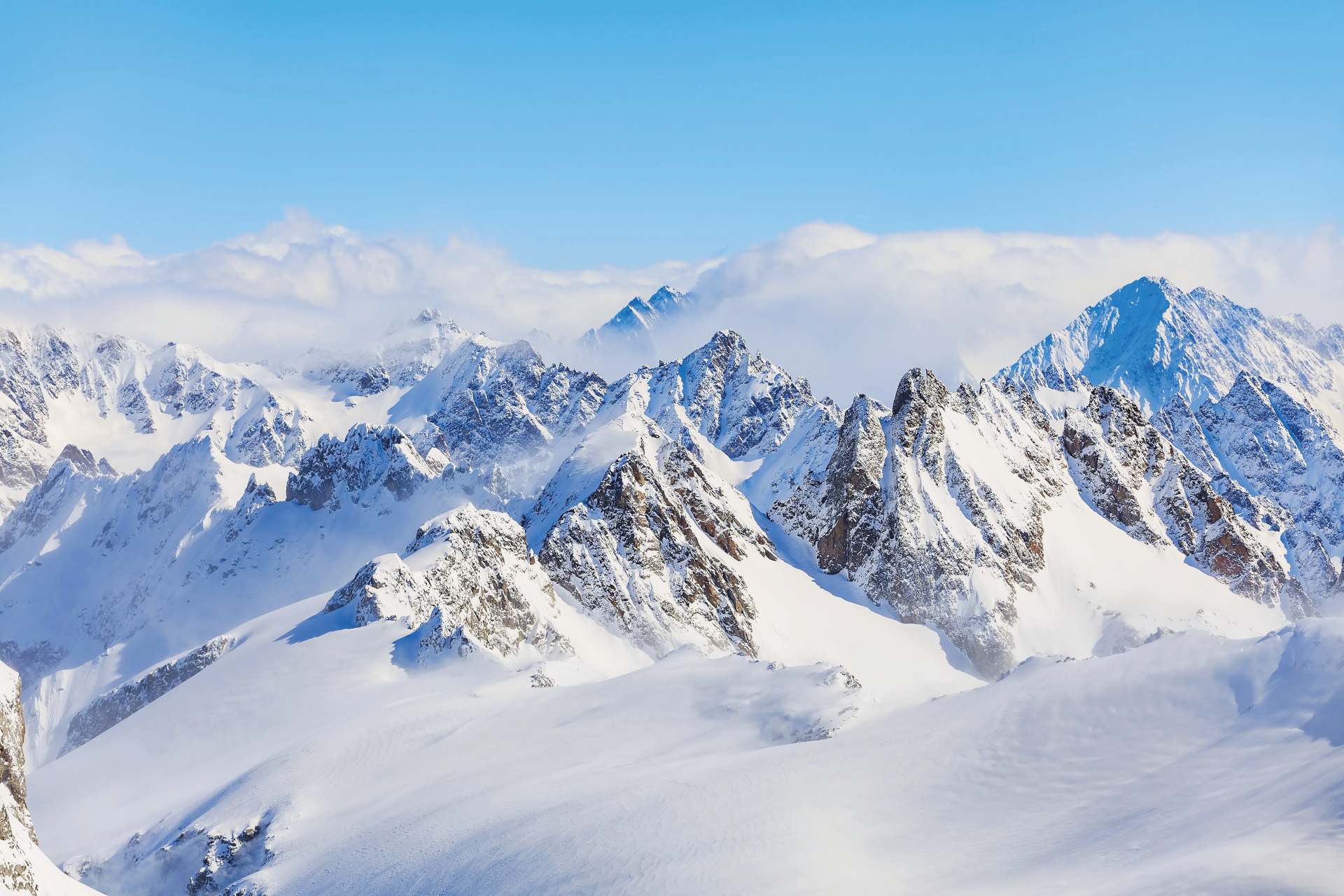 Cortina D'Ampezzo: The Ski Resort in House of Gucci
As the Gucci biopic comes to the big screen, Rosalyn Wikeley struts her stuff in Italy's chicest ski resort, Cortina
As a key location in the much-anticipated Gucci film starring Adam Driver and Lady Gaga, all eyes and skis are on Cortina, a resort which has safeguarded its Italian flamboyance along with a roster of grande dame and slightly quirky hotels, making it the perfect blend of unfettered fun, glamour and culture.  
The Best Ski Chalets On The Market This Winter
Cortina D'Ampezzo's Gucci Moment: The Italian Resort Featured in House of Gucci
Stirring an espresso on Cortina's slopes in a fierce, fitted ski-suit, costume earrings and a maximalist fur hat, Lady Gaga is a picture of the unapologetic glamour and Slim Aarons excess that fuelled the Eighties. She's playing Italian socialite Patrizia Reggiani alongside Adam Driver as Maurizio Gucci, her ex-husband and fashion scion in Ridley Scott's sizzling, soon-to-release biopic, House of Gucci. 
'I don't consider myself to be a particularly ethical person, but I am fair.'  
Gaga masters the languid speak of the fashionista, gazing cooly ahead through that thick, and distinctly Italian, eyeliner.  
Prior to the trailer being released, the locked down weary world was treated to a few glimpses of Gaga and Driver's filming escapades in the mountains. With these came style teasers as dramatic as the Dolomites themselves  – the turtlenecks, the salopettes, the maximalist gold jewellery and nostalgic specs. They looked at home in Cortina d'Ampezzo, and so they should.  
Patrizia Reggiani and Maurizio Gucci were just two of a dizzying roster of fast and famous guests to grace The Queen of the Dolomites. The resort personified the feverish glamour of the moneyed late 20th century, a powdery playground for Italian Aristocrats, Hollywood film stars and Europe's Beau Monde, drifting their hedonism north from Venetian and Milanese soirees for the Dolomites' take on La Dolce Vita. 
As the fashion pack's glacial gaze falls one Cortina once again this winter with the film's release, best brush up on the legendary hangouts worth visiting, the slopes worth carving and, crucially, la moda – insiders will know too well that Cortina's ski season opens with a Fashion Weekend (think a pocket-sized Milan Fashion Week at high altitude).  
A star-studded history
Caught in the fluctuating borders of the Republic of Venice and Tyrol during the Austro Hungarian Empire, Cortina's leisure pedigree began in earnest in the 1800s. The town and its surrounding Dolomite landscape's extraordinary natural beauty was a magnet for the European elite. Before too long, it became a smart holiday, sports and adventure destination and a slew of swanky hotels, lodges and restaurants began to populate the valley.  
By the 1950's, Cortina was a snowy snapshot of Europe's who's who, reaching its crescendo in 1956 with Sophia Loren famously opening the first Winter Olympics, which was broadcast around the world. The resort is currently preparing to host the 2021 FIS World Ski Championships, a warm-up for the 2026 Winter Olympic Games Milano Cortina. Those who didn't quite make the Olympic cut can still revel in Cortina's stellar ski touring options, its sunny aperol afternoons on the slopes and the après scene back in town.  
The enduring appeal of Cortina lies not only in this thrilling mix of glamour, sport and nature, but in its reluctance to bend to the fleeting tastes of the modern jetset. Fiercely preserving its traditions, architecture and natural surroundings, the resort is confident in its vintage – like a bashed up pair of Gucci loafers. This is quite a feat for a town whose population increases from around 7,000 to 40,000 during an average winter season.  
A string of literary, art and music festivals honours Cortina's cultural heritage and tradition of hosting famous writers, poets and philosophers, from Ernest Hemingway to Emmanuel Carrère. What's more, the at once glamorous and low-key resort has earned its place in film legend, serving as the location for several hit films, from 1973's Ash Wednesday starring Elizabeth Taylor and The Pink Panther (1963) to the 1981 James Bond, For Your Eyes Only) where Roger Moore checks into Hotel Miramonti and is chased down Cortina's slopes by John Whyman as Eric Kriegler. 
Brigitte Bardot, Audrey Hepburn and Frank Sinatra may have jetted in during Cortina's heyday to soak up the Dolomiti mood and its martinis, but the resort still operates as salotto dei famosi – a sitting room for celebrities – seducing stars such as George Clooney.  
Skiing 
While Cortina is synonymous with world-class winter sports, the beauty of the resort is that there's something for every level of skier. With over 120km of powdery runs covered by local lift passes to explore, from its scattering of black runs such as Forcella Staunies on the Cristallo and the best off-piste opportunities in the Dolomites to keep the advanced crowd entertained, to its wide gentle slopes and snowshoeing trips for beginners and more leisurely runs winding through pine woods down to convivial mountain lodges serving, for those epicurean intermediates.  
Those unfamiliar with Italian Dolomite rhythms may find they have the pine-lined slopes to themselves during the sacred in pranzo time (lunch) – a ritual for both locals and visitors which usually stretches from around 1.30pm until 4ish shut, giving bon viveurs just enough time to stumble to their skies and navigate the slopes down after a boozy lunch. They'll be following the historic tracks of soldiers during World War One, with ski tours available for history buffs. 
Hotels
As one of Europe's oldest ski resorts, many of Cortina's doyenne hotels nod to its glitzy past. None more so than grandee, Cristallo Palace Hotel and Spa with its lavish interiors and Frank Sinatra and Peter Sellers suites. As Cortina's original luxury hotel, it's easy to imagine twentieth century high society swanning through Cristallo Palace's art nouveau splendour, rubbing shoulders with Brigitte Bardot and the odd royal along the way. Grand, old world interiors are thawed gently by alpine fabrics and chalet-style wood panelling, while La Veranda, one of the hotel's many restaurants, packs Wes Anderson appeal with its panoramic mountain views and just-so table lamps. Weary ski bunnies can recharge in the vast and Romanesque spa, with its sauna and Turkish bath. Fellow grand dame, Grand Hotel Savoia, also excels in the spa wars and is not short of distinguished guests (Winston Churchill, Franklin D Roosevelt and Tolstoy have all hung their hats here). While the interiors have recently undergone a modern lick, the atmosphere remains one of cosy open fires, rustic woods and grand pianos. Those dropping their Goyards at Faloria Mountain Spa Resort will be treated to a sumptuously contemporary scene, one in keeping with the mountain agenda but more Japanese than Italian in its design restraint.  
While the Cortina Grandees dine off their star-studded history, insiders will know a handful of cosy chalets which play to the more discreet side of Cortina – their roaring fires, spirited owners and comfortingly kooky interiors have been welcoming back the same families for generations. Run by the Pizzinini family since the early 20th century, Rosa Alpina is a masterclass in mountain Dolce Vita, with its cockle-warming wood-panelled walls, deep sofas and large windows which pull in that glorious winter light. But it's the hotel's foodie feats that sets it apart, with its three Michelin-starred St Hubertus Restaurant plating up elevated spins on local classics and the casual and cosy Fondue Stube for the traditional Alpine cheeses and meats. While Hotel de la Poste may not have Rosa Alpina's foodie credentials, nor its plush decor, it's not short of history. Housed in a former post office (as befitting its name), Ernest Hemingway stayed here several times and sipped cocktails in its moody American bar (the Bellinis here are legendary). Decor is comfortingly quirky, and therein lies its charm – also be found in the sinfully good smokey carbonara. 
Restaurants
SanBrite
Chef Riccardo Gaspari's restaurant is a masterclass in seasonal, farm-to-fork cooking, with ingredients pulled in from local farms or the Gasparis family's own directing the menu. All is traditional and hearty, with plates such as braised beef cheek, crayfish linguine and buttermilk leeks. The  kitchen's wholesome ethos is reflected in the restaurant interiors – a chic, pared back ode to its previous life as a barn. With a stellar wine list (their own cheese is matured in the cellar where the mountain butter is also kept) and sweeping valley views, this is a knockout choice for a smart yet tuned-in supper. 
Tivoli 
A stalwart of Cortina's foodie scene, Tivoli's white table cloth'd demeanour, its soundtrack genteel chatter and Michelin star is softened by a cosy, chalet-like interior. Smartly dressed locals (and in-the-know punters) settle in for a cavalcade of creative Italian plates, from tuna steak to confit pigeon with foie gras escalope, washed down with fine wines. On warmer days, the terrace transforms into a suntrap for glasses of Champagne in the cool mountain air
Al Camin
A stone's throw from Chiesa di Santa Giuliana, one of Ampezza's prettiest churches and en route to Lago di Misurina, Al Camin serves up hearty Italian fare in a low-key, Alpine setting. Come here for beautifully-cooked spaghetti, risotto and tiramisu, sometimes with a modern twist and nearly always rounded off with grappa or a strong Italian coffee.  
El Camineto
Perched along Cortina's pretty slopes, this ski-in ski-out (or a wiggly car ride up) spot is a favourite with locals who come for the salted cod and Bacalao. The terrace is usually animated by stylish skiers nursing glasses of red in the sunshine. Stop here for a dose of low-key Dolce Vita.  
Rifugio Averau 
With its prime position on a ridge within the Cinque Torre ski area, this fourth-generation family-owned restaurant commands knockout mountain views of Civetta and Marmolada and Tofani di Rozes. The menu is a creative blend of the owners, Ampezzo-born Sandrone and Fruilian-born Paola's regional dishes, such as timbale of pheasant and broccoli,  Prosecco cake with Amaretti and cappelli d'alpino – fresh pasta filled with spinach, ricotta and nutmeg. The best part? Diners can organise a snowmobile ride home.  
Bars
Baita Fraina
Head to this restaurant and wine bar along the legendary Corsa Italia for a snapshot of Cortina's apres ski scene. Locals rub fur-clad shoulders with Milanese regulars, scanning the 550 strong wine list through their stylish specs. And in typically Italian high-low style, the snacks do their best to keep things casual outside on the heated terrace… amongst a sea of Moncler, red wine and Gucci.   
Caffe la Suite 
Another Corsa Italia favourite, tucked along the main square, this understated cafe-cum-bar may read like a student dive, with its basic Alpine interiors and unfancy exterior, but it is in fact a discreet magnet for Cortina's bon ton. Swing by for an Aperol and some first-rate people watching from the barrel-style tables outside.
Enoteca
This perfectly unpretentious bar is sewn into Cortina's DNA. Affectionately referred to as 'da Gerry' by locals (its founder, Gerry, is a wine connoisseur), Enoteca can be found under the bell tower in the town centre. Its wines are vast and curiously varied, and are accompanied by simple (yet  wildy tasty) Italian small plates.  
How to dress for Cortina d'Ampezzo 

 
From December onwards, Cortina's main street, Corso Italia, transforms into a cavalcade of furry coats, cashmere scarves and jewels. Its owners duck into understated bars and restaurants lining it, peeling off layers of chic to then lean into the wine menu and good conversation. The town's fashion reflects its unique mix of high-octane glamour and unbuttoned attitude – here's how to get the Cortina look.