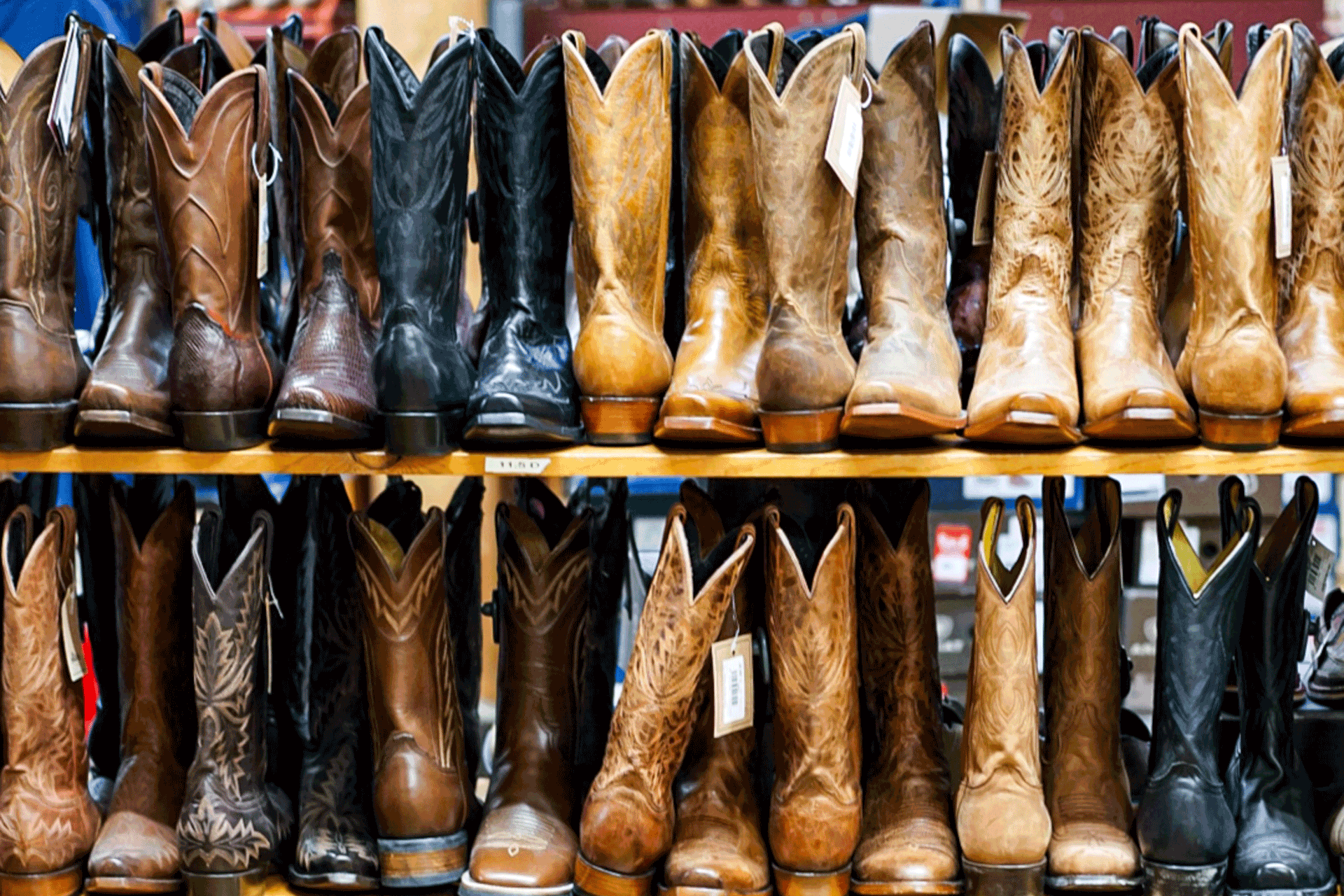 Cowboy Chic: Everything You Need To Know About The Country Music Comeback
The Country & Town House guide to... country
It's a question that may have surfaced in your mind of late: Is country music cool again? (Although the more important question might be: was it ever?) From the radio to the runway, country is experiencing an undeniable revival. Whether you're looking for country musicians to add to your playlist or you want to try out the cowboy aesthetic, we've got everything you need to know.
Cowboy Chic: Everything You Need To Know About The Country Music Comeback
Country music has a curious reputation. It might conjure thoughts of cowboy hats and pickup trucks, laced with the faint sound of a Texan accent and the whine of a harmonica. Particularly to those in the UK, it can seem distant, its appeal perplexing. But in recent years, country has been making a comeback – and from the radio to the runway, it's gaining even more traction in 2023. 
The Cowboycore Fashion Trend – What Is It?
View this post on Instagram
Cowboy fashion might seem like an unlikely trend, but Western-inspired style is experiencing a notable surge in popularity. You may have spotted festival-goers at Coachella donning cowboy hats and denim jackets, while excited attendees of Taylor Swift and Harry Styles concerts have opted for Western boots paired with boho dresses. (Beyoncé herself even sported a rhinestone-covered cowboy hat during her Renaissance tour.) 
Country has also reached the catwalks, with SS23 shows by designers such as Thom Browne and Dries Van Noten incorporating fringing, double denim and suede jackets. It seems difficult to dispute – country really is cool.
Read Our Roundup Of The Best Cowboy Boots
Country Music Goes Mainstream
View this post on Instagram
Although it might be startling, country music has seen a steady resurgence for a number of years. You might remember one of 2019's biggest hits: Lil Nas X's 'Old Town Road,' which blended rap with country to create an inconceivably catchy track which was later re-released featuring Billy Ray Cyrus. Hozier's collaboration with country singer Maren Morris in the same year also helped the genre to get more airtime.
Country has continued to trickle into the mainstream: more recently, Ed Sheeran performed a track from his new album with one of country's current superstars, Luke Combs. A slew of (some would say surprisingly) outstanding country projects have been released in the last few months, so if you want to embrace the country comeback, there are plenty of musicians to choose from.
The Biggest Country Musicians Right Now
Chris Stapleton
View this post on Instagram
You might recognise Chris Stapleton from his collaboration with Taylor Swift on 'I Bet You Think About Me,' a previously unreleased song which appeared on 2021's Red (Taylor's Version). The track sees Swift hark back to her country roots with sweeping harmonica interludes. Stapleton's biggest hit, meanwhile, is 'Tennessee Whiskey,' a contemporary country classic.
Thomas Rhett
Having recently headlined Country to Country, Europe's biggest music festival, Thomas Rhett is making waves in both the US and across the pond. His most-streamed track is 'Die A Happy Man' from his 2015 album Tangled Up, which combines pop influences with his signature country sound.
Luke Bryan
Luke Bryan is one of country music's biggest stars. Among his most popular songs you'll find some real gems of the genre which include 'Huntin', Fishin' and Lovin'' and 'Knockin' Boots.' If you're looking for quintessential country, start here.
Kacey Musgraves
Kacey Musgraves offers a vibrant reimagining of everything the country genre might previously have been: stereotypical themes are replaced by lyrics casually advocating for LGBTQ+ relationships ('Kiss lots of boys/Or kiss lots of girls/If that's something you're into,' she states on 'Follow Your Arrow') and musing on the consternation of her elders ('Grandma cried when I pierced my nose' is a particularly comedic observation in 'Slow Burn'). Think country sounds with generous helpings of pop.
The Female Country Musicians Taking The World By Storm
Although country is a traditionally male-dominated genre, its recent revival is in large part due to the standout releases of a variety of female artists like Musgraves. Here are a few others you need on your radar…
Kelsea Ballerini
View this post on Instagram
Kelsea Ballerini is responsible for a number of chart-topping releases since she burst onto the country scene with her debut single, 'Love Me Like You Mean It.' She won the Billboard Women in Music award in 2015, and her single 'Heartfirst' was even nominated for Best Country Solo performance at the 2023 Grammy Awards. Her latest album, Subject to Change, is an ultra-catchy country offering.
Brandi Carlile
Brandi Carlile's musical legacy spans multiple decades and genres – and one of her most notable recent releases is a collaboration with Miley Cyrus. She also produced the song "Home," which appears on the Ted Lasso soundtrack.
Carrie Underwood
Country icon Carrie Underwood rose to fame after competing in American Idol in 200. You'll probably recognise the legendary track 'Before He Cheats,' but her latest single 'Out Of That Truck' is definitely worth a listen, too. 
Miranda Lambert
Miranda Lambert is one of the most successful country artists in the world, having received a record number of 37 American Country Music Awards. She was even listed as one of Time magazine's 100 Most Influential People in 2022. Looking to dive into her discography? Her newest album, Palomino, contains some surefire hits including 'I'll Be Lovin' You' and 'If I Were A Cowboy.'
Featured image credit: Unsplash