This quintessential Cotswold village with breath-taking views has enough charm to entice even the most stone-hearted to pick up a property or two. Read the C&TH guide to Castle Combe…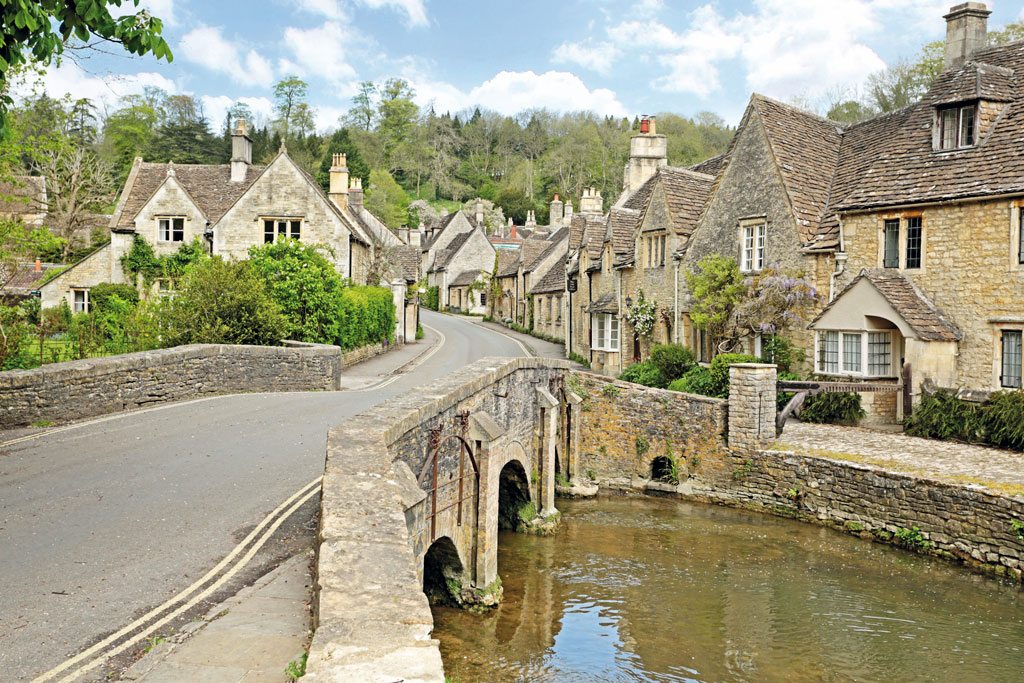 Such is the cachet of Castle Combe, a honey-coloured Cotswolds village, that houses here seldom come on the market. Since 2000 there have been fewer than 120 property transactions and those that do come up for sale tend to be snaffled by locals. 'Not only has it been voted the prettiest village in England but it's conveniently located close to Bath, Bristol and Chippenham,' explains Neal Wood of Hamptons International in Bath. 'We're seeing an increase in buyers from London and overseas looking to buy here – if only there were more properties for sale.'
Before it was auctioned off after the Second World War, Castle Combe belonged to a large private estate, which is why it is so well preserved. The low-beamed cottages, church and market cross are from another era, and the village is likely to retain its charm, given that it is a conservation area, excluded from Wiltshire council's plan for development. A scarcity of TV aerials and telegraph poles ensure it regularly features on TV and film – Dr Dolittle, Poirot, Stardust and War Horse, to name but a few.
Welcome Feel
Yet for all its chocolate-box charm, Caste Combe is a lively and close-knit community, with plenty to offer all ages. 'It's a lovely place to bring up a family in the traditional way,' explains Fiona Butterfield, who moved to the area from Yorkshire six years ago and now runs a bed and breakfast on her farm. 'From the moment we moved here I felt as if we belonged.'
'From the moment we moved here I felt as if we belonged.' 
This was also the case for Anna and Mike Roberts who bought the Old Rectory in Castle Combe 14 years ago after selling up in Clapham, South West
London. 'On the first afternoon our neighbours came over with a tray of tea and biscuits which set the tone,' she says. 'Within a very short time we knew everyone and by the time we had our two children, I knew I could rely on any of the locals in an emergency.'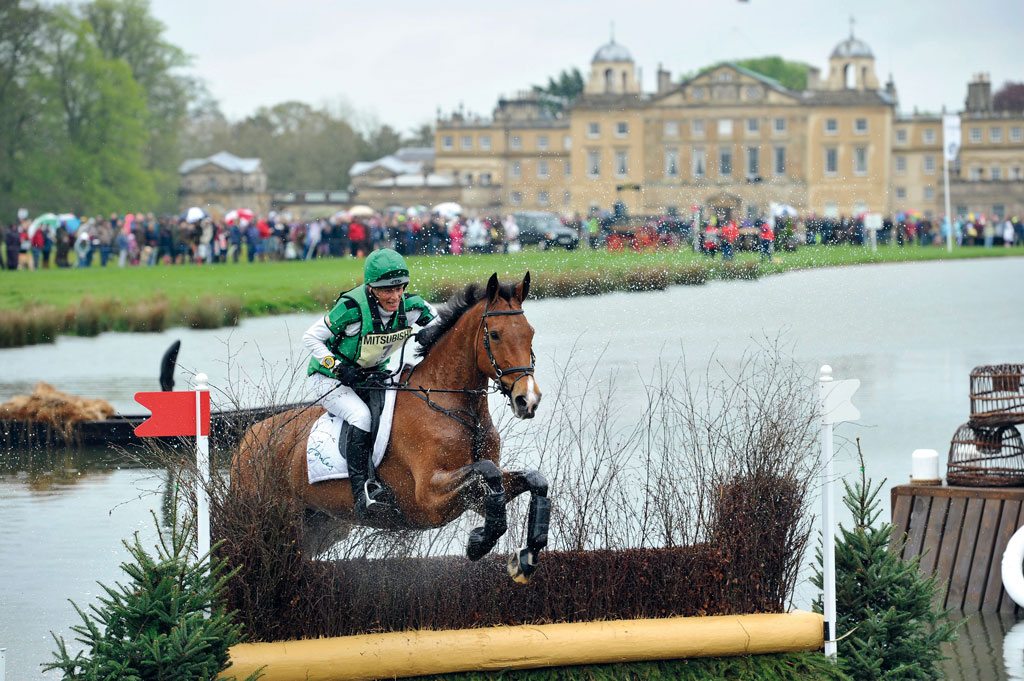 Along with good local state schools there is a wealth of independent prep and senior schools nearby, such as Beaudesert Park and Westonbirt, as well as schools in Chippenham, Bath and Bristol. Families moving to the area enjoy living deep in the countryside – the historic Cross Cotswold Pathway passes through Castle Combe – yet with Waitrose just five miles away in Chippenham and the boutiques and restaurants of Bath and Bristol within half an hour. Many are horsey – Badminton Horse Trials takes place nearby and there's a racecourse at Bath – or looking to get involved with country sports such as shooting or fishing.
London Calling
Given its location just 75 minutes by train from London Paddington, second homers also target Castle Combe – a fact not wholly cherished by the locals. Londoners and overseas buyers regard the village as an idyllic holiday spot – the actor, Nicolas Cage, was recently seen house hunting in the area. 'We've sold to four American buyers this year who wanted a base in the English countryside and there is interest from Hong Kong,' says Wood. According to Caroline Ferris of Humberts in Chippenham, Castle Combe has good short-term rental potential. 'People don't just buy for their own second home usage but to Airbnb,' she explains.
In the drawing room of the Old Rectory, Anna runs a reservation-only tearoom serving her own home-baked scones and cakes. It's one of a number of small businesses in the village – there's a coffee shop and two pubs, one of which, the White Hart, is more than 600 years old. The other, the Castle Inn, has recently been purchased by the Manor House Hotel, a five-star hotel in the house which was formerly the manor of Castle Combe. 'It's great to have somewhere so civilised to go for lunch if my husband wants to treat me,' Anna continues.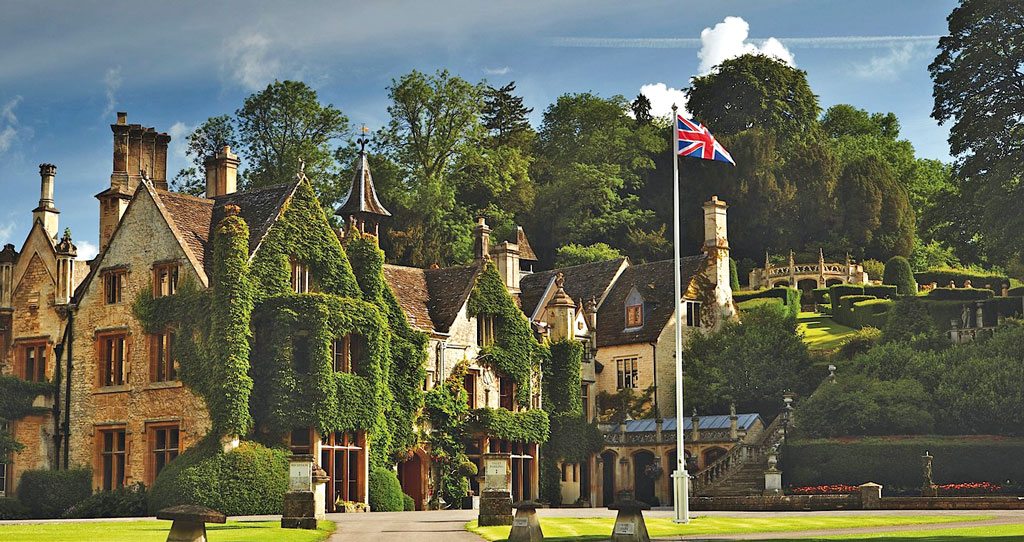 Due to the diminutive proportions of the cottages within the village, larger families must look to the surrounding hamlets such as Burton or Nettleton
or the villages of Little Badminton or Luckington, where houses invariably cost more than a million.
It's a lot of money but if you manage to buy within a few miles of Castle Combe you can feel smug about your investment: the average price in the village is currently £445,000 compared to £291,000 for the rest of the county and year on year growth stands at 11 percent – almost double the West Country average. 'It's a little enclave with prices head and shoulders above the surrounding areas,' confirms Wood.
The only possible downside to the village is the stream of tourists who pass through it in summer, peering into the cottage windows and photographing the brook. According to Anna, however, most villagers are more flattered than infuriated by the intrusion; they see it as a small price to pay for living somewhere so historic and picturesque. 
Castle Combe Best For…
Coffee: The Old Stables Deli, Castle Combe
A Pub Lunch: The Old House at Home, Burton near Castle Combe
Me Time: A spa session at the Thermae Bath Spa in Bath or at Lucknam Park near Chippenham
Day Out With The Kids: Canoeing and picnics in the Cotswold Water Park or den building and woodland games at Woodland Adventurers in Corsham
An Evening Out: The Bybrook restaurant in the Manor Hotel, Castle Combe
A Bracing Walk: The Cross Cotswolds pathway passes through Castle Combe
Afternoon Tea: The Old Rectory Tea Rooms in Castle Combe, although you will have to book in advance
Something Different: A race day at Castle Combe Circuit
Fact File
Member of Parliament:  James Gray, conservative member of parliament for North Wiltshire
Population: 344
Claim to Fame: It's recently starred in films The Wolf Man, Stardust and War Horse
Facilities: St Andrew's Church, two pubs, a golf course and a five-star hotel
USP: The Church's faceless clock is thought to be one of the oldest working clocks of its kind in Britain
READ MORE: The C&TH guide to Twyford
---