Drummond Money-Coutts: Interview with the International Man of Mystery
Drummond Money-Coutts could have gone into the family business of banking but this magic man has more ambition up his sleeve, says Charlotte Metcalf
This post may contain affiliate links. Learn more
We sat down with Drummond Money-Coutts to found out how his magic skills helped accelerate him from a basement flat to stages all over the world…
The rise of magician Drummond Money-Coutts has been as magically meteoric as any Phoenix. Within a decade he has become one of the world's most sought-after entertainers, has performed (though he'd hate that word) for the Queen, Prince Harry, various Saudi royals and David Cameron as well as a host of celebrities, and spent ten months on the road completing a seven-part television series for National Geographic. Beyond Magic has been seen in over 170 countries and made Drummond, or DMC, one of the world's most bankable entertainers.
I have watched his YouTube videos so I know Drummond is 30, tall (6'4"), dark and handsome but when he arrives to meet me at his Mayfair club, his good looks are accentuated further by his idiosyncratic style – his polished baldness, the tattoo that arcs above his right ear (about which more later) and his attention to sartorial detail – the swashbuckling cut of his tweed jacket, the pristine crispness of his white collar, his silver snake brooch. Yet it's a quality of thoughtful intensity and genuine passion for his craft that strikes me most as we sit down to talk about his career over lunch.
Falling under the spell
'Ever since my father took me to a magic shop off the Strand aged eight, I've been hooked. I memorised the shop's entire catalogue,' Drummond begins. 'But I've always seen magic as profound and something that's woven into the world around us. In the West it has become very trivialised, all about a man on a stage, smashing a watch in a velvet bag but, when you step back 100 years, it's so much darker and more powerful and it permeates every culture in the world – the Aztecs, the Incas, ancient China, African tribes.'
Drummond was sent to prep school aged eight, following his parents' divorce. Shy and withdrawn, he found solace in magic, devouring anything to do with mysticism, ancient Egypt and the curse of Tutankhamun. He read Tintin, ghost stories and the works of Erich von Däniken, who explored the theory that God was an astronaut. 'I loved dissolving into books on UFOs and anything that blurred the boundaries between what's possible and what isn't,' he says.
He went on to Eton, where he made friends with Richard, a fellow magic enthusiast and now an academic living in Japan. 'We'd bunk off sports and obsess about magic, having long conversations about the philosophy of it. I began to see that magic could be an academic discipline and a craft, so much more than gaudy, cheap trivia.'
Drummond's first job as a magician was juggling knives at the Royal Horticultural Society, for which he earned £15. He started doing gigs at parties as a way of coping with his shyness. After school Drummond worked for Goldman Sachs before going to Leeds to read modern languages. 'I had a happy year in Madrid studying Spanish but I was absent mentally,' he says. 'I hated Leeds and it was magic that kept me alive. In a dark moment, I wrote to a wonderful family friend who became my mentor. He wrote a beautiful email back saying that when you feel like running away, make sure you're moving towards something better. Never just move into a big empty space.' Drummond never forgot his words and during his last year at Leeds had his 'eureka moment'.
Tricks of the trade
'I realised that I could make the same money as a starting salary in banking if I did several magic gigs a week. I never looked back, even though I was breaking 300 years of family tradition to run away to the circus.' Drummond's family is rooted in Coutts Bank – his father worked there for 20 years and his uncle was chairman. 'My parents argued with me but realised there was no wriggle room.'
Drummond moved to a 'horrible basement flat' in Earls Court. 'It was feast or famine,' he says. But he prevailed and, now, he has just been flown to China by Rolls-Royce and is on his way to Phoenix and then Portofino for private clients. He lives in Brixton and shows me with delight a photograph of his sitting room, newly kitted out with shelves that display 2,000 decks of his now famous cards, each one bearing the date that he used it. It's a long way from his grotty basement and he's enjoying his success enormously, happy to 'copy and paste' the last 18 months of his life.
Yet Drummond is far from settling for a glamorous, globe-trotting lifestyle and has his eye on a very different future. 'India is my favourite country,' he says. 'I went to Ladakh and it had such profound, natural magic. I also love Kerala and the mayhem of Mumbai. I'm learning Hindi and I dream of living and working there and supporting an orphanage. I feel very rooted in India ever since I went for three months when I was 18.'
Magic on the horizon
'Magic is like Coca-Cola, in the hands of the poorest and richest kids. No matter who you are, magic, like music, speaks to everyone. It's a passport into any culture or family. My motivation is to elicit other people into the feeling it gives me.' He opens his laptop to show me a video. 'This man wrote to me from Senegal and said it was his 12-year-old son's dream to meet me. So I booked a flight and turned up with a film crew,' explains Drummond, grinning as we watch. The 12-year-old looks dazed with shock but his father is beside himself, weeping with disbelief and joy as Drummond appears from nowhere. It's a moving moment of real-life magic that clearly shows Drummond's power to inspire and spread happiness. He shows me more footage of a Sikh orphanage in Delhi where surrounded by enraptured little boys, Drummond 'magically' produces a 100,000 rupee donation. 'Those two trips embody what magic should be,' he says. 'It's using it to do good and forge change.'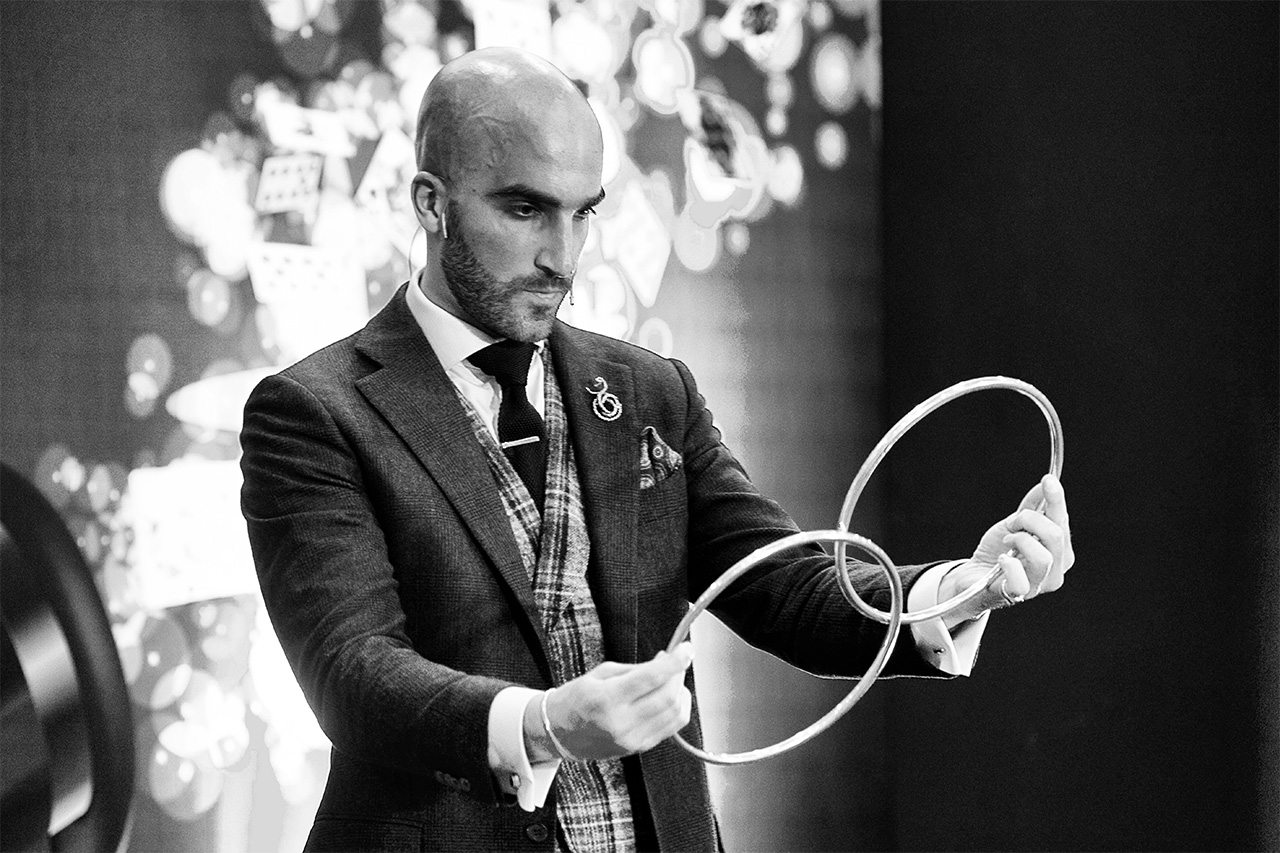 'The other day I did some magic for Help for Heroes,' he continues. 'There was a man in constant agony because of extensive trauma to his body. While I was doing magic, he forgot about his pain and didn't need to take his morphine and that made me cry. If you can take that power of magic and spread it wider, there is no higher purpose.'
Drummond is single, admitting he's hard to be with because he tends to 'travel to magic land in my head' but he has no regrets: 'Getting to the core of us as humans and what drives us is what really turns me on. The National Geographic series was such a huge affirmation and having grown out of being an awkward child and not being happy or having enough money, I've never felt happier or more at peace. Everything from today onwards is a bonus but it has taken courage, love and belief to get here – they're the three mantras I live by.' And those are exactly the three words tattooed onto his head – courage, love and belief – though translated into Hindi, as though carrying his mantra into a future in India where his gift will be using magic to spread delight and joy and, of course, courage, love and belief.
READ MORE CULTURE: Class Assets: Who's Investing in What This Year / William Morris & The Thames: The New Exhibition / The Best Places to Visit this Winter in the UK
---