This season, Design Centre Chelsea Harbour is launching a new exhibition focusing on the culture, creativity and influence of the Far East. The show, titled East Meets West, is in association with Asian Art in London.
East Meets West at Design Centre Chelsea Harbour
The upcoming exhibition at the Design Centre explores how Eastern style has caught the imagination of the West. With top designers, architects, collectors and dealers, the exhibition will aim to promote London as a centre of expertise for Asian art.
The selling exhibition will take visitors on a journey of exploration of Eastern influences through contemporary Asian treasures and rare antique artefacts.
Included in the exhibition will be an impressive aerial installation encapsulating the theme. A colourful selection of works by a host of Chinese contemporary artists, represented by ArtChina, in mixed media, modern ceramics, landscape painting and folding prints will merge craft and fine art.
In addition, Antiques Young Guns, will show works from The Japanese Gallery, using a broad sweep of decorative influences from tea sets and scientific instruments to Samurai armory, exquisite porcelain and paintings, to show the timeless appeal of the Eastern aesthetic.
An impressive roster of contemporary Japanese artists, represented by Kamal Bakhshi, will also be on show. Colourful murals, abstract woodcuts and block prints will show to ever fluid line between classic and contemporary techniques and aesthetics in Eastern art.
Talks & Tours
As part of the East Meets West experience, visitors can enjoy talks, demonstrations, workshops and tours, exploring the crossover between East and West. Attendees will see masters of their crafts showcase their skills up close.
What's on this week? Check out our culture diary
'Design Centre, Chelsea Harbour is an international hub, known for its impeccable design credentials, luxury brands and world-class talent. As a centre of international design expression, we're delighted to present such a multi-dimensional exhibition focusing on the culture and creativity of the Far East. We're curating it in a truly immersive and innovative way.' – Claire German, managing director of Design Centre, Chelsea Harbour
When?
Running from 2-11 November at Design Centre Chelsea Harbour
Opening times: 10am –  5.30pm, Monday to Friday.
Weekends: 10am – 5pm (Saturday 4th), 10am – 4pm (Sunday 5th) and 10am – 5pm (Saturday 11th) of November.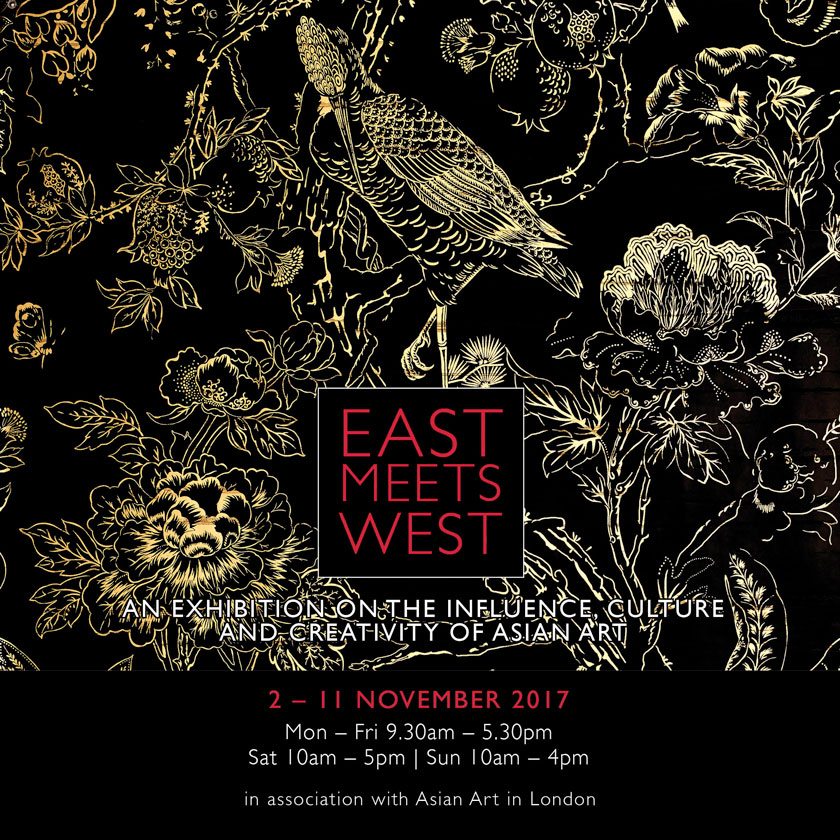 5 Things to Do This Weekend… Sign up to our weekly newsletter HERE
---