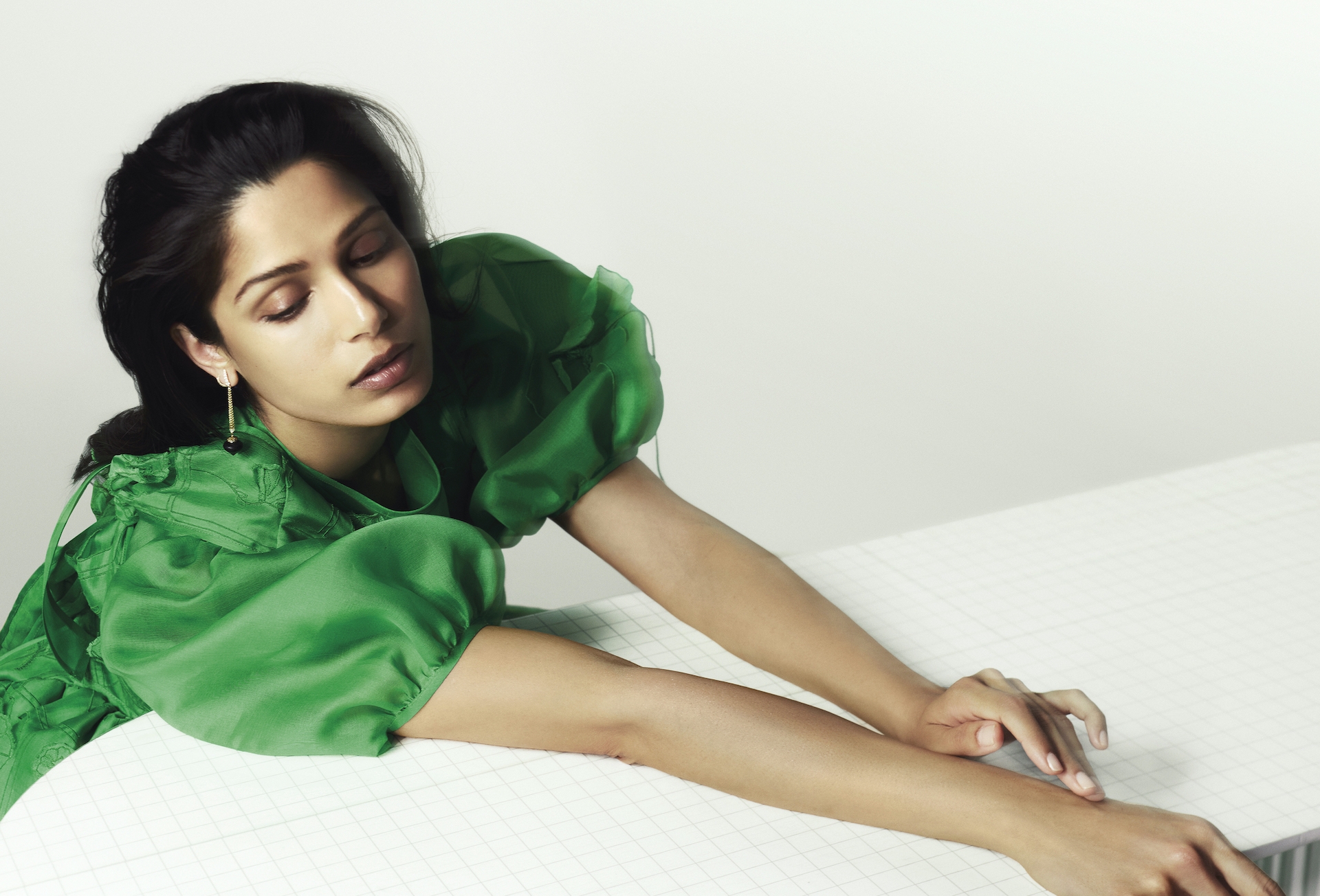 Finding Freida Pinto: Exclusive Interview
---
Meet the Sept/Oct issue cover star
Uninspired by Hollywood, superstar Freida Pinto is very much treading her own path, says Clare Naylor. Read the full interview with the actor in the September/October issue of Country & Town House magazine. 
Freida Pinto on Ambition, Activism and Authenticity
The world was treated to its first glimpse of Freida Pinto back in 2008 when Slumdog Millionaire became a global sensation. Her character Latika's beatifically smiling face transcends the brutality of Danny Boyle's Mumbai ghetto whenever she appears on screen as the great love of Dev Patel's lead character Jamal. Freida's radiance hasn't dimmed in the intervening years. Neither has her career – first as an actor and latterly as an activist and producer. In professional terms she has only gained more dimension. In her latest movie, Mr. Malcolm's List, in which she plays a clergyman's daughter in Regency England, Freida exudes a serenity that is both earthy yet other-worldly. This isn't some trick of the light or camera, it comes from deeper within her, a state of grace. In contemporary parlance, Freida has authenticity.
When we speak, Freida, who divides her time between Los Angeles and Austin, Texas, is nursing not only her eight-month-old son Rumi-Ray, but also the sort of comedy cold that has her constantly reaching for tissues. She's much relieved that she opted for camera-off on our Zoom call.
'I've been on the road for a very long time and as soon as you stop, it hits you,' Freida says by way of explanation. Indeed, a glance at her social media reveals an exhaustive tour for Mr. Malcolm's List, a period romance which more than holds its own against Bridgerton in terms of both diverse casting and compelling charm. And while audiences may now take diversity for granted in period drama, when Freida came aboard as both star and producer some four years ago, it wasn't the case.
'Bridgerton really helped break through barriers. When Shonda [Rhimes, creator and showrunner of Bridgerton] does whatever she does, she's going to get her audience, you just know that. It really opened doors for us – investors felt less nervous, less panicky. It helped them to loosen the purse strings.'
Mr. Malcolm's List
In the film Freida plays Selina Dalton, an impeccably educated, though not wealthy, biracial woman who is used as a pawn in a society friend's romantic revenge plot. Directed by English filmmaker Emma Holly Jones, Mr. Malcolm's List has an infectious sense of joy that belies the problems the cast and crew faced bringing it into being.
'The film was shot in Ireland and we were working under some really intense circumstances in the world – the pandemic, lockdown, even Brexit really affected things being shipped to Ireland. But the single-minded focus it took to make this film a success was more than worth it, because, at the end of the day, if people feel happy when they leave the cinemas after watching the film, that's mission accomplished.'
Clearly, Freida's experience as a producer left her hungry for more, because she's subsequently established her own production company, Freebird Films, with the specific aim of 'celebrating diversity and uplifting the work and lives of intrepid women'. And while she's passionate about storytelling in all its forms, she was primarily looking for vehicles for her own acting talents, having struggled for years with the sort of roles offered by mainstream Hollywood.
In clipped American tones, embroidered with the lyrical cadence of her native Mumbai, Freida opines: 'It was very important for me to go out and carve my own space and make it happen for myself. As a woman, also an Indian woman from a culture that's so rich, I have so much to offer. But when I came on board this industry at the age of 23, I kept getting offered the same kind of roles over and over again. I didn't want to play the girlfriend, I didn't want to play the side-kick, I didn't want to play the cardboard cut-out. I just felt kind of bored.' And, she adds, 'My producing skills are, if I may say so, just as sharp as my acting skills.'
Voice For Change
One doesn't doubt this for a second. Despite her undeniable gloss and glamour, Freida doesn't shrink from expressing views that she knows may lead her into controversial terrain in the current climate. 'It's worrying living in a time where cancel culture is so rife, but at the same time I don't let it rule my voice.' In the main she's comfortable advocating for causes as various as equitable distribution of vaccines across India and the nonprofit organisation for educating and empowering girls, Girl Rising. Wherever she can, she maintains, she will use her voice for change. 'If I can use social media to elicit joy or to spread empathy or compassion or understanding, then I will.'
She is also very clear in her mind on the genesis of so much of the positive change she's witnessed within the entertainment industry in recent years. 'When the Black Lives Matter movement happened it really shone a light on the fact that there are stories that we're not telling. And the other very important thing that it brought to light is that we need authenticity, authentic people representing the various roles. So, if you're telling the story of an Indian character, you need the right person for that role.'
But perhaps the role that's engendered most change in Freida is that of mother. 'Motherhood has been my best teacher ever. Rumi's a very happy, cheerful guy and loves exploring. He's teaching me that no two days are going to be ever alike. I'm learning to be flexible, and to be open and not get too worked up with the highs and the lows.'
And while Freida may be poised to become a force for change within her industry, she's well aware that none of this would have happened without the bumps in the road which have enabled her to navigate the ever-shifting landscape along the way. 'As I've gotten older and experienced so much more in my personal life I've been able to change, to really and truly understand what my needs are as an actor, as an artist within my industry. And how to feel satisfied. And finally, at 37, I can frankly say I'm having more fun than ever.'
See Freida Pinto's Full Photoshoot For Country & Town House