Frida Escobedo joins the ranks of emerging talent recognised by the prestigious invitation to design a temporary pavilion at Kensington Gardens.
The 38-year-old architect from Mexico City is known for her work that breathes life back into obsolete and forgotten city areas.
Frida Escobedo will Design the 2018 Serpentine Pavilion
Escobedo's Pavilion will be an enclosed courtyard with two rectangular volumes positioned at an angle. The structure's outer walls align with The Serpentine's eastern façade, while the axis of the internal courtyard aligns with the north. In this way, the Pavilion's pivoted axis references the Prime Meridian, established in 1851 at Greenwich as the global standard marker of time and geographical distance.
In addition to a dialogue with Greenwich, the structure has an inextricable link to Mexico as courtyards are integral to Mexican domestic architecture. British-made materials will be used to add dark colours and textured surfaces. Meanwhile, latticing cement roof tiles will comprise a 'celosia', a traditional Mexican breeze wall. The weaving pattern will create a view out onto the park of hazy greens and blues. Mirrored panels will line the underside of the canopy and a triangular pool in the floor will begin where the canopy ends, inverting the reflection.
The Beauty of Dame Zaha Hadid's Architectural Legacy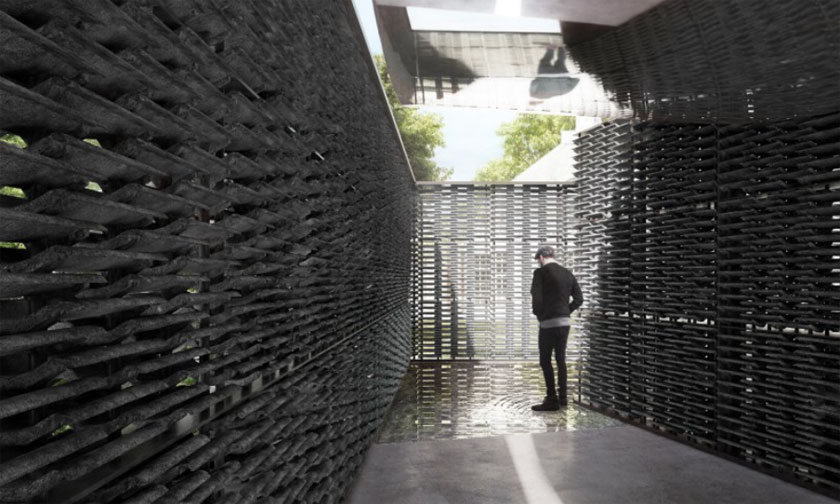 'My design for the Serpentine Pavilion 2018 is a meeting of material and historical inspirations inseparable from the city of London itself and an idea which has been central to our practice from the beginning: the expression of time in architecture through inventive use of everyday materials and simple forms. For the Serpentine Pavilion, we have added the materials of light and shadow, reflection and refraction, turning the building into a timepiece that charts the passage of the day.' -Frida Escobedo
Free admission, 15 June to 7 October, Serpentine Gallery Kensington Gardens London W2 3XA
What's on in London this week? Flip open our Town Culture Diary.
---