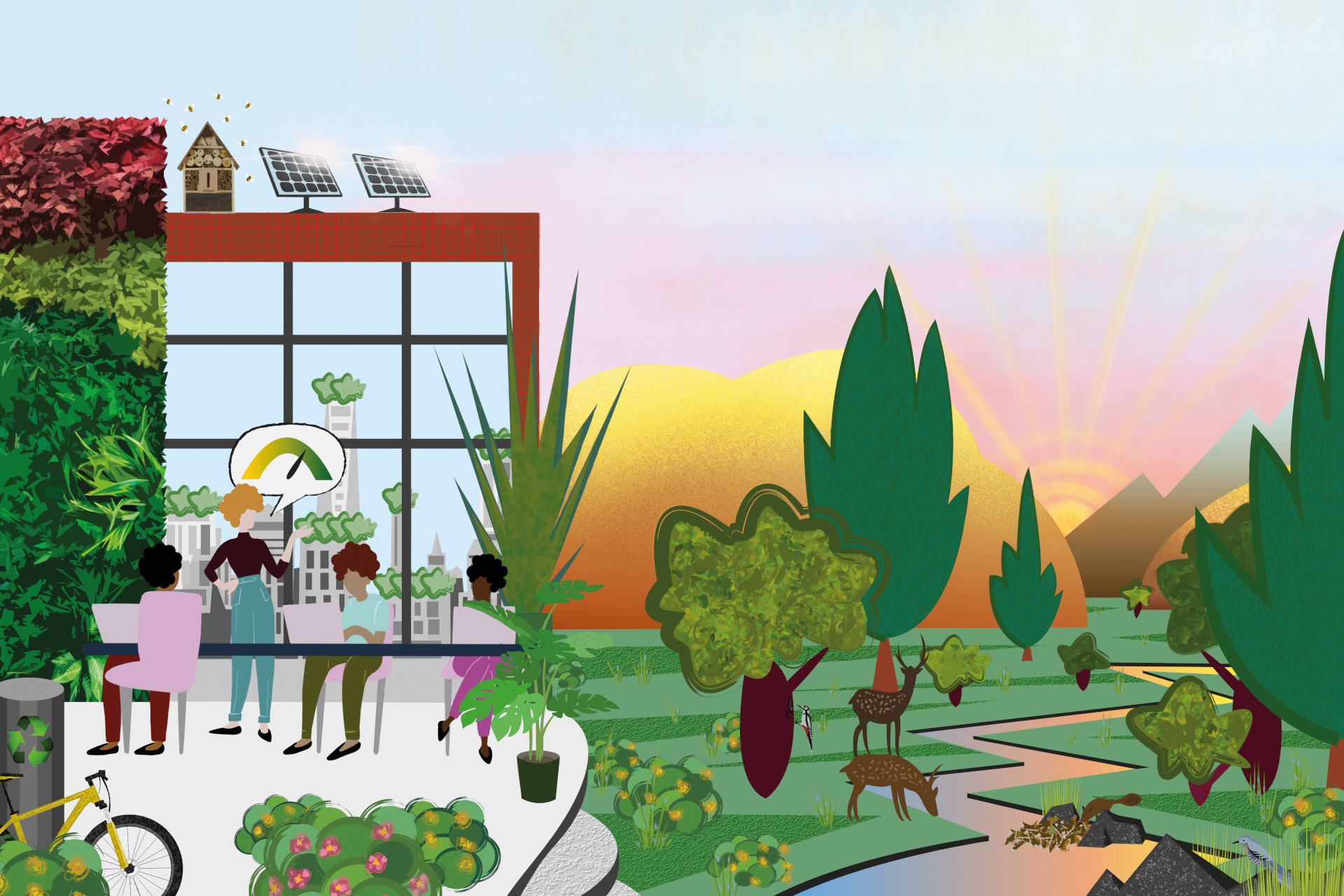 Giving Nature A Seat At The Table
Time to give a warm welcome to your latest board member
By Ben Goldsmith | 1 year ago
We've been in an abusive relationship with nature. We've taken it for granted, disrespected it, stripped it bare and given nothing back. But now we have to change. We must mend our ways and give nature a metaphorical seat at the table – whether that's in our kitchen, our boardroom, or in a global negotiating forum. Formalising the relationship keeps nature constantly in our sights, instead of six feet under. The benefits for people, businesses and brands are infinite, says Ben Goldsmith.
Buy a copy of Great British Brands 2022 here
Giving Nature A Seat At The Table
All children are born into the world imbued with a fascination for nature. Consider the look of intense focus on the face of a toddler eyeing a frog in the wet grass, or attempting to grab one of the myriad shiny bugs racing away in all directions after turning over a log in the woods. We may not know it, but somewhere deep down an innate love of nature persists in us all. An apartment overlooking the park inevitably sells for a higher price than one that doesn't. Hospital patients have been shown to recover faster if they have access to nature, or even just a glimpse of it from their beds. We crave connection with the natural world.
Amid the suffering of the Covid lockdowns, people everywhere experienced an upwelling of love for the natural world. For months on end, we had few options but to explore each day our immediate surroundings in search of patches of greenery. And as the human world shrank back, nature expanded. Video clips were circulated of dolphins playing in the silence of Trieste harbour, of the mighty Himalayas seen through clear air from northern India for the first time in decades, of wild boar trotting the deserted streets of Berlin. For a while the pace of life slowed, even stopped, granting us time to reflect on the magic of the world, and what really matters in our lives. The disappearance of traffic offered a glimpse of how clear the air can be when roads are empty, how rich the birdsong when unwanted noise dies down, how delirious with wildflowers the road verges become if they are left unmown.
In Britain's first lockdown so many people were reawakened to the vitality of nature and its importance in our lives. But that reawakening brought with it a realisation: that just when we need it most the natural fabric of our world is catastrophically depleted, and nowhere more so than in Britain, which ranks among the most nature-impoverished places on Earth.
Most of us, happy to find a solitary songbird in our back garden, aren't truly able to grasp how bereft of wildlife our country has become. Shifting baselines is the term used to describe a phenomenon whereby we yearn as adults for the natural abundance we experienced during childhood, while failing to grasp how much had already been lost to our parents at the time, so that expectations diminish from one generation to the next. We've lost countless species already, and those that do remain are in isolated, often tiny fragments of remnant nature.
My family is lucky in having nature all around us, living as we do on a small farm in Somerset, on heavy clay not entirely suited to intensive food production. Last year we decided to emulate the extraordinary experiment of Knepp, where Charlie Burrell and his wife Isabella Tree ceased intensive agriculture altogether and adopted a wilder farming approach, triggering a resurgence of natural abundance that was unprecedented anywhere in Britain.
As at Knepp, we took away all our grazing animals to allow scrub and young trees to regenerate naturally. We removed all our internal fencing, and renaturalised and rewiggled the stream that runs along the valley bottom. In due course we'll add back native Longhorn cattle, that essential keystone species, in order to establish the kind of mosaic wood pasture, rich in wildflowers and wildlife, that once blanketed much of Britain. Excitingly, several of our farmer neighbours are now considering doing the same, in an initiative some of us are tentatively calling Wilder Selwood. Experiencing the rebounding of nature now unfolding around us is one of the most joyous and wonderful experiences of my life.
The Knepp experiment has been an environmental and economic triumph. The estate has been transformed from a loss-making farm to a thriving, nature-based business, operating at far greater profitability than before, and more so even than conventional agriculture on more productive land. Knepp also provides a whole host of ecosystem services that benefit the nearby community, including flood mitigation, water purification and more abundant wildlife.
Not all landowners will pursue nature recovery in this manner, and nor should those on the most agriculturally productive land if we are to avoid offshoring food production. But more are recognising the potential of regenerative and nature-friendly farming to improve soil and crop fertility, reducing their reliance on costly inputs and opening up new revenue streams for carbon, biodiversity and water quality improvements. Nature, they conclude, is good for business.
It's not just agribusinesses reaching this conclusion. According to the World Economic Forum, over half the world's GDP is at risk from nature's decline, due to the private sector's dependence on nature and its services. This should not come as a surprise. If you consider all the things nature gives us for free – such as healthy air, clean water, fertile soils, pollinated crops, a stable climate, and green spaces for human recreation and wellbeing – you can quite quickly see why depleting it is an existential risk to business that depends on the natural resources, ecosystem services (estimated to be worth at least $125 trillion per year) and healthy workforce that nature provides.
It's true that human progress has been built on an often rapacious consumption of the biosphere. Our mastery of the natural world, from the birth of agriculture in the Fertile Crescent of the Middle East 12,000 years ago to the Industrial Revolution here in the 18th century, gave rise to villages, towns, cities and empires and an ever more sophisticated civilisation comprised of healthier and happier human beings.
This left an indelible mark, but for millennia nature was able to replenish itself and continue to meet our needs. However, the Great Acceleration of the 20th century has driven many of our ecosystems toward critical thresholds beyond which they may no longer be able to provide for us. Our life support system is itself on life support. Unsustainable systems of production and consumption have driven extinction rates to between 100 and 1,000 times higher than would occur naturally, leaving one million species facing the threat of extinction. In the UK, nearly half of species have declined since 1970 and 15 per cent are at risk of extinction. To continue meeting our present rate of consumption would require the equivalent of 1.6 Earths – and would extirpate many more species.
To turn this around, we need to put nature on the balance sheet – as the Dasgupta review commissioned by the UK Treasury highlighted. While produced capital doubled and human capital increased by 13 per cent between 1992 and 2014, our stock of natural capital – the natural assets which supply the goods and services upon which we depend – decreased by nearly two-fifths. At the root of this vertiginous decline has been the invisibility of natural capital in financial and economic decision-making. Transitioning to a nature-positive economy could generate $10.1 trillion in annual business value and 395 million sustainable jobs, according to the World Economic Forum.
The logical conclusion of this is ultimately to bring nature into the working environment by restoring habitats around offices and factories, building green roofs and walls, maximising daylight in interior design, and providing opportunities for staff to participate in nature-based activities like tree planting. It's no surprise that Amazon's Seattle headquarters is a quasi-greenhouse with 40,000 resident plants, or that Facebook HQ has a rooftop park; green offices have been found to boost productivity and reduce days lost from staff sickness.
In short, the future of business belongs to the resuscitative rather than the extirpative. According to the group Business for Nature, hundreds of companies have made commitments to reverse nature loss, and even more are taking steps to do so. The Leaders' Pledge for Nature, which commits to reversing biodiversity loss by the end of this decade, has been endorsed by the heads of state and government from 91 countries, representing 37 per cent of global GDP and more than two billion people.
Those who continue to pollute and deplete without giving compensation will face consumer and investor flight. By contrast, luminaries in the new nature-positive age will be rewarded with environmentally-conscious consumers, ESG-driven investors, and a more productive workforce – while accessing the new premium markets. This is on top of more predictable and stable supply chains, and the avoidance of the worst of the mounting costs approaching those who continue to plunder from nature. These come in the form of resource scarcity, lost ecosystem services, and new regulation and pollution taxes. Already, land degradation and biodiversity loss are costing the world ten per cent of GDP per annum.
Free enterprise rests on the resources, services and protection that nature provides, and businesses hold the capital and innovation required to tackle our greatest environmental challenges. By understanding your impact and dependency on nature, and the associated financial risks, you can set informed targets and take meaningful action to help heal the natural world. Giving nature a seat in your boardroom is not just commercially astute, it's the cornerstone of ethical and socially responsible business.
Four Ways Brands Can Give Nature A Seat At the Boardroom Table
1. We need to mainstream natural capital accounting across both public and private sectors. Businesses should monitor and maintain the natural capital they're responsible for, or depend on, just as they would other types of capital. This means protecting and enhancing assets like soil, forests, river catchments and marine ecosystems.
2. We need to integrate nature-related financial risks into corporate strategic planning. This includes the threat that ecosystem collapse poses to the stability of markets and supply chains, such as from crop failures or devastating floods. It's also the financial impact of anticipated evolutions in consumer behaviour and government regulation to halt biodiversity loss. The Taskforce on Nature-related Financial Disclosures, which has received significant support from the UK Government, is developing a framework to help businesses understand and respond to these risks, with the ultimate ambition of redirecting global financial flows towards activities that restore rather than harm nature.
3. Businesses must set meaningful environmental targets and action plans. This will help with attracting investment, as Environmental, Social and Governance (ESG) concerns increasingly preoccupy those with their fingers on the purse strings, and prove an invaluable marketing tool in a consumerist society now making retrospective judgements on its own avarice. In response to a survey last year by the IBM Institute for Business Value, almost eight in ten consumers indicated that sustainability was important to them and more than half were willing to change their shopping habits to reduce their environmental impact. Many iconic British brands are already striving to become nature positive. Waitrose is encouraging its suppliers to adopt regenerative and nature-friendly practices, and FatFace is planting 60,000 trees to meet its climate targets through the UK Woodland Carbon Code. The most exciting start-ups are also putting environmental objectives at the core of their business model, opening up new frontiers in bioengineering, circular resource use, green finance, and agrotechnology.
4. Finally, nature should be integrated into Human Resources departments. Our hunter-gatherer minds were not designed for constant confinement in white collar or industrial environments. Spending time back in nature is scientifically proven to reduce stress, fatigue and anxiety. Increasingly, firms are spending 'away days' in the natural environment in search of solace, respite and reflection, an inner quest that the ecologist EO Wilson dubbed biophilia.
Featured image: Illustration by Aase Hopstock