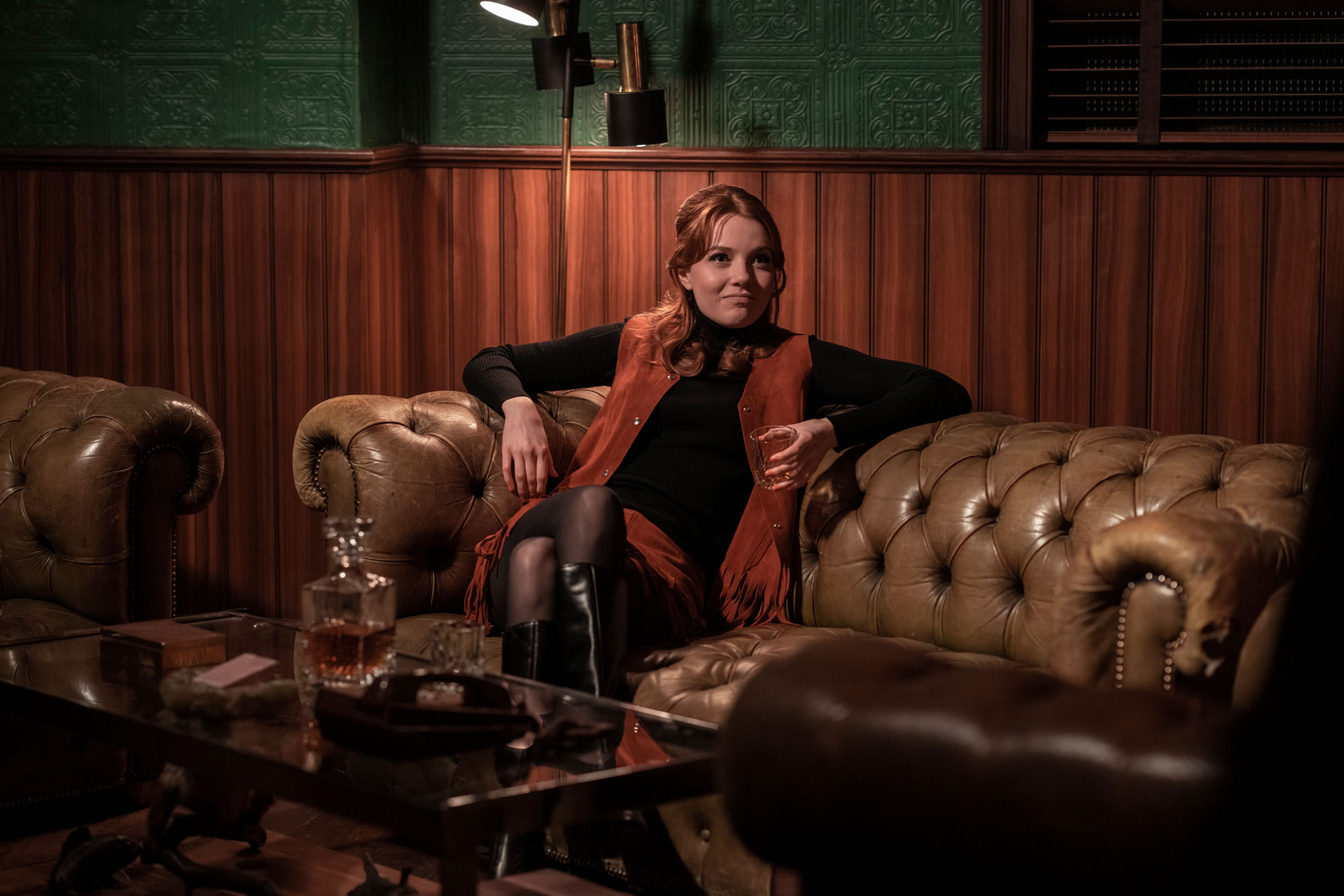 Harriet Slater on Season Three of Pennyworth
---
The rising star talks life-changing films, success secrets and dream roles
Leicester-born Harriet Slater got the acting bug early on, starting at an amateur drama society at just six years old. Her first professional play was something of a baptism of fire: The Man With The Hammer at Theatre Royal in Plymouth, which required all the cast members to peddle on static bikes for the duration of the show. Not long after, Harriet secured her role in action-adventure series Pennyworth: a stylised deep dive into the Wayne family butler of Batman fame, with a third season just launched. Harriet plays Sandra Onslow, club singer and the love interest of Alfred Pennyworth. She's here to tell us all about season three. 
Harriet Slater on Season Three of Pennyworth
What can you tell us about season three of Pennyworth?
It's the 70s baby! It's five years on from season two, there are some juicy new characters and relationships and some proper twists and turns. More action, more drama, more romance, more danger. More amazing costumes that I wish I could have taken home.
Any funny stories from rehearsals?
One of my highlights of this job has been working with Simon Day, who plays my dad, Sid Onslow. He's a hoot. There were times when Jack and I were unable to make it through a scene with him without corpsing. He's a comedian through and through. He's hilarious even when he's not trying to be. Especially when he's not trying to be.
Favourite person you've worked with on Pennyworth?
Almost all of my scenes have been with Jack Bannon, who plays Alfred, and he's a dream to work with. I was pretty clueless when I started on season one, since it was my first TV job, and he couldn't have been kinder or more supportive. I'm so grateful for that. He's become a great mate outside of work too. 
Favourite role to date and why?
I've loved them all for different reasons, but Sandra's special because I've never played a role for this long before. I feel quite attached to her. I can relate to her in so many ways and it's been so nice to hear that other people can too. Her character has gone on such a journey, which surprised me in the best way in season three. It was really exciting to discover a new side to her.
Role you'd cut your right arm off to get?
Anything Tudor. I'm a bit obsessed. Anything historical, to be honest. It's the costumes.  
What demands do you have during rehearsals? 
I respond only to 'Your Grace' and we all have to greet each other with the handshake from The Parent Trap.
What qualities do you think have made you successful? 
Perseverance, discipline, belief… I'm very lucky to have a family who couldn't be more supportive and I appreciate that so much. I think generally not being a menace goes a long way. And I just love learning. That sounds so cringe but it's true. I ask questions and I'm always observing other people's work and going to classes. I know I still have a lot to learn and that's what keeps me motivated.
Film you think everyone in the world should see?
Call Me By Your Name is my favourite. I watch it whenever I feel a bit lacking in creativity or courage. It literally changes the way I see and interact with the world. Timothée Chalamet's performance inspires me to be a lighter, more spontaneous, playful, truthful actor and person. I think he's remarkable in it. The cinematography is beautiful too. I could talk about that film for hours.
What's your relationship with social media like? 
Complicated! I'm only on Instagram now. I deleted the others. I think it's great for so many reasons but it can also trigger a lot of anxiety for me and I know I'm not alone in that. I have a timer on the app because otherwise I can easily get sucked into mindless scrolling. Part of me loves it and part of me kind of wishes it had never been invented.
What did you want to be when you were a little girl?
A builder. And then an archaeologist. Me and my dad loved watching Time Team together and I was always hunting for fossils. But then when I was six I found the stage and discovered you could dress up for a living and my mind was pretty set after that.
If you could give advice to your 15-year-old self, what would it be? 
A really good friend said to me recently, 'worrying means you suffer twice.' I think it's a Fantastic Beasts quote. I love it. It's so true. I was a huge worrier when I was younger. I think I'd give myself a hug and promise it would all be okay. And maybe tell myself to stop exfoliating so much because it was definitely only making me greasier.
Three books you'd take to a desert island and why? 
The Alchemist by Paulo Coelho. My mum introduced me to this book as a young teen and it changed my life. It has such a beautiful message about listening to your heart and following your dreams. 
Faithfull by Marianne Faithfull. It's her memoir. I read it twice last year. It's a brilliant dive into London in the swinging 60s – pure sex and drugs and rock and roll. I found it and her intoxicating. 
Harry Potter and the Goblet of Fire: the best one.
How can we all live a little bit better?
I think we need to listen more. I think we're very divided right now and we can be quick to judge each other and shout each other down. I think the world would be a better place if we were all a little bit kinder and more patient and took the time to empathise, wherever possible.
What's your interior design style?
My flat is a hodgepodge of all the personalities and quirks of my wonderful, crazy housemates. It's full of things acting as other things and things rescued from abandonment on the streets. We've got old theatre chairs from the Yvonne Arnaud in Guildford and coffee tables made of drums. It's kind of mad. I love it.
What is your current beauty regime? 
I recently discovered these breakout patches and they're honestly incredible at healing spots overnight. In the morning I wash my face with just water and at night I use Liz Earle Cleanse & Polish. To moisturise I use aloe vera gel and give my face a good massage. I'm a simple gal. I also have very sensitive skin so finding products can be a bit of a nightmare. I'm just trying to drink more water like the rest of us.
What are your indulgences? 
Peanut butter from the jar.
What would your best friend say about you? 
Probably that I take too long to get ready.
How do you relax?
Moon gazing. Walking in the woods. I find running quite relaxing. It's like meditation sometimes. I find mindfulness meditation really challenging. That's something I'd like to get better at. My mum's a therapist and she swears by it. 
If we're coming to your area for a visit, what should we do?
Swimming in the ponds on Hampstead Heath. It's like paradise, especially when the ducklings are out. And there's an amazing, tiny Italian on Heath Street called L'Antica Pizzeria, which never disappoints. 
Are you a rule breaker or a rule taker? 
I think I have both coexisting inside me and they're constantly battling it out. But I hate being told off so the rule taker usually wins.
Pennyworth season three is available now on HBO Max, and will launch soon on Prime Video
Main image: Colin Hutton / HBO Max