A local philanthropist has had the imagination to pour back pride into the North East with Kynren, a heartwarming retelling of the history of England, which enchants children and adults alike, says Charlotte Metcalf. Read why now is the time to experience Kynren: An Epic Tale of England..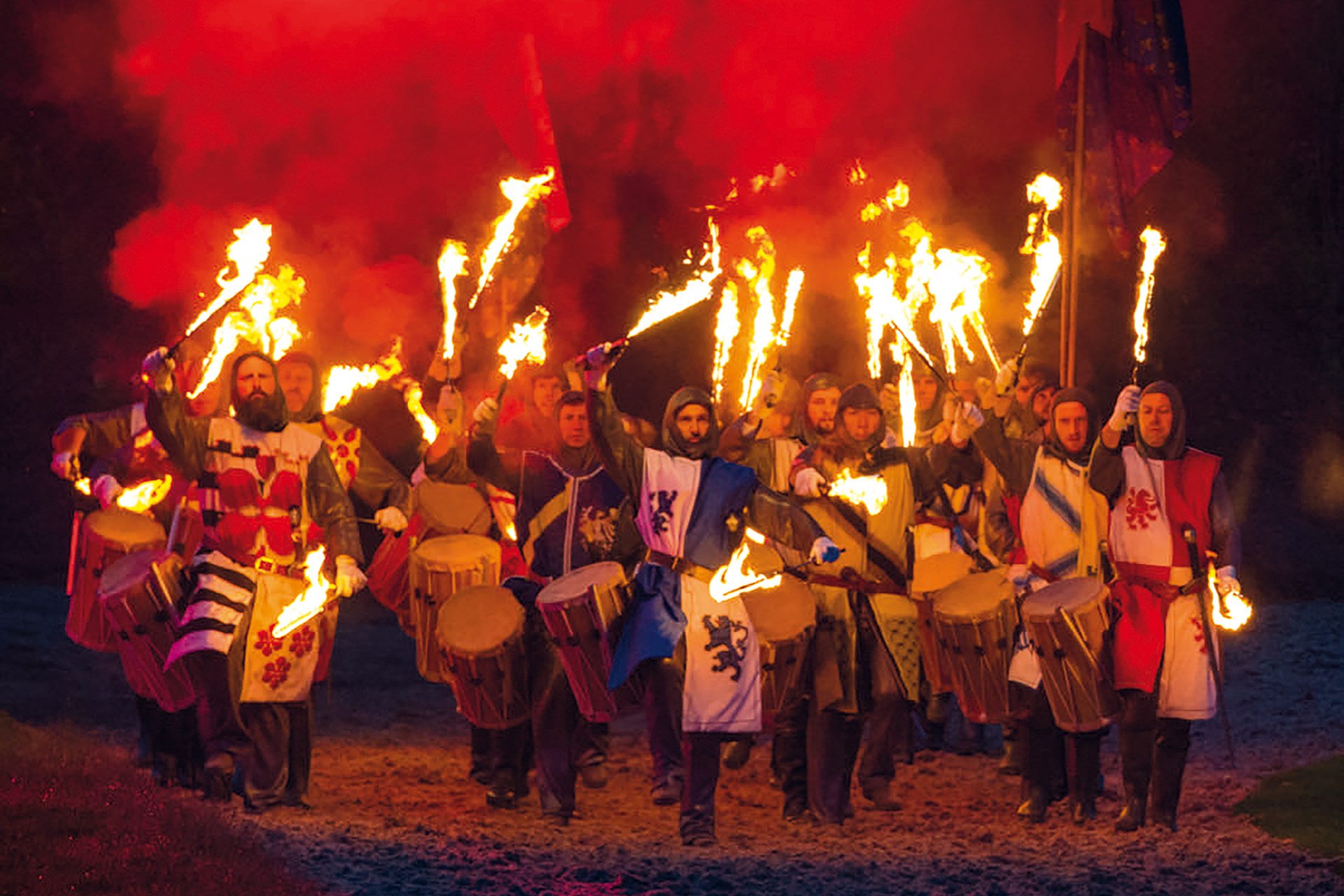 Kynren: An Epic Tale of England
'We've done this in history! I know this!' says my daughter excitedly as we watch the men in armour trudging over Stamford Bridge to commence battle. We are in Bishop Auckland, County Durham, at the first ever public performance of Kynren: An Epic Tale of England.
It's an audacious attempt to replicate the celebrated summer show that runs annually at the Puy du Fou theme park in the Vendée region of France.
When Kynren opened in July 2016, nothing similar had been mounted in Britain before. What was once a golf course has been flattened and re-landscaped to provide 8,000 seats and a seven-and-a-half acre stage for an historical re-enactment that tells the story of England through the prism of Bishop Auckland's community.
The Setting
The story takes place against the backdrop of Auckland Castle that rises up behind an artificial lake and provides the focal point for the action. The show is hard to define because it's not an accurate historical account. Instead it's a conglomerate of snapshots to celebrate moments that have defined us as a nation across 2,000 years.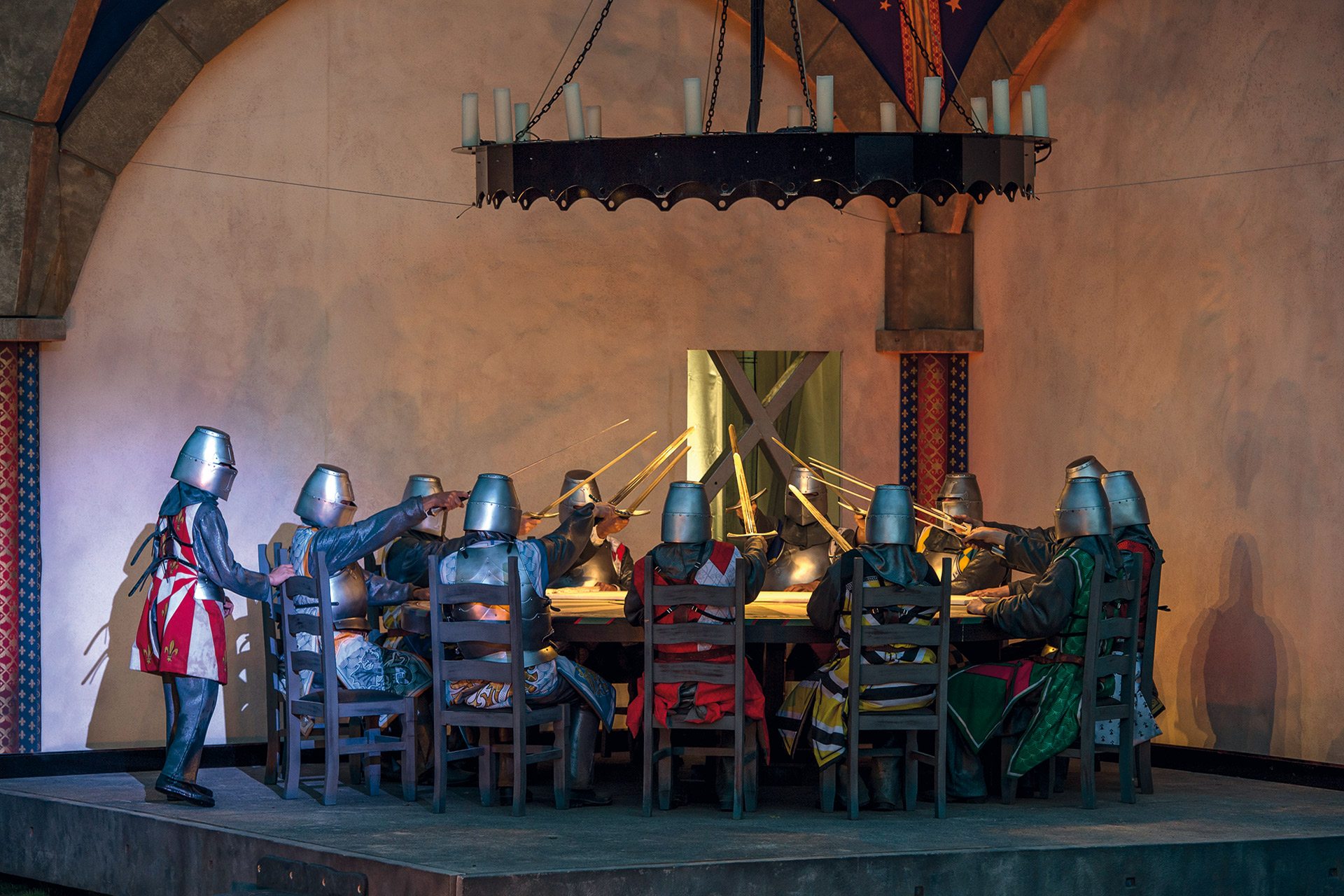 Its ambitious scope embraces the Roman invasion of Britain, King Arthur's knights searching for the Holy Grail, King Harold being shot in the eye by that fatal arrow, Henry VIII meeting Francis I of France, Charles I's execution, the industrial revolution and Sir Winston Churchill's victorious call to arms during World War Two. 
Through a Child's Eyes
It's superbly accessible for children because the entire story is told through the eyes of ten-year-old Arthur who lives in the North East and dreams of being a famous footballer like Stanley Matthews.
He meets Bishop Henson of Durham, a Narnia-like wizard/professor-type, who encourages him to dream and leads him to a magical gate, which emerges from the mist-shrouded lake, allowing Arthur to travel through time and participate in key moments of history.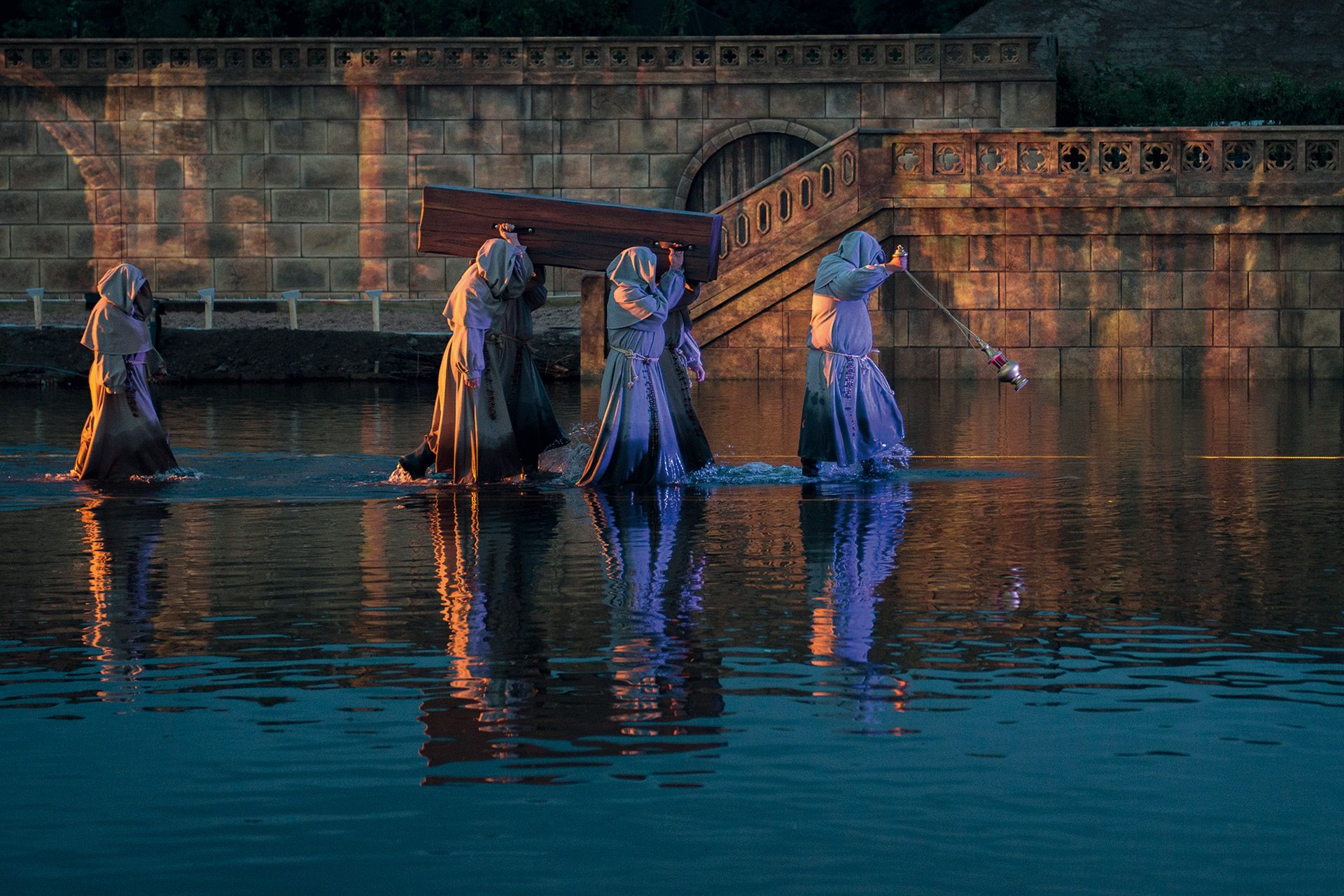 Shakespeare in Action
As we watch, a full moon rises above the real Auckland Castle, nestling in the trees high on the hillside behind the stage. Though the stage is well lit, its silvery lustre gives us a dazzling moment of beauty that my daughter will remember for a very long time.
By now we're on the part about Shakespeare meeting Elizabeth I at Auckland Castle. 'I know this! I know this!' she exclaims, quoting along to the epilogue of A Midsummer Night's Dream – she recently played Puck in her school play. Romeo & Juliet, Hamlet and Macbeth follow. My daughter is delighted to discover that so much of her schoolwork is now unfolding before her eyes. It gives what she has learnt value.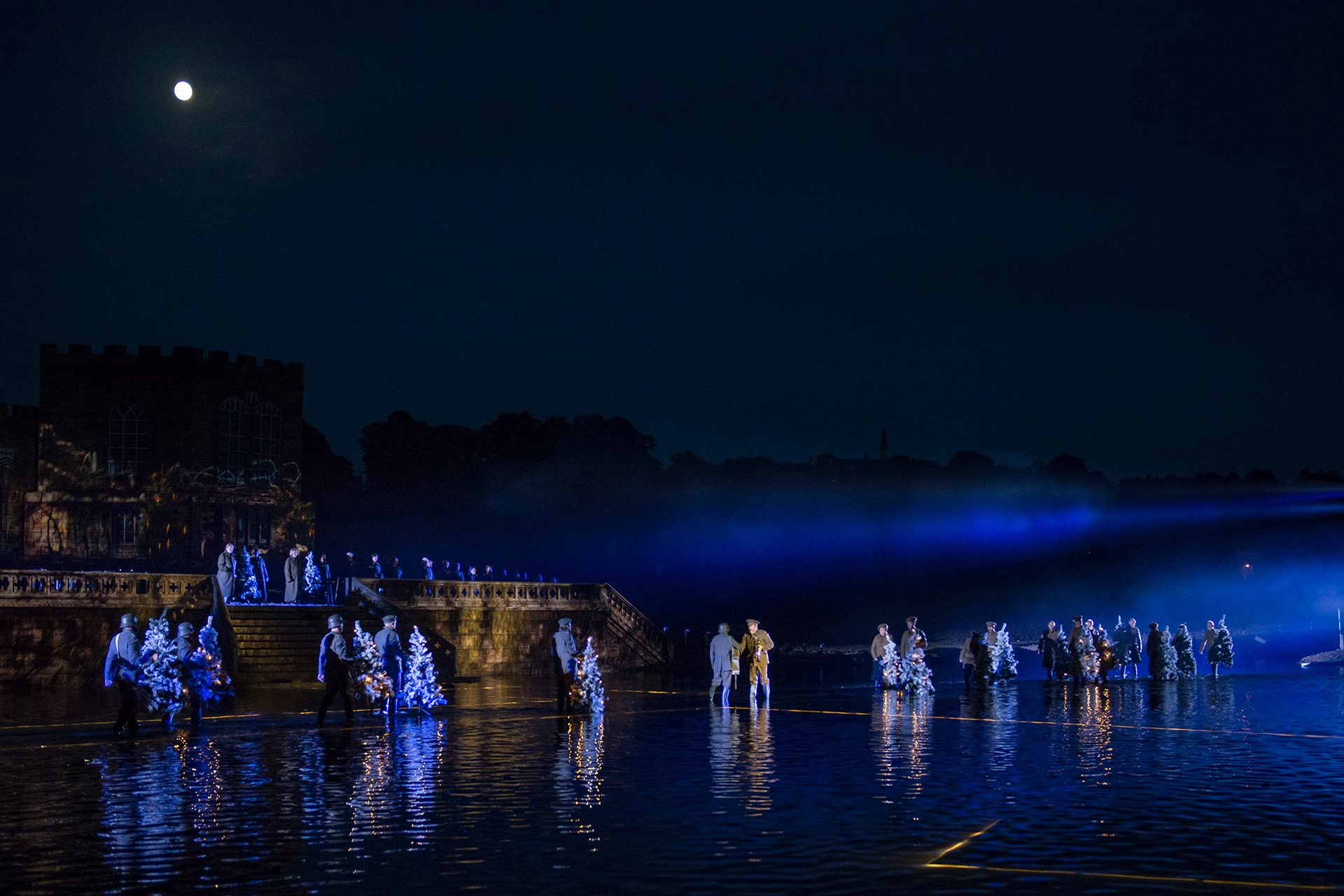 She becomes emotional when the Christmas Day truce between the German and British troops during World War One is re-enacted. As Silent Night plays and the troops carry snow-covered Christmas trees up out of the trenches, she cuddles up to me. 'It's so moving I want to cry,' she says.
Otherwise, she sits forward on the edge of her seat and never once slumps or takes her eyes off the action. There is rousing music throughout, fireworks and some excellent effects, like William the Conqueror's longboat rising from the artificial lake or the Stockton to Darlington steam locomotive roaring across the stage.
Yet, given we are a nation that excels at pageantry and ceremony, particularly around the Royal Family, Kynren is not the most visually sensational show on offer. After all, following our Olympic opening ceremony or the Queen's Jubilee we are used to a good display.
What gives Kynren its unique heart-warming charm is not its slickness but the way it feels like a supreme effort by an entire community that has pulled together to make this happen. The show is entirely run by 12,000 volunteers, known as 'archers'.
See what's on this week in our weekly culture diary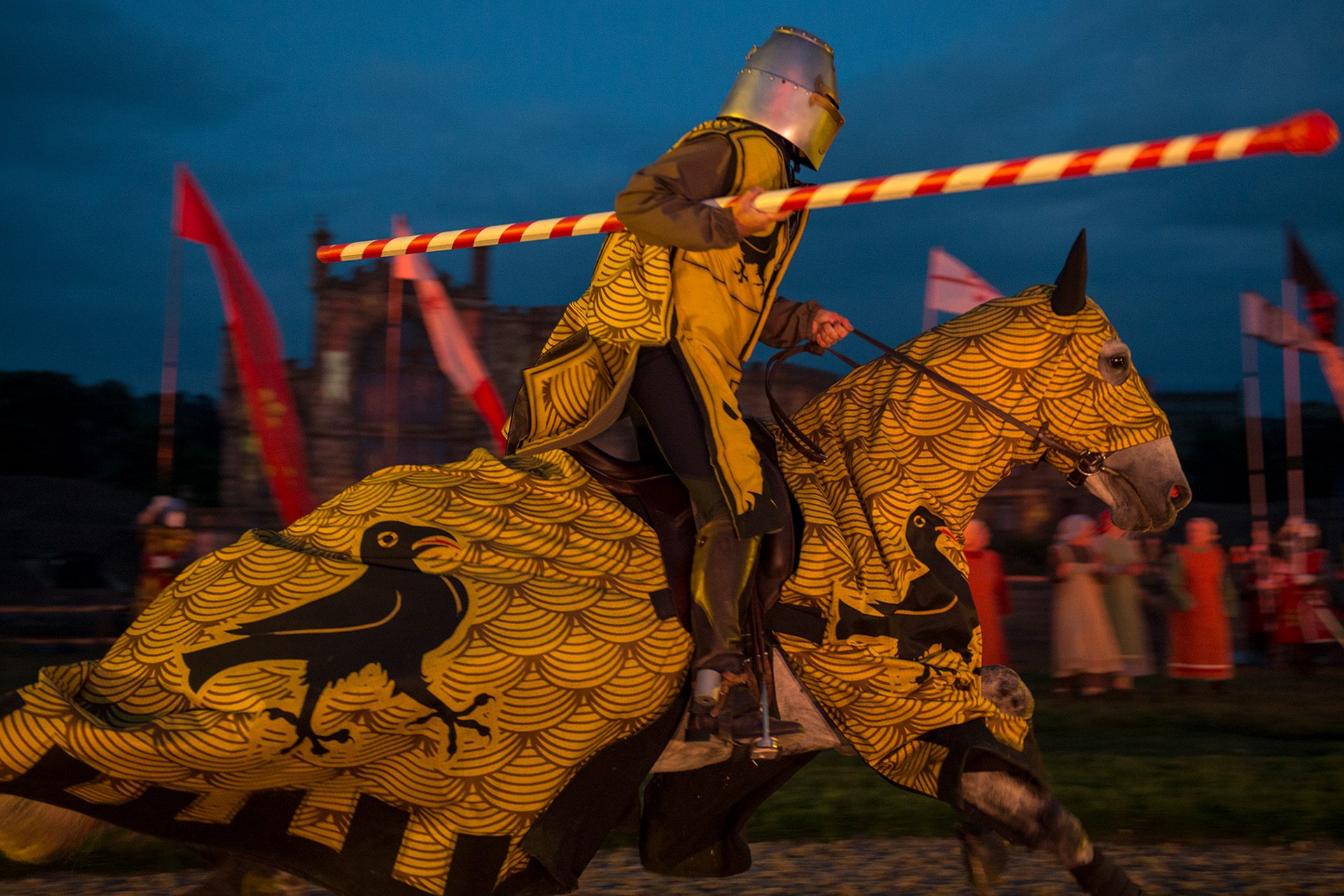 Rough & Ready
It is moving and engaging precisely because it is a little rough and ready and feels enchantingly homespun. No one is a professional, so when Henry VIII's horse becomes skittish and threatens to run away with him, we all sympathise and my daughter laughs with pleasure: 'Look! The horse is dancing to the music!'
Animals are integral to the show – from horses jousting in full regalia or pulling carts and carriages to waddling geese, flocks of sheep and baby goats. Children too are centre stage from the outset, reminding us that we are rooted in the life of a small town that became consumed by the industrial revolution to be part of the coal-mining boom.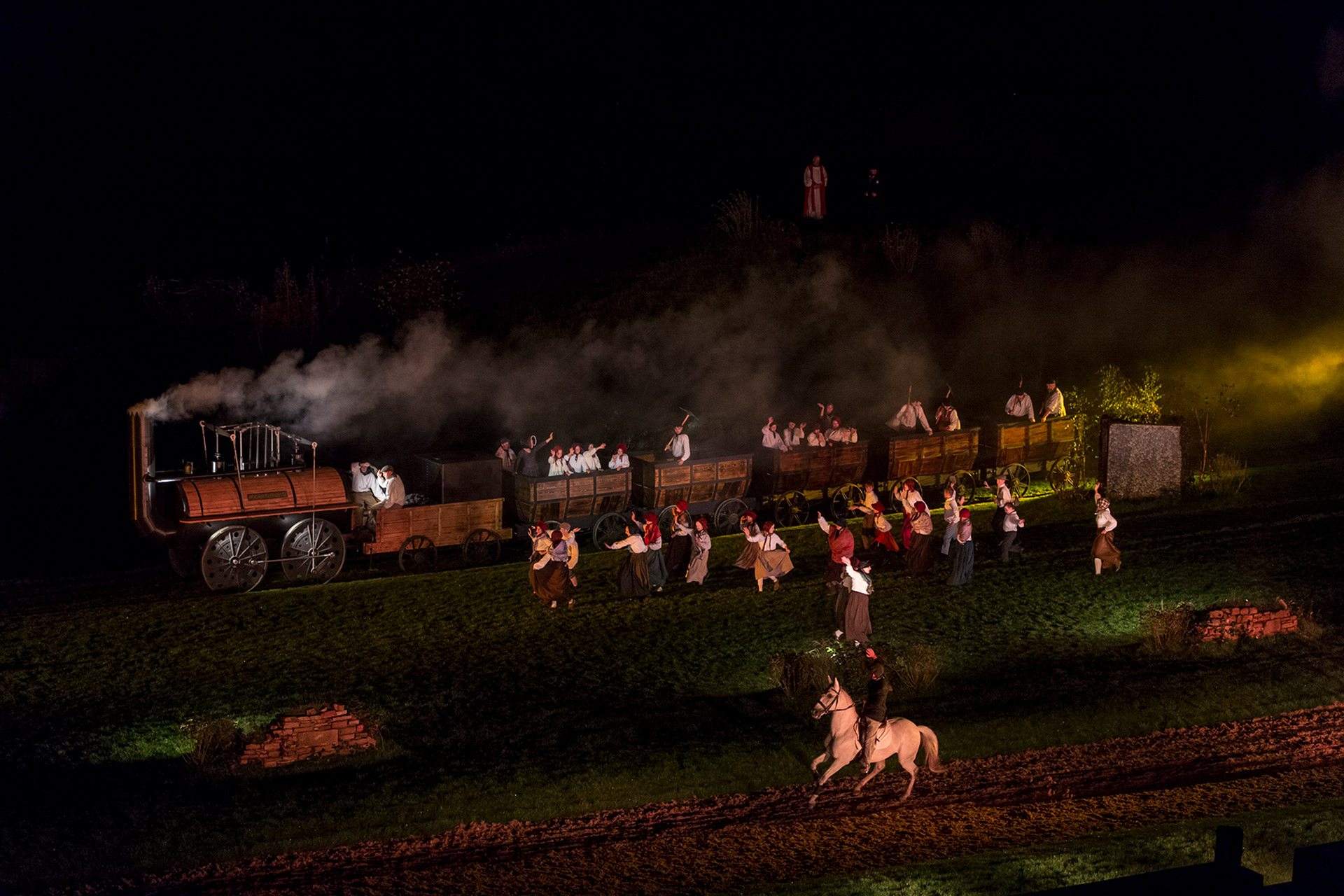 Of course, ultimately industrialisation failed the North East and Bishop Auckland, like so many other towns in the area, slumped once the mines closed. When Jonathan Ruffer, the philanthropist who has brought Kynren to England, first arrived in the town, it was, he says, 'a deprived town of 27,000 that had lost its way'.
His first step was to save the castle and its 17th-century Spanish paintings but his mission was transformation and regeneration, so he wanted to do something bigger and less cerebral to involve the entire community.
Today, the volunteers in their bright red fleeces show us to and from our seats with an infectious sense of pride and excitement, and you feel that not to love this show would be a personal slight on each and every one of them.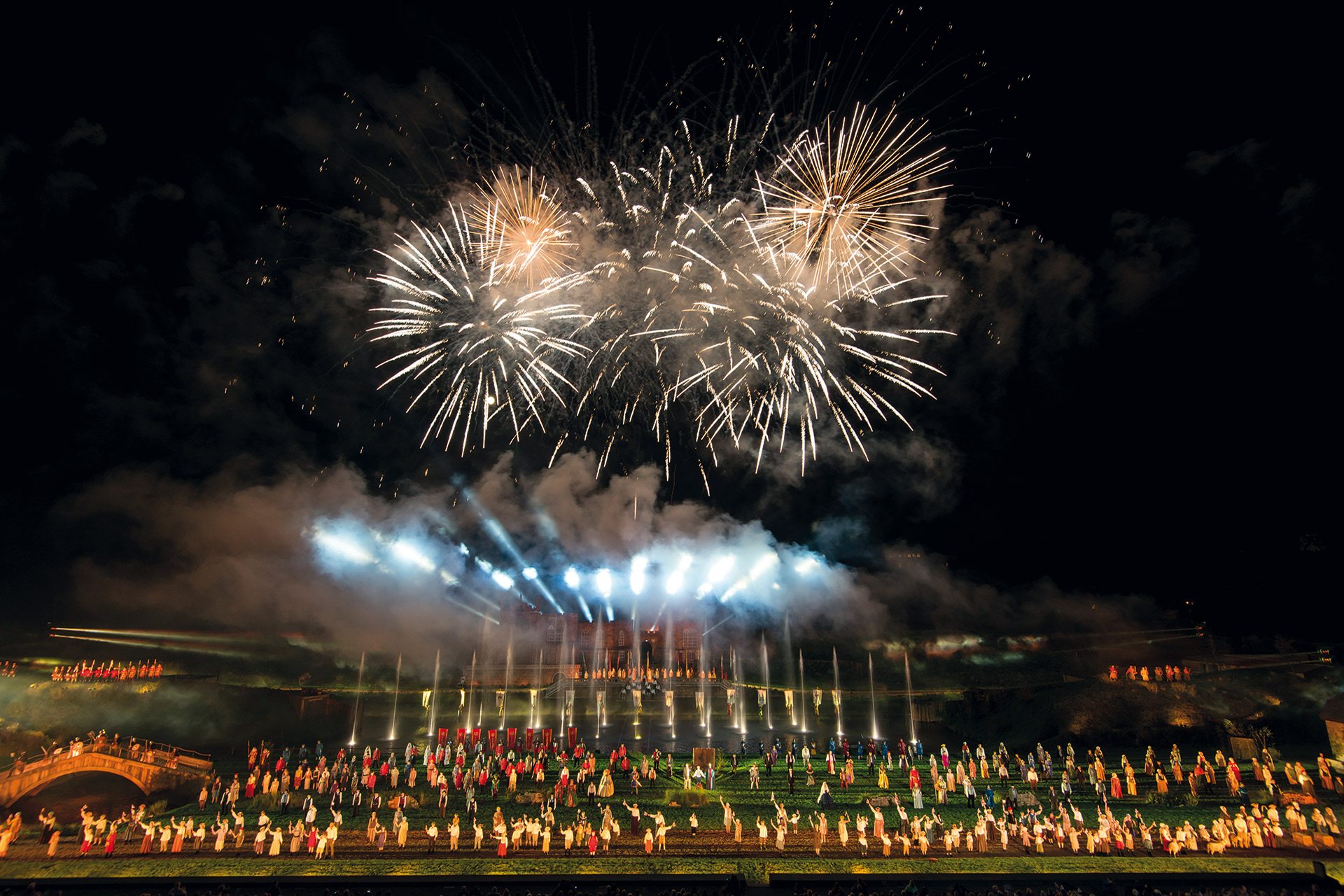 Rite of Passage
The majority of French children tend to be taken to Puy du Fou by their grandparents as a rite of passage, just as a London child might be taken to see the Trooping of the Colour. Jonathan Ruffer wants Kynren to serve the same purpose in Britain.
Nicolas de Villiers is the son of Puy du Fou's founder and he adapted the French show for Kynren. Thanking the volunteers after the first night, he describes Kynren as a 'live painting rooted in the North East, written like a novel or a hymn' and tells the volunteers: 'You have shown our guests the very soul of England.'
In our multicultural nation, Kynren could well be part of the solution as we continue to seek an identity that many fear is being eroded, even post-Brexit.
Jonathan Ruffer says, 'It's an age in which we're all so international and sophisticated but this tells us that we're a proud, brave people with a sense of heart.'
I'm happy my daughter has seen Kynren and believe it has contributed to her sense of identity as someone, like so many others, of mixed blood growing up in Britain. Kynren is certainly a starting point for discussing what it means to be English. It's a bold, imaginative portal into our history and I urge parents to book tickets for this summer's new spectacular show which promises to be 'bigger, brighter and better'.
Kynren runs between 1 July and 16 September. elevenarches.org
---