Read the incredible story of Lucy Sewill, and the inspiration behind her beautiful new book, Horses & Humans.

Horses & Humans, by Lucy Sewill
Horses fill my earliest memories and there is a picture in my mind of all the horses and ponies I have ever known. In fact, I have a whole herd of horses past and present in my head.
As a child everything about them was good to me: the smell, the feel, the sense of power they gave and the escape they provided. There was Solitare, a kind ancient pony who had only one eye, Merlin, small and fast who took me over my first jump. Caruso who landed me in gorse bushes and Shetland Diana, the cleverest pony I have ever known. Into adulthood there is Nifty who, alarmingly, couldn't gallop in a straight line. Bob, the huge shire cross and dear Nutty, my beautiful chestnut friend who shared 19 years of life with me and hundreds of miles of togetherness.
From the start, I was a baby too small and early for this world so I was taken from my mother and put in an incubator. They hoped I would live but my mother was told to go home and expect me to die.
So we both missed all the initial intimate moments that last a lifetime and I don't think I ever caught up with being left behind. As I grew I filled the space this left me with kind dark eyes and noses as soft as velvet.
The legacy of health continued to haunt me and by the age of 12 there was heart infection, valve damage, major organ failure and childhood stroke. I survived and some, including even a doctor, said it was a miracle.
For the love of horses
The horses in my head were there and they consoled me as I held on to them and the promise one day of one of my own. Over the following years illness was never far enough away and never fully explained.
But it didn't stop me from taking all the opportunities that came my way. I married, had three children and raced with Nutty as an international endurance rider constantly pushing myself up and beyond our limits.
Meanwhile, silently my body was bombarding itself with unsustainable and life threatening levels of cortisol, our naturally occurring stress hormone, and it was all caused by a tiny undetected tumour beneath my brain.
Eventually my mind and body would be at such a pitch that I would no longer sleep, my blood pressure would be off the scale and it would damage every system in my body. Inexplicably I shared my tumour with my chestnut friend who had the same ticking away in her horse head.
Cushing's Disease
At the age of 23 she became suddenly lame and reluctant to move. Next day she couldn't stand. So I googled, discovered more, and concluded that it looked like Nutty had a disease called Cushing's, and I noted that although incredibly rare people get it too.
The vet agreed with my internet diagnosis it was too late for my lovely horse and I had to say goodbye to her that day. I would remember the disease that took her from me and over the coming years became convinced I might have it myself.
My sympathetic doctor thought it unlikely but she referred me and after months of tests, I was told I did, indeed, have Cushing's. It was described to me as 'a devastating disease'.
Addison's disease
And it is: thirty-three days in hospital; removal of the wrong half of my pituitary gland, removal of both adrenal glands and eye surgery to repair the damage the tumour had done.
I now have Addison's disease as a consequence of the adrenal removal. It is another life-threatening condition given in exchange for my less desirable Cushing's. I give myself adjustable amounts of life-essential cortisol until the day I die.
When my illness was at its peak and I was raging with stress chemicals it was difficult to be with people or horses. I think the horses knew this and they withdrew from me.
Happily, after two years of recovery I am back with them and they are back with me. I have a new horse, a gift chosen by my husband and imported from Spain and she is exactly the horse I would have chosen for myself as a little girl. She is the Andalusian I would draw over and over again.
As a portrait photographer, I want my pictures to be genuine, honest and as true a reflection of the person as possible. I wanted to use this same technique with horses and I wanted to take a different sort of horse portrait, one that might show us what was going on in the minds of these magnificent animals.
I've spent my life watching the faces of horses and people and I think horses have a range of facial expression most people fail to notice. We are all in tune with the ears of a horse and look at them to tell us what our horses are thinking and feeling. Ears forward means engaged and interested. Ears up means possibly dozy and maybe relaxed. Ears back means I want to kick or bite you.
But watch horses together and you will see them communicate with each other using the entirety of their face including the teeth, nose, mouth and tongue. There is tension and relaxation in the jaw and above the eyes.
We mask that with bits, bridles and nosebands and in a picture the loss is ours. As the Horses and Humans project progressed, I wanted to remove the tack because when you take the accessories off a horse, it goes off duty and you can see what it really thinks.
I take pictures of people – and now people and their horses – because it is my way of exploring the relationships I have had in the past and understanding the ones I have today.
I take my camera, I talk, I listen, I take some photographs and I look for the things I recognise in others and if it goes well I find a little bit more of myself.
When I say to you, "tell me about your horse" what I am really saying is "I want to know about what really matters to you and the things that you hold closest to your heart."
In the answers there are stories like mine of childhood, family, failure, success, hope and recovery.
Lucy picks four images from her book and tells us the stories behind them…
Lily Gibbens and Otis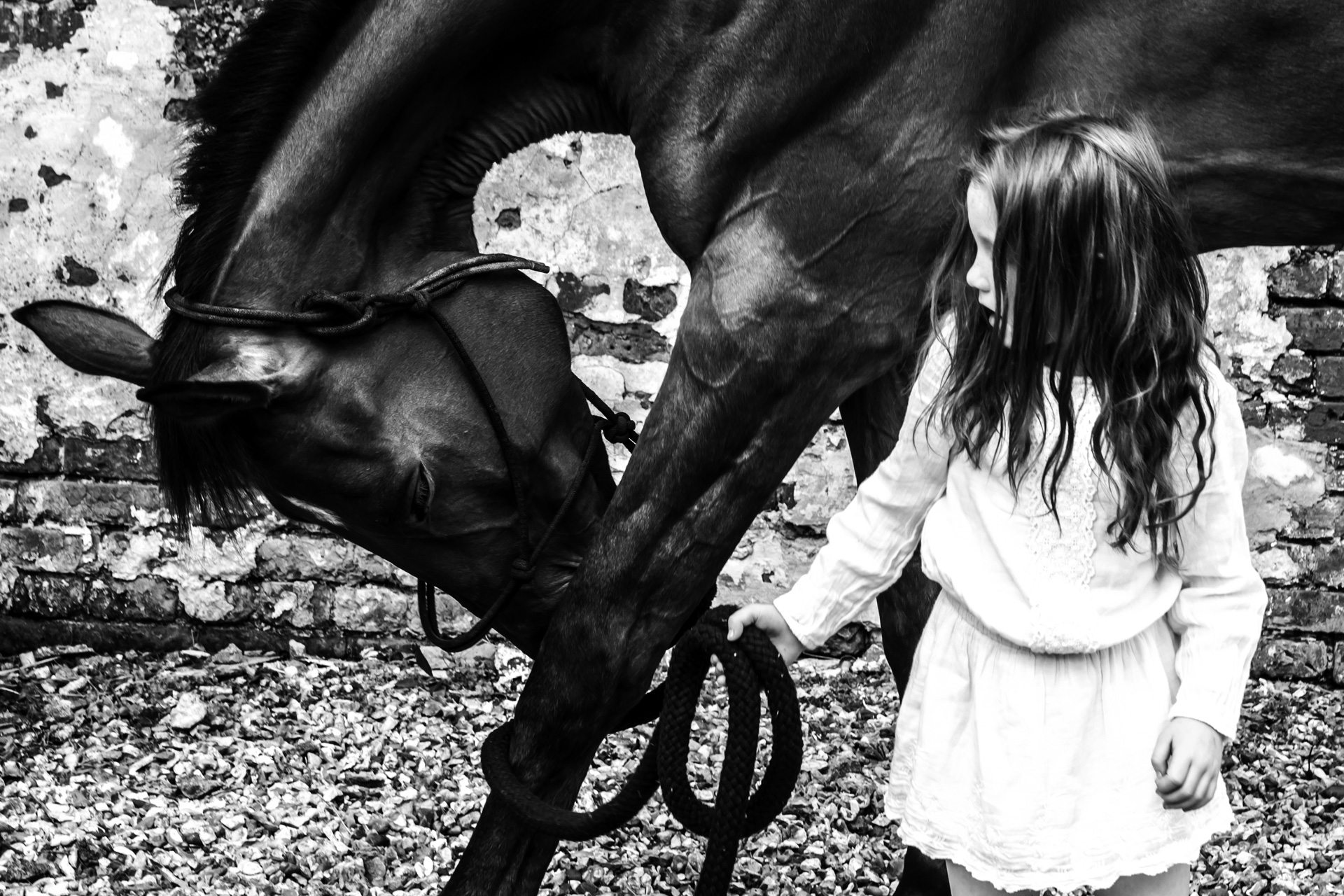 Lily and Otis are both six years old. Otis belongs to Lily's mother and he stands at a magnificent 17.2. He is so gentle with Lily and I wonder if this is because he knows his size and his strength is so much greater than hers. It is easy to see how safe she feels with him. There can be few creatures so large we can trust like this with someone so small.
Amy Panter and Malaguena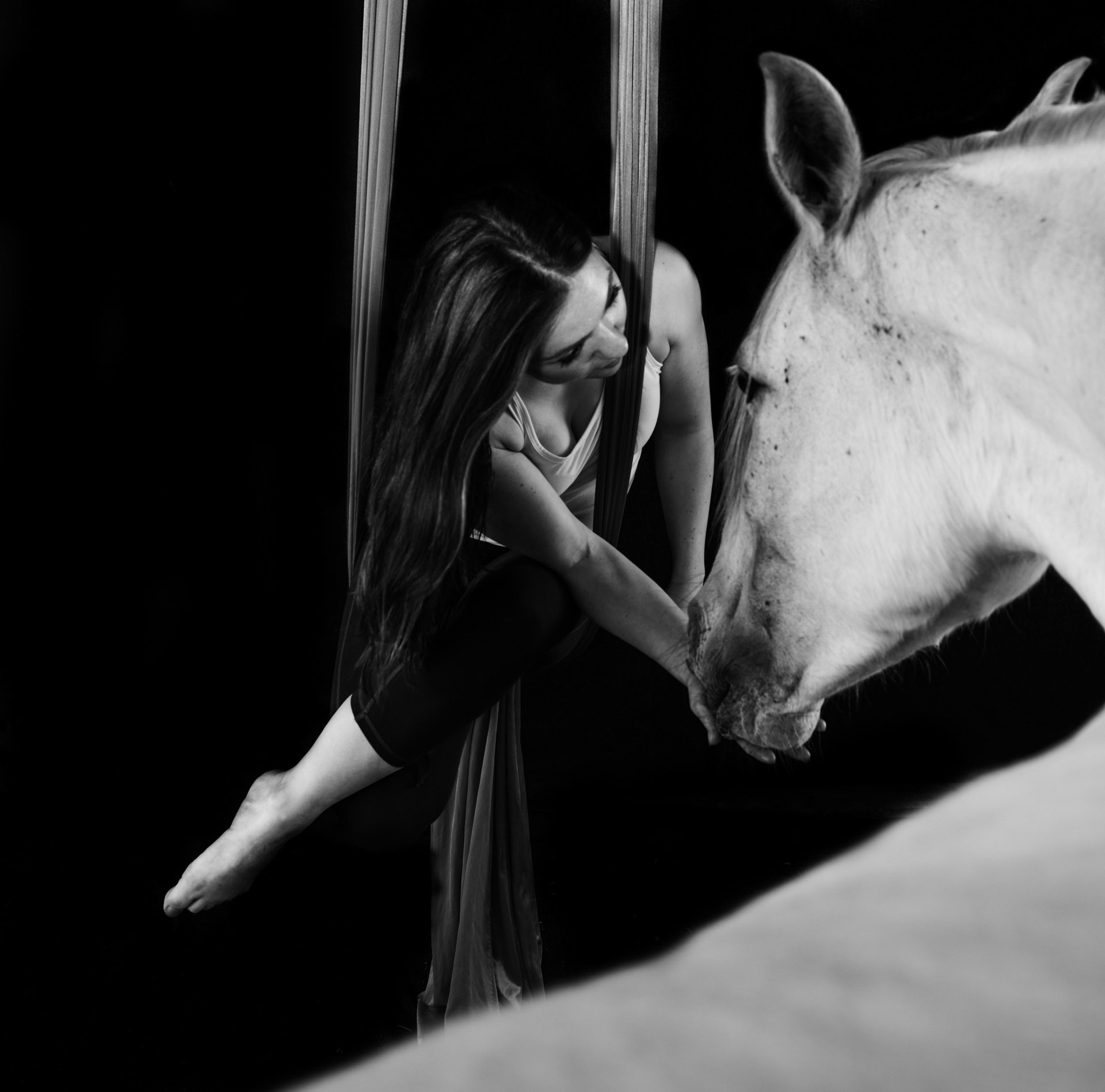 There is so much beauty in the human and horse forms. Amy is a talented aerial acrobat and an equestrian performer and she was willing to come and explore this unity in a shoot with my horses at my home. Malaguenua was born in Spain and destined for the bullring and I can see from the scars on her face that her start with people was not a good one, but she knows now that we mean her no harm.
Beneath a chestnut tree in the garden is where the horses gather to stand together and shelter from sun and rain. I made a stage under the canopy of the tree for Amy and let the horses free to see what they would make of this extraordinary creature hanging from it. There was very little direction in this shoot; it was lovely to see the natural beauty and expression between Amy and the horses.
William Fox-Pitt and Chilli Morning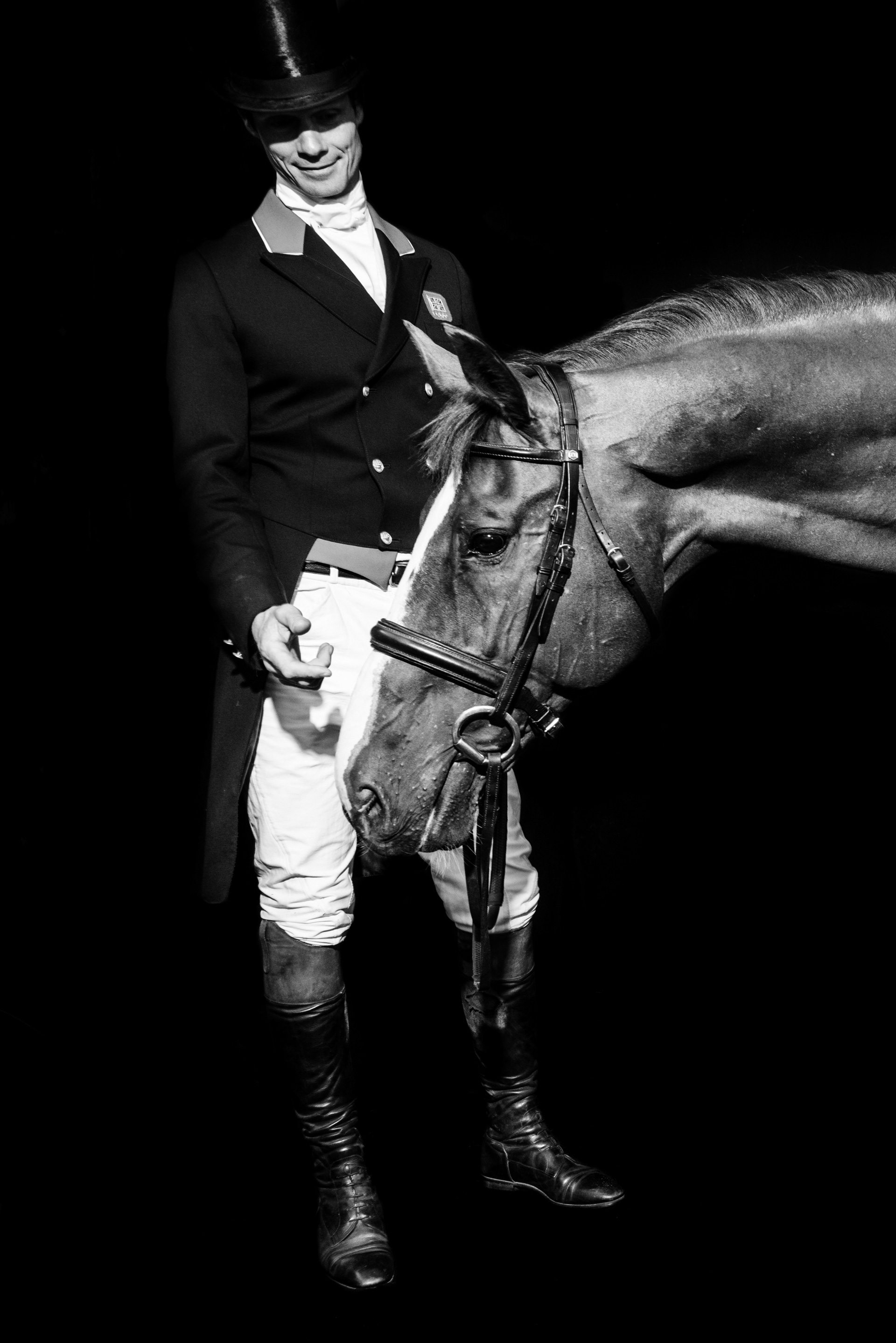 By this stage, I was realising that it was the horses who were leading the shoots. This was no more so than with Chilli Morning, who I photographed before they left for Rio to represent Great Britain in the Olympics. These were busy days in the Fox-Pitt yard but they had made space for me that day. It was difficult to believe that less than a year earlier William had been in a coma in hospital having suffered a head injury following a fall.
Chilli was spoken of by all as an absolute gentleman who knows his job and simply does it very well. Unusually for an eventer, he is a stallion who events but also performs stud duties for part of the year. I have always thought that stallions communicate more with their mouths than other horses and Chilli, although co-operative, was a little bored by the photographic process. So, after giving us a little of his time, he ended the shoot himself by lowering his head and, with his teeth, ripping a hole in the backdrop.
Monty Roberts and Shy Boy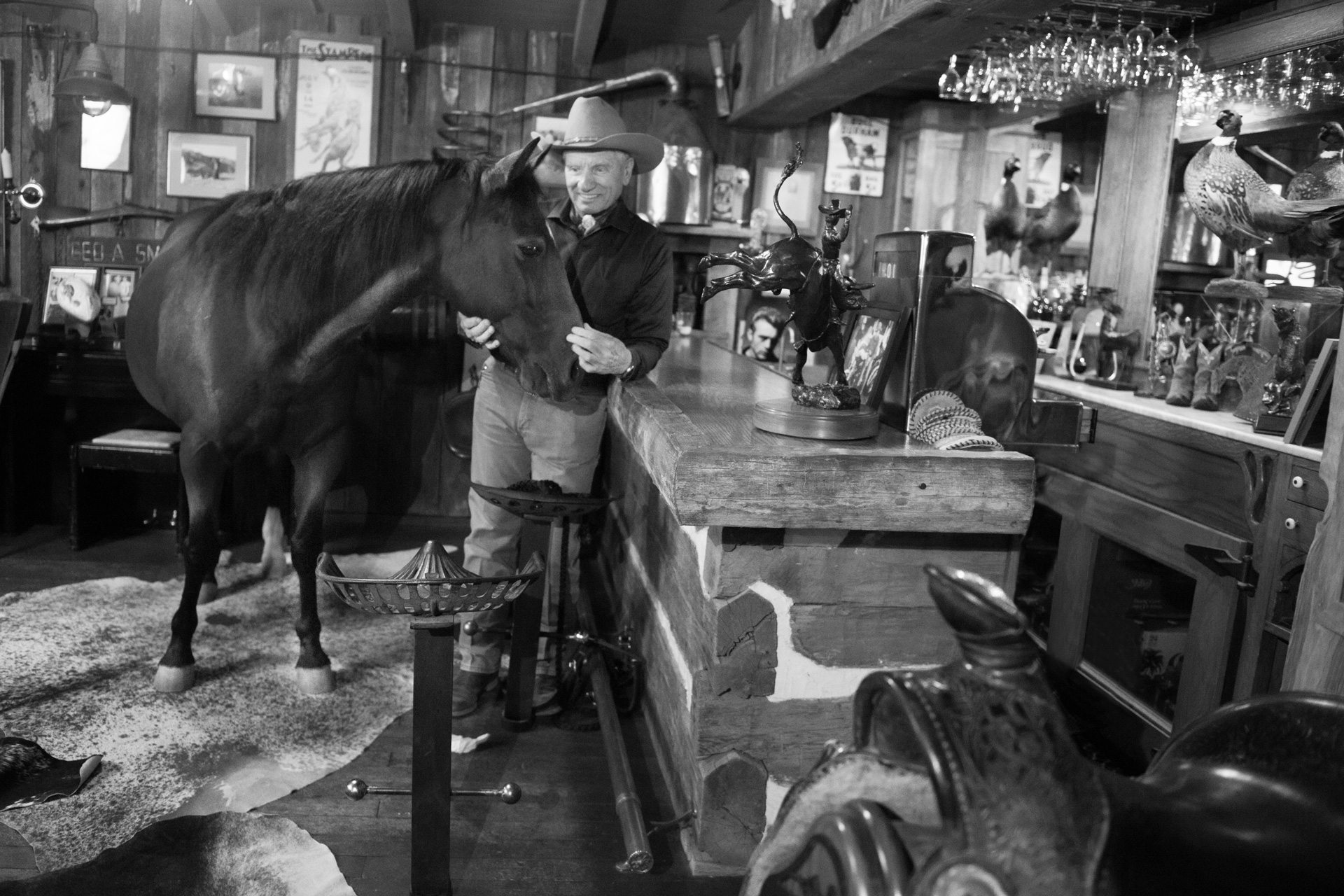 I spent four days on Monty's ranch in California, watching him and taking part in the work he does. There, I saw untouched mustangs 'gentled' as they accepted their first human contact. There were horses who willingly met their first rider and horses damaged by people who had regained their trust. Monty's message is of non-violence for both horses and humans. He achieved international recognition after he was invited to demonstrate his methods to Her Majesty, the Queen at Windsor Castle. Today, at the age of 81, he continues to spread his message across the world. In the last 27 years he has demonstrated his methods in 41 countries, in front of 3.6 million people and worked with thousands of horses. Shy Boy is the Nevada mustang who starred in a BBC documentary and lives on Monty's ranch. During the shoot, Shy Boy needed no encouragement and the bond between the two is so visible. Later it seemed only natural to me that Shy Boy would join Monty at the bar. Monty agreed to take him into the saloon, which is part of his house, on our final evening for an extra picture. Least surprised was Shy Boy, who was so totally at ease stepping alongside Monty into his human world.
Horses & Humans in London
An exhibition of the photographs in Lucy's book – alongside driftwood sculptures from the internationally-renowned sculptor Heather Jansch – is showing until January 31 at 161 Lower Richmond Road, SW15 1HH.  Meet Lucy Sewill and Heather Jansch on Saturday & Sunday 17/18th December, 10am to 3pm. You can buy Horses and Humans here. 
---