Christian Horner is one of the biggest names in the world's most glamorous sport. Team principal of Aston Martin Red Bull Racing, his Formula One career is matched by the Girl Power success of his Spice Girl wife, Geri Halliwell. The couple's chic Cotswold farmhouse is just outside Banbury and neighbours that of Lord Heseltine. A sprawling collection of restored barns and outbuildings, the Horner lifestyle includes fast cars, A-lister friends from motorsport and the music industry, plus an ever-expanding menagerie of animals.
There's hardly room to reverse a supercar when I arrive at 10am. It's the morning after Geri has performed to a sell-out audience at the Ricoh Arena in Coventry, and staff and builders are busy trying to complete a new indoor swimming pool in time for a British Grand Prix weekend party (12–14 July). The couple's two-year-old son Monty is pedalling a toy tractor at breakneck speed, while Geri's daughter from a previous relationship, Bluebell Madonna, 13, is outside studiously grooming her mum's horse, Beauty.
I'm here to interview Horner but I bump into Ginger Spice as she walks down the stairs, slightly dishevelled in riding jodhpurs and jumper, apologising for her late showing. The night before Coventry, the band had played at the Etihad Stadium in Manchester, with Horner in the audience.
'Formula One can be pretty mad but I've never heard a noise like those fans,' he says. 'During the afternoon soundcheck they let me on stage to play the drums. I was tapping out a beat and suddenly the band joined in behind me with Smoke On The Water – it was brilliant.' Whatever Geri really, really wants, it's unlikely Horner will allow his wife to try out a racetrack. 'Geri is the worst driver – she's in a total world of her own and thinks everybody else is doing everything wrong. When she concentrates, she drives well. The problem is the amount of time she spends concentrating on driving.'
Cars, Cars, Cars
There are certainly plenty of cars to choose from in the couple's barn-like garage. 'My first classic was an AC Cobra, then I splashed out on an Aston Martin DB5 when I turned 40. I also own a pair of Minis that once belonged to Ringo Starr and Paul McCartney, and a vintage Massey Ferguson tractor. Geri bought me a Willys Jeep three years ago, so I tracked down and bought back the red MGB roadster she spent her first pay cheque on as a Spice Girl.'
Horner's rise to the top of Formula One seemed almost inevitable. His grandfather and father ran a successful car component company in the Midlands and there were always plenty of interesting motors on the driveway. 'Dad owned a Reliant Scimitar GTE, a Triumph Stag and lots of Jaguars. Mum drove an Alpine sports car. At one point she had a Triumph Herald. We always encouraged her to get airborne over a humpback bridge on the school run.'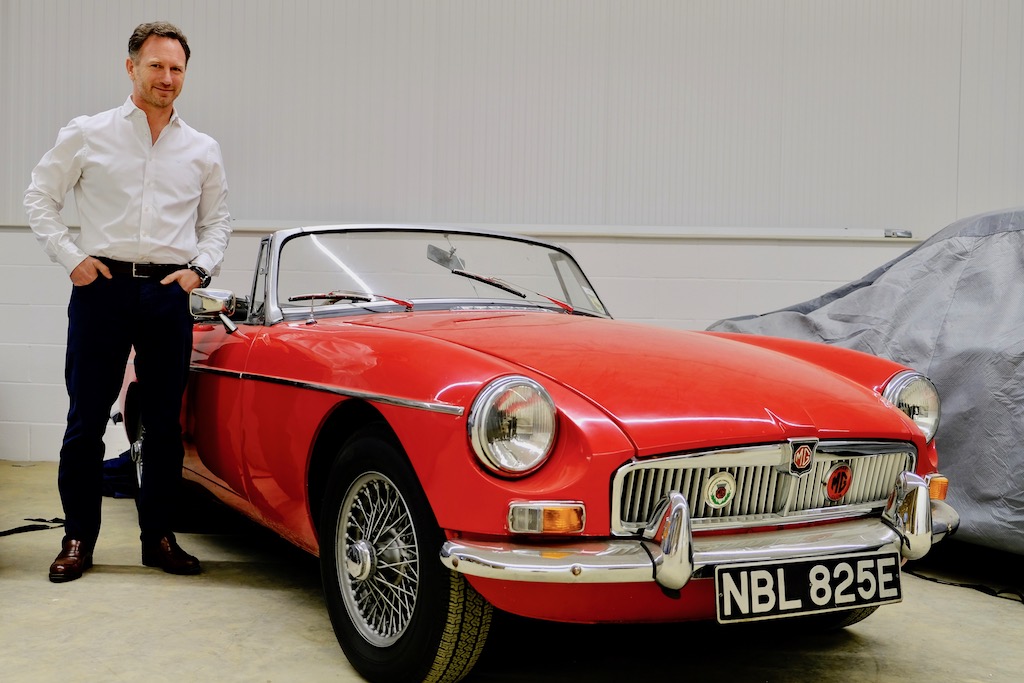 When he was 12, Horner's parents bought him a go-kart to drive around the fields at their home near Leamington Spa. The grass proved too wet, so he went to an airfield track with his father. From that moment Horner was hooked. He put university on hold after winning a Formula Renault scholarship in 1991 and later had a successful career in British Formula Two and Formula 3000, setting up his own team, Arden. However, despite a trial with Lotus, Horner realised he would never be good enough to race in Formula One.
Speed Racer
His big break came when he joined a fledgling Red Bull in 2005 as the youngest team principal, aged 31. 'It was a massive moment in my life but also felt like a natural progression. I applied all the principles that served me well building my Formula 3000 team to Formula One.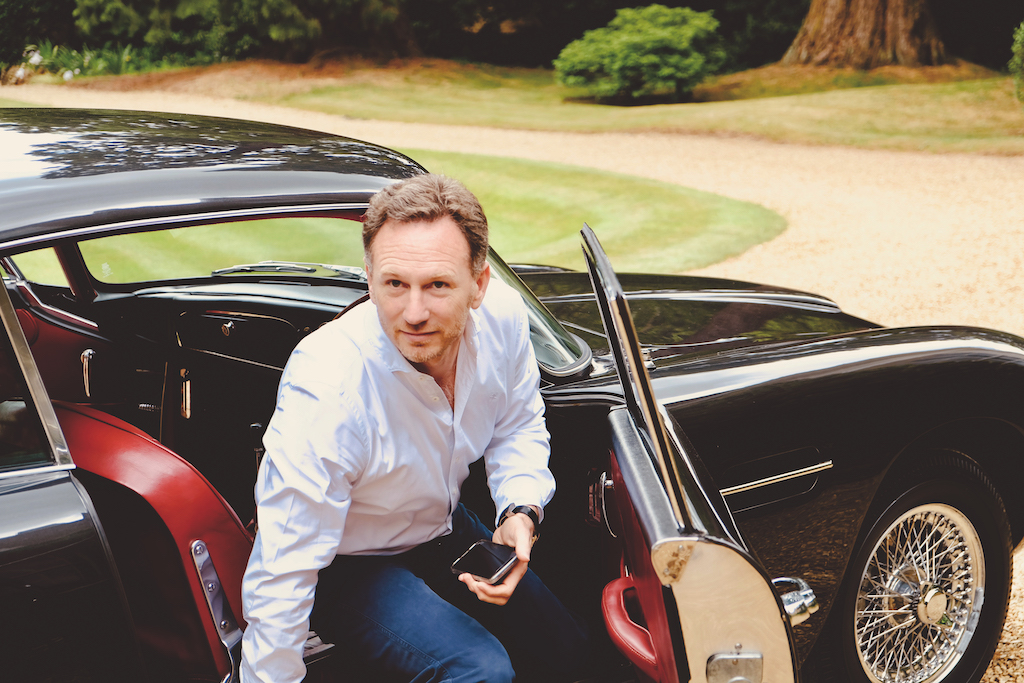 'At the end of the day, people are your biggest asset – the right technicians, engineers and drivers. I was a big Adrian Newey [Red Bull's chief technical officer] fan, so when he left McLaren to join us, people stood up and took notice. If you are going to shoot for the stars, you need somebody like Adrian.'
Red Bull finished the season strongly in 2009 and then won the F1 Constructors' Championship in 2010 – the first of four back-to-back wins with Sebastien Vettel and Mark Webber in the driving seat. '2010 was quite a year. Adrian and I both bought an Aston Martin Vantage V12 to celebrate. It was the first real present I had afforded myself.'
A Slower Pace
As we walk around the grounds, Horner's faithful West Highland Terrier, Bernie, is never far away; he was named in honour of Horner's mentor, Bernie Ecclestone. 'We have four dogs, miniature donkeys, goats, Geri's horses and a couple of canaries called Donald and Hillary. The latter formed an unlikely friendship and mated!'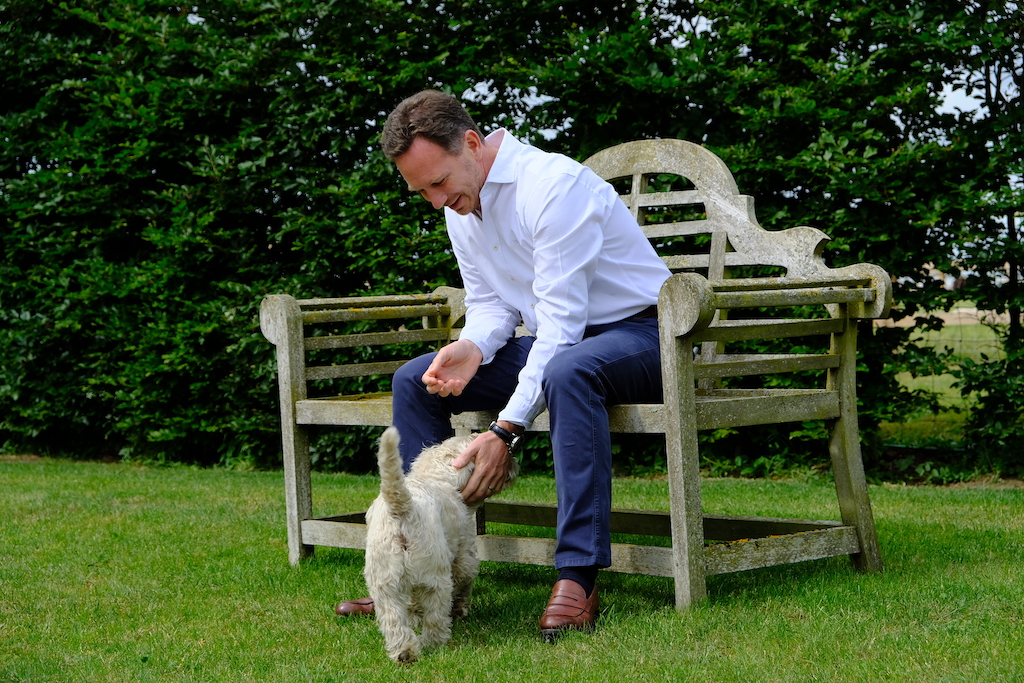 Their home is full of memorabilia. A snooker room in one of the outbuildings is plastered with posters of Geri's alongside countless motorsport trophies and photos from her husband's career. In the loo is a Time Out cover of the Spice Girls, plus a framed copy of Your Song by Elton John, played at the couple's wedding in 2015. Horner looks relaxed in white shirt and jeans, wearing a Tag Heuer Carrera Calibre 16, one of the many in his collection. 'I don't mind being in the limelight on a Grand Prix weekend but not the rest of the time. We've lived in this place for about four years and it's become the perfect home to relax and get away from it all.'
What's Next
Still only 45, with an OBE and four world championships to his name, Horner has long been touted as the next Ecclestone, taking the helm of Formula One when he eventually steps back from team management.
'It's very flattering when people make that connection. At the moment, I very much enjoy the competitive side of my career. I'm really focused on wanting to achieve more with Red Bull and getting us back to a winning situation. Nobody has a crystal ball: ten years down the road I might feel differently.'
---