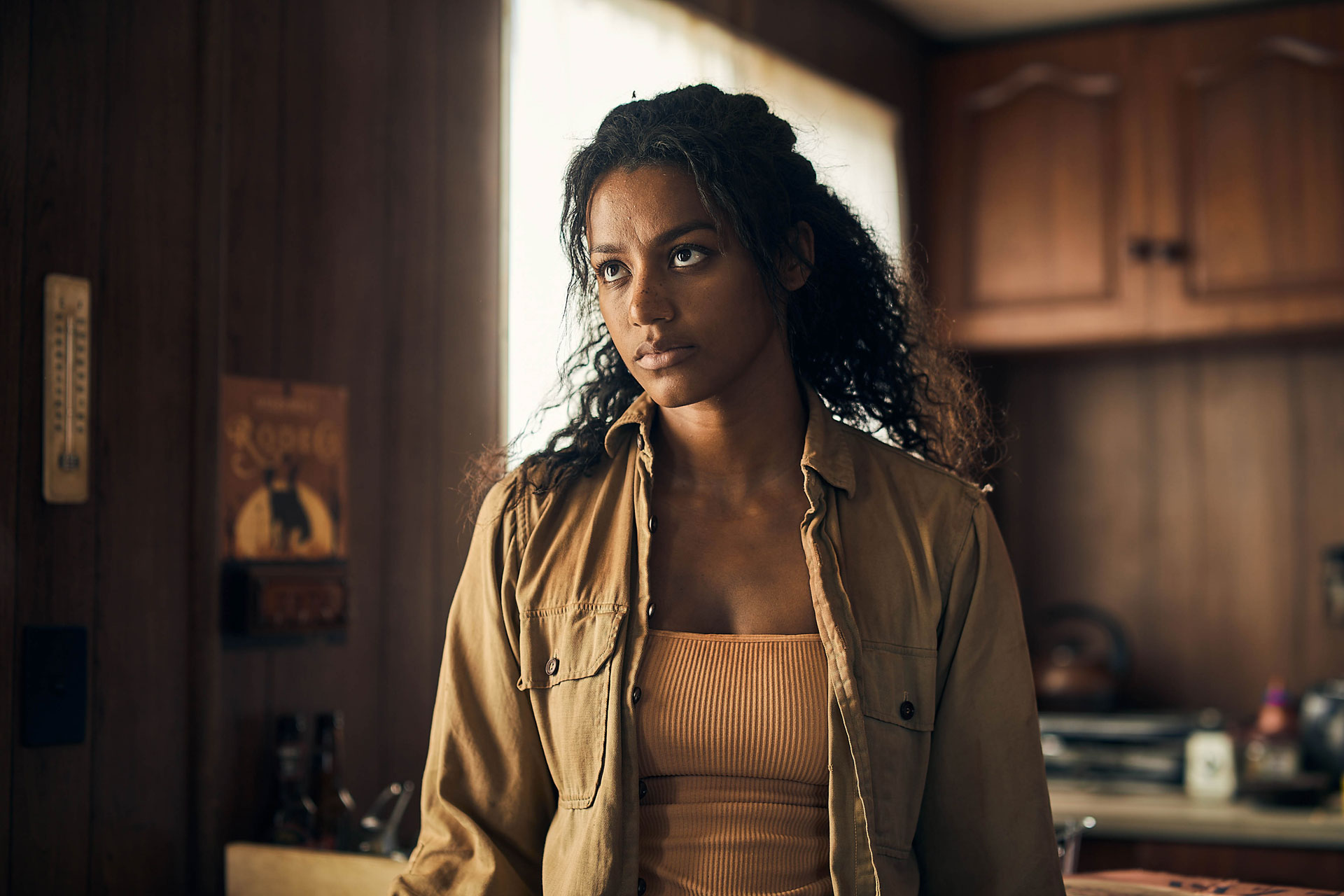 Q&A with The Tourist's Shalom Brune-Franklin
---
The 27-year-old breakout star on dream directors and life in Australia
Shalom Brune-Franklin – who grew up in London before moving to Australia as a teenager – sprang onto the scene as Private Maisie Richards in Our Girl, going on to star in shows like Netflix's Cursed and Roadkill alongside Hugh Laurie. We then saw her as a new recruit to the AC-12 gang in the explosive sixth season of Line of Duty. But her latest project is her biggest and most exciting role yet. Shalom stars as the mysterious Luci alongside Jamie Dornan in new drama The Tourist, a thriller set in the Australian outback which follows a man who wakes in hospital after a car crash with amnesia. As the show debuts on BBC iPlayer, we revisit our interview with Shalom from March last year.
Q&A with Shalom Brune-Franklin
Favourite role to date and why?
I got to play Morgan le Fey in a fantasy series a couple of years ago. That was a pretty fun world to explore, wearing medieval clothing and riding horses on top of mountains every day.
What demands do you have on set?
I always bring my pillow and dressing gown to my trailer to sneak a snooze at lunch when I can.
Director you'd most like to work with and why?
I'm lucky enough to say I have worked with her twice already before, but Sarah O'Gorman. Any chance to work with her is always going to be a wonderful experience.
What can you tell us about the sixth season of Line of Duty?
I can tell you that it's going to be a really exciting series. Jed is an incredible writer, I couldn't wait to get my hands on all seven episodes to read. I went through a load of emotions just reading these scripts in my bed with a cuppa, so I really can't wait to see how that plays out on screen for all the fans of this show. There are some real jaw-dropping moments, but it wouldn't be Line of Duty without them!
Favourite person on set and why?
That's so difficult to answer as everyone was lovely. My character works with Martin Compston, who plays Steve Arnott, quite a lot – he's such a generous and supportive actor to work with.
Any funny stories from filming the show?
There were more than a few times Adrian Dunbar made me cry with laughter, he's absolutely hilarious. Trying to keep a straight face before the take was sometimes very difficult!
What qualities do you think have made you successful?
My family's constant support in me. I have also learnt to be resilient in my life, and that has really helped with an industry that requires you to deal with a lot of rejection and time alone.
What did you want to be when you were a little girl?
A lawyer. I have no idea why, but I was adamant I would be one.
Three books you'd take to a desert island and why?
The Kite Runner, because it's one of the most beautifully written books I have ever read. Sapiens, because I have been reading it for over a year on and off, so I would have no excuse but to finish it on a desert island. And then something non-fiction and completely random that I haven't read before.
The most challenging moment of your life?
I lost someone who was like a sister to me growing up, when I was 15. Dealing with the grief and anger at that age was really tough. But ultimately, she is one of the main reasons I'm so determined in my life and thankful for the time I have here.
What's your interior design style?
It's pretty all over the place. I love a mix of old and new. Living in Australia from the age of 15 has really influenced what I like in a space – I will always opt for a bright white space, with plenty of woven elements, plants with statement pieces and colours.
Are you conscious of what you put in your body?
In more recent years I have become more conscious – I'm definitely one of those people who has to remind myself to eat more veggies and drink more water. My father is a chef so food has always been a huge part of my life.
What is your current beauty regime?
I like to keep it as simple and fragrance free as I can. I use a Cetaphil cleanser, Drunk Elephant's B-Hydra Intensive Hydration Serum, Kiehl's Ultra Face Cream and before bed, Dermaquest's Retinyldehyde Renewal Cream.
What are your indulgences?
I just love food. I love cheeses. A big charcuterie board with more cheese than anything else please.
How do you relax?
When I'm here in Australia, a good swim, some sun, a great book and a coffee is my ideal way to relax.
If we're coming to your area for a visit, what should we do?
If you were coming to Western Australia, I'd strongly suggest going to Esperence. It's a small town on the south coast where the best beach in the world lies, Lucky Bay.
Are you a rule breaker or a rule taker?
I am very much a rule taker, I don't know if that's a very cool answer but I will own it!
Main image: BBC Pictures
READ MORE:
What To Watch, Read & Listen To This Week / Interview with Jill Halfpenny