Throw Arcade Fire, Rod Stewart, Texas and The Kooks onto the Isle of Wight, add 50,000 music-lovers and a healthy dose of British sunshine, and the results are, well… We'll let Abigail Butcher tell you in her review of Isle of Wight Festival 2017.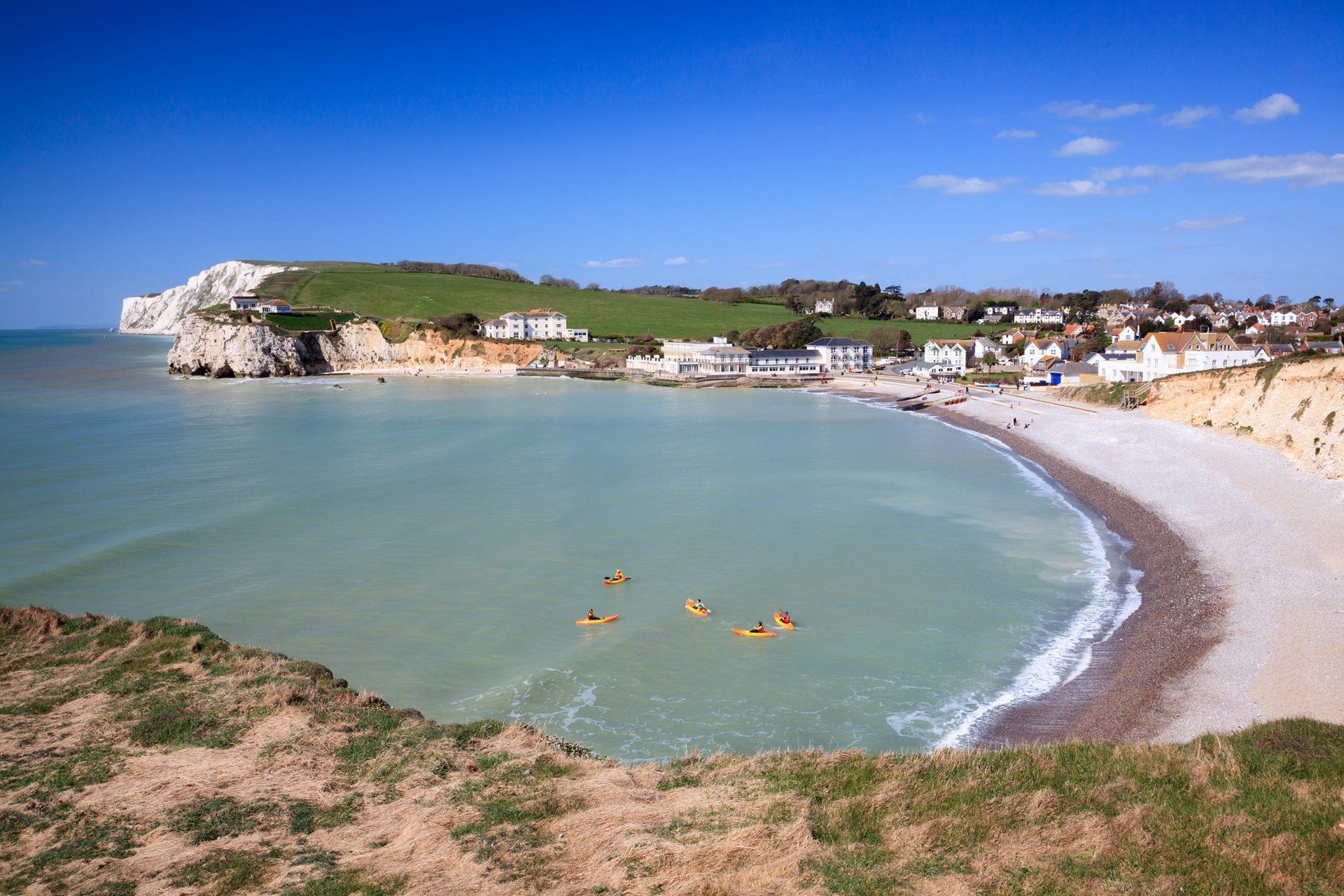 Check out our 2017 Festival Guide to plan your next weekender.
Isle of Wight Festival 2017 Review
Sometimes, the British weather pulls out all the stops and after a shaky-looking forecast leading up to the festival, some 50,000 music lovers basked in beautiful sunshine on the Isle of Wight over the weekend 9-11 June to celebrate the first big music festival of the British summer.
Organisers John and Caroline Giddings had pulled in a massive array of headline acts again this year, from Rag'n'Bone Man, Kaiser Chiefs to George Ezra, Jack Savoretti, Tom Chaplin, Texas, The Kooks and the fantastic Scouting for Girls who raised hungover festival-goers from their tents at 1pm on the Sunday.
https://www.instagram.com/p/BVPTicDFu-8/?hl=en
David Guetta
The Isle of Wight boasts the UK's largest festival main stage lighting rig, but that wasn't enough for Friday night headliner David Guetta, the French DJ brought an extra 254 lights along with lasers and a massive pyro package for his performance, along with three million piece of confetti and 1,536kg of Co2 gas that he launched into the air.
What's on this week? Refer to our culture diary to see what's on in town and the country… 
Arcade Fire
Arcade Fire headlined the Saturday night — to a mixed reaction. Some people (including me) loved them, others questioned why Texas wasn't up there on the bill — but no one questioned Rod Stewart's festival-closing performance. Rod arrived by helicopter mid-afternoon on Sunday as The Shires were playing and he brought the house down with his evening performance.
Steeped in History
The Isle of Wight Festival has traditionally been the first big festival of the summer — it began as a series of festivals between 1968 and 1970, thought of as Europe's equivalent of Woodstock — and Jimi Hendrix, The Who, Joni Mitchell and Leonard Cohen were among the artists performing in 1970.
The festival then took a hiatus until it was resurrected in 2002 by music promoter John Giddings. Over the past 15 years, the stellar line-up has included Amy Winehouse, Kings of Leon, David Bowie, The Rolling Stones, Foo Fighters and Bruce Springsteen.
It's not just about big names though, John Giddings invites a huge number of up-and-coming acts to play at the festival.
New Faces
One of those was Bristol singer and songwriter Rothwell, who played the Hard Rock Stage on Friday, then Platform One on Sunday. The 23-year-old supported Paul Simon on his European tour in 2016 and Justin Bieber on his UK Arena Tour, and said the Isle of Wight Festival has created a lot of opportunity for up and coming artists.
"I loved performing at the Isle of Wight Festival this year — it was amazing to have two slots, and singing at Hard Rock Café and the Platform One stage meant I was surrounded by people in a similar position to me so it was a great opportunity to meet new artists and have a loooooads of fun."
https://www.instagram.com/p/BVfSH2kF1pI/?taken-by=isleofwightfest&hl=en
Family Fun
There was yoga for all ages, and a thriving kids zone with everything for families from sticker art to dressing up. The zone has been run for the past 13 years by Liz Cooke.
"The idea is that this should be a family festival and in this zone parents don't get asked for money, kids have the freedom to explore without the need for money," said Liz.
The Isle of Wight Festival brings in a massive amount to the local economy, with many festival-goers choosing to stay in cottages, hotels and B&B accommodation around the island, if they are not camping on-site.
For more family-friendly festival options, consult our guide.
To Camp or Not to Camp
I pitched my own tent for the first time in my adult life — a three-man Tango tent by Vango which took me a little longer than the predicted six minutes to erect but once up provided a comfortable oasis along with a sleeping mat and sleeping bag. Combined with a breakfast from a nearby van of egg and bacon butty, pain au chocolate and iced latte, you couldn't want for more.
If camping isn't quite your thing, the ever-popular Eve's Tipis (eves-tipis.co.uk) was sold out again this year — with a great vibe within the tipi field.
"We had around 180 tipis at the Isle of Wight this year," said Eve "They each take an hour to erect and another hour for furnishing — we've been going since 2008 and you can find us at Camp Bestival, Rythmtree, Vdub Island, Camper Calling and Bestival."
Backstage
Moving even more upmarket, in a cool oasis backstage, behind the press area, the family-run Camp Kerala (campkerala.com) were providing their ubiquitous five-star service to 50 guests. Camp Kerala will pick up guests following their arrival on the island – whether that is by RIB or helicopter — and treat them to the ultimate glamping experience. It was Camp Kerala's third year at the festival, with guests enjoying fine linen, double beds, wash-basins and five-star breakfast, as well as transport around the festival if they need.
Camp Kerala was also the only place I managed to secure an espresso martini — and a fine one it was, too. I fear I started a run on them though, because several guests asked me what I was drinking as I sipped it on a comfy moleskin sofa in the shade of their marquee.
"Next year we're likely to have a large beauty salon," said Georgia Broughton, one of the partners in the family-run business.
https://www.instagram.com/p/BVNY-1al4ct/?hl=en
VIP IOW
Camp Kerala offers four-night stays for two people, plus VIP premium tickets and collection and drop-off on the island, for £6,000.
"We can organise heli or private RIB to the island, but this is extra," said Georgia.
At the end of the weekend, I asked John Giddings for his highlight of this year's festival and got ever the political answer: "I can't pick one standout moment, it was all fantastic! All the artists performed brilliantly."
Quite frankly, I completely concur — though it's taken me a week to recover. Roll on next year.
It's not too late to book this year's festival adventure. Refer to our festival guide for the coolest small and independent festivals in the UK. 
---