The best time for supporting female networks and outreach is always, but if there were a best time in particular, it's now, in this climate of #MeToo and perhaps also, on International Women's Day.
Enter Debbie Wosskow and Anna Jones. This Thursday 8 March, International Women's Day, the pair will open a five-storey townhouse in Bloomsbury: The AllBright – 'A members club for working women.'
London's Fitzrovia Gets an All-Female Members Club

The club's name honours Madeleine Albright, who, as a U.S. ambassador to the United Nations, coined the famous phrase: 'There's a special place in hell for women who don't help each other.'
'It's not about being anti-men. Men are welcome as guests, but only women can be members.' – Co-founder and entrepreneur Debbie Wosskow
The founders' mission to create 'a space that prioritised women and female needs' will take shape in the club's café, cocktail bar, library, sitting room, exhibition space and bookable meeting rooms. The club practices what it preaches, stocking wines from all-female vineyards and employing female-led catering business Social Pantry for food at the café and bar. A beauty bar on the lower ground floor and exercise classes in the wellness area round out the space with tried and true facilities frequented by woman, yet without the judgement and stigma that often comes with beauty and wellness culture.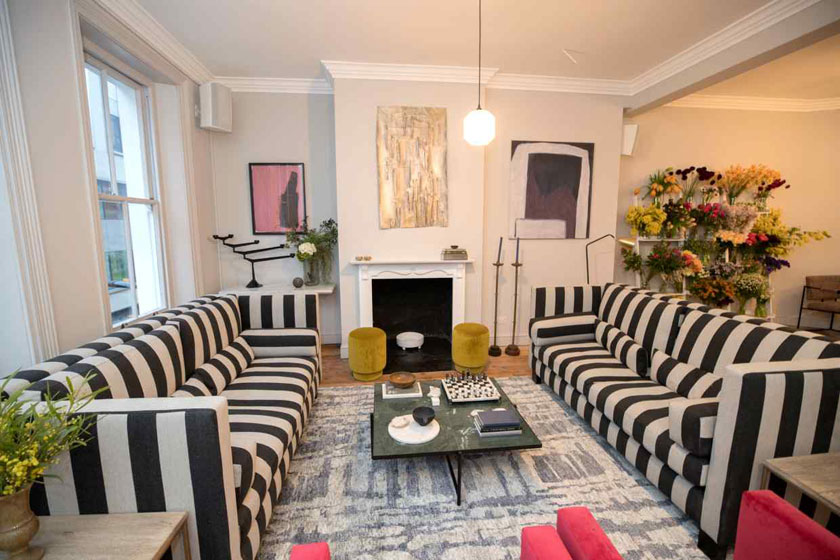 Membership provides full access to the club's social events, talks, exhibitions, debates and networking meet-ups, for £750 per year, plus £300 joining fee (£675 for under 27s).  Founder members include entrepreneur and House of Lords peer Martha Lane Fox, Minister of State for the Department for Digital, Culture, Media & Sport Margot James and actors Naomie Harris, Kathy Burke and Tara Fitzgerald.
The C&TH Guide to London's New Private Members Clubs
The Allbright's powder room has been designed keeping in mind the fact that women often need to present themselves in a certain way professionally. Like the beauty bar and exercise classes, the powder room serves a purpose that relates directly to female usage.
'High heels may not seem important, but women often need to wear them to appear smart and it's the difference between being able
 to walk to a meeting and not, or having to carry a bag with another pair of shoes and finding a place to change once you arrive.' – Marilyn Davidson, emerita
 professor of work psychology at Manchester Business School.
---