Michael Rakowitz's new work 'The Invisible Enemy Should Not Exist' will be unveiled on the Fourth Plinth in London's Trafalgar Square tomorrow, 28 March, by the Mayor of London Sadiq Khan.
The publisher Plinth will host The House With A Date Palm, a pop-up in the square between 9:30am and 5pm, where a traditional Iraqi breakfast of Silan wa Rashi (date syrup with tahini), and ginger and date cake (recipe by Honey & Co.) will be available for the public and press to sample throughout the day.
See Iraqui Date Syrup Art, Taste Iraqui Date Syrup Breakfast

Rakowitz has recreated the Lamassu: a winged bull and protective deity that stood at the entrance to the Nergal Gate of Nineveh [near modern-day Mosul, Iraq] from c. 700 B.C, until it was destroyed by ISIS in 2015. Rakowitz's Lamassu is made from empty tins of Iraqi date syrup, alluding to the economy of the foodstuff, which has been destabilised by the war.
'The public will be able to see the date syrup industry embodied on the plinth and taste it at the pop-up. There's a consistency between the visual and the experiential. This is the first time this project [The Invisible Enemy Should Not Exist] has been situated in
 a public space, and to have it displayed on the Fourth Plinth in the heart of London is especially meaningful. It is unveiled at a time when we are witnessing a massive migration of people eeing Iraq and Syria. I see this work as a ghost of the original, and as a placeholder for those human lives that cannot be reconstructed, that are still searching for sanctuary.' – Michael Rakowitz, artist
Michael will be delivering a short talk about his commission and date syrup at the pop-up from 11:30am. As well as serving food inspired by the Fourth Plinth commission, the pop-up will stock and launch a limited edition from Rakowitz, which consists of a date syrup tin, sourced from Karbala in Iraq, and accompanied by the artist's a signed book of recipes from chefs including Claudia Roden, Honey & Co. and Michael's mother, Yvonne Rakowitz. The recipes all incorporate
date syrup, whether peripherally or centrally and each edition will be signed and numbered by the artist.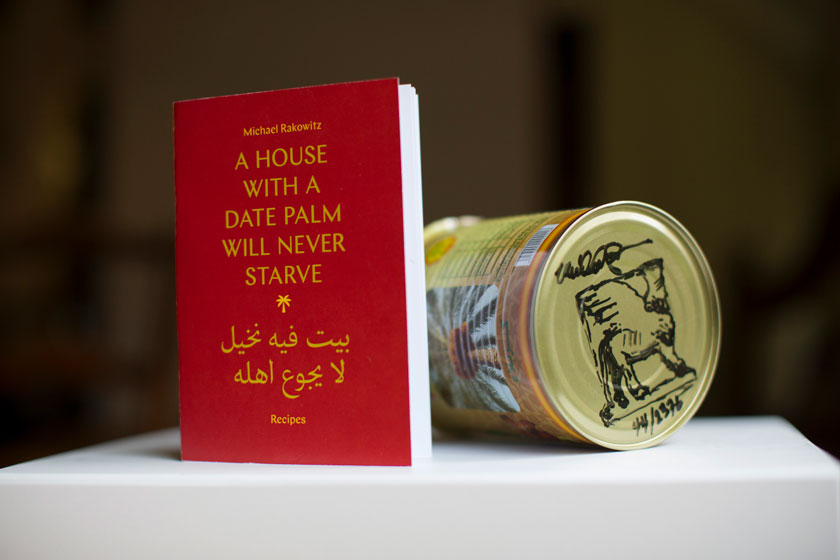 The pop-up will sell other items inspired by the use of food in Rakowitz's art as a way of bridging cultural and political divides; this includes tote bags, wooden spoons and aprons that feature the Arabic proverb: A House With A Date Palm Will Never Starve.
---