Famed in Chelsea and beyond, John Sandoe celebrates its 60th year as the best bookshop in London. Matthew Bell raises a glass… 
Take a stroll down the King's Road, and you will struggle to catch even a whiff of what Chelsea was like in the 1950s. Gone are the fruit-sellers, the haberdasheries, the cheap but not particularly cheerful cafés that sold tea and rock buns. In their place are shiny boutiques selling beautiful clothes with terrifying price tags.
But there is one street where you can still get a sense of Chelsea's Bohemian past. It's Blacklands Terrace, that short stretch off to the right just after Peter Jones. It's the home of John Sandoe Books, the labyrinthine independent bookshop that defies all trends by going from strength to strength. On 11 November, the shop will celebrate 60 years since opening for business.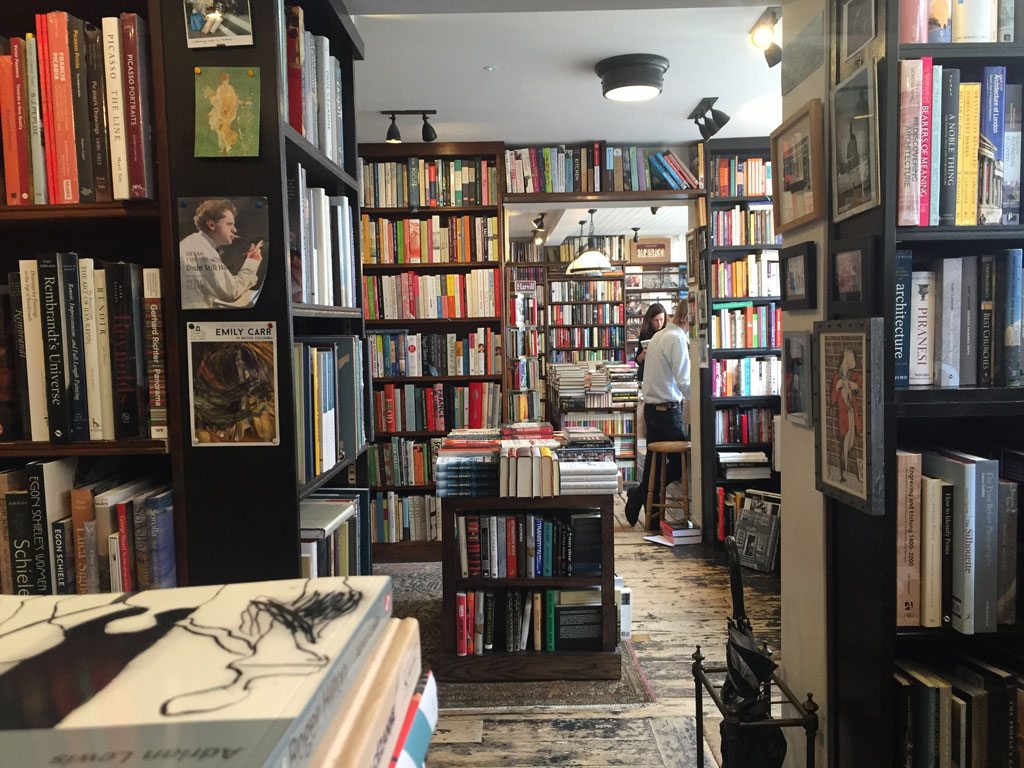 Chelsea's Past
In 1957, the three units that now comprise Sandoe's were home to several businesses. Upstairs was a secretarial agency and downstairs a poodle parlour, called Chloe of Chelsea. Next door at number 11 was a dressmaker, and at number 12 was Anthony O'Neill, the vet, who looked after Winston Churchill's dogs and vaccinated a stray cat I once found while living in Wellington Square. Going into his surgery (in 2010) felt like stepping back into the 1950s: there were so many books and papers that it felt more like an Oxford don's study than a 21st-century veterinary practice. Still, he was a fine vet and the cat thrives to this day.
In the 1930s, number ten was a 'seedy little newsagent and tobacconist', according to Dirk Bogarde, who would later frequent the bookshop. According to rumour, when he was hard up he would come to sell review copies of books. During the war, the shop was occupied by an antiques dealer, and then, in the 1950s, Tom and Ros Chatto opened a second-hand bookshop on the ground floor. Tom had taken over the family business of antiquarian booksellers, Pickering & Chatto, though he later became an actor, performing in My Fair Lady in the West End and in various films in the '60s and '70s. Ros Chatto went on to become a well-known theatre agent, representing Alan Bennett, Ronnie Barker and Alan Bates. Their younger son, Daniel, married Sarah Armstrong-Jones, daughter of Princess Margaret. 
'John Sandoe is, and always will be, the best bookshop in London' – Alain De Botton
Sandoe Steps In
It was the birth of this second son, Daniel, in April 1957, that prompted the Chattos to give up the bookshop. Which is where John Sandoe enters the story. Sandoe, who died in 2007, was just 26 and had very little experience of the book trade. After his education at St Edward's School, Oxford and McGill University in Canada, he tried to become a writer, but abandoned that in favour of a spell in the City. He then decided to go into the bookselling business, much to the displeasure of his stockbroker father, who said, 'Books? You might as well sell boots.' He persevered, taking advice from Heywood Hill, the Mayfair booksellers where Nancy Mitford once worked, and getting a job at Bumpus, the then famous bookshop on Oxford Street.
Sandoe was friends with Felicité Gwynn, the sister of cookery writer Elizabeth David, and through her he found his premisesat 10 Blacklands Terrace. Gwynn, who lived in a flat in her sister's house at 24 Halsey Street, used to take her dog to O'Neill the vet. She spotted the vacancy at number ten and told Sandoe. At the time she was working at J A Allen, the specialist horse bookshop, but Sandoe persuaded her to join him. Gwynn worked at the shop for 26 years until retiring in 1984, a few years before she died. She was apparently a formidable presence, with a passion for literature and little patience for tiresome customers, at whom she sometimes threw the books.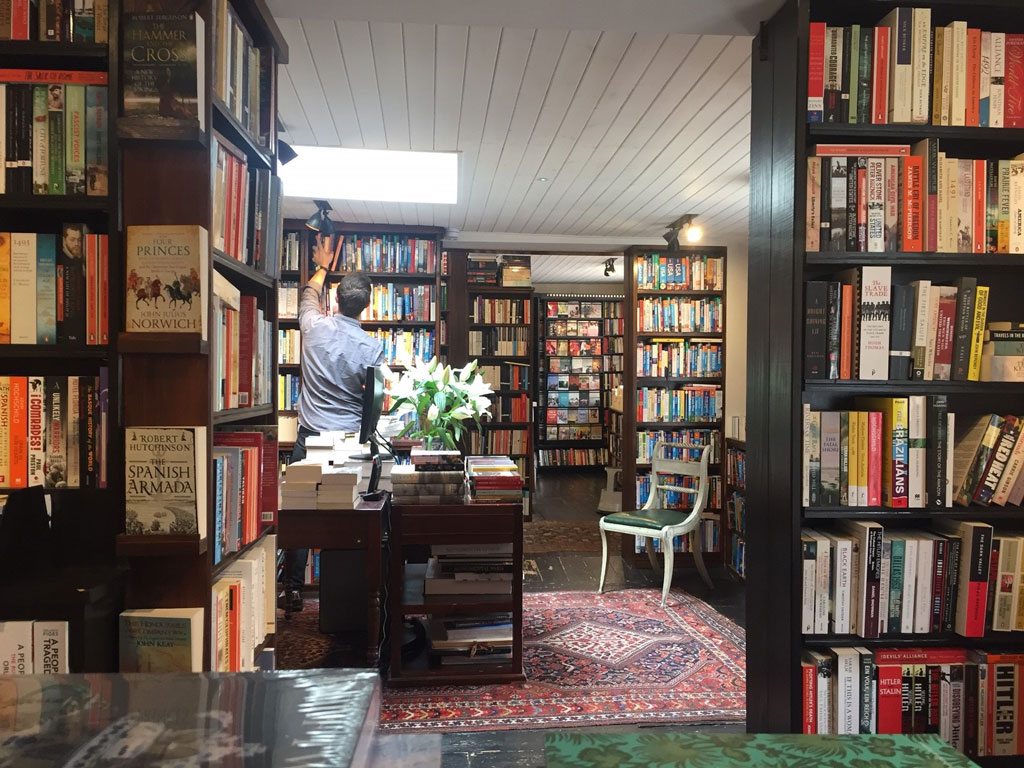 The Cool Crowd
Early patrons included literary figures like Frances and Ralph Partridge and the novelist Rosamond Lehmann. The shop quickly established a reputation not only for its good selection but also for its intelligent ethos, the staff always able and willing to make a recommendation based on their own reading and the customer's tastes. Even today, if you ask one of the sales assistants about a book, they will probably have read it or know someone who has, or are able to give you a useful alternative suggestion. From the start, regular customers were able to set up accounts, a service still offered to this day. This could prove dangerous: Kathleen Tynan, the journalist and wife of Kenneth Tynan, once said she wished Father Christmas would pay off her account.
When the Sixties got swinging, a new cooler crowd started to drop in; Mary Quant, Lucian Freud, Keith Richards and Chips Channon, the Tory minister and prolific diarist, were all customers. In the early days, you could also buy cigarettes from a vending machine in the shop, a hangover from its days as a tobacconist. The only recorded incident of a break-in was for cigarettes, which maybe says something about the urges of smokers compared to book-lovers.
In time, the shop expanded. The poodle parlour shut down and the secretaries upstairs clattered off. A clever system of sliding bookcases was built upstairs, allowing thousands more books to be offered. This design is thought to have inspired the space-saving bookcases of Cambridge's law library, which was built in the 1990s by Norman Foster, though he denies it. When the dressmaker next door closed down, the shop knocked through and grew horizontally; and when, in 2013, Anthony O'Neill retired, they kept going into number 12, completing their takeover of all the trading space available on Blacklands Terrace.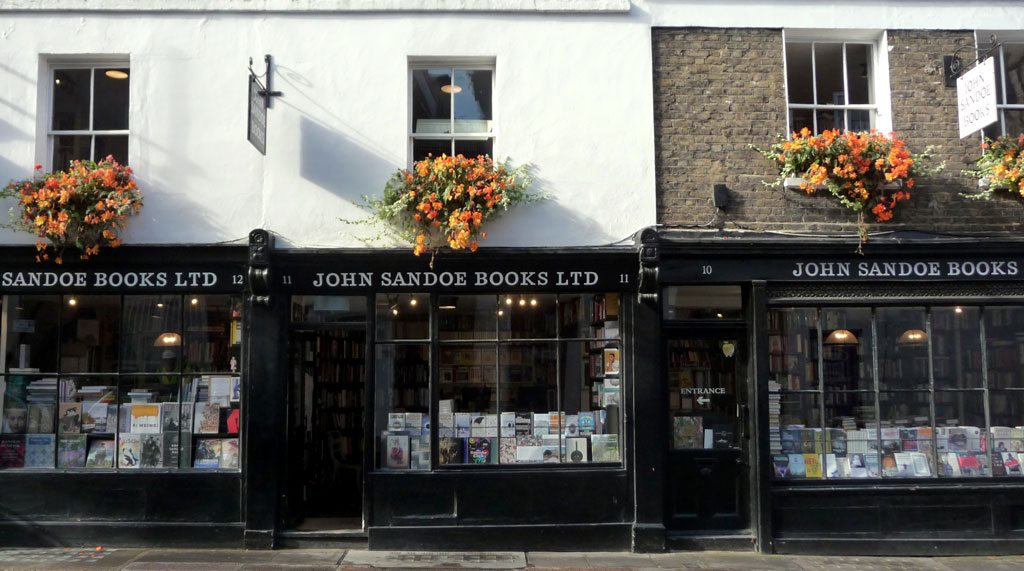 Sandoe's Legacy
John Sandoe retired due to ill health in 1989, and moved to Dorset. He died at the end of 2007. Happily, he was able to sell the business to three friends – two colleagues and a customer. They were Sean Wyse Jackson, John de Falbe and Stewart Grimshaw. De Falbe continues to run the shop very much in the Sandoe mould, scouring publishers' lists for interesting titles which he thinks his customers might like. One of the great skills of the staff at Sandoe's is to fill the windows with juicy looking books. The books inside are then arranged in such a way as to make you want to buy every single one. Though seemingly chaotic, the stock of 30,000 books is meticulously catalogued and any title can easily be found.
Now entering its seventh decade, John Sandoe appears to have defied the downward trend in publishing, and has seen off the threats posed by Waterstones, Amazon and the Kindle. Its lettering and distinctive black and white bags have quietly strengthened the brand, and loyal customers often send in photos of themselves with a Sandoe bag in whatever far-flung corner of the earth they find themselves. Patrons now come from far beyond SW3, and one of the charms of a visit to Sandoe is that you never know who you might bump into (though, given the cramped conditions, you're always going to bump into someone). The Chelsea that surrounded Sandoe's in 1957 may have gone, but inside that terrace of rickety Regency shops, the old Bohemian spirit survives. As Chelsea resident Alain De Botton puts it quite simply: 'John Sandoe is, and always will be, the best bookshop in London'. 
READ MORE: 16 Books to Go Under the Christmas Tree | The Best Art Books Ever | Chelsea Christmas Shopping Weekend 2017
---