Along with Vogue editor Alexandra Shulman, charming managing director Nicholas Coleridge is stepping down from Condé Nast this year, but he still believes in the power of the glossy, says Matthew Bell. 
What Nick Did Next
The journalist Lynn Barber once said that the only people worth interviewing were those on the way up or on the way down. At 60, Nicholas Coleridge could hardly be said to be starting out, but nor have we seen the last of this irascible publisher, novelist, and Bertie Woosterish man-about-town. He has, however, just retired as the head of Conde Nast UK, the 108-year old magazine empire that publishes Vogue, Tatler, GQ and Vanity Fair. 'Slightly to my astonishment, I find that I have been managing director for 26 years, which is longer than many of our staff have been alive,' he quipped in January.
The News
The news was a shock, for Coleridge has been integral to London's magazine world for years. And it comes at a time of dramatic change within Conde Nast, as long-standing Vogue editor Alexandra Shulman is replaced by Edward Ennisfield, and many top executives are retiring. Some might interpret this as evidence of a radical shake-up, as the print industry embraces the digital age. But the day of the glossy magazine is far from over, says Coleridge. 'I suspect its future will be the same as that of radio when television came along,' he says. 'They will co-exist. The fact that frequently surprises people is that if you go back a quarter of a century, Vogue sold considerably fewer copies than it does now. The same is true of Tatler and GQ. It's only in the last five years that you have begun to see a plateauing.'
Coleridge is a fan of Country and Town House magazine, which he receives at his home in Royal Avenue, Chelsea (he has always lived between here and Beaufort Street). 'I think it's very hard to replicate the thrill of getting a brand new magazine every month,' he says. 'I attend endless meetings where people talk about the navigation of websites. Actually, magazines are very easy to navigate. Imagine if a glossy magazine had been invented by Apple. The battery would only last two hours and you'd have to be constantly loading updates…'
His Career
Coleridge's love of glossy magazines dates back to his teenage years, when his ambition was to have an article published in one. He achieved this at 15, while still at Eton, when he sent a hand-written 'guide to surviving teen parties' to Harper's and Queen. After Eton he went to Cambridge to read Theology, and did stints at Harpers in the holidays. He never got round to sitting his finals as by the time he left he had a job at Tatler, aged 22. 'There were 14 editorial staff at Tatler in those days, with Tina Brown at number one and me at number 14,' he recalls. 'Tina was demanding and very decisive. Anyone who disappointed her could be fired instantaneously. These were the days before HR, so I was suddenly her number two, as everyone in between me and her had been fired.' He didn't adopt her management style, though – many of his editors have been in post for decades. 'It worked for her. It wouldn't have suited me so well.'
From Tatler he went to work as a journalist for the Evening Standard, where he would write a centre-spread about anything he liked. On one occasion he managed to gate-crash Prince Andrew's 21st birthday party at Windsor Castle by pretending to be a chauffeur. 'I had a friend who was invited and persuaded them let me drive them in a peaked cap. The Royal family would always put on a parallel party for the chauffeurs, which, as I had never seen them reported on, I thought would make for an interesting story. What I hadn't counted on is that I would then be stuck for five hours with all the chauffeurs until the main party was over.'
His eye for a good story doubtless helped him to advance in journalism, but his talent for talking to people – and his total grasp of his industry ­– must be the secret to his success. He is relentlessly spirited and entertaining but also authoritative and well-informed, firing off facts and figures with the rat-tat-tat of a Gatling gun (Did you know there are 31 bridal magazines in England? Which is about 29 too many!)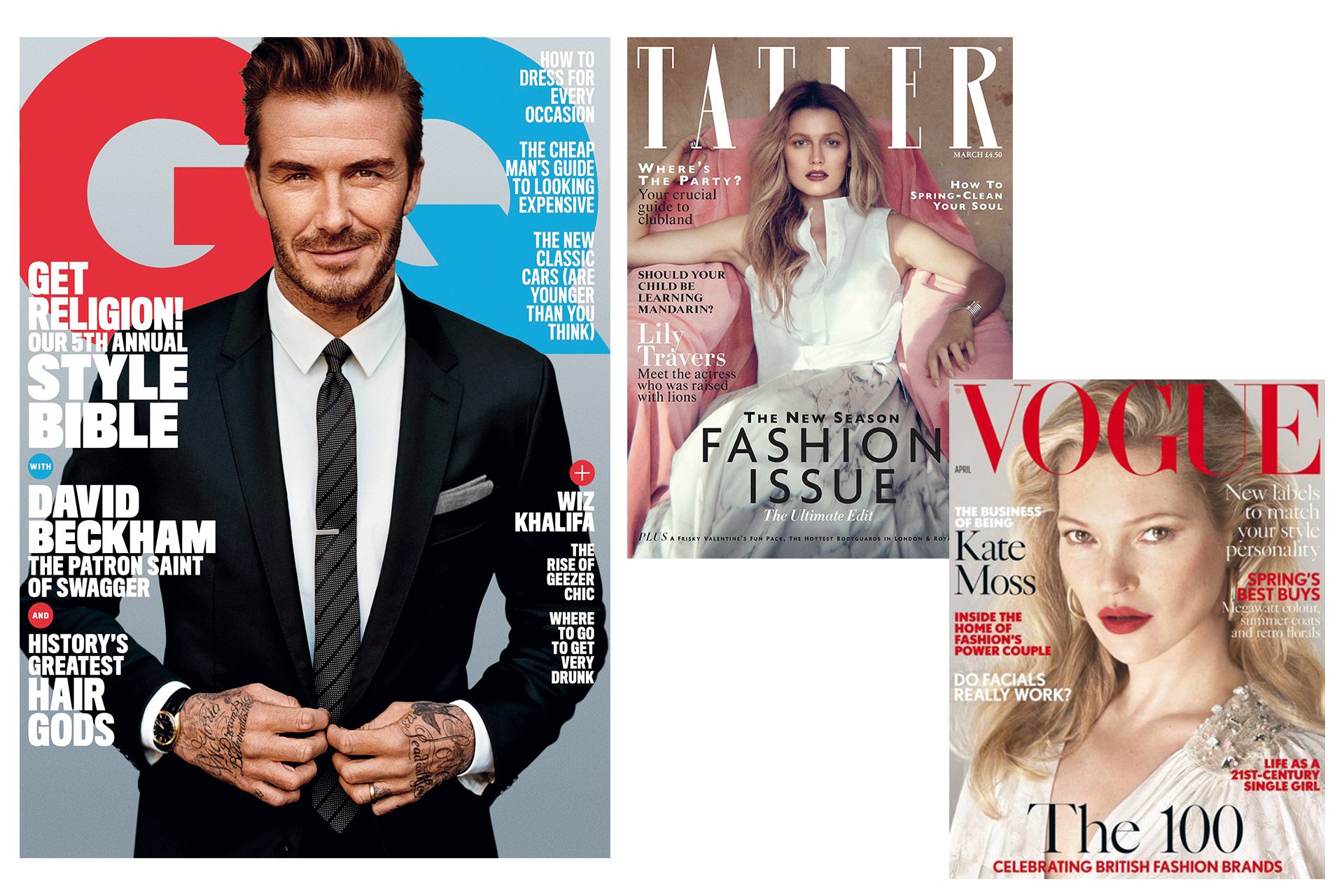 Out of Office
He can talk on almost any subject coherently and at length, and would make a brilliant contestant on Just A Minute. He always has a spring in his step, and is ever-ready with a pertinent anecdote or juicy bit of gossip. At one point in the recent BBC2 documentary about Tatler, he actually does a little skip upon leaving a meeting. He has a policy of always replying to emails within 10 minutes, a feat most lesser people would find impossible.
Besides the day job, he has written 14 books, and in 2015 he became chairman of the V&A museum, a job you might think the managing director of Conde Nast wouldn't have time for. He is also chairman for the Campaign for Wool, an initiative by the Prince of Wales to safeguard sheep farming. No wonder he gives a spirited defence of George Osborne for taking on the editorship of the Evening Standard. 'I think the more jobs the merrier! I've always done too many things.'
The Next Step for Condé Nast
Happily, Condé Nast's owning family don't mind. 'Jonathan Newhouse was incredibly generous about the V&A appointment. It hasn't really interfered with here at all I don't think.' At what point do you ask for permission when applying for an external appointment like that, I wonder? 'Towards the end, actually!' he laughs. It is all part of a lifelong policy of saying yes to any opportunity that comes his way.
One of his best decisions, he says, was the purchase of Wolverton Hall, a large country house in Worcestershire, 13 years ago. He and his wife Georgia and their four children decamp there most weekends, where Nicholas loves to potter in the garden and write his novels. They used to have a house in Oxfordshire but prefer the rural simplicity further west. When he's writing a novel, he sticks to a strict regime of getting up early each morning to rattle off 1200 words before lunch, all written by hand in the garden. 'If you do that on both days, and you do it pretty much every weekend, you have written well over 100,000 words in a year without it ruining your life.'
What Coleridge will do next…
He reveals that his next writing project will be a memoir. 'I'm going to call it The Glossy Years, though it won't just be about magazines.' He keeps 'half a diary', so he knows where he was on any given day over the last 35 years, but he's 'not as punctilious as Andrew Roberts the historian'. He is blessed with having a very good memory, 'for the trivial and for dialogue', and he is going to cut out all the boring bits. 'That was one thing I learned from Tina Brown,' he says. 'She had no patience at all for the boring. There's a tendency in journalism to do a very amusing start then it goes off a bit, before perking up at the end. She would just ruthlessly cross out the serious stuff – I might follow the same technique.'
You might imagine someone in Coleridge's position would be wistful at retiring after 26 years, but no. 'Conde Nast has always been the one you want to end up at,' he says. 'It's the last stop on the tube.' And despite stepping down as managing director, he will continue as company chairman. 'The plan is I'm going to come in two days a week and do remarkably little!' But being Nick Coleridge, even this he will pursue with gusto.
Quick Q&A
Country or Town? Country
Pub Lunch or Michelin Stars? Pub lunch
Cosy Knits or Sharp suits? Sharp suits
Gardening or Theatre? Gardening
Glass of wine or Green tea? Glass of wine
Power breakfast or Languorous lunch? Power breakfast 
Dog or Cat? Dog
Seaside or Rolling Hills? Rolling Hills 
READ: Gerald Scarfe Interview
---