Revolution- New Art for a New World is a bold and exciting feature documentary that encapsulates a momentous period in the history of Russia and the Russian Avant-Garde. Drawing on the collections of major Russian institutions, contributions from contemporary artists, curators, and performers and personal testimony from the descendants of those involved, the film brings the artists of the Russian Avant-Garde to life.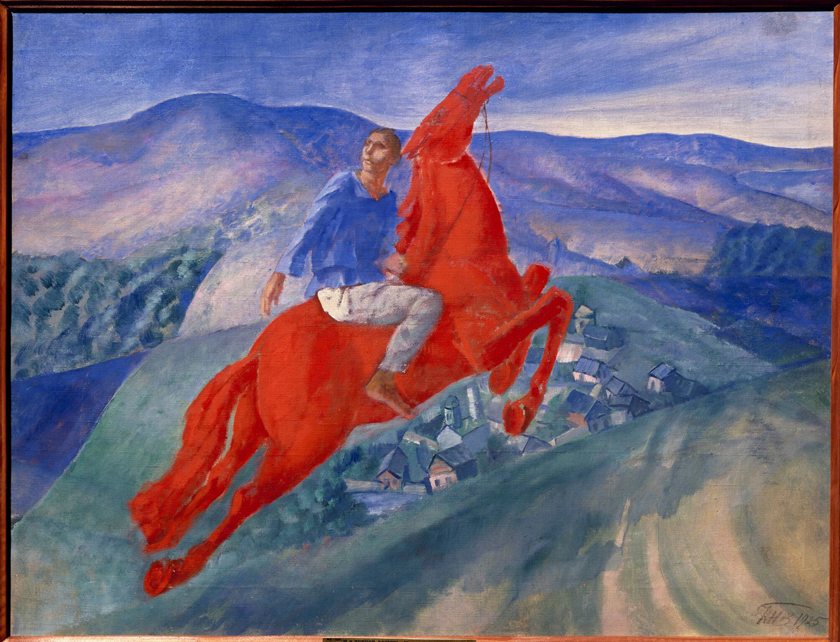 What inspired you to make this film?
The genesis for Revolution- New Art for a New World, came after a decade of filming in Russia.  I have made 4 films in Russia. Why Russia? I have visited Russia since 1981 and, as a filmmaker, I just keep finding more rich stories in Russian history and art that draw me in. There is a deep well of art, paintings, novels, plays, ballet, opera, music, architecture and interesting people through which to tell Russia's stories.
What were the other three films you mention?
The first was the story of the 'Nutcracker' – I directed a film revealing the darker story of this well-known Russian ballet and exploring how it eventually became one of West's most popular ballets. The Maestro, Valery Gergiev, the great conductor and director of the Mariinsky Theatre in St Petersburg then invited me to make his anniversary film, 'Mariinsky Theatre.' This led to another invitation, this time from Mikhail Piotrovsky, the director of State Hermitage Museum in St Petersburg, to make a film for the cinema about that Museum's rich history, which I called 'Hermitage Revealed.'
And these projects led you to REVOLUTION?
Yes, I became increasingly interested in what happened to Russia culturally during the Revolution. I started searching for relics and initially found virtually no artefacts. However, 1917 was a pioneering period for film itself and I found rich pickings in the Moscow film archive Krasnogorsk, revealing rare unseen footage of Russian artists at work. My starting point for making Revolution was the epic film 'October' by Eisenstein, a story that I discovered to be a lie – a propaganda exercise that immortalised political events through the lens of a great artist. Because Lenin decided to use art to spread communist ideology, many artists played a key role at the centre of the Russian Revolution.  I felt there was a story to be told about the artists themselves and how their experiences were intertwined with political events and the creation of propaganda.
Business and Cultural undertakings in Russia are notoriously difficult.  How did you manage to capture this story and bring it to life?
With the anniversary of the 1917 Russian Revolution approaching, I wrote a script and started seeking finance for a major feature documentary that would tell the story of the Russian Revolution through the eyes of the artists of the Russian Avant Garde.  I wanted to explore how they became the vanguard of the Revolution before political events unfolded in the ensuing decades that caused their downfall.
I worked with my regular fixers in both in St Petersburg and Moscow looking for the descendants of the Revolutionary artists. 
 Considering its glittering reputation in the West I was surprised to find that much of the art of the Avant Garde period is still sitting in stores and archives, or has been absorbed into the West. I discovered that famous Revolutionary modernist developments like 'Biomechanics' are rarely shown in Russia and key buildings of the constructivist style are decaying and falling down. The Revolutionary and especially post – Revolutionary era is a chapter of Russian history which has been effectively filed away – a time which nobody wants repeated. A senior museum official alluded to the fact that, in Russia, this style of art is still associated with one of the country's most painful periods.
Was it was it difficult to find the descendants of the artists. Did they open up to you or were they nervous of talking?
I wanted my film to come from Russia itself. My search for descendants, some of whom were initially shy, some quite elderly, some without access to Internet and email, involved dozens of phone calls.  I was taken to their homes, dachas in the deepest countryside and to artists' studios. Once I earned their trust I was warmly welcomed. I was amazed to discover how many are still practicing artists and teachers, keen to celebrate their grandparents' and parents' legacy, and to tell their stories of survival and of heartbreaking loss. It was exciting to film in the art schools in Moscow and St Petersburg and many of the young art students were eager to participate in the filming.
Although there is considerable interest in the Avant Garde and the Russian Revolution in the West you have said it was very difficult to raise the financing for this film.  How do explain that?
Yes, my own company had to finance the reconnaissance-filming trip, which then led to us obtaining a distribution undertaking from Arts Alliance Distribution. I was turned down by every broadcaster I approached and every funding entity I could think of that has connections to Russia.  With the current political situation and sanctions no one wanted to get involved.  Eventually, it was The Arts, Science and Sport Charity Foundation, which is the philanthropic vehicle of the businessman Alisher Usmanov, who supported the film.  Of course now it's made all the broadcasters want it!
After art school (Byam-Shaw drawing school and Bath Academy of Art) you initially worked in advertising.  How influential was that on your later career?
Although I had trained as an artist I was always more interested in film.  I cut my teeth in advertising working for Wasey's.  I made commercials, learnt about sticking to budgets, the craft of filmmaking and the general business of films.  It was a great start and interestingly, I can now see that the Russian Avant Garde, through its exploration of propaganda, had a considerable impact on the initial development of the advertising industry in the West.
You have an accomplished list of actors doing the voice overs including Matthew Macfayden (Frost/Nixon, Ripper Street), Tom Hollander (The Pirates of the Caribbean, Pride and Prejudice, The Night Manager), James Fleet (Four Weddings and a Funeral, Love and Friendship), Eleanor Tomlinson (Jack and Giant Slayer, Poldark) and Daisy Bevan (Elizabeth, The Picture of Dorian Grey). 
They were all keen to help and do a magnificent job of bringing the words of Lenin, Malevich, Kandinsky, Rodchenko, Tatlin and others to life.
You are now one of the most successful British Filmmakers having worked with Hollywood's leading stars and won BAFTA'S, ACE awards and been nominated for an EMMY.  Young people constantly ask all successful people how to become successful themselves.  What do you tell them?
Yes, I often get asked for advice. I tell them to read, be curious, draw, look at everything around them, develop a head for figures, always have awareness for your potential audience (who they are and what they want to see), and learn how to raise money.  You also need determination to overcome rejection and setbacks of which you will encounter plenty.
REVOLUTION: NEW ART FOR A NEW WORLD is in cinemas nationwide for One Night only 10 November revolution.film
Ivan Lindsay is a leading art dealer and writer with a particular interest in Russian art and culture.  His latest book "Masterpieces of Soviet Painting and Sculpture" was released by the Unicorn Press on the 10th October and is available at Waterstones and on Amazon. 
---