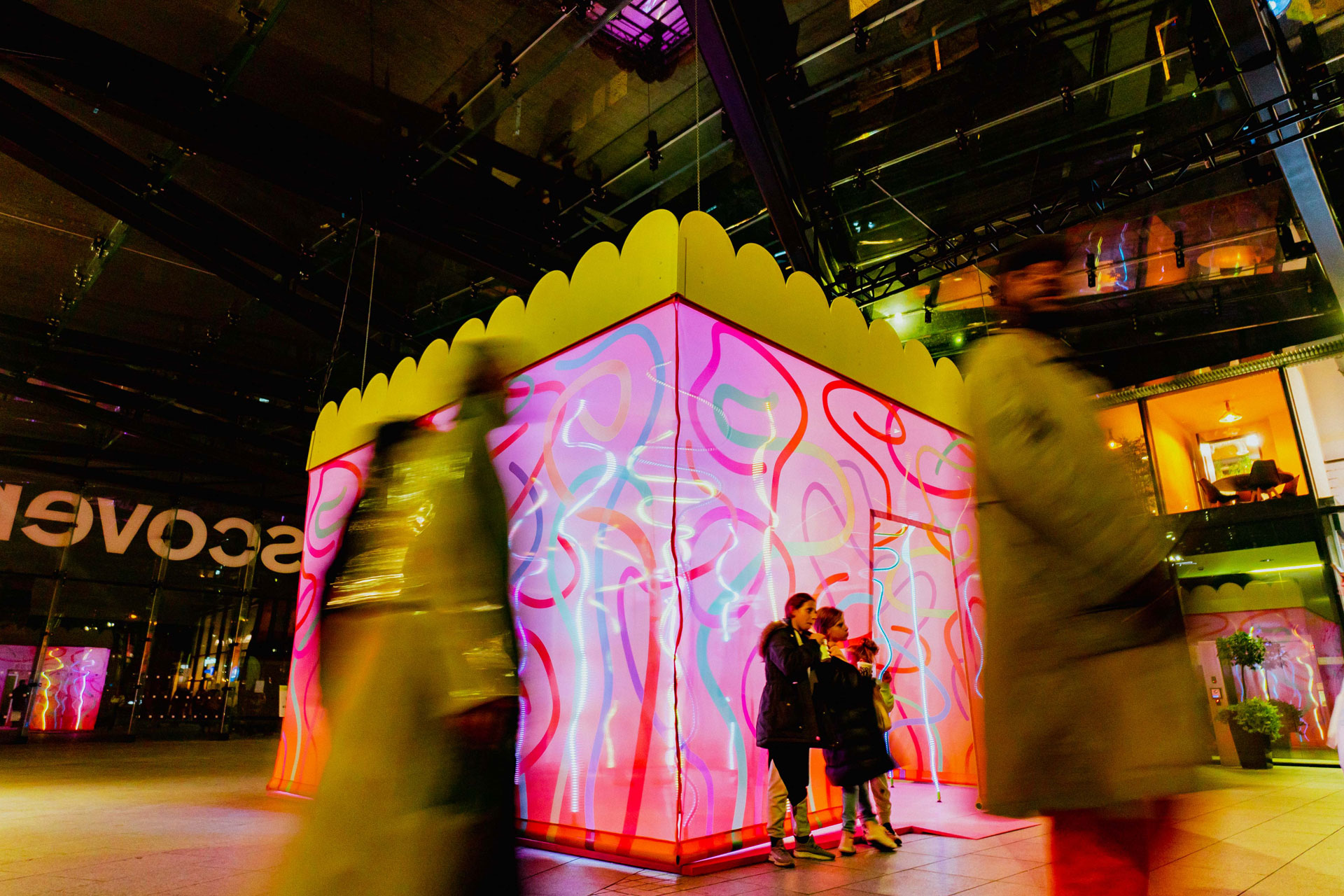 Inside Yinka Ilori's River of Light
---
The designer's joyful work is lighting up Liverpool
Liverpool's waterfront is currently set alight with phenomenal colour, thanks to new commissions by multidisciplinary artists Camille Walala and Yinka Ilori. Check out the River of Light.
The exhibition is a response to the city's recent decision to host the World Gymnastics Championships 2022 – marking yet another major event win for the northern metropolis. The event is free to attend for all in the neighbourhood. 
We sit down to talk with Yinka about art, sound, the city – and his house plants. 
Interview with Yinka Ilori on his River of Light, Liverpool
Tell us about the dancing ribbons & the River of Light up in Liverpool – what's something you want people to know before they see it?
I'm very excited to be participating in this year's River of Light in Liverpool which is a really fantastic initiative and helps make art and design accessible to a wide audience . 
The theme for this year is "Unexpected Twist" and my installation responds to this by drawing inspiration from rhythmic gymnastics. Through my artwork, I wanted to capture the energy and the poetry of a performance as well as reflect on the relationship between the gymnast's body and the ribbons they use during a routine.
The installation will be suspended from the ceiling and incorporates LED ribbons. The light allows me to mimic the movement of gymnasts and create organic shapes and forms similar to in a rhythmic gymnastics performance. It's the first time I'm working with light as a medium and I am also incorporating sound into the piece which has been hugely exciting as well as challenging. 
The soundscape has been put together by Peter Adjaye – tell us more about how the art and music link?
When you watch a gymnastics routine, there is always sound and music which adds to the theatricality of a performance. I wanted to collaborate with Peter on this installation to bring in a soundscape that would enhance the piece as well as add to the visitors experience. 
The soundscape he has created features natural sounds such as water droplets along with percussions. When visitors first encounter the piece, the rhythm and motion is quite slow and soothing but it slowly picks up pace. The sound really helps accentuate this experience and makes you feel like you're at a performance. 
I believe that we should have more collaboration between design, architecture and sound. Each of us experiences design and architecture in such a unique way and sound can really elevate that experience by helping add an additional element of storytelling. Sounds can enhance a space and create an emotional response or highlight things you wouldn't necessarily have noticed. I'm really interested in exploring how we can capture and present sounds in an environment that can add an extra dimension to what you're seeing and experiencing. 
Have you been to Liverpool before?
I have been to Liverpool before, but I'm still pretty new to the city. Through this project, I've had an opportunity to get to know the city a bit better. There is a lot of creative energy in Liverpool, with fantastic emerging talent as well as world class museums and cultural events including the Tate, Liverpool Biennial and FACT. 
You're very booked and busy – you've got an exhibition at the Design Museum right now and a Bulgari installation – how are you feeling about that?
It's been a huge honour to have my work exhibited at the Design Museum. The exhibition explores my inspirations and creative journey as I transitioned from furniture design to community driven public installations. I have been visiting the Design Museum ever since I was a student, drawing inspiration from groundbreaking shows of the most influential figures in design so to be exhibited in the same space has been a real privilege. 
It's been an incredible experience working with both Maison Courvoisier and the Bulgari Hotel. I love telling stories through my work and each collaboration was a unique opportunity to create something really special for such world leading lifestyle brands. 
And with you so busy, do you get much time to relax? How do you use your downtime right now?
It's definitely been a busy period but a really exciting one. I always try to prioritise some time for myself. Every morning, I like to take time for myself. I'll either go for a cycle or a run and make sure I take the time to enjoy my morning and have a proper breakfast. I also always start off my day in the studio by watering my plants, that really helps me get ready for the day. When I can, I try to travel which keeps me inspired. 
Anything up next?
We have a number of exciting projects coming up. I'm very excited to share that later this year I'll launch my first pop up store in London. We'll be launching some new products and it's going to be a fun and immersive space that provides a great experience for people when they're doing their Christmas shopping. I'm also working on a new sculpture for the park in Kings Hill titled 'Slices of Peace' which has been inspired by the culture and heritage of Kent, particularly the local history of apple growing.
Featured image: the River of Light installation. On until 6 November 2022 at the Liverpool waterfront. visitliverpool.com/riveroflight