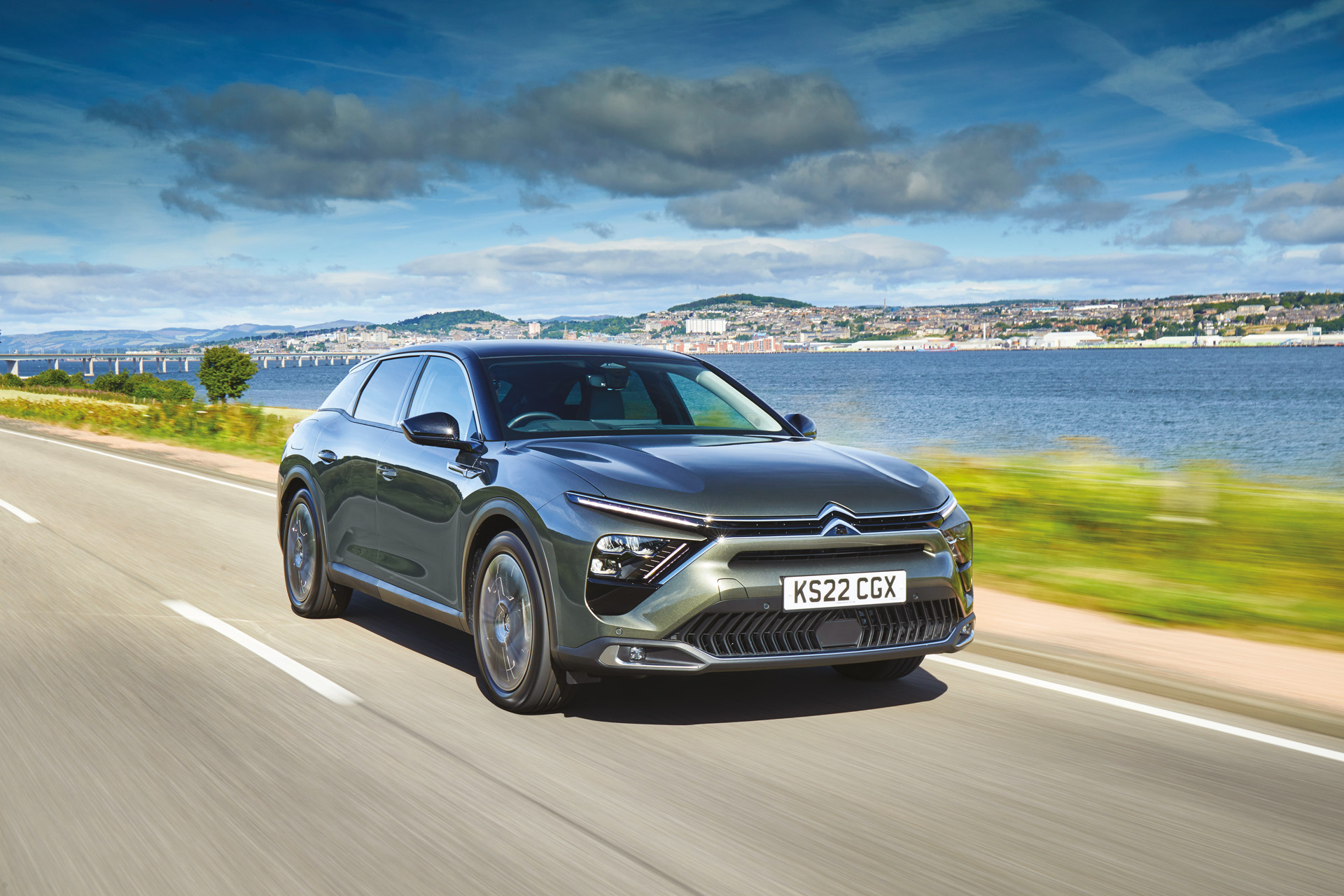 Road Test: Citroën C5 X
Jeremy Taylor puts the Citroën C5 X to the test
The French have a history of wacky cars – and Citroën's C5 X has a character all of its own…
Road Test: Citroën C5 X
At A Glance:
PRICE:

£40,410

ENGINE:

1.6 litre

POWER:

221hp

0-62mph:

7.6 seconds

ECONOMY:

236.2mpg (official)

STREAMING:

Je Ne Regrette Rien – Edith Piaf
COUNTRY
Those large, squidgy seats may be comfortable about town but they won't offer much lateral support on a twisty, country B-road. The Citroën doesn't exactly wallow but this isn't a car for spirited driving, with hardly any feedback from the steering wheel. 
Equally disappointing is the modest petrol engine, a motor that screams in pain when pulling out of a junction quickly, or trying to overtake. It's disconcerting and combined with the hybrid's jerky action when coming to a stop, the ride isn't as relaxing as it could be.
So, it's best to treat the Citroën gently and settle in for a comfy ride in a serene and spacious cabin. The C5 X is no magic carpet ride like Citroën's of old but our Shine Plus model was top of the range, with high equipment levels, including a fabulous sound system.
It's certainly not a match for a BMW or Volkswagen but there's still something rather endearing about the Citroën – a car that feels that little bit different to other family motors and, as such, will likely engage with a certain type of driver.
More 'conventional' rivals include the Skoda Octavia Scout and Volvo V60 Cross Country. However, it's difficult to pigeonhole the Citroën, so you may have to decide what the laidback C5 X will be used for before seeking out alternatives.
Just beware of secondhand values of large, unconventional Citroëns in the UK because historically, they aren't very good. While loyal French drivers would buy a broomstick if it had a Citroën badge on the side, the British tend to avoid them with a bargepole.
RATING: 3/5 Wellies
TOWN
Remember the pram-shaped Citroën 2CV and even odder DS? The French manufacturer has built some off-the-wall cars over the decades – and the latest C5 X shows there is still room for idiosyncratic vehicles in the 21st century. 
Who knows whether the C5 X is an estate car, a stretched SUV, or just an unconventional coupe that just happens to have four doors, instead of two. Perhaps the Citroën is best described as a large family-mover with attitude.
The C5 X is certainly not a sports car, more of a five-seater designed for comfort rather than speed. It's no slouch but the armchair-like seats suggest passenger wellbeing is the main priority, instead of performance.
Owners will certainly get noticed around town because of the eccentric styling. Conventional SUV design has been thrown out of the window in favour of a profile that's considerably easier on the eye.
Sitting on those big, comfy seats, the Citroën glides around town, over potholes and speedbumps with the minimum of fuss. The central touchscreen is big, allowing the display to be split into tiles that allow more than one function on screen at the same time.
The estate-like boot swallows up shopping, while the cabin in general feels much bigger than it looks from the outside – apart from rear headroom, which can be tight. A high-rise central armrest hides a giant bin for carrying bits and bobs, while the user-friendly dash has real buttons and dials to operate the ventilation – much simpler than a touch screen.
RATING: 3/5 Handbags