For the second interview in our new series, Matthew Bell meets the man of many talents Sebastian Coe…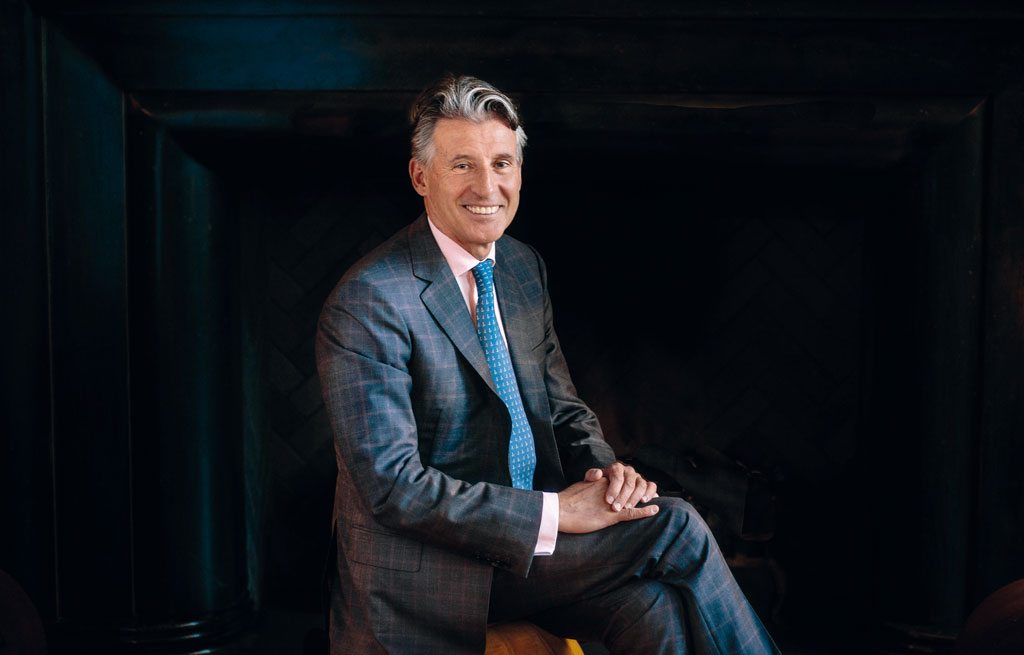 In Ancient Greece, the ideal man was expected to be fit in mind and body. Exercise and sport were not considered inferior to intellectualism, they were equal. The philosopher Aristotle even penned a training manual for athletes. Today, we tend to think of ourselves as either sporty or brainy, but rarely both, and you begin to see why the Greeks were once the most civilised people on earth. After all, they gave us the Olympic Games.
A Man of Many Talents
Sebastian Coe – or the Right Honourable Lord Coe CH KBE – would have fitted right into ancient Athens. He is one of those rare public figures who has achieved highly in two spheres – sport and politics. Perhaps the pinnacle of both was his delivery of the 2012 London Olympics, which saw 'the Queen' leap out of a helicopter and Britain come third in the medals table, our best result since 1908.
Five years on, he is still at the top of his game, having just become Chancellor of Loughborough University, in addition to his day jobs as president of the International Association of Athletics Federations and chairman of CSM, a subsidiary of Chime Communications. Being busy pays off – he looks much younger than 61.
Back to His Roots
But why Loughborough? It's where he went to university, but more significantly, where he evolved from a little-known athlete to a world record-holder. 'I look back at my time there and so much of what I went on to do came from there,' he says. In the space of just 42 days in 1979, he broke the world record for the 800m, the 1500m and the mile. Five weeks after graduating, in 1980, he broke the world record for the 1,000 metres, sealing his position as one of the great middle-distance runners of all time.
Lord Coe grew up in Sheffield, where his father, an engineer and ex-racing cyclist, became his coach. Peter Coe became so obsessed with his son's training that he translated training manuals from Russian and later wrote the definitive guide to middle-distance running. 'The practicality of technique was a bit of a voodoo science back then,' he recalls. 'I spent time doing gait analysis, weight transfer, that sort of thing, long before it became the norm.'
Survival of the Fittest
So what does it take to become a record-breaking athlete? 'The great ability to choose your parents.' He is joking, but not entirely: 'I suppose it's better to win the genetic lottery in life. Certain shapes and sizes are not going to be middle-distance runners. But there are things you can augment and supplement.'
Peaks have included winning gold medals at the 1980 and 1984 Olympics, before he went into politics in 1990, as a Tory MP for Falmouth and Camborne. Like William Hague, for whom he was private secretary during his disastrous leadership of the party, Coe had wanted to go into politics since he was a teenager. But you get the sense he has preferred life since he left. Would he ever go back? 'No!' he cries. He finds the lack of his party's leadership 'dismal', and the calling of the last election disastrous: 
'You don't get excellence on the cheap.'
That aside, he feels he can achieve much more outside of politics, which is demonstrably true: Coe won the bid for London to host the 2012 Olympics, despite much scepticism from the public and politicians. He is passionate about the need to build upon the Olympic buzz through continued funding in schools. 'You don't get excellence on the cheap.' Coe believes the litmus test for any nation is how much it is prepared to invest and that it shouldn't be ashamed of it. 'Excellence is a really important thing in national life – to be able to say: "We do this better than anywhere else in the world".'
His 'survival of the fittest' philosophy wasn't always well received in politics. He recalls once addressing a town hall meeting in Kent and being asked why they had the Channel Tunnel but not a synthetic track. 'I said, "Maybe the people who wanted the tunnel wanted it more than the people who want the track." It didn't go down well!' But he still believes that if you want something, you have to fight for it.
Greek Hero?
He hates making sporting metaphors, but there is clearly an analogy between the two professions. 'I do think there are some transferable skills: focus, having long-term ambitions. What are the bite-size chinks that are going to get you there? As an athlete you work in four-year cycles. Politics is the same. I remember coming out of Moscow, having lost the 800m record, which was a fairly bruising experience. I started the lap of honour thinking I don't want to do this again. Then by half way round I was already thinking about Los Angeles four years later.'
'It was my Olympic legacy'
When he's not flying round the world, Coe lives in Hampshire, with his wife Carole [this magazine's Interiors Editor]. To relax, he likes to watch Chelsea play at Stamford Bridge, ideally preceded by a dish of penne alla arrabbiata  at L'Antico on the King's Road, followed by jazz at the 606 Club. He still works out, going every morning to the gym in his garden that he designed. 'It was my Olympic legacy,' he explains bashfully. He's in there at 5:30am, doing weights, or an hour on the exercise bike. 'It makes you feel so much better during the day,' he confides, as if I would know. Just the thought of it makes me feel exhausted, but then I'm not Seb Coe – runner, politician, Olympian, winner – nothing short of an all-round Greek hero.
Quick-Fire Round:
Town or Country? Country
Pub lunch or Michelin stars? Pub lunch
Cosy knits or sharp suits? Sharp suits
Gardening or theatre? Theatre
Glass of wine or cup of green tea? Glass of wine
Power breakfast or languorous lunch? Languorous lunch
Dog or cat? Dog
Seaside or rolling hills? Rolling hills
READ MORE: Conversations at Scarfes Bar: Ashley Jensen
---