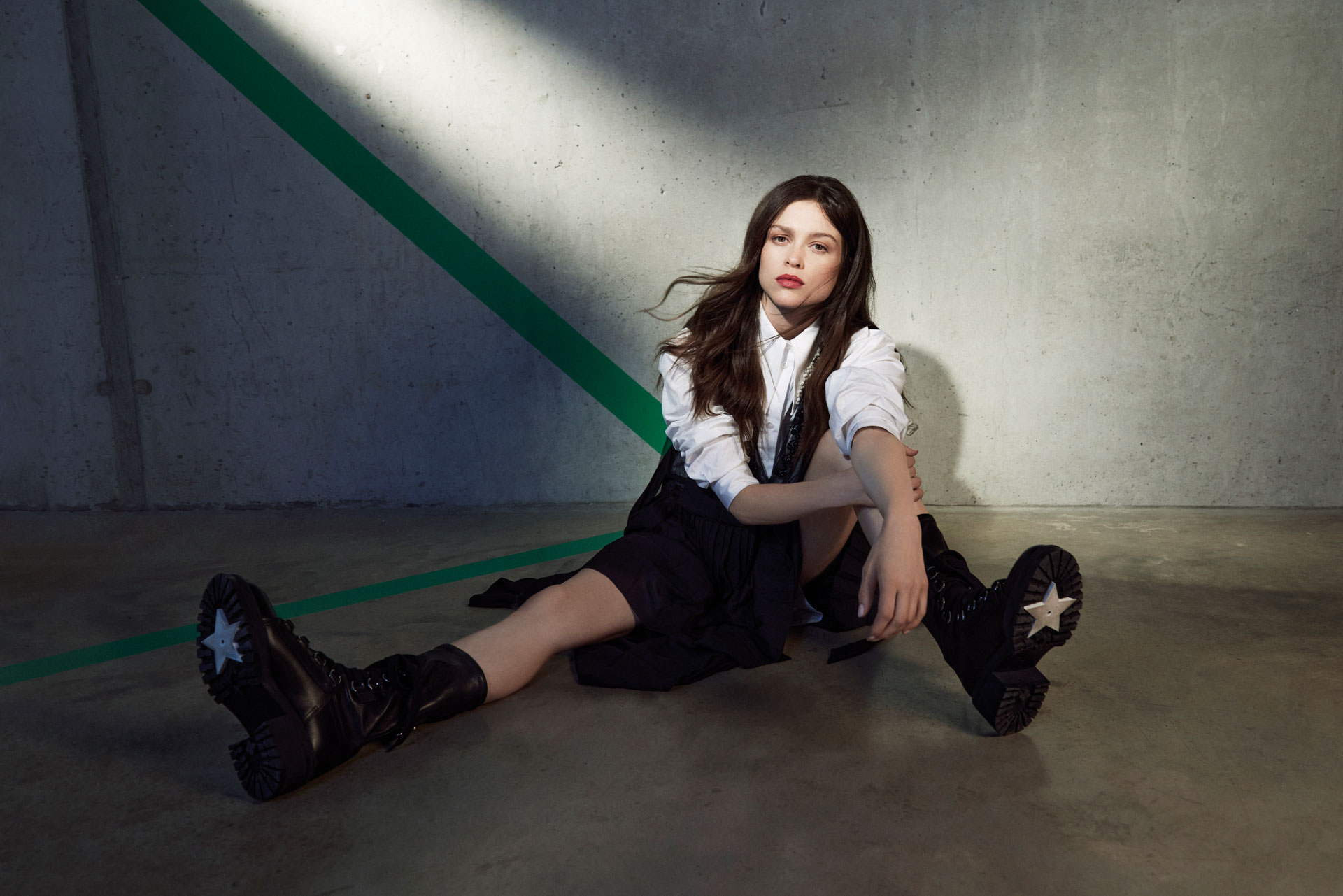 In Sweet Harmony: How Sophie Cookson Gets It Done
Getting to know the rising British star
Sophie Cookson may be juggling many roles, but she keeps each ball aloft with alacrity.
Sitting Pretty: Sophie Cookson
'I have this magic touch where I create gremlins in technology,' says Sophie Cookson, plugging in for our Zoom call. Having just put her one-year-old daughter down for a nap, she's looking fresh-faced in a knitted navy-blue crochet top and high-rise flares. 'If you hear a scream that's because my baby has decided to wake up at a really annoying time.' But her daughter is as good as gold – and we start talking about her new film, Infinite, with Mark Wahlberg and Chiwetel Ejiofor.
A Matrix-style sci-fi thriller, Infinite follows a secret society of people who are continually reincarnated. However, the villain Bathurst (Ejiofor) is tired of the cycle and has created a weapon to destroy the world. Thirty-one-year-old Sophie plays Nora, an 'infinite' who is fighting to save mankind. 'Nora is a complicated three-dimensional woman which we don't often see in this genre,' she says. 'As soon as I read the script, I thought, "Oh my gosh, how am I going to do this?"'
The action scenes were 'brutal', says Sophie, whose training involved weights, martial arts, boxing and weapons training. Mark Wahlberg was a big help, though. 'He's a pro so it's always a good feeling when you're doing incredibly difficult stunt sequences with someone who's secure in their knowledge of what that entails. You just feel safe, which means you can go the extra mile.'
Sussex-born Sophie is no stranger to action films. After studying History of Art, Spanish and 'a bit of Arabic' at Edinburgh University, she moved to The Oxford School of Drama, but dropped out in 2014 after being offered a part as a gun-toting secret agent in Kingsman: The Secret Service with Colin Firth and Taron Egerton. The action was less full-on than Infinite but nevertheless an 'adventure' and a great learning curve. 'You don't grow unless you are doing something which you are not ready for. It's really good to throw yourself in because you are constantly learning from people who are more experienced.'
After Kingsman came The Huntsman in 2016, then Gypsy on Netflix, a psychological thriller partly directed by Sam Taylor-Johnson and starring Naomi Watts. It hit the headlines for the intimate scenes between Watts and Cookson's characters, though Sophie was unperturbed. 'I am interested in portraying all aspects of human life. Sexuality is a key component of what it is to be human,' she explains. Sophie then made her West End debut in 2018 in Killer Joe opposite Orlando Bloom, appearing the following year in Michael Winterbottom's film Greed, a satire based loosely on the life of Topshop's Sir Philip Green.
It was The Trial of Christine Keeler on the BBC in 2019 that took Cookson's career to another level, with her exquisite performance in the title role. 'I wanted to get behind the headlines and scandals surrounding Christine and find out who the real person was. What's exciting about being an actor is that you can readdress history. I felt a responsibility to vindicate Christine and challenge preconceptions people had about her'. Written by Amanda Coe, the series was produced by an all-female crew – an experience Sophie describes as 'really invigorating'.
With such strong, complex roles on her CV, it's not surprising to hear Sophie looks for a 'challenge' in her parts – plus depth of character. 'Being human is complicated. I like to see that reflected on-screen. Life isn't straightforward. Humans are far from that and we are all wrestling with our responsibilities, our identities.' However, such challenges have consequences. 'Acting is such an exposing profession. It's hard putting yourself out there. You can't be an actor unless you are willing to show vulnerability, which comes at a cost.'
Now celebrating her first child with her partner, actor Stephen Campbell Moore (known for The History Boys and formerly married to Claire Foy), Sophie's enjoying a new chapter.
She spent lockdown 3.0 getting back into shape, despite being an excellent baker (try her coffee mascarpone cake). 'I was like, "Right, put the biscuits down, start training!" For me, there's something about giving birth that makes you want to reclaim yourself [afterwards] because your body has been someone else's vessel and home for so long and you do sacrifice that. I felt it was necessary for me to say, "Okay, I am going to take this back."'
When we speak, Sophie is about to start filming ITV's new series, The Confessions of Frannie Langton. Set in the 1800s, it tells the story of Jamaican slave girl, Frannie, who's brought to London and given to a Frenchwoman and her husband. Fannie and 'Madame' end up falling in love, with tragic consequences. Sophie plays the Frenchwoman. 'It's a great depiction of the complexities of life in the 1800s,' she says, 'and the moral battlefield of what it is to have a plantation, to be an abolitionist, [or] to be of a different race in an incredibly white culture. It's about pushing the boundaries of conformity.'
Determined to achieve a good life balance, Cookson fills her rare spare moments with playing the piano, improving her Italian and watching culinary travel shows. 'You have to keep on topping up as an actor, living your own life to give your work life. I want to keep living and working in equal exciting harmony.' Since the birth of her child with Stephen, 'there are a lot of balls to juggle: mother, partner, actor, my own self. You really do prioritise that little person above everyone else.' As Cookson's daughter continues to sleep soundly, it looks like she's doing a pretty good job.
Infinite is in cinemas from 11 September
Best Book to Screen Adaptations