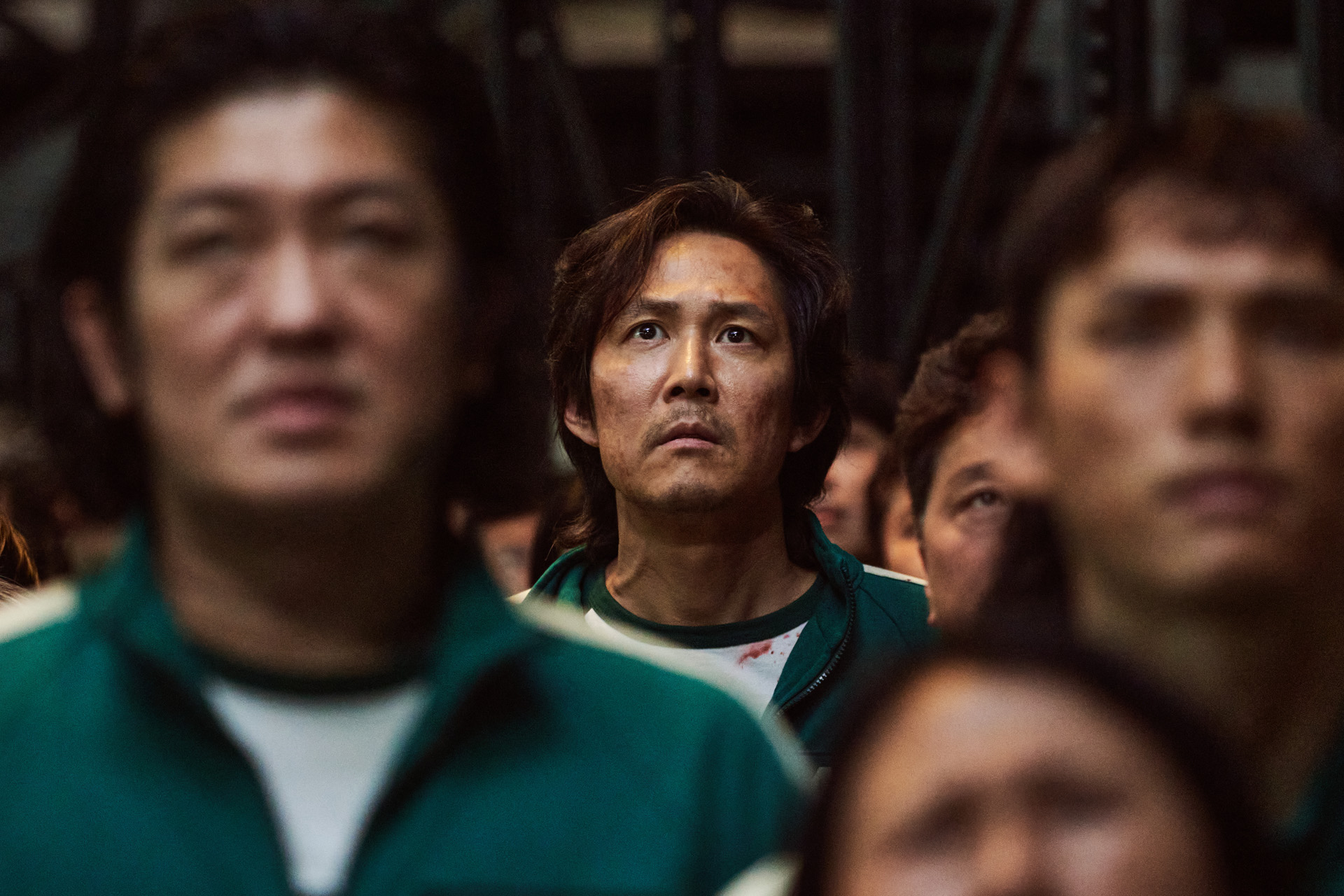 'The Main Plot Will Be Revenge': Everything We Know So Far About Squid Game Season 2
Coming to a screen near you in 2024
Streaming giant Netflix recently confirmed a whole host of season renewals at its 2023 Tudum fan event in Brazil – including Squid Game season 2. Here's everything we know so far.
Everything We Know So Far About Squid Game Season 2
Just under two years after the first season captivated audiences across the globe when it debuted in September 2021, Netflix has confirmed a second season of the much loved South Korean thriller series, Squid Game. The news comes hand-in-hand with the announcement of a new Squid Game-inspired competition series – Squid Game: The Challenge – along with teasers for the likes of Elite, Bridgerton, Emily in Paris and YOU at Netflix's annual Tudum fan event.
The Cast
Netflix has confirmed that Lee Jung-jae, Lee Byung-Hun, Wi Ha-jun and Gong Yoo will all be returning to Squid Game for season 2. Plus, it announced newcomers – or 'new players' – Yim Si-Wan, Kang Ha-Neul, Park Sung-Hoon and Yang Dong-Geun. Watch the teaser and cast announcement below.
Netflix also recently revealed on Instagram that Park Gyu-young, Jo Yu-ri, Kang Ae-sim, Lee David, Lee Jin-uk, Choi Seung-hyun, Roh Jae-won and Won Ji-an will all also appear in the series. Spy some mildly concerned facial expressions at a recent table read below.
View this post on Instagram
What Will Happen In Squid Game Season 2?
To quote Lee Jung-jae, 'the main plot of season 2 will be revenge'. The first season of Squid Game left Seong Gi-hun (Jung-jae's character) in a somewhat sticky situation. The divorced father and indebted gambler remains traumatised by his experiences in the secret contest, which he was the sole survivor of after his childhood friend, Cho Sang-woo, kills himself in the final eponymous Squid Game rather than having Gi-hun kill him. He is so traumatised, in fact, that he hasn't touched his prize winnings. When he is contacted by Oh Il-nam (O Yeong-su) and directed to his hospital bedside, we discover that the old man Gi-hun befriended and betrayed in the game was in fact one of the creators behind the whole thing. The two converse, and Gi-hun dies of his brain tumour, leading Gi-hun, in his grief and continued trauma, to dye his hair a shockingly bright red.
While Gi-hun continues to tie up the loose ends and honour the dying requests of his fellow competitors, we discover that his ex-wife emigrated to the USA while he was held captive in the game – along with his daughter. On his way to the airport to visit his daughter – and potentially repair their strained relationship – Gi-hun spots a game of ddakji, the same game that tied him up in the blood-soaked competition. Intercepting the same contact card he was given (and telling the desperate ddakji player never to call the number written on it), Gi-hun calls the number, but is swiftly told by the speaker on the other end of the call to board his plane and leave South Korea. But Gi-hun is having none of it. In fact, he does the opposite, and the series ends with Gi-hun turning on his heel and leaving the airport.
All of this is to say that the season finale answered a few questions – but it raised quite a few more. And we're hoping season 2 will come with fresh information along with those fresh faces. But what will actually happen? Well, as well as 'revenge', we expect to see more of Hwang Jun-ho (played by Wi Ha-joon) – the police officer who, on the hunt to find his missing brother, sneaks into the game and disguises himself as a guard – to take a more central role. Could he team up with Gi-hun to take down the competition creators? And, with the teaser involving new cast members choosing between a red and green gameshow-style button, we expect a return of the first season's competition dimension. Plus, with that spooky childish voice we came to know so well, could it be that Netflix is hinting at a return of the notorious red light green light game?
Likewise, don't rule out any returns from the dead. In 2022, director-writer Hwang Dong-hyuk told Reuters: 'I want to revive Ji-young [played by Lee Yoo-mi], but her best friend Sae-byeok [played by HoYeon Jung] also died, so I'm thinking what to do. So many characters died, especially beloved ones died. I'm sorry I killed them so easily; I didn't know this [season 2] was coming.'
With even the director having no plans for a second season when the first was released, Squid Game season 2 theories are wide-reaching. We expect to see more broke South Koreans participating in deadly games and to learn more about the bored and moneyed people behind the games (like Oh Il-nam) but, other than that, it's anyone's guess. But we'll keep updating this article as more information is revealed.
When Will Squid Game Season 2 Be Released?
Squid Game season 2 will land on Netflix in 2024. Can't wait until then? In the meantime, you can rewatch the first season, or get excited for November 2023 when Squid Game: The Challenge – which, by the way, was filmed in Bedfordshire – will arrive on Netflix.
Catch up with the first season of Squid Game at netflix.com