King Hedley II is a play that's still relevant and timely, exploring many (still) politically pressing problems and big ideas says Caroline Phillips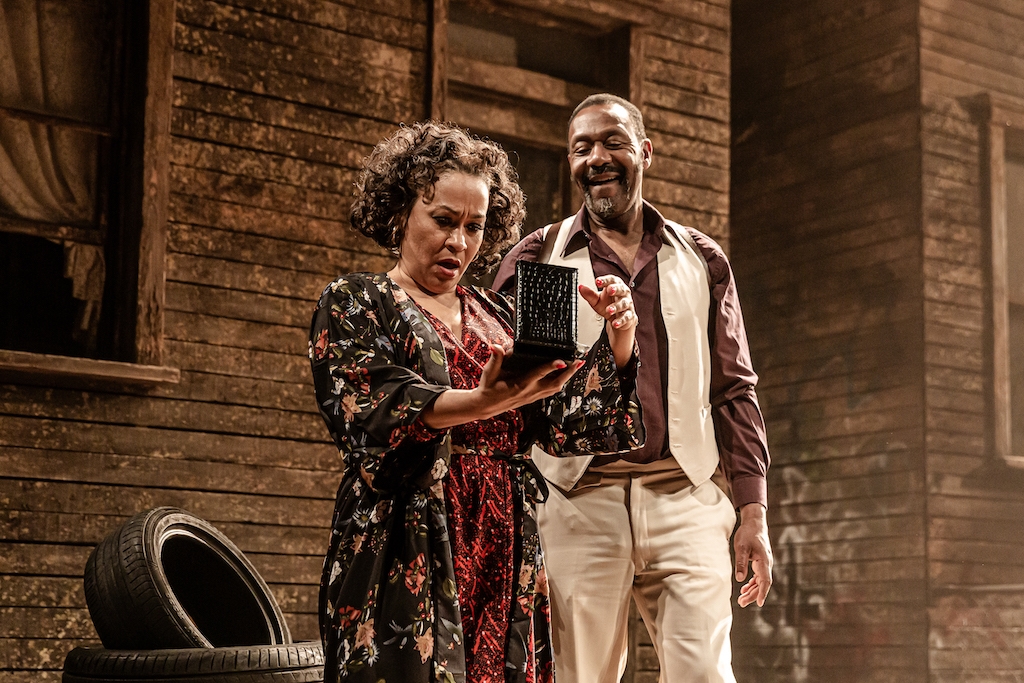 The allure of travelling to Stratford in London's East End for a play that's three and a half hours long isn't instant. But King Hedley II —written by Pulitzer-prize winner, August Wilson and starring Lenny Henry —is more than well worth the journey.
If you think you're in for some stand-up comedy, wrong: it's actually an epic and classical tragedy. Against the backdrop of Reagan's America and a decaying Pittsburgh, King, an ex-con, is trying to rebuild his life in harsh economic times, and start a family after being released from seven years in prison for killing a rival who slashed his face. He plots and plans with his friend, Mister, to get $10,000 to open a video store. And it's all leading to a horrible end.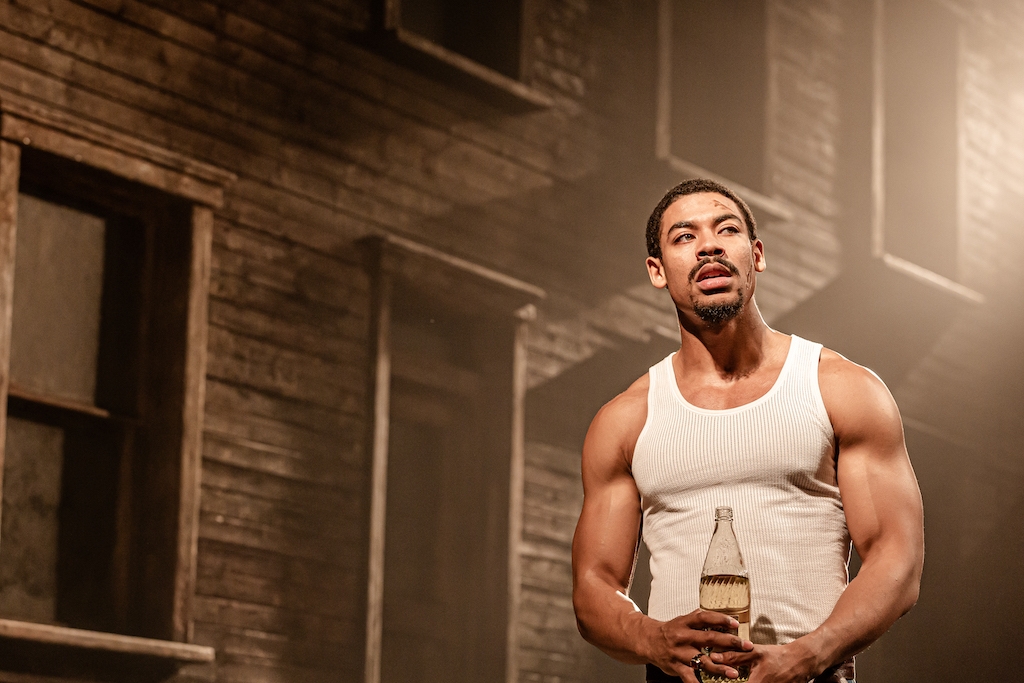 King Hedley II was written in 1999 and set in 1985. It's the penultimate of ten plays —The American Century Cycle compilation —each representing a decade of the 20th century, and exploring the heritage and experience of the descendants of Africans bought to America. (It's the second one that Lenny Henry has performed in, the first being Fences — a play set in the 50s about a gifted athlete who was denied his shot at the big time.)
King Hedley II is a play that's still relevant and timely, exploring many (still) politically pressing problems and big ideas —abortion, racism and prejudice, how to escape grinding poverty, redemption, justice, what constitutes manliness, the absence of fathers, death, plus God and the preciousness of human connection in a violent world— with fine writing (some of it redolent of Tennessee William) and some brilliant one-liners.
Leo Wringer plays a mesmerising Stool Pigeon (King's neighbour and bible basher cum nutsky religious visionary), and is first on stage, opening the evening with a captivating performance. The acting thereafter is solid and gets better and better, with more chemistry between the actors, as the play progresses.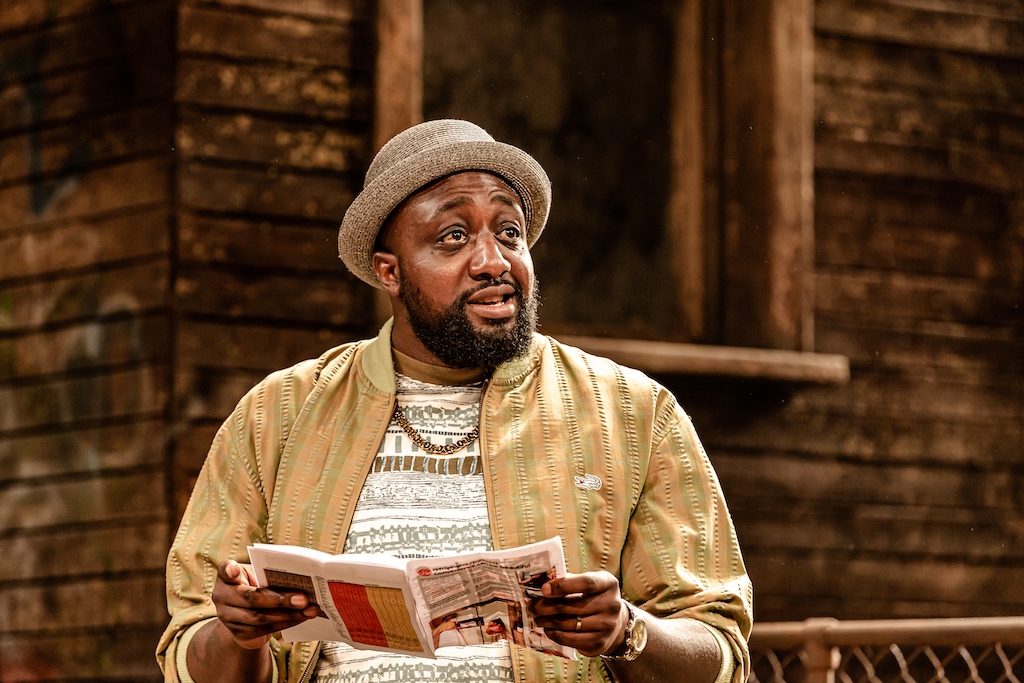 Lenny Henry —as Elmore, a smoothie of a hustler in a white suit who's in love with King's mother, Ruby — delivers his lines with fizzling aplomb, charm and panache. Martina Laird (Ruby), gets my vote for a warm and empathetic performance (I'm with her all the way), and Cherrelle Skeete (Tonya) brings an unhappiness to the stage that is palpable. King Hedley II (Aaron Pierre), is all pumped, rippling muscles and credibly livid frustration. Dexter Flanders (Mister) is perfect as King's friend and partner in crime, with his sometimes goofy remarks and behaviour.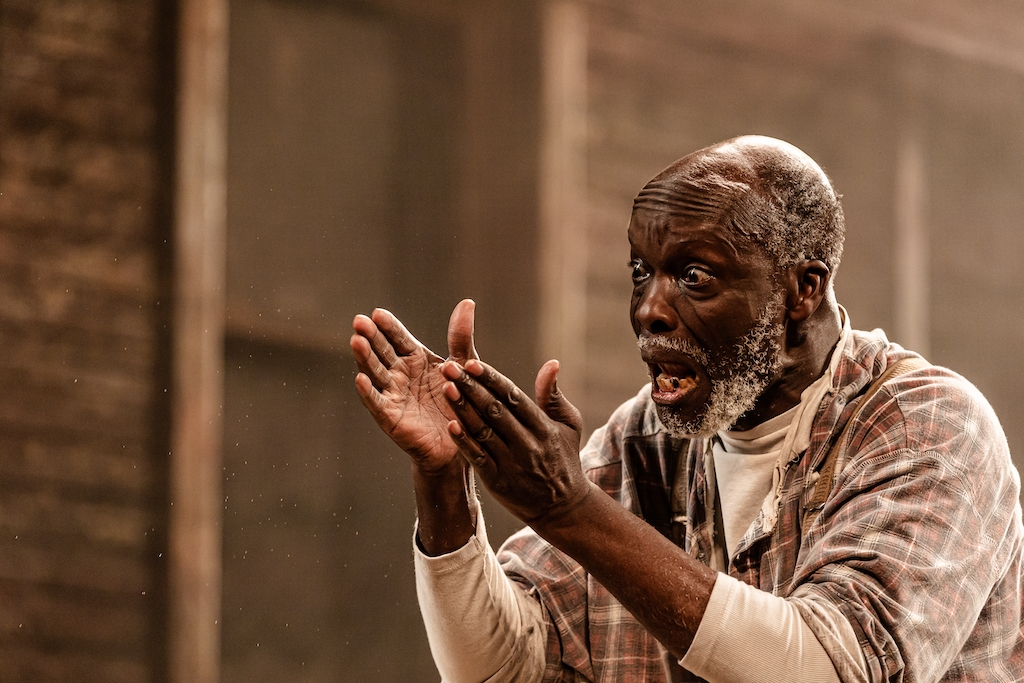 It's an angry, fierce, intense and dark play, leavened with occasional humour. It also has bad language, the N word and violence. It's directed by Nadia Fall, the theatre's artistic director who deftly brings out the play's emotional impact. Holding the audience's attention over that length of time is a feat, not least because there isn't even one change of scenery from Peter McKintosh's aptly claustrophobic set of barren backyards and wooden houses. That Nadia chose this play is bleakly relevant in a London of violence, knife crime and frequently little hope for disenfranchised, often black and urban youth. It's also unusual in London theatre in that it offers a cast of six black performers who aren't Othello or singer/dancers.
On the downside, the play felt a bit too long, and could have done with a blue pencil to the script, to excise some uneven patches. Sometimes the actors' southern dialects slip, and initially I struggled occasionally to decipher everything they were saying.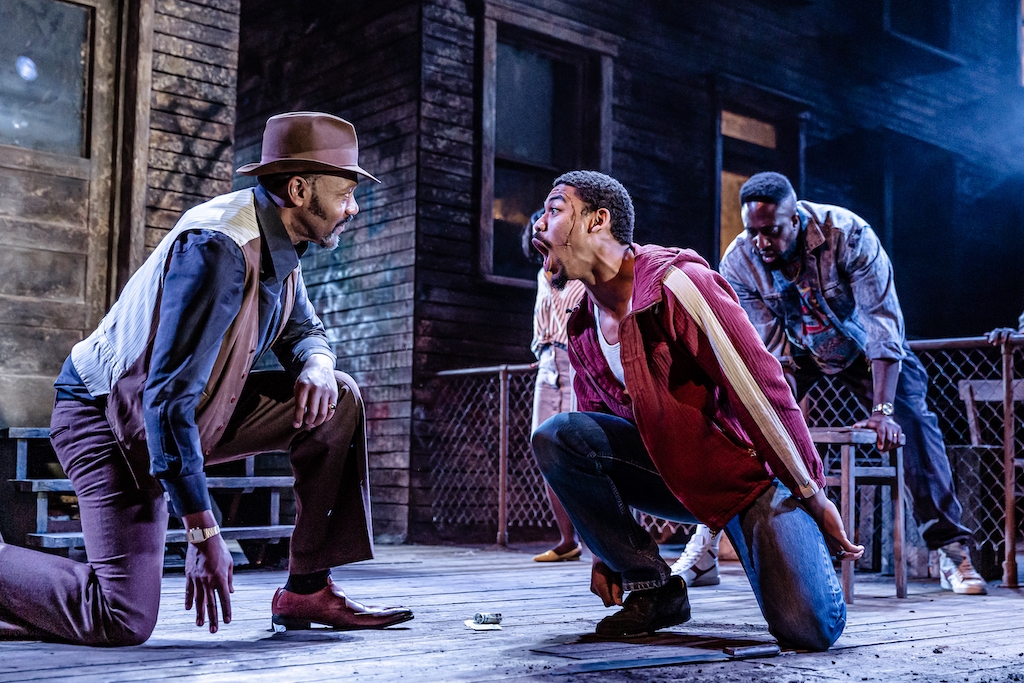 If you haven't been to the Theatre Royal, Stratford East before, the 1884 building —with its chandelier, red-velvet seats and gilding —is a magical place, now set in a cityscape of shopping malls and Submarine sandwich shops. The audience is different too: probably a third black, maybe half under the age of 40, and quite a few people majoring in the art of opening of crinkly sweet wrappers, along with a bit of whispering, and just one very loud and elderly snore. It's part of the experience. Hurry to see it. It's powerful and important. It ends on June 15th. Although, it deserves, fingers crossed, to transfer.
DISCOVER MORE
The Best Plays in London / What's On at the Royal Albert Hall
---