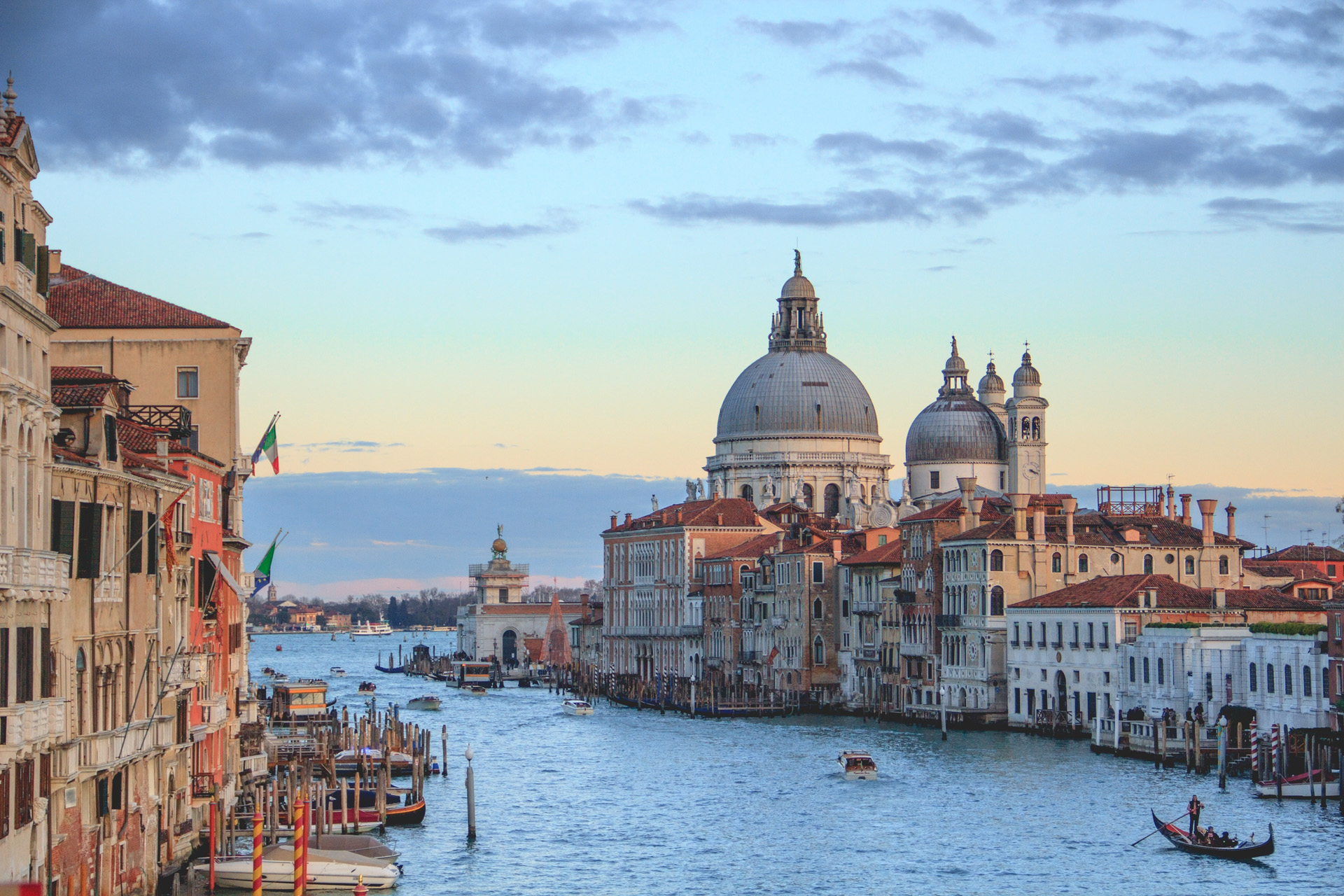 UNESCO Is Reviewing Its World Heritage Sites – And Venice Might Be In The Danger Zone
The UNESCO Danger List recognises areas in need of urgent conservation efforts
Experts at UNESCO (the United Nations' specialised Educational, Scientific and Cultural Organization) have recommended that Italy's floating city be added to its World Heritage Danger List. According to UNESCO, Italy is not doing enough to protect Venice and its lagoon from climate change and mass tourism, Reuters reported earlier this week. Here's exactly what that means.
UNESCO Is Considering 200+ World Heritage Sites For The Danger List
The world is brimming with stunning destinations that represent the wonder of nature and the marvel of humanity's existence on our planet. The UN collects these places and designates them World Heritage sites (more on what makes the cut below), endowing them with legal protection and access to a fund to aid conservation – but the story doesn't end there. To stay on the list, World Heritage Sites must be protected by their state; in fact, before a site is deemed a World Heritage Site, the state signs a pledge committing to conserving it. Otherwise, the site ends up on the Danger List, a proverbial list of shame highlighting the World Heritage Sites that need extra protection – and, as a result, singling out the states that aren't doing enough to honour their preservation agreement.
The Danger List is designed to encourage corrective action, informing the international community of specific conditions and dangers that threaten the very characteristics for which sites were originally inscribed on the list. But it's not all doom and gloom: inclusion on the list often leads to an increased allocation of resources to protect and preserve the World Heritage Site.
Venice is making the headlines for being one of the World Heritage Sites likely to make the Danger List when a committee of 21 UNESCO member states meet in September to review over 200 sites. A UNESCO spokesperson said Italy's protective measures are 'currently insufficient and not detailed enough', and that the nation's communication with UNESCO has not been 'sustained' or 'substantive' since the Committee last met in 2021, when it threatened to blacklist Venice. The city avoided inclusion back then by banning large ships in the San Marco Canal and promising to launch an ambitious protection plan.
A spokesperson for Venice said the city 'will carefully read the proposed decision' and 'will discuss it with the government'. The city has been struggling with mass tourism for many years now; an estimated 28 million tourists visit the small, ancient city every year. One proposed control was to introduce a 10€ fee for day-trippers, but the idea has been delayed by objections.
UNESCO hopes adding Venice to the Danger List would 'result in greater dedication' from local and national stakeholders in addressing long-standing issues in Venice. But a former mayor of Venice has clapped back at the agency, calling it 'one of the most expensive and useless bodies on the face of the earth'. Massimo Cacciari told the BBC UNESCO '[doesn't] give us any funding to make changes, all they do is criticise'.
Other sites at risk of inclusion this year are the Ukrainian cities of Kyiv and Lviv. Sites already on the Danger List include the historic centre of Odessa in Ukraine, the town of Timbuktu in Mali, the Old City of Jerusalem and its Walls, Everglades National Park in the United States, the Historic Centre of Vienna and the Chan Chan Archaeological Zone in Peru.
One site that has narrowly avoided inclusion is Australia's Great Barrier Reef, which is considered to be under 'serious threat' from climate change and water pollution. The Australian government's reef conservation efforts will be reviewed in 2024.
How Does A Destination Become A UNESCO World Heritage Site?
To make the World Heritage list, a destination must meet at least one of 10 selection criteria. These are, according to UNESCO:
To represent a masterpiece of human creative genius

To exhibit an important interchange of human values, over a span of time or within a cultural area of the world, on developments in architecture or technology, monumental arts, town-planning or landscape design

To bear a unique or at least exceptional testimony to a cultural tradition or to a civilization which is living or which has disappeared

To be an outstanding example of a type of building, architectural or technological ensemble or landscape which illustrates (a) significant stage(s) in human history

To be an outstanding example of a traditional human settlement, land-use, or sea-use which is representative of a culture (or cultures), or human interaction with the environment especially when it has become vulnerable under the impact of irreversible change;

To be directly or tangibly associated with events or living traditions, with ideas, or with beliefs, with artistic and literary works of outstanding universal significance. (The Committee considers that this criterion should preferably be used in conjunction with other criteria);

To contain superlative natural phenomena or areas of exceptional natural beauty and aesthetic importance

To be outstanding examples representing major stages of earth's history, including the record of life, significant on-going geological processes in the development of landforms, or significant geomorphic or physiographic features

To be outstanding examples representing significant on-going ecological and biological processes in the evolution and development of terrestrial, fresh water, coastal and marine ecosystems and communities of plants and animals

To contain the most important and significant natural habitats for in-situ conservation of biological diversity, including those containing threatened species of outstanding universal value from the point of view of science or conservation.
Read more news like this on the C&TH sustainability hub.