The Royal Academy has been going since 1768, with its mission to promote arts and design in Britain, which means that 2018 marks a very special birthday for the institution. Here, we preview some of the highlights in the RA250 calendar to celebrate 250 years of the Royal Academy… 
RA250: What's On in 2018 at the Royal Academy?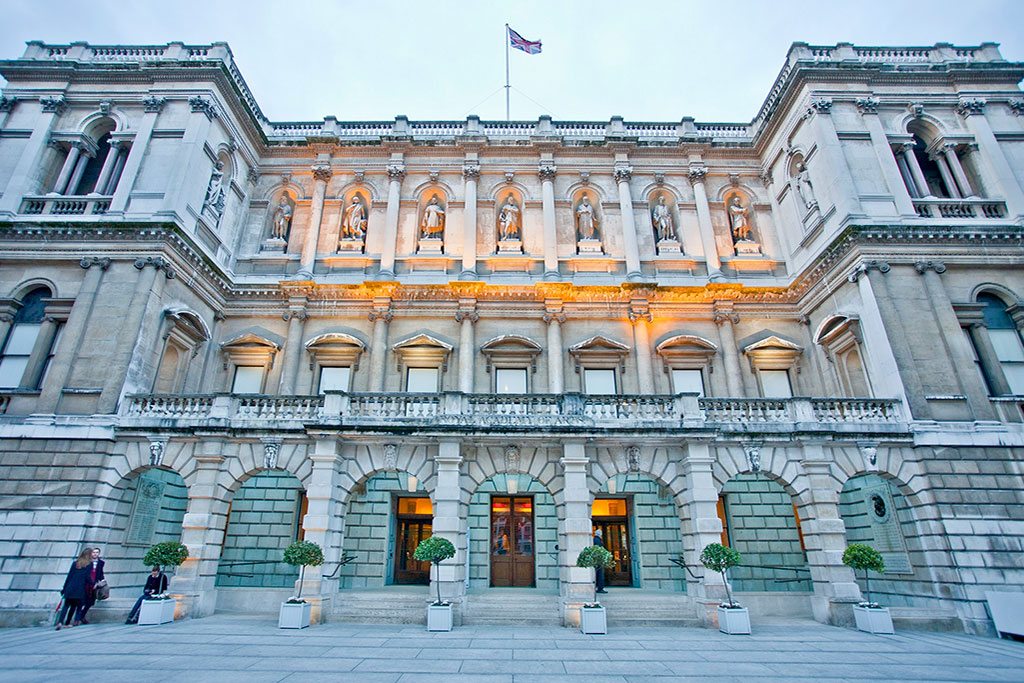 A New RA
This year marks the RA's 250th birthday. In May 2018, they'll be celebrating by opening the doors to a newly transformed RA, featuring an expanded exhibition programme plus free displays of art and architecture across the new cultural campus. The new campus was designed by the internationally acclaimed architect David Chipperfield RA and will unite the two buildings, Burlington House on Piccadilly and Burlington Gardens.
Headline Exhibitions to Attend
Charles I: King and Collector
King of England, Charles I (1600 – 1649) was well known for amassing one of the finest art collections ever assembled. Inspired by his visit to the Spanish court in 1623, Charles became a passionate and knowledgeable art collector. He acquired works by Titian, Raphael, Caravaggio and commissioned works by Rubens and Van Dyck. By the time of his death he owned around 1,760 paintings. The V&A celebrates Charles' extraordinary collection, exhibiting over 100 works that are known as some of the world's greatest masterpieces. These outstanding works have been reunited for the very first time. From 27 January – 15 April 2018. Tickets from £20, royalacademy.org.uk.
Tacita Dean
One for landscape lovers; Tacita Dean knows exactly how to get them just right. Having travelled all around the world, the English artist has captured landscapes from across the globe, specialising in photochemical film. The RA exhibit with bring together a selection of her finest work. Anticipated features include a major new experimental 35mm film 'Antigone', which combines multiple places, geologies and seasons into a single cinematographic image. Another, is a mountainous blackboard drawing and a series of cloudscapes in chalk on slate, that is created to draw you into Tacita's vision. Prepare to be memorised. From 19 May – 12 August 2018. Tickets from £14, royalacademy.org.uk.
Summer Exhibition 2018
The 2018 Summer Exhibition celebrates 250 years of the Royal Academy. A vast and wide variety of works are displayed from both emerging and established artists, so there is something for everyone here. With this particular exhibition, the RA prides itself on delivering "a panorama of art in all mediums and a remarkable mixture of emerging artists and household names." Excited yet? It gets better – works are even for sale, and proceeds allow the RA to continue providing, postgraduate tuition in the RA Schools. If you're interested in experiencing spectacular works of art, or even purchasing something for yourself, this is the place to come. From 12 June – 19 August 2018. Ticket price yet to be announced, royalacademy.org.uk.
Oceania
Captain James Cook (1728 – 1779) was the British explorer and captain in the Royal Navy that embarked on a voyage of discovery in search of terra australis incognita – the unknown southern continent. He came across a vast number of island civilisations and the indigenous populations they met came with their own ideals, art and culture. The RA's riveting Oceania exhibition reveals these narratives and celebrates the original and raw art that in time would filtrate into European art. Dip into a magical world and experience more than 250 works on display, from historic ethnographic collections dating from the 18th century, to the present. Among these, are intricately carved wood sculptures from the 1800s and Lisa Reihana's 'In Pursuit of Venus' film projected onto the walls as you move through the exhibition. From 29 September – 10 December 2018. Ticket price yet to be announced, royalacademy.org.uk.
Klimt / Schiele
The Royal Academy is offering you the chance to see beautifully intimate nude drawings by Austrian painters and icons of Modernism, Gustav Klimt and Egon Schiele. The exhibit will give you an exclusive insight into their phenomenal artistic relationship and differing creative processes, marking the centenary of both artists' deaths. With over 100 works being displayed, a meaningful exploration of some of the 20th century's most important works on paper will be available to you. From 4 November 2018 – 3 February 2019. Ticket price yet to be announced, royalacademy.org.uk.
Other Upcoming Exhibitions
Other 2018 exhibitions held at the Royal Academy, include Anthony Eytn RA: Avalanche (until 27 January), Etching: The Infernal Method (until 19 February), From Life (until 11 March), Premiums: Interim Projects 2018 (from 29 March – 29 April), Physical Energy (until 30 March), RA Schools Show 2018 (6 June – 1 July), The Great Spectacle, 250 Years of the Summer Exhibition (12 June – 19 August), Richard Deacon RA Selects (from 31 July), Renzo Piano (15 Sept 2018 – 20 Jan 2019).
READ MORE: What's On at the Tate in 2018 | What's On at the V&A in 2018|  What's On at the Royal Albert Hall in 2018
---