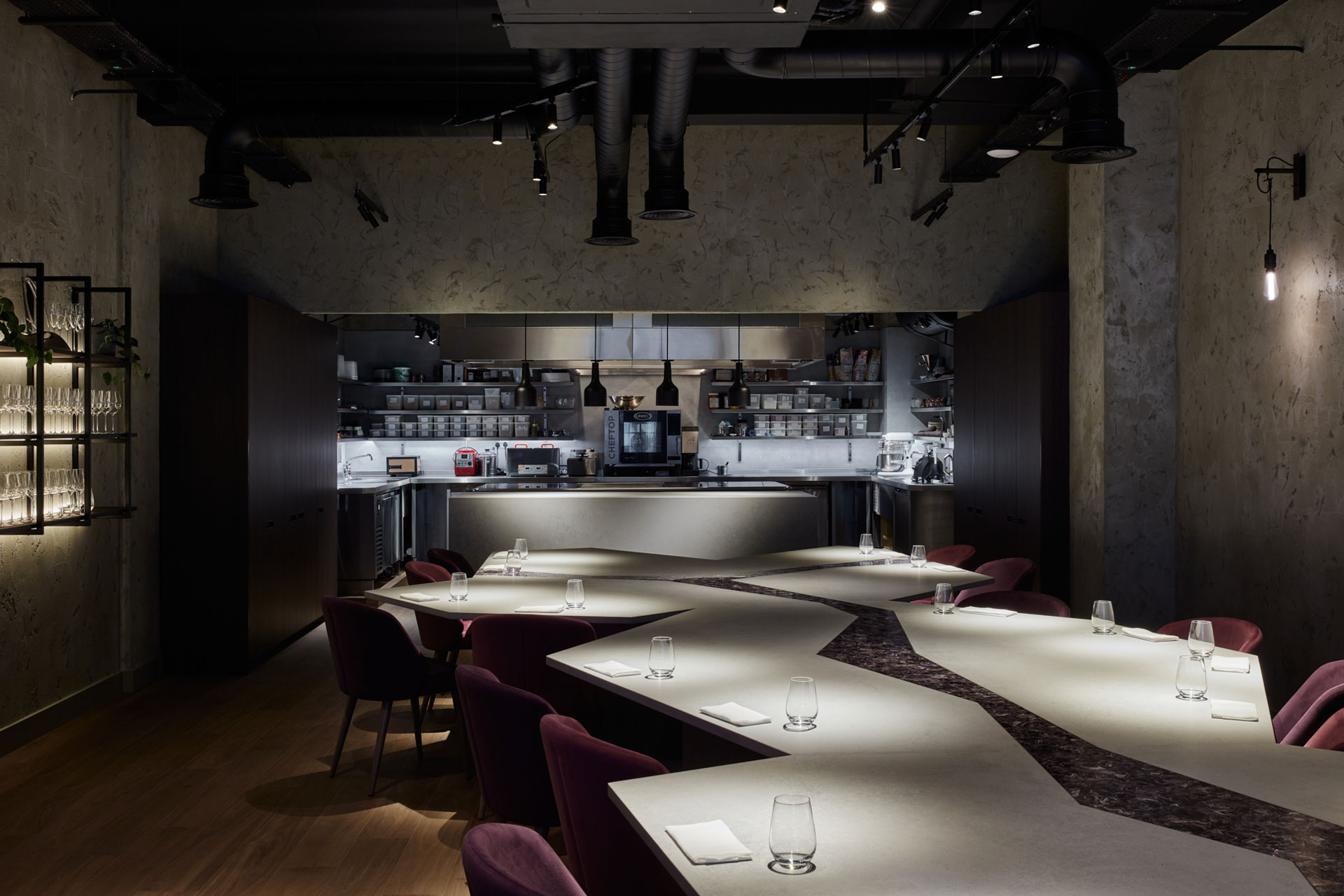 Restaurant Review: Amethyst
---
A gem hidden on Sackville Street
Buried in Sackville Street is a new open by Carlo Scotto, the extraordinary chef behind the uber-original tasting menus at Xier (where he made his name). This exciting restaurant is Amethyst – and it's aptly named, considering it truly is a gem. 
Drawing from Carlo Scotto's global travels, the tasting menu (a humble twelve-courses, although a six-course tasting menu is on offer in the downstairs space) takes you on a journey from India to Japan to his home in Naples. The overall theme of the food? Modern European with global influence, and this is delicately balanced throughout. Courses do not overwhelm the palate and are often followed by very deliberate palate-cleansers: an adaptation of a green korma is accompanied by a tiny bottled cucumber-based drink that could be taken straight from a Lewis Carroll novel, readying you to continue down the rabbit-hole of numerous subsequent courses. 
The theatre of the food deserves mention, too. Carlo's tasting menu finds its home in a slightly darkened ambient room, the chef's pass firmly in view from the real amethyst-set Caesarstone table table (the gem struck through the middle like a quasi-lightning bolt). All guests sit around this communal space, just about separated by the design but still near enough to allow sneak-peeks and anticipation at future courses on offer. Hushed voices discuss the food on offer, and these are prime seats for watching Carlo and his team – an assembly line of culinary athletes – chop, sprinkle, and generally artfully prepare these small plates. 
Particular highlights include the rose petal salmon and fois gras, accompanied by yuzu and Piedmont hazelnuts – beautiful on the plate, I noticed one guest that evening particularly emotional at its arrival. Even if you might not quite go so far as to cry, though, this dish stands out for its delicate balance of flavours and floral infusions. The gyoza course receives honourable mention, too, as for its wine-pairing a traditional sake is poured into the same bowl. Guests are encouraged to eat first the gyoza, and its nasu nibitashi (braised aubergines), and then drink straight from the bowl. Here, food is sensory and this only adds to the theatre of the experience. 
The final take: you won't need to mine too deeply to find positive things to say about this restaurant: Amethyst is a true gem with a menu that might even move you to tears. Book: amethystdining.com, 12 courses from £135. Amethyst, 6 Sackville Street, London W1S 3DD
READ MORE:
London's Best Chef's Tables / London Restaurants with the Best Views