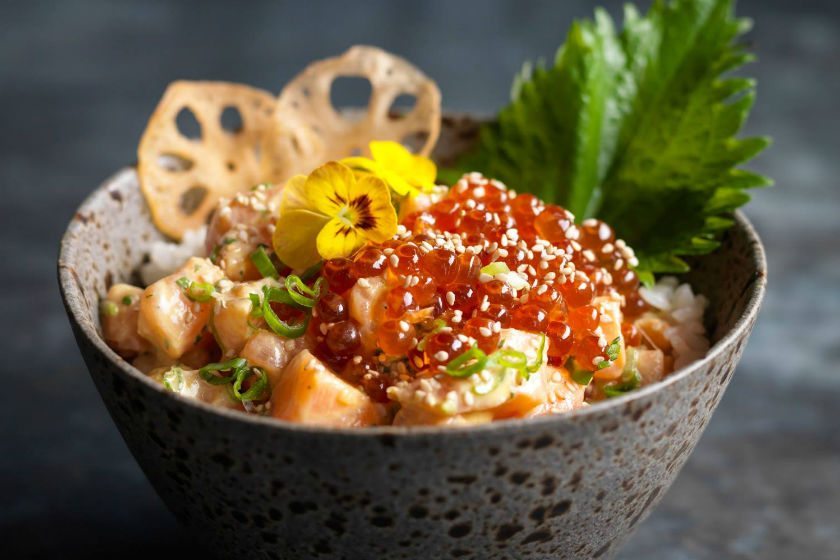 Everybody is eating poké (pronounced poh-kay) right now. The Hawaiian dish of small cubes of marinated ahi tuna, atop fragrant rice and sitting under pickles, is evolving out of Londoners' insatiable appetite for sushi and ceviche. Raw fish is in, so poké is proving a natural bowl of progress.
Had you known where to look, you might've already had a taste of the dish. The likes of Trader Vic's has for many years bridged Hawaii with Britain. But it's never fully focused on poké – rather, it's kept it ticking over as an option on the menu.
But poké has come to the fore. Even lunch chain Pret is getting in on the action: "Poke salad has been on our radar for a while and we'll be introducing our own version inspired by the Hawaiian dish this spring", says Hannah Dolan, a food developer at Pret. "Poke salads are bright, fresh and vibrant".
Indeed, savvy businesses have seen the desire for the dish in Los Angeles and New York. They're latching on.
The first poké-specific restaurant to pop-up amidst the fuss is Black Roe. Catering for Mayfair's health conscious, the self-described poké bar has taken the quick-fix lunch choice further and developed far more intriguing dishes than the one or two taken on by other establishments.
On Hawaiian islands, ahi tuna is seasoned with soy and served with short-grain rice. There's crunch from sesame seeds and punch from pickles. But the possibilities are endless. In addition to the poké classic, Black Roe also does ahi and yellowtail tuna with spicy yuzu salsa, a scallop version with Sriracha and citrus salsa, seabass with wasabi, and yellowtail on spicy garlic.
All the buzzwords appear to have been hit, with yuzu and Sriracha not showing any sign of slowing down. And it's only fair that the likes of salmon and scallops get a look in, too. There's a grill if you fancy something cooked.
I imagine you'd be hard-pressed to pick up such a satisfying, nutritious lunch for under £10 anywhere else in Mayfair. But who says you've got to stick to Mayfair?
Here are three other London outposts where poke is on the menu…
Eat Poke
The bright and vibrant world of Eat Poke pops up at food markets, private events, and takes on private catering and office delivery too. Right now, you'll find Eat Poke at Kerb markets across London.
Founders Celia Farrar and Guy Jackson discovered poke in LA three years ago and told The Independent: "Because the fish is marinated and decorated in seasonings, it is more approachable than sushi. Plus you can add different bases and toppings. We use black sticky rice, and a lot of our own homemade pickles".
Ahi Poke
With its name paying homage to the original, Ahi Poke was also inspired by the California coast. Owners Jeremy Coste, Gabriel Cohen-Elia, and David Ballaice are aiming for "simple Hawaiian beach shacks crossed with the laid back poké bar vibes of LA", according to Hot Dinners.
At Ahi Poke, the concept is kept simple, with tuna the main event. Sushi rice, quinoa, and veg such as kale and mushrooms also play a part, as does sea bream and plenty of sauces and toppings. You might start off by trying the signature bowl of ahi tuna, sushi rice, scallions, red onion, black sesame, avocado, furikake, and sesame shoyu.
Granger & Co
Australian chef Bill Granger does a poke dish with avocado at his three London cafe restaurants. It consists of raw tuna, avocado, brown rice, cherry tomatoes, samphire and sesame.
Granger's places aren't geared solely towards the poke trend, but he's had the above on the menu for quite some time. I imagine he'll likely add to his solitary inclusion given the blossoming trend.
---